PB Hein Vineyards
is owned and operated by Paul Hein a 5th generation Napan whose family has wine making roots dating back to the early 1870's on Mt. Veeder in the Mayacamas mountains (the range that forms the north south spine between Napa and Sonoma counties). In fact Paul has records that show his family operated a winery in 1871 with vineyards totaling 29,000 vines. If Paul is ever able to acquire that property he could advertise his winery was founded in 1871- only 10 years after Napa's first winery, Charles Krug.
Their first commercial vintage was in 2005. Paul has no formal training in wine making and began making home wine in 2002. A next door neighbor who owns a small vineyard said to Paul, "you do everything, do you make wine?" The answer at the time was no, but here was the opportunity to learn how, literally handed to him. After producing home wine for several years and taking some top honors at various competitions Paul's friends started encouraging him to make wine commercially. Any new varietal that Paul plans on making commercially he will initially make as home wine, often testing different barrels to determine quality and complexities between each of the lots.
He always works with very small lots during this time to also prove the quality of the vineyard sources – usually around a ton at a time. His winemaking is a throwback to old world techniques with more manual labor and less mechanical intervention. As a result there are no mechanical pump overs, the punch downs are all conducted by hand and only small lots are used for fermentation. Paul is also active in the management with the vineyards that he sources from; besides his own vineyard he makes critical decisions on other vineyards as when to drop fruit, canopy management, and when to pick etc.
We recently caught up with Paul at his winery south of Napa in the middle of an industrial park where he makes his wine in the same facility as two other vintners. Paul is a busy guy who is involved in a variety of projects; the latest one involves building automation into parking garages in San Francisco. Paul was bottling on the day we visited and the winery was a buzz of activity. His first vintage was a Syrah and each year the types of wines vary depending on the fruit sources he is able to acquire. However Paul owns 47 acres near Howell Mountain in the northern part of the Napa Valley, part of which is planted to Cabernet Sauvignon. As a result, his Cabernet Sauvignon fruit source remains constant each year. Eventually Paul would like to build a winery on site.
The 2007 PB Hein Vineyards Rosé of Syrah was sourced from a vineyard near Suisun City – east of Napa County. This is a fairly robust rosé and made us think of grilled meat for the pairing. The nose has notes of crushed black pepper leading to loads of fruit on the palate including pomegranate, fruity raspberry and dried currant notes. There is so much fruit flavor in this wine you might even think there is some residual sugar – not so, its completely dry.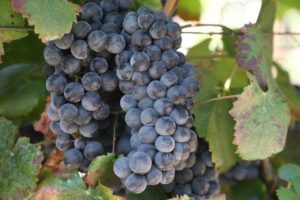 The 2004 PB Hein Vineyards Charbono was grown near Howell Mountain. Charbono is an interesting varietal that is sometimes described as rustic in nature. It grows well in the northern part of the Valley where during the summer growing season you often have very hot days with much cooler nights. It thrives in terroir with these large temperature fluctuations. If there was ever a candidate for a wine that pairs well with grilled or BBQ wild game this wine is it. Only 175 cases were made. It is a dark inky wine with pleasant aromas with good fruit up front leading to a dusty, cigar smoke like finish.
The 2005 PB Hein Vineyards Cabernet Sauvignon was sampled from barrel; Paul's vineyard is planted to two different clones, both of which are co-fermented. It is a dark wine with dark fruit aromas on the bouquet with notes of chocolate. It is layered with a soft mouth feel and there are nice earthy qualities on the palate. The fruit entry is smooth with the finish sporting structured tannins that are completely in balance.
P.B. Hein also makes two completely different styled Syrahs – we tried both of the 2005 vintages. The Trailblazer from the North Coast is a very soft rounded wine – a great everyday wine. The Trailblazer Napa Valley Syrah is a much larger wine with some serious structure. As a winemaker it can be fun to make two different types of wine despite using the same varietal; as a consumer it is neat to see how the terroir and winemaking style produces wines completely different from each other both in aromas, flavor and structure.
Western style focused artist Michael Swearngin has designed several of Paul's labels. As of our latest update to this review, PB Hein produces about 1200 cases. For more information or to join their wine club, visit: www.pbheinvineyards.com
NOTE: need to verify is still producing. Last vintage seems to be 2012.