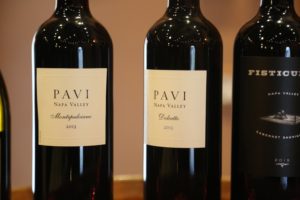 Pavi Wines was founded by a husband wife team, Rob (not to be confused with the photographer of the same name in the UK) and Pavi Lawson. We first met Rob at Napa Wine Co where he has worked for 15+ years ultimately becoming their CEO. Rob has a long history in the wine business; he graduated from California State University, Fresno with a degree in Plant Science. His first wine job was for Sebastiani Vineyards in Sonoma County as a Lab Technician – later he began working at Napa Wine Co as an assistant winemaker. Napa Wine Co is family owned, while they make several labels, they are most known for being one of the Napa Valley's most prominent custom crush wineries – where numerous brands ranging in size from very small to more than 100,000 cases rent space to make their own wines.
Rob is the winemaker for Pavi as well as other labels. However, he is not the first in his family to be in the wine business. Rob's father was a grape grower who worked at several of Napa's most prominent wineries and Rob's grandfather was Vice President of Nestle Corporation at the time they purchased Napa's Beringer Winery (and later became Beringer's first president.
Later Rob became involved in a consulting role for one of Mendoza Argentina's most visible wine related project, the Vines of Mendoza (an impressive multi-faceted business offering private vineyards, operating an open-to-the public tasting room in central Mendoza as well as a resort & spa. See our notes below.
Besides the obvious reason for the name of this winery as a tribute to his wife, Pavi also pays homage to her strong Italian heritage. In a an extremely unusual twist for a Napa based winery, other than Cabernet Sauvignon all their wines are made from Italian varieties. Rob has long enjoyed wines from Italy – he was further introduced to a number of Italian varieties while on his honeymoon in Italy.
Pavi specializes in a number of very affordable priced wines, Pinot Grigio, Dolcetto and a Montepulciano. Those who are familiar with the viticulture landscape of the Napa Valley, will quickly realize that other than small plantings of Pinot Grigio, Dolcetto and Montelpulciano are varieties not grown in the region. As a result, it is always refreshing to discover some "lesser" known area varieties from a Napa Valley based producer.
Select Wines
During our visit with Rob, we tried the 2006 Pavi Pinot Grigio sourced from various California vineyards. This wine is very well-priced based on quality. It has the viscosity, weight and character of a Pinot Grigio typically priced much higher.
We also tried the flagship Pavi Pinot Grigio from the Napa Valley. The fruit for this wine comes from both the Oakville and Carneros sub-appellations. This blends grapes from a warmer with a cooler growing climate. In addition, the grapes are harvested at different sugar levels throughout the harvest to best obtain flavors and show the varieties' characteristics.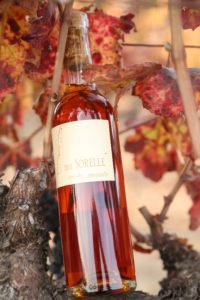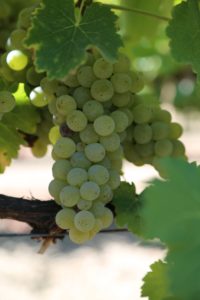 This wine is aged surlie on deposits of dead yeast and other wine particulates formed after fermentation; this type of aging helps impart additional flavors and texture. The end result pleasing. The wine has a viscous mouth feel with plenty of floral and tropical aromatics. Drinking this wine might 'magically' whisk you off to Hawaii or some other exotic tropical destination. This wine showcases a greater depth of flavor than the Pavi California Pinot Grigio.
Dolcetto is a northern Italian variety rarely made in the Napa Valley. Pavi's version is characteristic of how this variety tastes but with ripe California grown fruit. It's a pleasing easy everyday drinking wine that is somewhat fruity with raspberry and cherry flavors. Both the grapes for the Napa Pinot Grigio and the Dolcetto come from certified organic vineyards.
Pavi also produces wines from other interesting varieties including a Super Tuscan style blend and the Vin Santo, a sweet Italian-style dessert wine (100% Semillon). Pavi produces a non-vintage of this wine; the latest release is 2013 (we tried one of their earlier non vintages). The organically farmed grapes are from Oakville and spent 6-8 years (depending on the vintage) aging in 100% neutral French oak barrels. The Pavi Vin Santo is a dark shade of amber in the glass; the bouquet shows sweet aromas including ripe apricot and nectarine, caramelized sugar, caramel, toffee, hazelnut and hints of dried orange peel. Sweet – very sweet with flavors of dried apricot, raisin, brown sugar, honey and burnt almond – most noticeable on the finish. The texture is slippery and glides with an oily like feel across the entire palate. Shows some acidity, but the residual sugar dominates more so. A very hedonistic showing.
—
Rob has also been involved in several Italian winery projects. For many years, the Pavi Wines were available for tasting at what was Napa Wine Co's shared tasting room in Oakville. But as of January 1, 2019, this tasting room stopped representing all vintner members other than their own three brands. For more information and to join their mailing list or wine club, visit: www.paviwines.com
Vines of Mendoza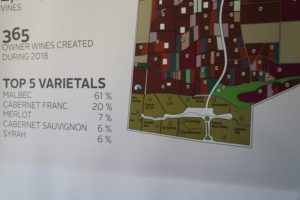 This ambitious project (of which Pavi Wines is one of the winery members) encompasses some 1500 acres in Mendoza Argentina's Uco Valley including vineyard blocks owned by various investors, the world-class The Vines Resort & Spa, the acclaimed Francis Mallmann Siete Fuegos Restaurant, the Winemakers Village (a select part of the property created for physical wineries) and the Vines of Mendoza's own winery. Founded in 2005 by two young men, Pablo Gimenez Riili and Michael Evans. Michael first came to Argentina in 2000 – four years later he returned to Argentina from Los Angeles on what was originally intended to be a 3-week vacation – he met Pablo during that trip based on a recommendation he had while at a wine tasting in Buenos Aires; both men soon became friends.
Pablo was born and raised in Mendoza and is a lawyer and a winemaker; his family has been involved in the wine business for several generations. Their vision for the Vines of Mendoza has certainly evolved over the years but has been a remarkable one since the beginning. Deciding to partner together and raising money from friends and family and other contacts, they began with a purchase of 650 acres of land in the Uco Valley and planted their first vineyards in 2007. For a number of years, they maintained The Vines Wine Bar & Vinoteca in downtown Mendoza (which is where we first discovered their project on May 16, 2007, during a trip to the region – this tasting room has since closed).
Investors come from all walks of life bound by a common interest in wine. The minimum Private Vineyard Estate purchase is 1/2 acre – over 250 investors have purchased land many from international destinations. Every plot of vineyard land is signed with the name of the vineyard. Investors typically either sell grapes from their vineyards to the Vines of Mendoza Cooperative or use the Vines of Mendoza winery to create their own labels. To date over 400 wines are created each year for the various owners from the 30+ varieties which grow on the property. Mendoza architectural firm, Bormida & Yanzon designed both the resort and winery with input from winemaker Santiago Achaval and consulting winemaker Rob Lawson.
In addition to the vineyard land, The Winemakers Village is a small section of the overall property set aside to house a maximum of 12 unique wineries. As of our latest update to this review, the Winemakers Village already contains several existing wineries with several more expected to be built in the coming years including potentially Pavi Wines (who already owns a section of the Winemakers Village).
—
The Vines Resort & Spa
Arguably the centerpiece of the Vines of Mendoza is the resort and spa, a community built around 21 villas ranging from 1,000 to 2,700 square feet. Surrounded by vineyards and situated along the shoreline of a small body of water, the views from the villas are always spectacular especially of the snowcapped Andes and during sunrise and sunset. Each villa is located within a short walking distance of the lobby, restaurant and gorgeous pool (with its in-pool reclining chairs).
Beautiful views abound from numerous parts of the resort, but arguably the highlight vistas are from the stand-alone gym – from the second floor one enjoys incredible panoramas of the Andes and the vineyards in all directions. And the resort has been recognized by press, in 2019 they were voted the #2 resort hotel in all of South America by Travel + Leisure magazine and received mention as Best in the World by the Conde Naste Readers' Choice Awards.
Located poolside is the small wine house (Uco Valley Tasting Room) which features select wines created by vintners associated with The Vines of Mendoza. As of our latest update to this review more then 400 unique wines are created on property. Guests and visitors to the resort are welcome to visit this tasting room without an appointment. The resort's sommelier often hosts special tastings which are only available by reservation.
Siete Fuegos, Restaurant
Meaning "seven fires" in Spanish, this is one of several restaurants overseen by claimed Argentinean chef, Francis Mallman. Features open-flame cooking – a variety of meats are specialty items including some very long cooked dishes. But remarkably, with advance reservation the restaurant can accommodate Kosher and vegetarian requests.
During our exploration in South America of any spaces or places strongly connected to wineries within the Napa Valley we have enjoyed visits to numerous restaurants. Arguably the highlight of our culinary explorations in South America is Siete Fuegos. While reservations are recommended, visitors often can enjoy lunch without a reservation. Seating is indoors at a variety of tables or at a seat at the very well stocked Bar & Cava. Recommended dishes included several of their salads (our favorite is the squid salad); select lamb dishes are also worth pursuing. While here, order some wine from Recuerdo, the Vines of Mendoza's own wine brand or dabble in a number of Argentine wines from their diverse selection.