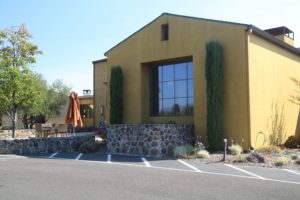 Patz & Hall Winery was located in the most unique location you will ever see for a winery – in the middle of Napa's main corporate business center! For reference, this business park is located south of the town of Napa. Instead of visiting your mortgage broker or real estate agent like you would in a typical commercial business park, you visit this wineries' tasting salon. From the outside it appears to just be another commercial building but the inside is wonderfully and artfully decorated. You must make an appointment for their sit down tasting – no walk ins. However, Patz & Hall has a more casual wine bar and visits to this can be made seven days a week without prior reservation.
As you enter the wine salon, the receptionist greets you and immediately you are made to feel right at home. A visit here is definitely not the typical crowded experience you would have at the more touristic wineries along Highway 29; a visit here is for serious wine enthusiasts. The actual tasting salon is a small intimate room in which your group, typically no more than 8 people will sit down with the wine connoisseurs. It is an intimate personalized experience that is all about the wine. Like many commercial wine producers these days, Patz & Hall was a "virtual" winery for many years (founded 1988), meaning they did not own an actual physical wine facility. Rather they purchased all their fruit from select growers and made their wine at another winery. However, Patz & Hall built their own winery in the town of Sonoma in 2007 (in neighboring Sonoma County).
This is a winery that still owns no vineyards; all of their grapes come from select typically family owned growers. These growers are extremely important because without these high quality grapes, you don't have premium wine. Patz & Hall tries to keep their vineyard sources constant allowing them to develop working relationships with their growers and really get to know the fruit sources. While most of the vineyards they source from are in Sonoma County they source from two of the most highly regarded vineyards in Napa's cooler Carneros district the Hyde and the Hudson vineyards.
The original founder James Hall and Donald Patz met when they were both working at Napa's Flora Springs Winery. Their wives are also extremely involved with the day to day operations. As with a number of other vintners in the valley who started out small they both worked second jobs until their wines started to become "noticed". However, unlike most area wineries Patz & Hall specializes in two wines only – single vineyard designated Chardonnay and Pinot noir. As of press time they make 15 different wines!
Your tasting typically includes 3 Chardonnays and 3 Pinots paired with cheese and several small delicacies. This is a great time to ask questions about the wine and your wine educator will also explain the differences in each of the vineyards. Several of these wines are only available for tasting here or through their wine club, i.e., they are not distributed. Our Pinot noir recommendations are their Alder Springs (a rich wine from Mendocino County hillside grown fruit) & Burnside (Sonoma Coast vineyard). For a delicious Chardonnay try their Zio Tony Ranch Chardonnay (Russian River area of Sonoma County, a top Chardonnay growing region).
Patz & Hall also puts on the "Salon Dinner Series". These are intimate three-course, wine paired dinners that are always limited to small groups and are always hosted by two of the owners. Visit: www.patzhall.com
NOTE: This review has been archived.
REASON: Moved tasting room to 8th Street in neighboring Sonoma County – wine not made in Napa. Non Napa winery
Wine with Tony