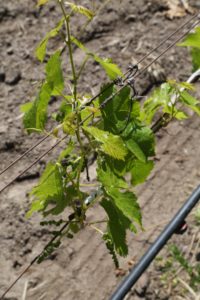 Patricia Howe Wines own what is among the smallest bonded freestanding winery structure in the USA (certainly in Napa). The city of Napa has a regulation that allows residential home owners to bond part of their house for commercial wine production. Typically this is one's garage with a chain link fence separating the bonded winery from the rest of the garage. In this case it is a stand alone winery building in the back yard that tops out at 104 square feet! As Patricia says in response to the typical home "garagist winery", "my winery is shediste"!
Patricia has a long history of being around and working with sparkling wines in the Napa Valley. While working towards her degree at UC Davis she was already working at Domain Chandon. After graduating in 1983 she worked at Chandon full time as a research enologist and then became winemaker and technical director of their entire winemaking program. During her time at Chandon she also had unique opportunities to work in France at Moet Chandon and Domain Chandon in Australia as well as with small lot wines in Napa.
Patricia's Pinot Noir is made in a champagne style – the alcohol levels are very well managed – both vintages are between 12.2 and 12.5. The tiny freestanding winery translates into minute productions. Patricia made only 50 cases of the 2007 Pinot Noir and 20 cases of the 2008. Patricia sources most of her fruit from Carneros but has also used fruit from Suisun and the Sonoma Coast. These are wines she enjoys to drink – balanced, with lower alcohols and food friendly.
The 2008 despite having similar acidity (titratable acidity) to the 2007 is more of a food wine. The nose is earthy, slightly dusty with notes of blueberry and cherry. The mouth watering palate is slightly tart (though not unripe) with flavors of raspberry and cherry.
The 2007 unfortunately is sold out; this wine is delicate, rounded and drinks beautifully by itself. The tannins are plush and soft – this is an elegant wine. Patricia made a change in the oak program between the two years, as well as sourced different fruit which in part contributed to to differences in vintage.
The winery is bonded number 16019 which as Patricia says is a name of a comet. This name serves as her label for the Pinot Noir.
The tasting of her sparkling wine is a waiting game at this point. The Napa Valley Brut 2007 and Napa Valley Rose 2007 are set to be released sometime in 2012; we will taste and review those here once they are released.
While certainly not the focus of her operations (that would be the sparkling wines), Patricia has produced several vintages of vinegar to date. The vinegar is made from additional "base" wine that is made for her sparkling program.
Her "red wine" vinegar is made from both Pinot Noir and Chardonnay and her "wine vinegar" is made from the classic sparkling varietals with a lesser percentage of Pinot Noir. Both vinegars have intense flavors and higher acidity – this is a case where "a lot" goes a long way! Patricia recommends these for salads, marinades and because of the higher acidity she has been able to use the vinegar for pickling cucumbers. The vinegars are sold in half bottles but larger quantities can also be ordered.
With such a small production and space for the crush, everything is done on a smaller scale. She uses half sized barrels, a small press and a tiny tank. Most everything is done by hand including the harvest, the crush and even the riddling (turning the bottles of sparkling wine) and their disgorging.
All her wine is available direct – either through the website or by calling her. The vinegar is also available direct with local distribution in Vallerga's market in the Redwood Plaza near Highway 29 in the city of Napa.