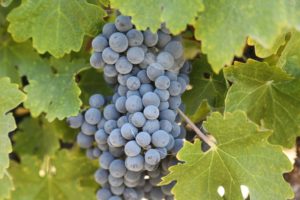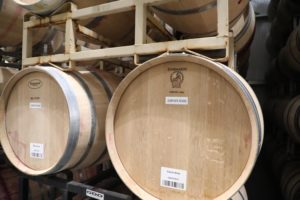 Patria Wines. Founder and winemaker for Patria Wines, Tony Biagi was introduced to wines from his father and stepfather; both men collected wines including from Ridge Winery whose bottlings formed a large part of his stepfather's wine collection. Tony could never envision himself as working a desk job; his parents always encouraged him to find something he loved doing with an important caveat: he always have healthcare. He was recruited by UC Davis for wresting but that was not his passion. He wanted to study marine biology, but then took a class from professor, Dr. Ann Noble at UC Davis and realized that winemaking could be a career. Dr. Noble was his undergraduate advisor until he graduated with a degree in Fermentation Sciences in 1995.
His first job in Napa Valley was as an intern at Hess Collection; he recalls he wasn't even 21 yet when he started working in their cellar. From 1995 through 2001 he made wine at Duckhorn helping a winemaking team grow production from approximately 300 to 1500 tons. He considers winemaker Tom Rinaldi along with Alex Ryan and Dan Duckhorn mentors – recalling Dan's business acumen as being particular influential in his career. It was also a time when it was much easier to access grapes from premium vineyard sites; a number of these sites have become so well known that there are lengthy waiting lists to purchase their grapes, and many are also producing their own wines.
Tony was winemaker at Plumpjack from 2003-2011 and founding winemaker of CADE (part of the Plumpjack group), Sinegal Estate, and Neal Family Vineyards. He continues to consult for premium wine brands both in Napa Valley and in Sonoma County.
Tony began Patria in 2013 in partnership with Kimberly Jones, a California distributor founded in 2003 focusing on premium wines whose domestic selection is strongly weighted towards Napa Valley and Sonoma County brands. A business relationship like this is ideal with Tony focusing on vineyard sites and production while Kimberly Jones oversees much of their distribution.
Kimberly recalls some of her earliest memories in regard to wine were in her childhood; her family would drive to the Dogpatch in Arkansas (a theme park which has long since been abandoned) and during their trip they would also stop at Wiederkehr Wine Cellars and Weinkeller Restaurant. She remembers being attracted at an early age to the cool air of Wiederkehr's cellars and the smell of grape juice.
Years later she was studying to major in Physics at Baylor University but took a class in Cultural Anthropology and was intrigued. She ended up double majoring in Anthropology and History with a minor in Physics. After working in film in Los Angeles, her first boots on the ground introduction to winemaking was working the bottling line at Edna Valley Vineyard near San Luis Obispo. Later she met Lori Griffin of Griffin Wine Marketing (who she considers one of her mentors in the industry) and worked with Lori for a short while before assisting Paul Bullard of Paul Bullard Associates (a distributor).
Her original four clients at Kimberly Jones were: Arietta, Kongsgaard, Littorai and Ortman Family Vineyards. And she represented several now well-known brands early in their production including Realm and Scarecrow.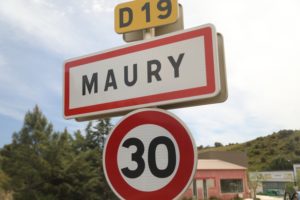 In 2006, Kimberly visited Maury, France and fell in love with the region including the old and often steep sloped growing vineyards. She purchased land with old vine Grenache and Carignan and now produces wine from her property bottled as Domaine Courier. Her wine undergoes a significant aging regiment before being released (3 years in foudres and then 3 years in bottle). And in 2008 Kimberly introduced Napa Valley based winemaker Dave Phinney to Maury; he purchased property and built Department 66 Winery.
The name Patria is Tony's homage to his home state of California and means native country or homeland. Tony is 5th generation Californian and Kimberly is 5th generation Louisianan.
Select Wines
Tony enjoys making California grown Burgundian styled Chardonnay from mountain sites; these are wines that showcase the acid of their higher elevations and particular sites. One such site is the Charlie Smith Vineyard located at approximately 1,450 feet elevation in the Moon Mountain District of neighboring Sonoma County. Tony was introduced to this site by viticulturist and organic and biodynamic farmer, Phil Cotturi. Only about 1.5 acres of Chardonnay are grown here and Tony purchases all the grapes each year.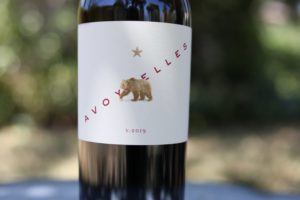 Tony presses his Chardonnays to barrel and uses indigenous yeast for fermentation. The juice settles in barrel and then usually starts its fermentation in about a week with primary fermentation often lasting two to five months and secondary fermentation up to a year before it completes. The lees are typically stirred weekly until sometime in January or February post-harvest.
The 2020 Patria Chardonnay, Charlie Smith Vineyard is medium to deep gold in color; the bouquet offers well-layered aromatics of honeycomb, melon, vanilla and butter. As this wine evolves in the glass, it reveals additional notes of hazelnut and a lemon zest. The palate is mineral laden with a noticeable brightness that persists from start to finish. It offers flavors of lemon and a lingering light wintergreen note (almost reminded us of the sweet flavor of lemongrass in the core part of the plant located just above its roots) which continues to persist for quite some time. The mouth feel is supple and slightly saline in its textural feel. Serious Chardonnay lovers would do well to seek out this wine and Patria's subsequent vintages from this vineyard.
Patria produced only two vintages of Chardonnay from the Kent Ritchie Vineyard in the Russian River Valley of Sonoma County (2020 and 2021). The 2020 Patria Chardonnay, Kent Ritchie Vineyard is deep golden in the glass; the bouquet offers rich aromatics of salted butter, hazelnut, yellow pineapple, lemon zest and a crème Brule like sweetness. The richness across the palate is immediately evident, both in texture and intense flavors, including melon, pear, red apple and a lingering note of toasted hazelnut and yellow pineapple. Of the two wines, this bottling is a showcase of this variety's depth of flavor and richness.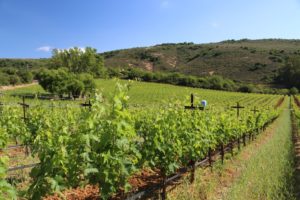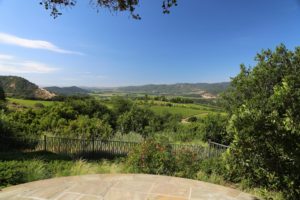 Oakville Ranch is the backbone of the Patria red wines. Tony first started working with this vineyard while at Duckhorn when they used grapes from the site to blend into select wines. Today, wines from Oakville Ranch are primarily vineyard designated. The 2019 Patria Cabernet Sauvignon, Oakville Ranch is a blend of 84% Cabernet Sauvignon, 11% Cabernet Franc and 5% Petit Verdot. It was aged in 70% new French oak. This wine is dark ruby in color; the bouquet is immediately savory and meaty with aromas of bacon fat, dark pepper, old cedar box, dried herbs, violets and spicy Santa Rosa plum skin. Tony attributes these savory characteristics to both Cabernet Sauvignon clone 7, the See clone (a name attributed to Harry See, of the See's Candies family who owned the land where it was planted before selling to the Disney family – i.e., Silverado Vineyards) and the Cabernet Franc. This wine offers flavors of dark plum, raspberry and red cherry. The tannins are ripe, rounded and show a light gravelly texture. Considering this is a mountain site, the tannins are well managed and well-integrated. It finishes slightly savory with some darker spice notes including crushed pepper along with a burst of bright acidity.
This wine will be transitioning to a barrel selection with other barrels from the property producing a standalone separate Napa Valley Cabernet Sauvignon bottling.
While working at Hess Collection in his early 20s Tony met Allen Price who was often fixing various odds and ends at the winery. As they got to know each other better, Tony discovered that Allen's family originally owned what is now Spottswoode Winery. His family kept a 2-acre parcel after the sale and in 1991 Allen planted primarily Cabernet Sauvignon with some inter-plantings of Petit Verdot and Cabernet Franc; these are all head trained and organically farmed vines.
The 2019 Patria Cabernet Sauvignon A. Price Vineyard is dark ruby in color with purplish tinges on the rim of the glass; the bouquet offers a meaty and floral note including violets, dried herbs and old cedar. Give this wine time to evolve in the glass – it will do so wonderfully revealing its fruit core of dark plum, blackberry, boysenberry, dark cherry and other darker brambly notes. The texture is one of this wine's hallmark features, showing dense and granular tannins, earthy and long lasting leaving a dust-like and dark spice impression on the finish (pepper and dried tobacco leaf). It also finishes with a freshness and juiciness. This wine was aged in primarily medium to medium plus toasted Sylvain French oak barrels.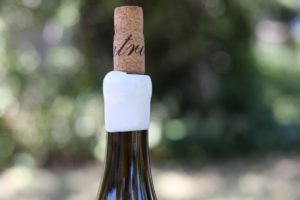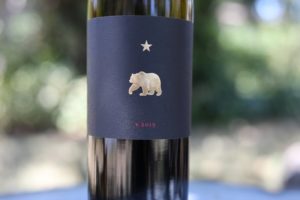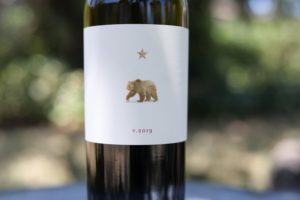 While working at St. Helena Wine Center (a wine shop that was in business for three plus decades but ultimately closed in 2020), Tony discovered one of his favorite wines. This bottling was Maya from Dalla Valle Vineyards. The Patria Avoyelles is typically a Cabernet Franc driven wine produced in homage to the Maya bottling that Tony fell in love with years ago. And the name Avoyelles is in tribute to Kimberly's heritage; this is the name of the parish in Louisiana located just north of Lafayette that her family is from and continues to farm corn, soybeans and cotton.
The 2019 Patria Avoyelles is a blend of 55% Cabernet Franc, 40% Cabernet Sauvignon and 5% Petit Verdot. This wine is dark ruby in the glass and noticeably opaque; the focus of the bouquet is clearly on the fruit with primary aromas of blackberry preserve, boysenberry and dark plum along with a floral note of violets. A secondary aroma of mocha and light cedar box shows deeper in the aromatics. This wine offers dark fruit across the palate including of plum; it is anchored by robust, dense and chewy tannins which linger for quite some time after the fruit has dissipated on the finish. This wine has loads of depth and character to pique the attention of any serious Napa Valley red wine collector. This bottling was aged in both Darnajou and Taransaud French oak barrels for about 20 months. Like with the other Patria red wines, Tony puts together the base blends early on, typically in January and February following harvest.
The 2015 Patria Cabernet Sauvignon Oakville Ranch Napa Valley is dark ruby/purple and is opaque in the glass; the bouquet is opulent and crowd pleasing with a strong union between primary fruit spices and secondary aromas from the barrel aging. It offers ripe blackberry, boysenberry, mocha, espresso, chocolate brownie, molasses and other baking spices. Also deeper into the aromas is a comforting wood spice which reminded us of our childhood spent with friends helping cut oak branches which had fallen on their ranch – the smell of oak dust on a hot summer day covering the back of our sweaty hands. The palate is big, fleshy but nicely balanced between flavor, acid and structure. The tannins are densely woven but not coarse in their textural feel. Lingers with some savory darker spices including pepper, dust and dried tobacco leaf. We tasted this wine 7 years post vintage.
—
The wines are sold direct to consumer but also are available at select fine retail wine outlets including in California, Texas and New York among other states. For more information and to sign up for their mailing list, visit: www.patriawines.com