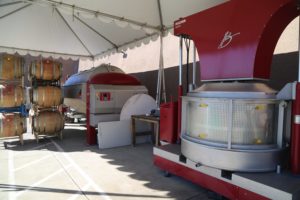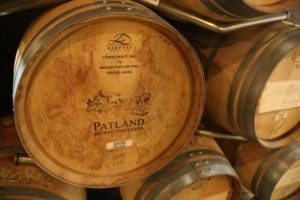 Patland Estate Vineyards was founded by Henry and Olga Patland with the purchase of their property on Soda Canyon (southern Napa Valley) in 2007. Henry immigrated to the USA to Miami from the Ukraine in 1978 when he was still a child – the family made ends meet by delivering newspapers. Later he and his family moved to San Francisco where his parents opened a video store near Golden Gate Park selling copies of Russian Films and TV shows to the local Russian community. This entrepreneurial spirit was instilled in Henry; today he runs a successful high tech data storage company based in the Silicon Valley (that he co-founded).
Henry met his wife Olga (also from the Ukraine) while in college at UC Santa Cruz. He and Olga have enjoyed fine wines for many years and would often visit Napa based on its proximity to the San Jose area. The first time they envisioned owning a winery was while visiting Peju Winery in the 1980s; Tony Peju was pouring wine behind the bar to guests and after talking with him were inspired by his passion for the world of wine.
In 2007 Henry decided to sell Integral Solutions Int'l (provides disk drive/magnetic testing services), a company he cofounded in 1995 and planned on retiring in Napa Valley and purchasing a vineyard. Their real estate agent connected them about a property high on the slopes of the Atlas Peak sub appellation above Soda Canyon. They visited on a miserable and rainy day and were not immediately sold. The owner was Jack Daniels of Wilson Daniels, the fine wine company based in Napa who represents some of the world's most prestigious wineries. Daniels wisely told them to come back the next day. This turned out to be a gorgeous day which is so common in the Napa Valley. Olga was immediately sold on the views and the property.
However, Henry was unable to sell his company which became even more challenging considering the economic downturn in 2008. Today he still runs his high-tech company while at the same time has slowly built Patland Estate into a premium producer. The first Patland Estate proprietary wine was a 2007 vintage made from the original Italian varietals that were growing on the property at the time of their purchase.
Their property is named "Terra del Cuore" and in Italian translates to "land of the heart" – the name makes sense considering their beautiful estate and Tuscan styled home. The estate is 36 acres of which only approximately 4 acres are planted to vine – located at about 1600 feet in elevation. Based on the Jack's interests in wine, a number of Italian varietals were already planted here. The home was destroyed in the Atlas Peak fire of 2017 but has since been rebuilt. And following these fires, the Patland family purchased property along the southern part of the Silverado Trail; it includes 6 acres of vines planted to Cabernet Sauvignon and a bit of Malbec.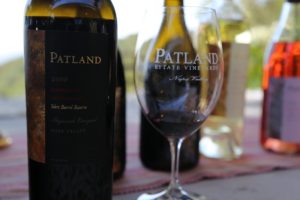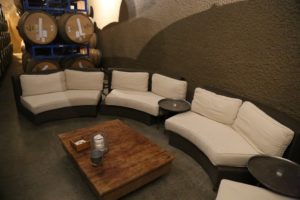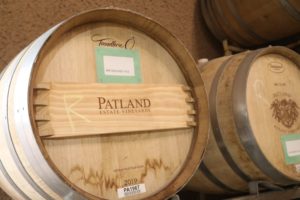 After a trip to Argentina where they visited some of the prominent Malbec growing regions, coincidentally their winemaker Jay Buoncristiani made a recommendation to convert over the existing Italian varieties to Malbec. They followed his recommendation based on what might be a better suited varietal for their palate and as well as a varietal that they expected to do well in these very rocky soils. Malbec now forms a 100% varietal limited release bottling from the estate – their only estate wine (and tiny amounts of Malbec are also blended in some of their other red wines). Part of this vineyard offers stunning overlooks onto Soda Canyon below as well as the southern part of the Napa Valley including the San Pablo Bay. The fog line is typically below their property and at times it can be a sea of white below while the sun shines brightly on their property.
They make a variety of both red and white wines and source the fruit for these wines from select vineyards in Napa. The well-regarded Stagecoach Vineyard is located much further up Soda Canyon Road. This vineyard is one of Napa's largest mountain vineyards (sold in 2017 to Gallo Family Wines) – previous owner Dr. Jan Krupp told us he had to make 40 phone calls to various vintners initially when trying to sell the first vintage of his fruit. How that has changed – this vineyard provides fruit for a number a premium winery in the valley. Patland Estate sources fruit for their red wines from Stagecoach.
During a visit to Jerusalem (Olga immigrated from Israel) they found a silver coin that dated from 67 C.E. with the image of a pomegranate on one side. Their property was already planted to a number of pomegranates and this fruit reminded Henry of the Ukraine where many pomegranates grow. Olga decided it would make a nice symbol in their wine packaging. Today the image of this coin is embossed on the front label of all their wines.
Their initial production was just several hundred cases. Today they make a wide variety of wines from whites to reds and the total production is around 3000 cases. Henry has grown the label wisely over the years. From his prior business experience, he has learned to keep supplies ahead of demand – over the past few years they have steadily increased both productions based on demand and built a solid wine club list. All their bottles are numbered on the back label – indicating which bottle number you are drinking out of their total production.
Ever since a child, the Patland's eldest son Michael's first love has been art. It wasn't until much later in life when he began to look at wine as art that he began to develop an appreciation for wines. Art like wine is a subjective experience and wanting to blend the two – he contacted an artist who trained him as a child. He arranged a private showing with Croatian artist Dzemal Emric (lives near San Jose) and Michael chose several unique labels for each of the wines. The works chosen are abstracts highlighting the subjective nature in both art and wine.
Select Wines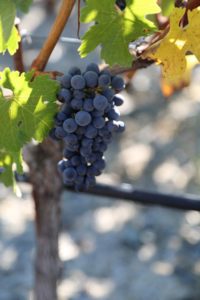 The 2013 Patland Estate Rosé of Syrah has a complex nose, yet is elegant, slightly floral and parallels the complexity of the palate. This is not a lightweight rosé. It has nice weight on the palate yet retains decent acidity. A flavor of watermelon that reminds one of licking a jolly rancher candy and raspberry show on the palate. There is a lingering finish that lasts for some time and shows just a hint of spice including subtle pepper notes. The wine is clean on the palate and is refreshing to enjoy cool – on a warm summer day. This is a very well made and delicious Rosé.
We don't see too much Sauvignon Blanc from Oakville – rather Yountville and Rutherford seem to be hot spots within the Napa Valley for this varietal. Their 2013 Patland Estate Sauvignon Blanc is from Tench Vineyard on the east side of Oakville which borders the Silverado Trail and Screaming Eagle. The 2013 Patland Estate Sauvignon Blanc shows pleasing aromatics – more tropical in nature than grassy and showcases rich fruit including yellow pineapple along with floral notes. Think springtime. Tropical notes follow onto the palate – good acidity. A finish shows notes of red and green apple that lingers delicately.
The 2013 Patland Estate Chardonnay shows toasted caramel, various baking spices, baked pear, banana and just a hint of graphite on the bouquet. The entry is soft and rounded – and surprisingly focuses on the fruit rather than the oak based on its fermentation and aging program. The wine was barrel fermented and also saw plenty of oak during its aging. Red apple and notes of vanilla show on the finish – it is a clean finish that lingers leaving you wanting more of this wine.
The 2011 Patland Estate Syrah is 100% varietal – it shows dark in the glass and reveals a big aromatic bouquet. Powerful and rich aromas with tinges of chocolate and mocha (think dessert aromatically) soon leads to a palate that features black fruit – namely blackberry and dark plum. Dusty tannins are well integrated in this wine and linger for some time on the finish.
A wine similar in style to the ones that Henry enjoys drinking and a big part of the reason why he used to visit Napa Valley, now plays a part in the full circle he has transitioned from passionate wine consumer to vintner. This wine is their Reserve Cabernet Sauvignon. He was tasting various wines and percentages during the blending trials (the 2010 vintage) with Jay. They were trying to decide on which blend to use for the final wine when Henry tasted the 100% varietal. Immediately he knew this was the wine he wanted to bottle. It is a barrel selection – all the fruit is from the Stagecoach Vineyard.
The 2010 Patland Estate Reserve Cabernet Sauvignon shows slightly smoky and slightly herbal in the glass soon revealing layered complex dark fruit aromas. The entry on the palate is soft but quickly gains in strength until the wine presents chalky earthy tannins that coat the palate from front to back and linger for some time. The tannins soften noticeably as this wine breathes – and decanting is recommended. Flavors include blackberry, black cherry and dark chocolate. This is a big robust Napa Cabernet Sauvignon.
—
The Patlands are part of a 4-family winery partnership called the Caves at Soda Canyon – located a few miles down the road from their estate vineyard and only about a 20 minutes' drive from downtown Napa.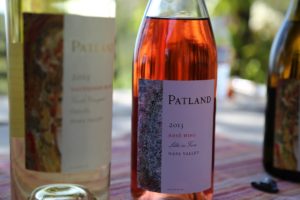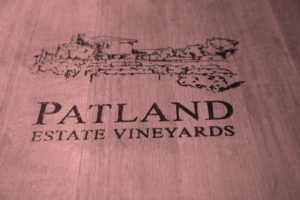 In the face of natural disasters, this winery has two strong advantages and it has already been tested twice since opening. Advantage number one is its underground location and advantage number two is it is built into what essentially looks like a giant rock pile. The winery survived the Napa earthquake of 2014 without loss of product (despite significant damage to the relatively nearby city of Napa) and during the Atlas Peak fire of October 2017, again the wine was safe as the fire did not come into the cave, yet it burned all the landscape around the winery and even partially melted some of their outside tanks and the asphalt of their parking lot.
Mike is also founder of The Hidden Gallery; a Napa Valley based brand that focuses on wines not generally associated with contemporary Napa Valley bottlings.
Visits here are by appointment and are a unique opportunity taste the Patland Estate wines as a highly personalized experience (both a tour and a tasting and weather permitting, a stop on top of the hill outside of the winery offering stunning views of the valley below. For more information visit: www.patlandvineyards.com