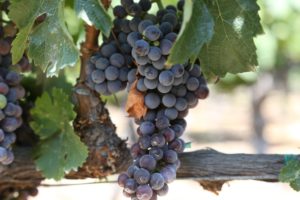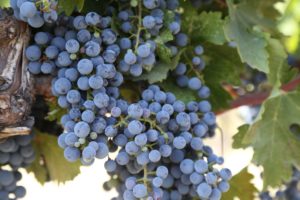 Patel Cellars. The focus of Patel Cellars is on Bordeaux varieties hand-crafted with a Napa expression. Founder, Raj Patel moved to California from India when he was 6 years of age and is currently one of a very small percentage of Indian Americans involved in the Napa Valley wine industry. During college (UC Davis) he became enamored with wine and upon graduating took a summer internship doing lab work at Robert Mondavi Winery. It was here he furthered his wine education and developed his palate as well as became familiar with some of the premium Napa wines at that time.
His background is in finance and besides being the proprietor of Patel Cellars, he is currently a Vice President at Bank of America. It was through the finance world that he met Ken Nicholas (a marketing and sales background), who was his General Manger for several years. A number of years ago he was tasting at a local winery when he was introduced to winemaker, Kian Tavakoli. He explained to Kian his passion for wine and his interest in starting a winery. He then reconnected with Ken a number of years later. Kian was hired to be the winemaker and the initial core team of Patel Cellars was formed – although Kian is no longer the winemaker.
Patel Cellars released their first commercial vintage in 2007. Initially they considered producing several wines (they actually produced a Zinfandel early on in the project) but then narrowed down their production to just two wines annually, one simply called "Red Wine" and the other a Cabernet Sauvignon.
While Raj does not live in Napa Valley he is in very close contact with his winemaking team and is carefully involved in winemaking and all blending decisions. Blending is a critical component of their winemaking. They evaluate each blend on its own merit and often "declassify" a large percentage of their wine. In other words, they do not bottle any wine they feel does not meet their exacting approval.
The initial focus of their vineyard sources was in the southern part of Napa Valley – harvesting from select vineyards primarily in the Coombsville region. Coombsville is among the cooler parts of the valley and is a region strongly influenced by the nearby San Pablo Bay. During the summer, fog often moves up and down this region like waves in the sand, albeit much slower. At night the fog moves in from the south and tends to cover the entire area but then usually burns off by mid to late morning. There can certainly be heat spikes in the southern part of the valley but on the whole, this is a fairly stable growing climate which tends to create long hang times with even ripening conditions. The wines we have tasted from Coombsville, on the whole have great balance.
Over the years they have contracted with additional vineyards in Napa Valley including Stagecoach, high on the slopes of Atlas Peak and the excellent McGah Vineyard in Rutherford.
Right out of the gate Robert Parker assigned a 95 score to their 2007 Cabernet Sauvignon. For a new producer, that type of notoriety was extremely helpful. In the years since their first release, their wines have been well validated by a number of prominent wine critics.
Select Wines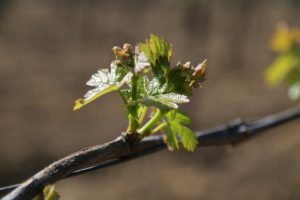 The 2010 Patel Red Wine is primarily made from Merlot but also contains Cabernet Sauvignon, Malbec and a tiny bit of Petit Verdot. During the initial blending for this wine, they created a number of various blends but always kept referring to the blends that contained less than 60% Cabernet Sauvignon. The blends above that produced wines in which the Cabernet became too dominant. This wine is very aromatic in the glass; it shows an elegant bouquet. It is easily consumed and dare we say, fun to drink. It has a rounded mouth feel, juicy fruit with plenty of flavor and notes of French vanilla and soft tannins lingering delicately.
The 2011 Patel Red Wine (was not yet released at the time of this review) reveals a pretty nose including some holiday spices and an underlying gravelly component. This wine delivers a wide range of flavor. It is a bolder and bigger wine than the 2010 vintage.
The 2009 Patel Cabernet Sauvignon offers an elegant nose, mineralities and a hint of cedar; these are delicate aromas which perhaps might lead one to believe the palate will follow suite. Not so, this is a big wine yet in balance. The flavor of the fruit, (darker in nature) holds up to the robust tannins. Initial spices followed by an intruiging earthiness show from mid palate towards the finish. Presumably, this wine will age well.
The 2010 Patel Cabernet Sauvignon (also not yet released at the time of our initial visit) is restrained aromatically; this is a wine that needs decanting and some time to breath. There is an appealing subtle bay leaf note on the palate, it is slightly savory; the wine shows plenty of complexity and predominately darker fruit. Good acidity. It has a delicious flavor profile which is anchored by a firm structure.
—
In the early years buzz was created through excellent scores and word of mouth. With a limited production annually, their wines are very selectively distributed in certain markets and retail outlets in just a handful of states. They sell direct via their website and mailing list. One might also find them pouring at select wine and food events in Napa Valley such as Flavor Napa Valley; the wines has also been well received at the Aspen Food and Wine Festival.
Tastings, Vintner's Collective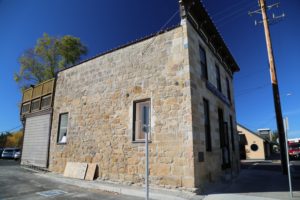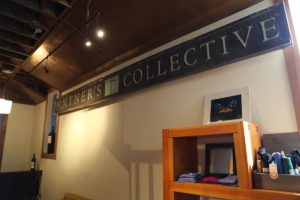 Patel is part of a coveted collection of vintners represented at Vintner's Collective, the city of Napa's oldest collective tasting room. Vintner's Collective showcases wines from a select group of mostly Napa Valley based producers – most of which do not have their own tasting rooms. And it's not easy to have one's wines represented here. Vintner's Collective has an in-depth vetting process to make sure the wines match what their customers are interested in, including varieties, price points and wine styles.
The tasting flights differ everyday which is certainly part of the appeal for visitors. Unless one is acutely tuned into the world of boutique Napa Valley producers, one probably will never have heard of any of the labels that are being poured, and that is not a bad thing. These wines represented are typically from producers who have a maximum production of 1000 cases. A number of tasting flights are offered – geared towards all levels of wine interest and prior knowledge.
Walk-in customers are generally welcome if space allows but appointments can also be requested including for more private tastings hosted upstairs.
Green Room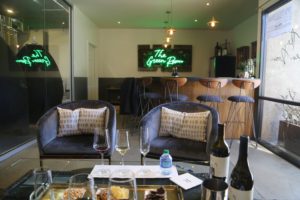 In early 2019 The Green Room opened in an industrial park located just south of the city of Napa. This tasting space was formerly occupied by Holman Cellars and with a few updates, is now used for by appointment-only tastings focusing on wines produced by Julien Fayard (including wines from some of his clients).
The idea behind the name is two-fold, Green Room is generally referred to as a room where actors or others about to go on live television or other performances take time to relax and calm the nerves and it is also a surfing slang, referring to barreling a wave or getting time inside the hollow of a wave as it curls over before cresting. Appropriately named, the room is a calm space, intimate in size and is located just outside the winery but close enough so visitors can watch the action through the adjoining windows. And the name ties into one of Julien's other passions, surfing. The ceiling of the winery is lined with surfboards.
Visits are always private for your party and each sit-down tasting includes several current release Patel wines.
And some of Julien's other brands can also be tasted here by appointment including Le Pich and Purlieu Wines. In a unique offering by a Napa winemaker, Purlieu offers a brandy produced from Napa Valley grown grapes; their first release came in early 2021.
—
For more information, to join their mailing list to receive notices about allocation releases, visit: www.patelwinery.com