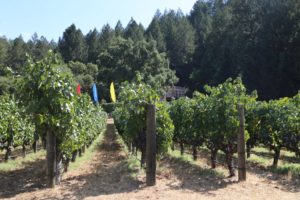 Parry Cellars is not the smallest overall production winery that we have visited in the Napa Valley, but it is certainly one of the smaller ones. Their estate vineyard is only 1/2 acres; it sits slightly above the Silverado Trail in the north part of the valley. It was planted by one of the most respected vineyard management companies in the valley – Abreu Vineyard Management. Before the Parry's purchased this property, the grapes from this vineyard were being used in a Pahlmeyer Red wine. Pahlmeyer is a premium Napa based winery.
Parry Cellars was founded by Stephen and Sue Parry. Both have family history of making alcohol. Sue's grandfather Luigi, used to make wine in his basement in San Francisco and Stephen's father Frank used to brew beer and cider in his garage in San Diego.
Stephen was born in England but raised in Southern California – he and Sue met at the University of California at Davis. While at UC Davis, Sue did take a wine course from noted professor Maynard Amerine (also a researcher – he also lived in the Napa Valley with a home in St. Helena). Stephen worked with the U.S. Fish and Wildlife Service for 30+ years.
Parry Cellars focuses on one wine only, a 100 % Cabernet Sauvignon. The same winemaker (Andy Schweiger) has been with them since their first vintage in 1999. Their wine is made at Schweiger Vineyards which is located on the top of nearby Spring Mountain district. The employ a local well-respected vineyard manager who oversees the vineyard and they also personally keep a very close eye on how the vineyard is grown and managed (thinning, dropping fruit, pruning, etc). With a vineyard this size you can provide excellent micromanagement in all aspects.
Their vineyard contains a fair amount of obsidian (Glass Mountain Road) is located within a very short drive from their property – named due to all the obsidian found there. Using as little water as possible in the vineyard is important – and have done so helped in part by their cover crop and native grasses that grow between the vines. The vines are clones taking from Spottswoode Winery (located in St. Helena). The vineyard averages about 3 tons per year.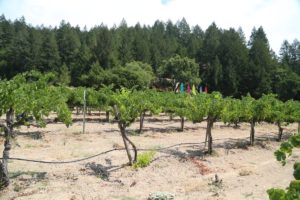 We tried a vertical flight of their wines from 2002 to 2005. It is always intriguing to experience how different vintages show unique characteristics; certain vintages can be quite recognizable from others. In this case the vintage makes even more difference as the fruit is from the same source every year and their vineyard is so small. In addition, the same oak aging program is used each year.
The one aspect that all their vintages have in common are smooth silky tannins; the terroir of this site along with their specific clone ensure balanced more restrained wines. These wines pair very well with food, are harmonious throughout the palate and a pleasure to drink. Our favorite is their 2002 (yes we enjoy wines that have some additional aging); it has an elegant restrained bouquet with hints of blackberries on the bouquet. The 2003 was their current release as of the time of this review.
Their wines typically see about 20 months in French Oak which includes a combination of new and used, and then another almost 2 years in the bottle. These wines are aged well before they are released. With a production of about 200 cases annually they have very limited distribution.
You can find their wine on the wine list at Solbar in Calistoga and Cole's Chop House in Napa as well as select restaurants in San Francisco, Los Angeles, San Diego, Las Vegas, Washington DC and selectively in Connecticut, Maryland and Texas. Parry Cellars maintains a mailing list which you can join on their website. They selectively participate in various consumer and trade tastings. For more information, visit: www.parrycellars.com
NOTE: this review has been identified as needing a *major* update.