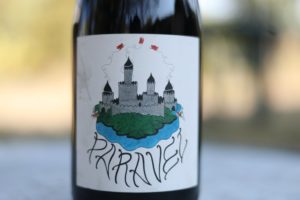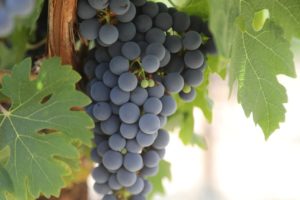 Paravel Wines was founded by long time Napa vintner Jon Jones (originally from South Lake Tahoe). Jon was not always surrounded by the wine business; while studying music (the Trombone) at the University of California Santa Barbara he was introduced to wine through his roommates' father who worked at Robert Mondavi Winery. He and his roommate visited Napa Valley and took a tour of Mondavi where his roommate's father was a senior wine educator. Jon remembers inquiring about working here and the reply was something like "if you want a job here, let me know".
Jon eventually took him up on the offer and his career in Napa Valley began by answering phone calls relating to the winery's annual Summer Concert Series. This wasn't exactly the job he had in mind but then he quickly discovered the winery lab; soon he was working here several days a week. Hands on experience in the business soon became his ally; Merryvale hired him for oenology work in their lab which was followed by several years working at Opus One and later, a position as winemaker for Lava Vine Winery.
Jon sourced fruit from Henry Brothers' Ranch high on Howell Mountain every year since his first vintage (conveniently this site is only 1/2 mile from his home). He always harvested from the same rows of Cabernet Sauvignon and Petite Sirah each year. The Henry Brothers' Ranch was family owned for many years, but they eventually sold the ranch to AXA Millésimes, the owners of nearby Outpost Winery. This site is located high on the red soil slopes of Howell Mountain (with an uppermost elevation of just under 2,000 feet). This property is 36 acres of which 18 are planted to vines. Brothers, Ric and Bryan's parents purchased this land in 1975 for $150,000; at the time it was forested along with manzanita and as Ric recalls a small prune orchard.
Over the years, Bryan and his two sons have developed the vineyard site and grew nearly all red varietals including mostly Cabernet Sauvignon with a tiny block of Petite Sirah and a 1/4 acre of Sauvignon Blanc (the only white varietal that grew on site). The grapes were highly sought after with a number of mostly smaller producers purchasing fruit each year. After the sale of the vineyard to AXA Millésimes it was completely replanted in 2022.
Jon hasn't abandoned his musical career; he still performs occasionally, and we see him around Calistoga from time to time, but his musical outlets have primarily been channeled into wine making. He compares wine making to that of a symphony where musicians work together to create a harmonious sound – in wine making different nuances can be introduced from grape sites, barrels and style. He doesn't want different characteristics to clash, rather he strives for balance in all his wines. In that regard he doesn't necessarily consider tannins, bitterness or astringency bad components as long as they are in balance and managed correctly.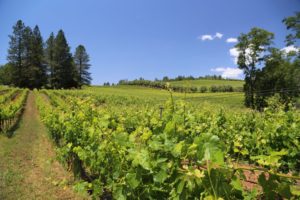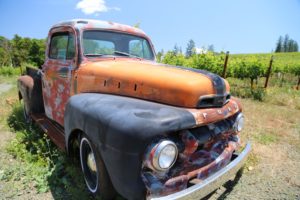 His favorite variety is Petite Sirah. He was introduced to it during blending trials at one of his previous jobs but then was seduced by a Behrens & Hitchcock produced Petite Sirah when he discovered a bottle of this wine in the Oakville Grocery wine section. He soon went on a buying spree of wines from this variety and quickly realized too many Petite Sirahs were overbearing and overly tannic.
He makes wines slowly, preferring a style that balances drink-ability young with the capacity to age. His wines have both of these characteristics. He prefers lower temperature open top fermentation, which tend to take longer to ferment to dryness. Barrel selection is key; he learned about the nuances of barrels while working at Opus One. And conveniently Jon makes wines at a small winery a few minutes' drive from where he lives.
He made his first Petite Sirah in 2008; wine from this variety was the first wine made under Paravel (first vintage, 2011). Perhaps attracted to the mountains based on where he grew up in the Sierra Nevada's he moved to Howell Mountain. And of all the AVAs in Napa, Howell Mountain probably most resembles what you would find at a similar elevation in the Sierra Nevada mountains. On a clear day from properties near his own home, you can actually see into parts of the Sierra Nevada mountains across the great Central Valley.
In 2016, he planted about an acre of Petite Sirah in front of his Howell Mountain home (1352 vines to be exact). Some advised him to plant Cabernet Sauvignon – (common advice in much of Napa Valley) but Petite Sirah is his focus and certainly a much rarer variety in the area. And with the the former Henry Brothers' Ranch being a comparable site with similar rocky soils in front of his home, his estate Petite Sirah should do quite well. Petite Sirah inherently can make robustly structured wines including as Jon says, "jagged edges". In the mountains these jagged edges have to be further tamed and Jon has certainly done this with his wines. The first vintage from this one-acre vineyard Jon calls The Arbiter was a tiny production of rosé in 2017. And the first Petite Syrah from this vineyard was the 2019 vintage.
An Arbiter refers to a person who settles a dispute or an individual whose influence affects social behavior of others.
The Arbiter Vineyard

Despite using only an acre of land, the soils vary dramatically even within this small space. One part of the vineyard is especially rocky – with rocks starting only a few inches below the topsoil. Holes had to be specially dug to get the young vines established in this especially rocky part of the vineyard. Their first vintage from this tiny vineyard should be in 2022 or 2023.
Select Wines
The 2017 Paravel Sonoma Valley Rosé of Syrah is deep copper in color; the bouquet offers aromas of candied orange peel, strawberry, a kaffir lime zest, recently peeled Ruby grapefruit and a hint of not fully ripe lychee. We tasted this wine 6 years post vintage and its aromatics still show a plenty of freshness. So does the palate. It offers flavors of mandarin orange, tangerine, kumquat and grapefruit along with a perceived sweetness of other ripe citrus fruits. Its texture is supple and glides over the palate gently. The finish is anchored by an energetic and a mouth watering brightness due to the lively acidity. The richness of fruit continues to persist. Nicely done. Counter to market perception, this wine is clearly proof that well-made rosé's can and will age.
The 2014 Paravel Howell Mountain Napa Valley Petite Sirah (Henry Brothers Ranch) is as one expects with this variety, dark ruby and opaque in the glass; the bouquet offers aromas of dark plums, ripe blackberry, boysenberry, a meaty nuance and a rusting iron note which also has a slight perception of blood. But give this wine time to evolve in the glass and the fruit aromatics soon become the dominant presence. The palate offers bright acidity, is brambly, juicy and shows flavors of cherry, currant and wild raspberry. The savory and mouthwatering finish lingers with medium structured well integrated tannins, a darker pepper spice and notes of dried herbs including tarragon. We tasted this wine 8 years post vintage date, and it clearly shows like a much younger wine. This bottling has plenty of life ahead of it still.
The 2013 Paravel Henry Ranch Petite Sirah is 100% varietal; it is coal black / inky dark in the glass and opaque as this variety often is. The nose is intriguing with character including forest floor, mushroom, is somewhat gamey with dark black fruit including blackberry and as the wine opens more layers of aroma are revealed including some notes of mocha. We also tasted this wine again 10 years post vintage and the bouquet had become more dessert like with aromas of dark chocolate, cloves, and cardamom while still retaining plenty of its dark fruit character. The mid palate is dense and rich with broadly distributed dusty tannins which linger for some time. This wine finishes juicy and is mouthwatering with a fine balance of acidity, fruit and tannins. After 10 years, we noticed the tannins had softened and became more chalk-like in texture. We felt some lingering heat in the back of our palate from the alcohol on the finish. This wine is showing very well with some age. Only 82 cases were produced.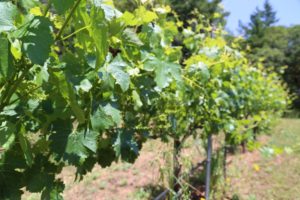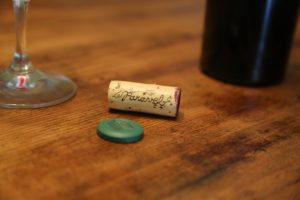 The 2013 Paravel Henry Ranch Cabernet Sauvignon was blended with 5% Petite Sirah. Remarkably Jon has noticed different flavors coming from vines in a single row (depending on their location within the row) as well as different ripening times throughout the row. The rows he sources from vary slightly in elevation from one end to the other. This wine has very pretty aromatics with a wide range of aromas especially as it is allowed to open. Hints of coconut, milk chocolate and at times dark cherry, red cherry and cassis. The finish is long with chewy earthy mountain tannins. Only 100 cases produced.
Paravel has become known for their tiny production rosé wines; as of our latest update to this review, 4 unique rosé wines are produced. And Paravel also produces mountain grown olive oil. As of the latest update to this review they produce two bottlings: one from Howell Mountain and one from Diamond Mountain. And this olive oil is cleverly called ParavOIL.
—
John named his wines Paravel, after the castle of Cair Paravel which was the capital of the Kingdom of Narnia in author C.S. Lewis' The Chronicles of Narnia children's fantasy books. This name is a nod to both imagination and the realities of life. The image of the castle on his label was drawn by Ben Henry (of the Henry Brother's Ranch) and the butterflies represent his family.
Paravel Wines (other than one outlet in Florida and at Evangaline Restaurant in Calistoga) has no distribution in the retail market, rather wine is sold direct to consumer via their mailing list and from various tastings Jon participates in. He is a member of the Howell Mountain Vintners & Growers Association – which includes two combined consumer and trade tastings each year: one in San Francisco in Spring and one at Charles Krug Winery in St. Helena in the summer (both very worthwhile tastings which includes only Howell Mountain based wineries and producers).
For more information about this tiny producer, to purchase current release wines and to join the mailing list or wine club, visit: www.paravelwines.com