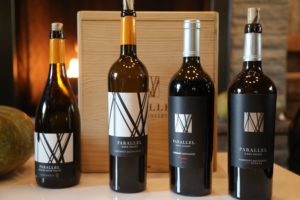 Parallel Wines is the only Napa winery with a direct association between Park City, Utah and the Napa Valley. In an homage to skiing, Parallel refers to the lines first left after an initial run, down a ski slope – preferably through fresh powder 🙂 The label is creatively designed to reflect these "ski lines". Parallel Wines is owned by three couples (two of whom are active with the brand and the other are silent partners) but all share a strong interest in wine. They initially met in Park City and have developed long term friendships. This is one of the few multi-couples owned wineries in Napa Valley – all connected through a love of wine, friendship, enjoyment of skiing and a love of both the Napa Valley and Park City.
The three couples are Mac and Ann MacQuoid, Steve and Val Chin (both live in Park City), Bulent and Mary Pulak (who divide their time between Park City and Istanbul. A fourth couple, Mike (died 2020) and Toni Doilney are no longer in the partnership. And in 2021 Napa Valley resident Adrienne Smith became a partner in the business. She originally joined Parallel in 2018 as their Director of Marketing. The couples all work in a variety of businesses including real estate, the medical field and with art. And each has contributed to the growth and development of Park City in a variety of ways including developing the Goldener Hirsch Inn in Deer Valley, contributing support for the historic Egyptian Theatre, helping raise money for the construction of the Eccles Performing Arts Center and also support for a number of charitable organizations including education and the arts.
Park City

Deer Valley Ski Resort

Goldener Hirsch Inn

Egyptian Theatre

Eccles Performing Arts Center

Previously, Parallel owned two vineyards in Napa Valley. Their first vineyard was purchased in 1999 on tiny Maple Lane, roughly east of Calistoga. In 2005, on a golf centered week-long vacation in Napa Valley, while taking a break from golf one day, the husbands decided to look at real estate while their wives went shopping. Before the couples returned to Park City, they had purchased 62 acres of hillside land located above Lake Hennessey (east of the town of St. Helena on Greenfield Road) not far from Amizetta Winery. And that same year they sold their property on Maple Lane.
This hillside vineyard became the core of their Cabernet Sauvignon program for several years (managed at the time by Jim Barbour) producing a 100% estate Cabernet Sauvignon from 2006 through 2008 and grapes from the property were blended with other Cabernet Sauvignon vineyard sources in subsequent years. The final fruit harvested from this property was in 2010. The following year, the partners sold the property (now owned by QTR Wines). Today Parallel no longer owns any vineyards in Napa Valley, but rather sources their Cabernet Sauvignon from premiere vineyards primarily in the Oakville and Rutherford sub appellations.
The first vintage of Parallel Wines was in 2003. Their focus is straight-forward – crafting three very limited production wines each year, a Chardonnay sourced from a premium vineyard in the Russian River in neighboring Sonoma County and two Napa Valley Cabernet Sauvignon wines including their reserve Cabernet Sauvignon. All their hand-crafted wines are 100% varietal and total production is usually only around 700 cases per year.
Early on, the partners were introduced to winemaker and vineyard consultant Cary Gott who then referred them to an up-and-coming young winemaker at the time, Philippe Melka. Philippe has been their winemaker since day one; Parallel is one of his longest consulting clients.
Philippe grew up in Bordeaux, earned his degree in Geology at the University of Bordeaux and later his master's degree in agronomy and enology. His first wine job was at Château Haut Brion in Bordeaux. His introduction to Napa Valley came in 1991 as an intern with Christian Moueix, proprietor of Château Pétrus in Bordeaux and Dominus in Napa Valley. Philippe came to Dominus to study soils and then spent a few years as a traveling winemaker and ultimately settled in Napa Valley in 1994.
In what would become the start of a long and successful wine making career, his first two wine making / consulting jobs were in 1995 at Seavey Vineyards and at Lail Vineyards (both of whom he is still involved with today). He also began Atelier Melka in 1995, a wine consulting company specializing in creating limited production premium wines for a variety of well-regarded brands – mostly based in the Napa Valley. Atelier in French means an artist's studio or workroom (where specific skills are taught and passed down). But today he has plenty of help; Atelier Melka employs several accomplished winemakers.
Over the years the Parallel wines continue to be crafted with a fine balance between finesse and power; these are wines that can certainly be consumed in their youth. But their real secret is how they develop after years in the bottle. These are wines that age remarkably well, often showing characteristics mimicking younger wines, but becoming more refined over time.
Select Wines
Whites
Several of the finest Chardonnays we have tried in Napa Valley are made by local producers but are sourced from neighboring Sonoma County. Parallel has access to a premium vineyard in the Russian River Valley and continues to source from this site.
The 2021 Parallel Chardonnay is from the Russian River Valley in neighboring Sonoma County. This wine is medium golden in color; the bouquet offers a honeyed note with a union of both stone fruits and tropical influences including apricot, pineapple and mango. The palate is brightly lit from its lively acidity and richly fruited including flavors of mandarin orange and nectarine. Its texture is lightly creamy. Not oaky. Not buttery. Refreshing.
Parallel does not vineyard designate their wines so one doesn't always know the exceptional pedigree of their source vineyards. However, in 2018 only, the source for their Chardonnay was from a very special Napa Valley vineyard at an elevation of about 1,600 feet on the western edge of Mt. Veeder in the Mayacamas mountains (end of Wall Road). From our own knowledge, these are among the oldest Chardonnay vines in all of Napa Valley (the Hayne Vineyard in Coombsville has Chardonnay still growing originally planted in the late 1960s). Like other vintages of this wine, it was fermented and aged in oak puncheons (about 50% new) and went through partial malolactic fermentation.
The 2018 Parallel Chardonnay offers a noticeable freshness, both on the bouquet and on the palate. The bouquet offers aromas of citrus blossom, honeysuckle, lemongrass and a lime zest. This wine is about the varietal characteristics rather than any overt influences from the oak. Rounded but not heavy or viscous, the wine is carried by its fruit and its acidity. Notes of baking spices and crème brûlée. Drinks very nicely by itself. And for this particular vintage, they did not have enough 750ml bottles to complete the bottling, so ultimately, they bottled 49 magnums (each hand-signed by Philippe).
The 2014 Parallel Chardonnay is golden color in the glass and offers tantalizing aromatics. It is fruit forward on the bouquet with aromas of golden apple, honey suckle, crème Brulé and as the wine opens further, hints of almond. A sweetness also persists – perhaps brown sugar. The first word we wrote in our tasting notes as soon as we tried this wine was balance. This wine has it. It also features some weight but without being heavy – complemented by the intensity of fruit. Lingers cleanly with good acidity and a hint of dessert spice.
Incidentally the first vintage of Chardonnay produced for Parallel was the first Chardonnay that Philippe made for any of his clients.
Reds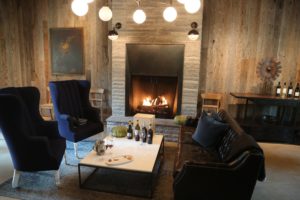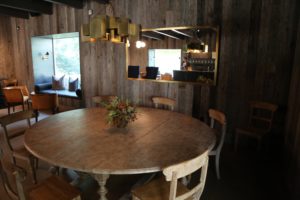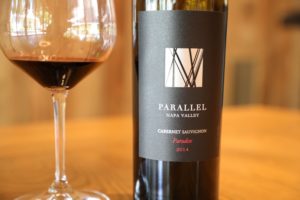 Every year since 2010, the Parallel reserve Cabernet Sauvignon is named after a black diamond run from a prominent ski resort (either domestic or international).
The 2019 Parallel Black Diamond Reserve Cabernet Sauvignon Prima is deep ruby in color; the bouquet offers a variety of spices including of tobacco, dried herbs along with crush rocks and a note of petrichor (the resulting smell from rain on dry soil/rocks). The palate is darker with flavors of plum, blackberry, crushed peppercorn and sage. The finish is equally dark with gravelly tannins and a persistent dusty character. Mouth watering. Tasting this wine made us want to enjoy a juicy steak from the BBQ.
The 2014 Parallel Black Diamond Paradise Cabernet Sauvignon is named after the black diamond run at Mad River Glen ski resort in Vermont. Offers a diversity of aromas including blackberry, blueberry, a subtle hint of dried herbs/smokiness, toasted oak, black licorice and a sweetness of fruit that persists throughout the bouquet. The wine finishes with a perceptible mouthwatering juiciness – anchored by firm but fine-grained tannins that linger softly. A pleasure to drink young – but will go many more years in the bottle – showcases a fair amount of depth on the palate.
The 2016 Parallel Black Diamond Napa Valley Reserve Cabernet Sauvignon Limelight is highly aromatic showing primarily darker fruit notes along with dried tobacco leaf. Broad reaching across the palate, features a noticeable density both in layers of flavor and structure. Flavors of blackberry, dark cherry, tobacco and a hint of black pepper. Focused on the fruit. Rich, powerful and memorable with long lasting well-structured and chewy tannins.
The 2010 Parallel Black Diamond Napa Valley Reserve Fortune Teller 100% varietal Cabernet Sauvignon (named after the run at Deer Valley) is remarkably dark in the glass. Highly aromatic offering sweet fruit notes including ripe plum, darker currants and black licorice. As the wine opens further it reveals aromas of leather and darker chocolate. Ripe yet elegant. Also offers a subtle hint of tobacco leaf spice and hints of dried herbs. Still, plenty of grip from the tannins, slightly dry, but have certainly been smoothed out over time. This is a 'wow' wine, still with plenty of life ahead of it (we tasted 10 years after the vintage date).
And the 2007 Parallel Estate Cabernet Sauvignon is a testament to how well these wines age (tasted about 10 years after its vintage date). Offers aromas of sweet cherry, dessert spices, hints of black olive and an aromatic sweetness. Balanced across the palate, the tannins show a pleasing texture, grainy but not gritty or course. However, still shows plenty of grip. Also excellent acidity – this is a very food friendly wine.
The 2005 Parallel Cabernet Sauvignon is blended with 8% Merlot & 1% Petit Verdot. This wine is dark ruby in color with a rich complex nose that includes floral and black current aromas. The elegant mouth feel is soft and full bodied with black cherry, chocolate and a cigar box type smokiness that completes the finish.
—
Brasswood Location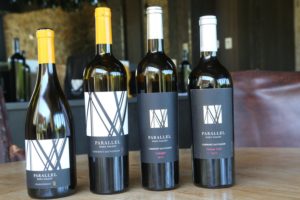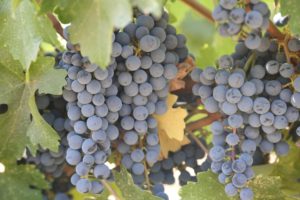 After producing their wines at several properties over the years (including their inaugural vintage at Fantesca), Parallel has comfortably settled into the state of the art winery at Brasswood Estate, just north of St Helena. Brasswood is also known among local vintners as being a premium custom crush winery – allowing other wineries to 'rent' space within their cave to make their own wines. Different somewhat then other wineries that rent out space, Brasswood allows the winemakers for the individual brands to oversee each of their own brands. Walking through the cave is like being in a candy shop for premium Napa Valley boutique producers – with wine from some of Napa's finest under the radar producers crafted here.
And there are other advantages to making wine here – from a winemaking perspective, one is surrounded by extremely talented vintners who all have access to premiere vineyards. A think tank so to speak where one can bounce ideas of others and relationships are cultivated.
In addition to the winery, Brasswood maintains a number of private hospitality spaces on the property which some of their clients use to host visitors by appointment (including Parallel). As of our latest update to this review, two private tasting options (usually hosted by General Manager, Adrienne Smith) are offered including the Après Wine Tasting (featuring three current releases and a taste of a library wine, each thoughtfully paired with hand-selected small bites including a tasting array of fine cheeses) and the Lunch & Wine Tasting which includes the same tasting flight as the Après Wine Tasting but with a selection of food from Brasswood Restaurant.
—
Their 2006 lot earned the 9th highest bid at Premier Napa Valley, a trade only auction held annually in February. Not bad for a winery that was fairly new at that time.
Parallel has been very generous over the years to a variety of charity organizations with money raised through sales of their wines including the U.S. Ski and Snowboard Team Foundation, the National Abilities Center, Youth Sports Alliance, Cystic Fibrosis Foundation and Meals on Wheels.
And in 2018, Parallel Wines participated in what is now the world's longest Shot Ski event. With 1275 participants spanning a distance of 2570 feet down Main Street in Park City, the world's longest shot ski was completed over 508 skis.
While their focus is strongly geared direct to consumer, they keep a small amount of wine for distribution including to select Park City establishments. Locally select wines and vintages are available for purchase at Vintner's Collective in downtown Napa, a space representing a tiny group of mostly Napa Valley based small producers. And sometimes the wines are available at the French Laundry in Yountville.
And in a partnership with reCork, Parallel recycles all corks from tastings and private wine events. These corks are then used as replacement material in various products instead of foams and plastics.
Those who join their Black Diamond wine club are offered a variety of membership benefits including Napa Valley concierge services, private tastings at other Philippe Melka associated properties, complimentary wine tastings, access to their library collection and to select winery release events. As of our latest update to this review, due to demand, there is a wait list access to this club. For more information or to setup a highly personalized tasting at Brasswood, visit: www.parallelwines.com