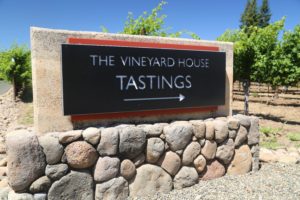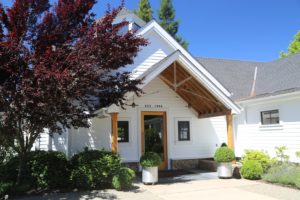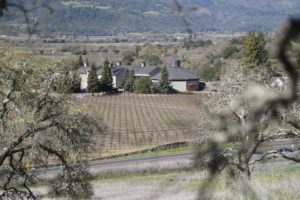 Paraduxx Winery was founded in 1994 by the original founders of Duckhorn Winery, Dan and Margaret Duckhorn. Duckhorn Wine Company was purchased in 2016 by TSG Consumer Partners, a San Francisco based private equity firm. In addition to Paraduxx Winery, TSG Consumer Partners owns Calera Wine Company in the Mount Harlan appellation east of Salinas in San Benito County on California's Central Coast (a long time producer known for Pinot Noir), Canvasback (originally a label part of Paraduxx – now a Walla Walla, Washington based vineyard and brand), Decoy (can taste at Duckhorn), Goldeneye (based to the north of the Napa Valley in Anderson Valley, Mendocino County), Duckhorn, Kosta Browne Winery in Sonoma County and Migration (winery + tasting room in Napa's Carneros District at the former Starmont Winery location). In addition to these wineries or brands, the company owns approximately 600 vineyard acres (15+ unique sites ranging in size from 5 acre parcels up to 75 acres) with a total production of over 900,000 cases.
As of our latest update Paraduxx produces 14 different wines (only the Paraduxx Proprietary Napa Valley Red Wine is distributed nationally) – nearly all their red wines are labeled as red blends. The name Paraduxx is a play on the word paradoxical – which means seemingly absurd or self-contradictory – and if one were in Bordeaux, blending these types of wines would be illegal. But this is the United States where such laws do not apply; winemakers can blend traditional Bordeaux varietals with nontraditional varieties. And when spoken he name ties in well with Duckhorn's nomenclature, sounding almost like "a pair of ducks".
With thousands of acres producing Cabernet Sauvignon focused wines throughout much of Napa Valley it is refreshing to discover a winery that focuses on non-traditional blends. The Paraduxx wine making philosophy is fairly unique in the region, blending Napa Valley grown Bordeaux varietals with non-Bordeaux varietals. Their first wine produced was from the 1994 vintage, Pintail – a blend of Cabernet Sauvignon, Zinfandel, Merlot and Petite Sirah.
Dan was born in San Francisco and grew up in various parts of northern California ultimately earning his undergraduate and graduate degrees in Corporate Finance from UC Berkeley. Margaret was born in New York – came west for Nursing School, met Dan at UC Berkeley and ultimately graduated from UCSF. Both had family involved in wine – Dan's father made cherry wine in his cellar in Sebastopol and Margaret's great grandfather on her mother's side owned a winery in Stockton, California.
Interestingly Dan's family name was originally Duc Horn (Hungarian & German roots) but when his family immigrated through Ellis Island the name was changed to the more easily pronounced Duckhorn (and combined rather than two words). Similar ducks (as on the Duckhorn label) appear on most of the Paraduxx wine labels & literature – in a tribute to Dan and Margaret's last name. And unrelated but of interest is Dan is an avid duck hunter.
Tony Biagi was Paraduxx's founding winemaker (he is no longer at Paraduxx). Tony enjoyed a lengthy and successful career in the Napa Valley including primary wine making roles for Plumpjack and Hourglass as well as consulting for select premium brands.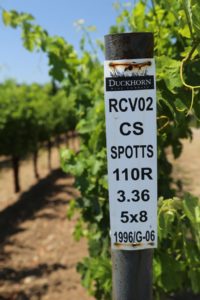 The wine making for Paraduxx used to be at Duckhorn (near St. Helena in the northern part of the valley). This was relocated in late 2005 to their current location next to the Silverado Trail (about a 20-minute drive north of downtown Napa). The iconic structure on the property is the 10-sided fermentation building; an adjacent barrel aging room is built slightly below the ground level.
The winery is located among the Rector Creek Vineyard (named after the very rocky creek that borders one side of their property) which Duckhorn acquired in 1994 from long time Napa Valley family and grape growers the Jaegers. This property is 39 acres of which 36 acres are planted to vine including Merlot (a Petrus clone), Cabernet Sauvignon (one of the clones being a coveted selection from Spottswoode winery), Zinfandel (Wolleson clone from a longtime farming family in Calistoga), Petit Verdot, Syrah and Cabernet Franc.
A number of their wines are sourced from the Rector Vineyard. However, in addition to this site Paraduxx has access to select other other Napa Valley vineyard sites in the Duckhorn portfolio including Cork Tree Vineyard off of Hardman Lane in the southern part of the valley (named for a large cork tree surrounded by vines), Stout Vineyard around 2,000 feet on the slopes of Howell Mountain and the Monitor Ledge Vineyard in the northern part of the valley.
The Rector Reservoir Wildlife Area Trailhead is located across Silverado Trail from the entrance to Paraduxx Winery. Limited parking is located next to the side of the road. This trail ascends steeply above the floor of Napa Valley offering panoramic vistas. Eventually it reaches a ridgeline with views of Rector Dam (the water supply for the town of Yountville) and continues further along the ridgeline. We highly recommend this hike in mid Spring, especially after a particular rainy winter when the hills are alive with a variety of wildflowers.
Hospitality
The tasting room is stylish and contemporary; similar to Duckhorn, the feel of the tasting room is somewhat like walking into someone's home. Tasting is by appointment only – although often last-minute appointments can be made especially if the tasting room is not too busy. Paraduxx offers a wide variety of tasting options including a primary tasting which can be paired with cheese and charcuterie upon request. Paraduxx also offers more in-depth and private tastings including The Blend Experience (a 90 minute fun blending session where guests learn how to blend and a taste of wines exclusively from their Rector Creek Vineyard), A Taste of the Mountains – focusing on wines sourced from their mountain vineyard sites and for serious wine enthusiasts who would like to commit to a full day of wine experiences, A Day of Duckhorn includes visits, tours a private tasting and lunch with stops at both Paraduxx and Duckhorn.
Visitors can either taste at the tasting counter inside or outside at the sit-down tasting tables (the covered patio has heat lamps). Chill music sometimes is played from outdoor speakers both in front and behind their main tasting salon. It is a relaxing experience to kick back on one of their deep cushioned seats on the wood deck on a warm late afternoon sipping fine wine, while watching the sun drop behind the Mayacamas mountains.
In the same style as the Duckhorn tasting, a wine educator will bring the wines on a metal tray paired with a few light snacks.
A tasting experience will usually include a vertical of a predominately Zinfandel Cabernet Sauvignon blend simply called, Napa Valley Red Wine. It's difficult to find a blend quite like this at other Napa wineries. On occasion at Paraduxx, we have heard "newbies" to wine tasting thrown off by this type of blend when they are used to only drinking varietal specific wines. Unlike all other wineries in the Napa Valley, most of the wines on a Paraduxx current release list will be labeled as red blends.
Select Wines: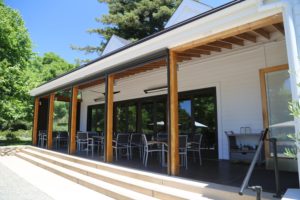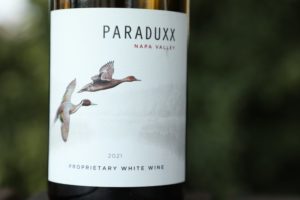 The 2021 Paraduxx Napa Valley Proprietary White Wine is a blend of 65% Viognier and 35% Chardonnay. The bouquet is a triple header of very expressive and intense aromatics including: tropical fruits, stone fruits and floral characters. It offers scents of ripe pineapple which reminded us of picking an uber ripe pineapple on the island of Morea in French Polynesia straight from the pineapple fields and eating it in the hot sun. There are also intense notes of honeysuckle, star jasmine, apricot, white nectarine, pear, guava, kaffir lime leaf (which contributes a light herbal note) and a lemon peel zest found deeper in the aromatics. We found its scents are just as pronounced when this wine is served very chilled versus when it warms. This bottling is rich across the palate with long lasting flavors supported by a creamy and almost saline texture. It reveals guava, passion fruit, pineapple, honeydew melon, white nectarine and white peach. The finish lingers with both fruit and a light herbal note.
The 2015 Paraduxx Rector Creek – Block 5 is a blend of 52% Cabernet Franc and 48% Zinfandel. Intriguing aromas include various herbs and sage which as the wine breathes makes way for underlying fruit aromatics including red berries. Also notes of darker chocolate, red licorice and espresso. A softness on the entry leads to both red and black fruit flavors including blackberry. Very balanced. Lingers nicely with finer grained tannins holding a light grip on the finish with hints of mocha and white pepper. Drinks quite well by itself.
The 2015 Paraduxx Rector Creek – Block 4 is a blend of 52% Petit Verdot and 48% Zinfandel. Offers sweet aromatics including black currant, hints of old cedar box and vanilla as the wine continues to open. A plushness continues across the palate – a pleasing texture from start to finish. Finer grained slightly chalky tannins anchor the finish along with red fruit flavors and some spices present. Great acidity – mouthwatering.
The 2015 Paraduxx Atlas Peak Red Blend is a blend of 61% Sangiovese and 39% Cabernet Sauvignon. Bright fruit aromatics including strawberry and blackberry along with floral notes. Somewhat savory. Offers a noticeable grip and tannin structure on the finish. Muscular and earthy with notes of cedar lingering. A multi-dimensional wine with plenty of layers, especially on the finish.
The 2015 Paraduxx Howell Mountain Red Blend is a blend of 80% Cabernet Sauvignon and 20% Syrah. Noticeably dark ruby red – offers an engaging bouquet with aromas of leather, cigar smoke, an herb nuance, perhaps rosemary and sage. A subtle thread of dark cherry sweetness lingers in the background. Plenty of weight and depth on the palate with a mix of both red and darker fruits. Rounded but robust tannins offer a firm grip on the very long finish.
—
A scene from the 1995 film, A Walk in the Clouds starring Keanu Reeves was filmed at Paraduxx. The fire scene in which the vineyards were destroyed was filmed on site in the Rector Creek Vineyard – conveniently using vines that had been pulled out because they were killed by phyloxxera.
Paraduxx hosts an annual harvest party, the X2 Release Harvest Party always in September on a Saturday. This fun event was started in 2004 and features new releases, barrel samples, grape stomping, music and plenty of food. Tickets can be ordered online in advance of this event and is available to both members and non-members.
For more information and or to join one of their wine clubs (membership includes complimentary tastings at all of their tasting rooms), visit www.paraduxx.com
Rector Creek Vineyard

Winery

Hospitality