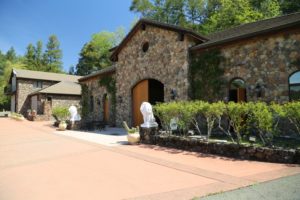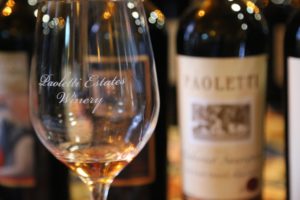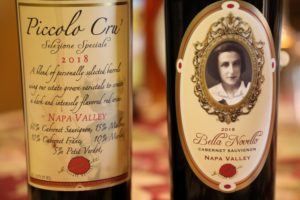 Paoletti Vineyards is a gorgeous wine estate located off the northern part of Silverado Trail just south of the town of Calistoga. The winery produced its first vintage in 1994 and is owned by Gianni & Lilia Paoletti. Gianni purchased the winery property in 1989. He was born in Venice, Italy and was trained as a chef starting at the age of 16. He worked at restaurants in the UK and Germany before moving to the United States in 1964. He opened Ristorante Peppone in Los Angeles in 1975 and prior to this he worked at the iconic Valentino Restaurant for a short while in Santa Monica; Valentino's was in operation from its founding in 1972 through 2019.
Everything about the winery speaks of Italy, from the marble scroll engraved with their name at the main gate, to the Italian flag, to the majority of their wine names. The winery is nestled against the side of a hill and features a prominent bell tower. The carillon located near the main entrance to the winery is the only one of its kind in Napa Valley. A semicircular piece of steel holds 12 golden bells hanging from its underside.
Tastings are generally hosted inside the winery tank room on a table near the stainless-steel tanks; the temperature is usually quite pleasant inside regardless of the time of year. The beautiful knotty pine interior wooden siding on one side of the tank room reminds us of our family vacations for 2 weeks every summer inside old knotty pine cabins on Lake Tahoe's west shore.
Listen for the crows sometimes flying to the entrance of the winery; winery staff has been putting food out for them for years. And if you use the bathroom, check out all the old mostly Napa Valley based winery posters including some from from wineries that are no longer in business.
Guests ready to start a tasting will sit down at the wooden table (usually covered with wine bottles). A tasting typically features 6 or 7 wines; this is only a small representation of the actual number of wines they make. And unlike most wineries in Napa Valley, Paoletti often offers tastes of older vintages in addition to current releases. We've been here several times and have been able to try Merlots and Cabernet Sauvignon bottlings up to 8 years old.
If you happen to be there during or after wine club members visit, they may have some wine club only wines open for sampling. Visitors will walk through part of the cave towards the end of their tasting. Larger groups often will taste entirely in the winery cave; it is 9,000 square feet tunneled 100 feet under the hillside. A separate cave entrance is located next to the winery building.
This elegant cave features not only plenty of aging space for their approximately 3,000 to 3,500 case per year production but also serves as a show space for nearly 60 Carrera marble sculptures that Gianni imported from Italy. Most of these are mounted in tiny grottoes throughout the cave. Two busts of California personalities you may recognize are the busts of Ronald Reagan (he was good friends with the family) and of Napa Valley wine pioneer, Robert Mondavi. Other famous personalities including busts of Einstein and Gandhi.
Perhaps the most popular sculpture (especially among male visitors) is the nude bust of Eve. A fine sound system often plays Italian music including opera from Andrea Bocelli. The cave is a popular spot for romantic couples seeking the ambiance of the cave combined with a glass of red wine in hand and the inspirational sounds of Italian love songs. A picnic site is located on the hill above the winery – offering nice views of the vineyards and a small pond located on Sterling Vineyard's neighboring property.
This is a small operation; sometimes Gianni and Lilia are on site; they often commute up from Los Angeles for long weekends. Their winemaker is usually here during the weekdays.
Paoletti owns three vineyards in Napa Valley: their 11-acre estate vineyard and home of the winery, a 16 acre vineyard on Tubbs Lane just north of Calistoga located directly across the the entrance to Chateau Montelena which has transitioned to being dry farmed and 5 acres in the generally cooler, southern part of the valley (Oak Knoll District) on Orchard Avenue.
As of of our latest update to this review, Paoletti focuses on red wines, predominantly from Bordeaux varieties as well as varieties from Italy. Malbec features prominently in their production. Out of more than 1,100 Napa based wineries and producers personally visited with to date, this is the only winery to produce both a White Malbec and a wine from Nero d'Avola (an Italian variety). In fact, they have the only vineyard planting of this variety in all of Napa Valley. And what is also quite rare in Napa Valley – they produce a 100% varietal Malbec.
Select Wines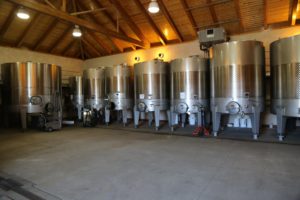 The 2018 Paoletti Vineyards Adelina's Bella Rosa is a blend of 60% Malbec, 20% Merlot and 20% Sangiovese. The color is immediately noticeable; it is orange and fairly dark for a rosé. The reason is this wine spent three days on the skins before it was pressed and fermentation started. The aromatics are shy when its cold; it offers scents of dried orange peel, an orange zest and some minerally nuances. It is highly flavorful across the palate with some notes of melon and a perceived sweetness of fruit despite the wine being completely dry (no residual sugar).
The 2015 Paoletti Vineyards White Malbec is a dark salmon colored in the glass (later vintages are slightly lighter in color). At first glance and without knowing how this wine is made, one might almost think it is a wine made from a white grape variety allowed to sit on the skins during fermentation. In fact, this wine was not allowed contact with the skins – so it doesn't retain the normal ruby red color of a traditional Malbec. The bouquet is a bit subdued and shows a sweetness of fruit on the palate (perhaps a little residual sugar). The mouth feel is rounded and almost oily at times. This wine finishes clean with lingering flavors of mandarin orange.
Nero d'Avola is a very important Sicilian variety and is often compared to a new world Shiraz. Gianni took cuttings from this variety back from Sicily and grafted them in the vineyard next to the winery. The 2015 Nero d'Avola is dark ruby in the glass. This wine offers plenty of fruit on the bouquet including dark cherry, dark chocolate and a hint of tobacco leaf. It features bright acidity on the palate finishing with dry but not coarse tannins. This is a food friendly wine.
Paoletti Vineyards produces two bottlings each year called Picolo Cru – one for distribution and the other for wine club members. The bottling for wine club members is labeled as Selezione Speciale, referring to a special selection. This wine is crafted from a barrel selection. The 2018 Paoletti Vineyards Picolo Cru Selezione Speciale is 60% Cabernet Sauvignon, 15% Malbec, 10% Cabernet Franc, 10% Merlot and 5% Petit Verdot. It is deep ruby in color and almost opaque; the bouquet offers a ripe expression of fruit and dessert spices including blackberry, boysenberry, mulberry, prune, sweet pipe tobacco and chocolate brownie. It also reveals notes of black licorice, Graham cracker and clove. The ripeness on the bouquet continues on to the palate with flavors of blackberry, boysenberry and dark Santa Rosa plum. The grainy textured tannins exercise a long tasting grip with a persistent dryness.
The 2019 Paoletti Vineyards Don Pepe, El Tesoro Orchard Cuvee is 50% Cabernet Sauvignon and 50% Cabernet Franc. Its namesake is Lilia's father and a photograph of him is on the label. Her parents used to own and operate several Mexican restaurants in Los Angeles. The wine is opaque and deep ruby in color; one can smell the influence from the Cabernet Franc. The bouquet offers a more unique sensory combination of both ripe fruit combined with an herbal element. This wine reveals scents of jalapeno, tobacco spices along with ripe blackberry and boysenberry. The well-layered palate reveals flavors of red plum, licorice and lingers with a light touch of toasted oak and rounded and gravelly textured tannins. Along with our various descriptors for this wine, we simply wrote: crowd pleaser.
The 2014 Paoletti Vineyards Attilio's is an equal blend of Cabernet Sauvignon and Syrah (and is named after Gianni's father). Is ruby in color; shows a sweet character of cherry aromas on the bouquet along with black fruit. Offers an inviting aromatic brightness of fruit on the bouquet. There is a noticeable softness to the palate on the entry with flavors of dark cherries. Full-bodied, it shows an intensity of fruit but without the harsh tannins that often accompany richer wines. The tannins are somewhat dusty, pronounced and linger for quite some time.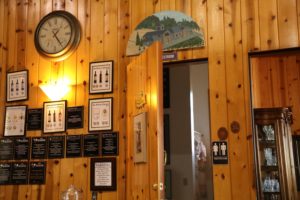 The 2016 Fiore (Italian for flower) is 95% Sangiovese and 5% Malbec. The image on the label is not of a family member but rather of a vase of sunflowers based on a Van Goh painting. When Gianni thinks of Tuscany, he thinks of yellow sunflowers. This bottling is deep ruby in color; the bouquet is ripe and fruit forward with aromas of prune, strawberry jam and sweet baking spices. The ripeness on the bouquet is also expressed on the palate. The light to moderate textured tannins start mid palate and are felt more on the front than the back of the palate. This wine lingers with notes of tobacco spice, dust and dried tobacco leaf.
The 2018 Paoletti Vineyards Bella Novello Cabernet Sauvignon, Napa Valley is produced in homage to Gianni's mother; Novello was her maiden name. This wine is 95% varietal Cabernet Sauvignon and 5% Malbec. It is opaque and deep ruby in color; the bouquet is dark and sweetly fruited with aromas of blackberry jam, boysenberry and mulberry. This is a rich expression of this variety both on the bouquet and the palate including flavors of plum, blackberry and boysenberry. This wine offers a creamy texture on the entry. A noticeable dryness (dust + tobacco spice) persists on the finish on the front and sides of the palate.
The 2019 Paoletti Vineyards La Nonna Malbec Late Harvest Dessert Wine is in a 500 mL bottle. Winemaker Gabriella Gazzano enjoys working with Malbec; she told us when she was working with this variety during a previous winemaking position, she noticed a beautiful floral component most similar to rose petals. This wine is 16% alcohol and 5% residual sugar. It is dark ruby and nearly opaque in the glass; the aromatics are ripe and sweetly fruited – a beautiful union of both fruit and dessert spices. They offer notes of fig, dark cherry, black plum, blackberry and boysenberry along with cinnamon and clove. It smells like dessert. The bouquet is sweet but not overtly so. And one can feel its tannin texture; they linger with a light grip and accompanying dryness. The wine is dedicated to Giulia Fodesca, Gianni's grandmother. The image on the label is a photograph of an etching of her.
Paoletti Vineyards also produces a rosé of Sangiovese (a rather uncommon wine in Napa Valley). Paoletti's bottling is delicious, light and fruity, an ideal pre-meal wine. One of our favorite Paoletti wines is La Forza, a blend of Sangiovese and Cabernet Sauvignon. And several wine based other products are offered in conjunction with Annette's Chocolates in the city of Napa including a chocolate sauce made from Paoletti Cabernet Sauvignon and a caramel sauce.
During some of our early visits, they would offer select tastings (based on preferences) of their vintage port-styled wines; the ones we initially tried were more than 20 years old. This was a rare opportunity in Napa Valley to try older wines of this style.
And their wines are among some of the more affordable bottlings in Napa Valley.
—
Ristorante Peppone
Gianni and Lilia live in Los Angeles; Gianni has operated the very popular Ristorante Peppone in Brentwood Village (just off of the 405 and not far from UCLA) since 1975. He is the founding chef; the Italian focused menu originally focused pasta and seafood – since then the diversity has increased and today features a wide variety of seasonal dishes and as expected, an excellent wine list with a number of Paoletti's own wines. Parking is available via valet with drop off directly in front of the restaurant – the tiny adjoining parking lot is metered with only an hour max per parking space allowed.
A dining experience feels quintessentially old Italian with the dimly lit dark booths and wines strategically placed throughout the restaurant. During our visit we thought we were playing a role in one of Francis Ford Coppola's Godfather films and it felt like we were walking back in time, to another era, perhaps the early 1970s. The restaurant features a mini-art gallery with a number of original oil paintings hanging on the wooden panel walls (all for sale). A well-stocked and intriguing looking bar located in a side room next to the entrance is a fun space where guests can relax prior to their meals.
Old school on the reservations – via phone only. Open seven days a week, dinner only. For more information visit: www.peppone.com.
A quote from Gianni in Italian: "La cantina e le vigne. Sogno di una vita dedicata al grande vino" – translated to English as, "The winery and vineyards. I dream of a life dedicated to great wine". And he has certainly done so, with his restaurant and Napa Valley vineyards.
A number of their wines are only made in limited production for wine club members and some of their wines are selectively distributed. We have seen their wines available at Wally's Wine shops (Los Angeles & Las Vegas) and also locally at Wine Country Connection in Yountville and Back Room Wines in the city of Napa. The Paoletti's name most of their wines after family members and often photographs of the individual are depicted on the labels.
For more information, to purchase wine, to schedule a tasting and or to join one of their two Italian named wine clubs, visit: www.paolettivineyards.com
Winery & Grounds

Cave & Marble Busts