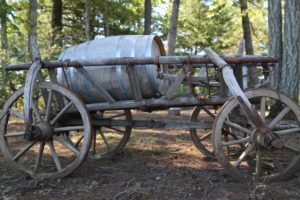 Paloma Vineyard is located off of Spring Mountain Road on the edge of the Sonoma and Napa County line ranging from about 2000 to 2250 feet in elevation. "Paloma" is a Spanish word meaning dove. During a recent early Spring day we were treated to spectacular views of Mt. St. Helena and the northern Napa Valley. Jim and Barbara Richards (both deceased) originally began visiting the Napa Valley in the late 1970's and soon fell in love with the area to the extent that they decided to purchase property.
They were one of the Spring Mountain "old timers" having purchased their property in 1983 and then soon thereafter planted part of the property to Merlot. Being new to the business at the time (Jim was a geologist who came from the petroleum industry in West Texas), they decided to plant Merlot after trying Merlot from Duckhorn Winery which they both really enjoyed. They sold fruit for a number of years – to both larger wineries on the valley floor and to their neighbor Pride Mountain Vineyards (today they sell no grapes to other wineries). Their wine was made at Pride Mountain Vineyards under the tutelage of well known winemaker Bob Foley for a number of years. However they were able to secure permits and build their own small but very functional winery in 2000 and now all wine is made on site and the fruit is mere minutes from the vineyards to the winery.
Their focus is on estate grown Merlot (not too many Napa wineries doing this) with a small block of Cabernet Sauvignon planted which is always blended into the Merlot wine. Their production is very limited; they sell out every year and as a result sometimes there is only barrel tasting available. Often the production is even more limited then 'normal' as Merlot tends to 'shatter' during bloom (even heavy fog can cause this) – Sheldon told us two out of three years they see a significant drop in production as a result.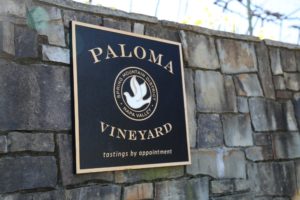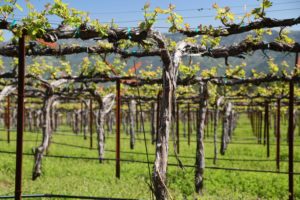 The winery is just down from the family home; your tasting is always with their son Sheldon who is the vineyard manager and winemaker (among many other roles required of overseeing a small winery and vineyard). A visit here is typically reserved for existing customers or serious wine enthusiasts.
The winery site is on top of the ridge accessible via a narrow windy gravel road totally off the beaten path. They are not setup for large groups (the tasting is very informal and personal) and you must call to make an appointment. The winery sits among Douglas fir trees; this area typically receives snow in the winter at least once a year.
A winery overview is usually given from the deck of their home and then you may proceed to the actual winery building below. On the way you will pass a lone Zinfandel grape growing in the shade of the nearby trees which dates back many years when the land was originally planted to vineyards. They even still find old redwood stakes from time to time. This grape plant was inadvertently covered when the gravel road was put in a few years back but has shot up on the side of the road with new vines. It produces several bunches of Zinfandel grapes which every year are put into their Merlot wine for good luck. And Sheldon had to build a fence around this special vine to stop his two dogs, Palo and Loma from eating the fruit!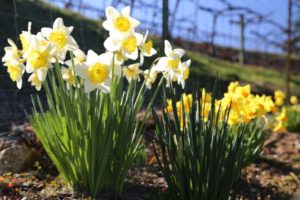 In regards to the high quality of their wines, there are two factors working in their favor each year, one is the terroir – they are in a superb microclimate for growing Merlot and the other is the great attention to detail that Sheldon gives the vineyards throughout the growing season. This micro-management is also part of the harvest, as they pick many times during harvest, choosing only the grapes that are ripe at any given time.
We tried a young Merlot (2005) still in the barrel; it is a big wine as are most of their Merlots, but at its early age is very approachable with a silky mouth feel and is already extremely well balanced. The tannins are well structured but not overpowering so they complement the long finish very well. The Merlot is always blended with a bit of Cabernet Sauvignon. Rich aromas are always present in their wines – this one has blackberry, chocolate, and mineral nuances. This was one of the wines early on in this project that when we tasted it we said "wow", this is an "it" wine.
One hallmark of their wines is superb balance – even during challenging years such as 2011. Another is ability to age well.
Their wines have been served at Presidential dinners in the White House in more recent years. Check out the photos in the winery building of people holding their wine bottles in various countries. High ratings from prominent wine critics as well as recognition such as the Wine Spectator in 2003 voting them "wine of the year" have at times swamped this small winery with demand. Sheldon recalls the phones started ringing at 5am the day that issue was released and didn't stop ringing for two months!
Despite the number of accolades over the years – they have kept their prices remarkably steady (certainly not always the case when a winery finds glory in numbers or high scores given from select wine writers).
The best way to acquire their wine is to join their mailing list, however you can sometimes find their wine locally at Backroom Wines in downtown Napa. The majority of their production is sold direct to consumer. And Sheldon selectively participates in International wine focused cruises. Check their website for more details. For more information, visit: www.palomavineyard.com