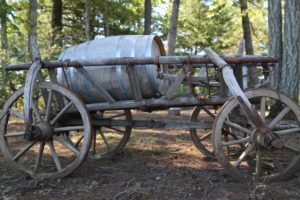 Paloma Vineyard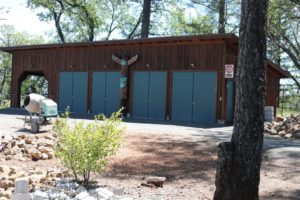 is located off of Spring Mountain Road on the edge of the Sonoma and Napa County line ranging from about 2000 to 2250 feet in elevation. "Paloma" is a Spanish word meaning dove. On clear days the property features spectacular and expansive views of Mt. St. Helena and northern Napa Valley. Jim and Barbara Richards (both deceased) originally began visiting Napa Valley in the late 1970s and soon fell in love with the area to the extent that they decided to purchase property.
They were one of the Spring Mountain "old timers" having purchased this site in 1983 and then soon after planted part of the property to Merlot. Being new to the business at the time (Jim was a geologist who came from the petroleum industry in West Texas), they decided to plant Merlot after trying Merlot from Duckhorn Winery which they both really enjoyed. They sold their grapes for a number of years to both larger wineries on the valley floor and to their neighbor Pride Mountain Vineyards. Today they sell no grapes to other wineries. The first vintage of Paloma was from 1994; for a number of years, their wine was made at Pride Mountain Vineyards (a short drive from the Paloma property) under the tutelage of well-known winemaker Bob Foley. However, they were able to secure permits and build their own small but very functional winery in 2000 and now all wine is made on site. After harvest the grapes have to travel only a few minutes' drive to the physical winery.
Their focus is on estate grown Merlot (not too many Napa Valley wineries doing this). In addition, the property is also planted to Cabernet Sauvignon and two blocks of Cabernet Franc. Their Cabernet Sauvignon is always blended into the Merlot wine. Their production is very limited; they sell out every year and as a result sometimes visitors are only able to sample wine from barrel. Often the production is even more limited then 'normal' as Merlot in particular tends to 'shatter' during bloom. This results in incomplete pollination due to a variety of factors including strong winds at inopportune times and even heavy fog. Barbara and Jim's son Sheldon told us that two out of three years they see a significant drop in production as a result of shatter.
The winery is just down from the family home; a tasting is always with Sheldon who is the vineyard manager and winemaker (among many other roles required of overseeing a small winery and vineyard). A visit here is typically reserved for existing customers or serious wine enthusiasts. Visits are generally for smaller groups; the tastings are informal and highly personal. Reservations are always required.
And those who have visited Paloma before will undoubtedly remember the significant hummingbird population who frequent numerous hummingbird feeders next to their deck. Barbara initially put out just one or two feeders which began to attract birds, then she left them out over the winter and over the years more birds came so more feeders were placed. Today Sheldon puts out 12-16 feeders in the summer months attracting at least 7 species of hummingbirds and at times up to 300 different hummingbirds to the property. The majority of the hummingbirds are on the property between May and October.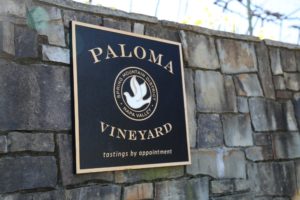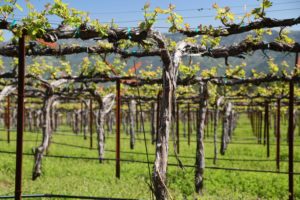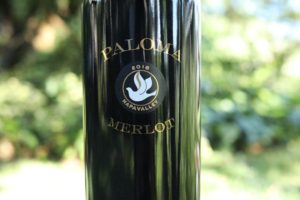 The winery site is on top of the ridge accessible via a narrow windy gravel road completely off the beaten path despite being only about a 15 minute drive from downtown St. Helena. The winery is built among Douglas fir trees, the air smells fresh up here especially after Spring rainfall. This part of Spring Mountain typically receives snow in the winter, often at least once a year.
A lone Zinfandel grape growing in the shade of trees near to the winery dates back decades when this land was originally planted to vineyards. This grapevine was inadvertently covered when gravel was being laid out for their driveway but somehow survived this. It produces several bunches of Zinfandel grapes which every year are put into their Merlot wine for good luck. Finally, Sheldon had to build a fence around this special vine to stop their dogs from eating the fruit.
In regard to the high quality of their wines, there are two factors working in their favor each year, one is the terroir; they are in a superb microclimate for growing Merlot and the other is the great attention to detail that Sheldon gives the vineyards throughout the growing season. This micro-management is also part of the harvest, as they pick numerous times, choosing only the grapes that are ripe at any given time.
A hallmark of their wines is superb balance which is even evident during challenging much cooler years such as 2011. These are approachable wines showing intensities of their mountain site but without the presence of muscular tannins. And they have proven track records of being able to age gracefully.
Select Wines
The Paloma wines are not quick to market; they are generally barrel aged for approximately 18 months and then held back up to 2.5 years in bottle before being released; as a result, current bottlings are often 6 years post vintage date. Their oak program typically involves barrel aging in 30% new French oak barrels.
The 2016 Paloma Merlot is dark ruby in color; the bouquet is initially meaty, with aromas of bacon fat, sweaty baseball mitt taken off after playing the game on a hot summer's day, spicy plum skin, wild blackberry, chocolate, dried rose petals and hints of anise. Let this wine breathe in the glass; it will evolve wonderfully and will continue to open up to more fruit. It offers a suppleness across the palate but with intense flavors of plum and blackberry. The darker spices including pepper we have noticed on the finish of their Merlots are clearly evident on this wine. The tannins are earthy, rounded and supple in their textural feel.
The 2016 Paloma Cabernet Sauvignon is dark ruby in color; this wine smells like the variety with the oak influence a secondary and complementing character. The bouquet reveals aromas of blackberry and dark cherry along with darker spices, sage and some dried herb notes. The palate offers an intensity of flavor without the heavy handedness of mountain tannins. This is one of the most approachable Cabernet Sauvignon wines we have tried from a Napa Valley higher elevation site. The wine lingers with well-integrated rounded tannins sporting a light grip along with bright acidity and a hint of dried tobacco leaf. One of its hallmarks is clearly its balance.
The 2014 Paloma Merlot is 100% varietal; this was their first ever vintage that was 100% varietal Merlot. This wine is dark ruby in the glass with aromas of sweaty saddle leather, dark plum, bittersweet chocolate, sage and lavender. The palate shows darker fruits including spicy plum, old cedar box, dried herbs and white pepper. Both the bouquet and palate are slightly savory. The finish lingers with dark fruit, dried tobacco leaf and earthy tannins which are fine grained and very well integrated. This wine's balance and bright acidity are going to carry it many more years.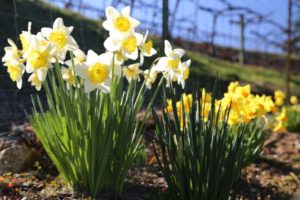 The 2013 Paloma Merlot is 85% Merlot and 15% Cabernet Sauvignon; this wine is medium to dark ruby in the glass. The bouquet offers aromas of cherry and berry fruits along with dried herbs and a hint of dried tobacco leaf. One can smell the variety rather than the oak influence during its barrel aging. The flavor is intense and long lasting from start to finish, featuring plum and dark cherry. This wine is extremely well balanced and shows nicely 9 years post vintage at the time of our tasting. Lingers with refined, fine grained and supple feeling tannins.
During our first trip to the property and visit with Barbara, we tried a young Merlot (2005) still in the barrel; even at its early age the Paloma hallmark mouth feel was clearly evident; this wine was very approachable with a silky mouth feel and was already extremely well balanced. Their Merlot is almost always blended with a bit of Cabernet Sauvignon. Rich aromas are always present in their wines; the 2005 Paloma Vineyards shows blackberry, chocolate, and mineral nuances. This was one of the wines early on in this project that when we tasted it we said "wow", this is an "it" wine.
Paloma's wines have received a number of accolades, press and exposure over the years. Their wines have been served at Presidential dinners in the White House. High ratings from prominent wine critics as well as recognition such as the Wine Spectator in 2003 voting them "wine of the year" have at times swamped this small winery with demand. Sheldon recalls the phones started ringing at 5am the day the 2003 Wine Spectator issue was released and didn't stop ringing for two months. Their label is silk screened using real gold and is one of 100 labels featured in the book Icon: Art of the Wine Label by Jeffrey Caldewey.
Despite the number of accolades over the years – they have kept their prices remarkably steady which is certainly not always the case when a winery finds glory in numbers, or high scores given from select wine writers and critics.
Total production really varies from year to year, often between 600 to 3,000 cases primarily because growing grapes here is not easy. In more recent years, fires, smoke taint, hail and shatter have all led to much lower yields. Or no yields at all such as in 2020 when their property was surrounded by 100-foot-tall flames from the terrible Glass Fire. Sheldon even owns a fire truck.
In 2023 Paloma Vineyard discovered that 3.4 acres of its land are within Sonoma County including part of his physical winery. Paloma has requested the county line be shifted slightly so that the entire property would be within Napa County.
The best way to acquire their wine is to join their mailing list, however one can sometimes find their wine locally at Backroom Wines in downtown Napa. The wines are also selectively distributed in parts of Alberta, Canada. The majority of their production is sold direct to consumer including through a very limited number of primarily European wine focused cruises. For more information, visit: www.palomavineyard.com