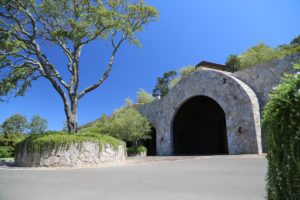 Palmaz Vineyards is located at the end of Hagen Road just north and east of the town of Napa. This winery is not open to the public and appointments are required well in advance. All tours and tastings are private for your party and are hosted by a Palmaz Ambassador or a Palmaz family member (upon request). Founders, Julio and Amalia Palmaz are originally from La Plata Argentina (about an hour from Buenos Aires); both are extremely involved in the daily winery operations as are their two children, Florencia and Christian. Christian is also President and CEO of Vactronix Scientific, a materials science company serving primarily medical and aerospace industries.
Before moving to the U.S., the Palmaz family had a long history of ranching in Argentina. When the family lived in Texas in the late 1980s through the 1990s, they founded High Gate Ranch near the tiny town of Bandera (about an hour drive from San Antonio). They raised grass fed Fallow Deer for the premium restaurant venison market. They developed that operation to over 14,000 head; at one time it was the largest Fallow Deer operation in the world.
Julio invented the Palmaz Coronary Stent and patented it in 1985, (used to treat narrowed or blocked coronary arteries) and has become a life changing procedure for millions over the years. Items relating to his research are housed in the Smithsonian (but are not currently available for viewing). The Julio Palmaz Papers (a collection of his research and published works) are available for viewing at the University of Texas Health Science Center at San Antonio.
He has founded several companies over the years including Advanced Bio Prosthetic Surfaces and Palmaz Scientific. He became familiar with Napa Valley while completing his medical residency at the nearby University of California Davis.
And early in her professional career, Amalia was president of her family-owned Buenos Aires based mining company, CRISTAMINE. Founded in 1961, this company began by supplying raw materials for the glass industry. Still in business, they mine a variety of raw materials from their own mines including calcium carbonate, several types of sand and feldspar among other products. Over the years they have evolved from producing products for only the glass industry to numerous other industries.
The Property
The total estate encompasses 600 acres of which 64 acres are planted to vine. Long time viticulturist Dick Steltzner oversaw the planting of their vineyard in 1996. Today Christian is in charge of their vineyard operating an in-house team of vineyard workers. Most of the estate is hillside with vineyards flowing down the sides of the Vaca mountains. The vineyards one sees when looking down from the winery are just a small portion of their total overall vineyard acreage. Much of their vineyards are planted higher and range from 300 feet at the lowest part of the property to the top of the hillsides to the east of the winery with elevations up to 1,400 feet. And this elevation makes a significant difference in growing conditions with temperatures varying considerably at times between their lowest and highest vineyards.
The winery itself sits right near Mt. George (in fact all three peaks of Mt. George are on their property) in the eastern part of the Coombsville region, a part of Napa Valley that generally sees a cooler growing climate due to its proximity to the San Pablo Bay in the south and the influences of the daily fog.
When the Palmaz's purchased this land – not only did they purchase a prime location for growing grapes, but they also purchased a unique piece of Napa's winery history as well as the accompanying stories associated with this property. This site used to be the home of Cedar Knoll Vineyard and Winery – originally founded by Henry Hagen and his brother Peter. The brothers were already in business together prior; they owned a cigar shop in San Francisco.
Henry and Peter purchased an initial 70 acres from William Woodward in 1877 and changed the name from the Bill Woodward Whiskey Ranch to Cedar Knolls. Peter died at 42 years old of Tuberculosis in 1880 and Henry then took over sole ownership of the property. Hagen Road is named in their honor. At one point Hagen owned more than 450 acres here and besides grapes had small ponds filled with carp, catfish and a special trout pond and maintained an orchard. An article dated January 12, 1894, from the Napa Register references bananas, citrus and other tropical fruits growing on the property. And a special part of the property was set aside as a 'deer park'.
Like numerous other winemakers in Napa Valley from this era, Henry was German; he was originally from Mannheim, Germany. Prior to starting Cedar Knoll, he already had winemaking experience working for his brother-in-law Charles Kohler at one of California's earliest wineries Kohler & Frohling (founded in 1854 by California wine pioneers, Charles Kohler and John Fröhling who incidentally were also professional musicians). And Fröhling was also one of the founders of the city of Anaheim in Orange County.
Another individual, Joseph A. Mathos (Mathews) worked in the Bill Woodward's cellar (until he sold to the Hagen's) before leaving and starting his own winery in the city of Napa – called Lisbon Winery – named after his home city in Portugal. Remarkably this old stone building dating from 1882 still stands and is home to the Jarvis Conservatory (corner of Yount and Main streets, just north of downtown).
Cedar Knolls was a prominent producer in the 1880s (with a good portion of their wines sold through Kohler & Frohling). After Henry Hagen passed on in 1895, the winery continued to operate – run by some of his relatives. It was later sold to Ferdinand E. Hestal, an attorney and real estate broker from San Francisco. The property had mostly been abandoned by the time the Palmaz family acquired it. Prior the Palmaz's purchasing the property, it had been on the market of a number of years because the real estate agent at the time was marketing it as having only 8 acres suitable for planting. Later original vineyard maps were discovered showing a much larger part of the property had originally been planted to vines.
The original Hagen home has since been restored. A neat discovery at the time of their purchase was Henry Hagen's wine cellar below the home, where they found a number of old wine making tools, wine bottles and other wine related items. Like so many other wineries in the valley and beyond, this original winery was shut down due to Prohibition and this land was not used commercially for wine grapes until decades later. The original winery is one of the very few 'ghost wineries' in Coombsville – stone wineries quarried from nearby sites that predate Prohibition. Favia, also in Coombsville is one other example.
Robert Mondavi Visit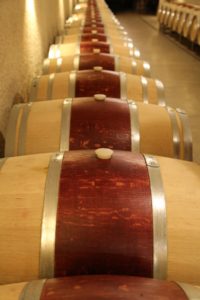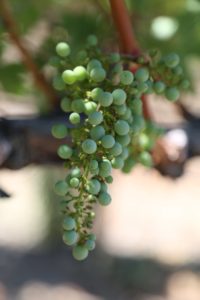 When Julio and Amalia first moved to Napa Valley – a few days after settling into the old house on the property they received an invitation from Robert and Margrit Mondavi to enjoy dinner at their home. Julio and Amalia thought this was an invitation to a party at the Mondavi's home and therefore decided to arrive fashionably late as is often the case when you go to parties in the valley. Upon arriving at the Mondavi's home, they quickly wondered why there were no cars of guests on site. They soon realized this was a private personal dinner invitation and there would be no other guests. They were late, but fortunately not to late!
Both Robert and Margrit were intrigued and curious about their plans for the Hagen property. Once they heard about the ambitious plans Robert told Julio and Amalia that he must see the cave before he died. Sometime later the Palmaz's received a call from Margrit indicating that Robert's health was failing and that he would like to come by for a visit. The scheduled pouring of concrete in one of the levels was accelerated to accommodate his visit. They did not realize he wasn't able to walk on his own at this time – so when he arrived, they wheeled him in onto the still recently curing concrete. As a result, his wheelchair left tracks which if you know where to look are still faintly visible today.
Thinking he just wanted a glimpse of part of their construction they invited him down to the house for lunch. He would have none of this insisting that he wanted to see every last inch of their construction. Christian remembers the family and employees lifting Robert and his wheelchair over piles of construction materials and moving from one level to another with the tour lasting considerable time!
Hospitality
Although not as long as Mr. Mondavi's tour, tours today typically last between 90 minutes and 2 hours. The tour starts on the fourth floor and proceeds through several levels of the cave; everything during the wine making process is conducted by gravity flow. One side door leads to the stairwell – looking down at the levels here gives one a perspective of the impressive vertical reach of the cave. The world's largest underground reinforced structure is the fermentation dome which is 54 feet tall.
When drilling a cave this size you are bound to hit something of interest underground and in this case, they actually hit gold in the rock at one point. While not concentrated enough to mine commercially this is the first time, we have heard of any cave in Napa Valley actually hitting natural gold underground. The winery excavation and construction took about 7 years to complete from approximately 2000 through 2007.
Arguably the highlight of a visit to the winery is their extensive nearly 110,000 square-foot cave system. To our knowledge this is at least 2x the size of the next largest winery cave in Napa Valley. This cave was carefully designed for their specific property – think of the winery as 24 wineries representing 24 parts of their vineyard. The fruit from each vineyard is vinified separately from their other vineyard blocks and only after its aging is complete are the wines blended together. What is fairly unique is each barrel sees the same wine throughout the entire aging process. Rather than racking wine from multiple barrels into large stainless-steel tanks and then refilling up the barrels or racking to different barrels – each barrel is racked to a stainless-steel carboy, the barrel is cleaned, and this same wine goes back into the same barrel.
Processing fruit here is all about handling the grapes as gently as possible; gravity flow wine making is a big part of the operations here. Even filtering is gravity flow with the wine flowing through hoses between levels through the actual filters (prior to bottling).
The Palmaz's have borrowed several pieces of equipment from other industries to use in their own wine making. They even designed their own 6 axis shaker table to catch grapes with jacks still attached (the little stem that connects to the grape to the vine). During harvest it is quite impressive to see the attention to detail that the same workers who harvested the grapes show at this table – only allowing the best of the fruit to pass through to fermentation.
There are five main levels of the cave including the center point which is the massive fermentation dome. Picture a wagon wheel; the spokes of the wheel are the caves that extend out in all directions from this main room. The five levels are equivalent to the height of an 18-story building.
A viewpoint overlooks the circular fermentation dome which contains a number of stainless-steel tanks. From a touch screen console located here one can easily control many aspects of each tank including their rotation (they sit on a custom-made belt system). Each of these tanks is "online" and one can also control the tank temperatures merely by touch.
After this control system was installed, Christian helped create the first ever proprietary algorithmic fermentation control system, called F.I.L.C.S, or simply called Felix. This system is truly remarkable and has helped revolutionize how they collect and manage data from each harvest. Sensors are built into each tank which provides huge amounts of information ranging from temperature at various points throughout each tank, how fast fermentation occurs in each tank, amount of coolant being used in each tank and numerous other data points. It is very impressive to see the various data displayed on the walls of their fermentation dome. And the images are projected by state-of-the-art Christie projectors.
Other cave features include a huge wine elevator for transporting the large tanks between cavern levels, as well as the winery's own water treatment plant; no water goes to waste here (one tunnel on level one stores up to 1.2 million gallons of water far underground); the ornamentals and other shrubbery on the grounds are watered entirely with this recycled water.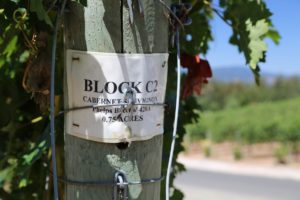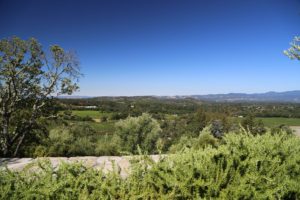 Also look for a rectangular part of the cave that was not covered over on one of the levels – leaving the original underground rock exposed. This was left unfinished on purpose. Julio used to paint as a child – often replicating the work of other masters, using postcards for his inspiration. When he finished a painting he would leave a corner of the canvas empty, signifying his painting was not the original artwork.
We have toured the winery a number of times and during one of our recent visits, Florencia Palmaz hosted the tour. She has a great sense of humor and her insights into the wine industry really help complement the tour.
Wines/Winemaking
Their first winemaker was Randy Dunn (who also offered insights into the winery design). Later Mia Klein was their winemaker. The first vintage of Palmaz was in 2001. Today several labels are produced including Palmaz, Brasas and Cedar Knoll.
Their fun room or as as the family commonly refers to, "the girl's room" contains all their white wines. This is a separate room in the cave devoted entirely to white varieties. While Palmaz has focused their attention on making Cabernet Sauvignon they also make several white wines including a dry Riesling (which tends to sell out rather quickly), Chardonnay and a delicious Muscat Canelli "Florencia".
The family are not fans of big oaky and buttery Chardonnays and as a result, visitors will not find that type of wine here. The wine making and oak program is of course an important element in the style of wine. Rather their Chardonnay is made in a Burgundian style with cold fermentation as well as aging taking place in oak sur lie. As a result, this wine always has good weight regardless of vintage but is never overly viscous in its textural feel. The several vintages we have tried showed pleasing aromatics including citrus blossom and notes of lime on the bouquet with clean balanced flavors on the palate including some notes of minerality.
The Palmaz wines focus on balance and a textural softness (like velvet) on the palate; delicate and well-integrated tannins are one of the Palmaz hallmarks. As is their judicious use of oak.
Their core wine is Cabernet Sauvignon, and each vintage tends to be blended slightly with another Bordeaux varietal or two. During your tasting you will typically taste one of their slightly older vintages of this wine along with their current release. The 2002 Palmaz Cabernet Sauvignon is aging quite well showing notes of tobacco and leather along with rich blackberry aromas. Rich ripe fruit shows on the palate including a plethora of baking spice; the fruit is holding up very well and this wine should continue to age and evolve quite well.
The "Gaston" Cabernet Sauvignon is a special wine and is made in very limited quantities only during years where they feel the quality is worthy of releasing. As a result, this wine has not been made a number of years. This wine takes its name from Christian's middle name. The bouquet on the 2005 Palmaz Gaston Cabernet Sauvignon is clearly focused on fruit; the palate is plush and smooth upon entry with some earth-driven notes present. It is smooth, full bodied and well balanced with a long finish and does not show any harsh tannins.
We have enjoyed several vintages of their Muscat Cannelli dessert wine over the years. Not to be outdone by her brother, this wine is named after Florencia. The 2007 Palmaz Florencia Muscat Cannelli is a lighter style wine that is not high in alcohol or in residual sugar. Rather it is very clean and crisp and best served chilled. It is a very refreshing wine. There are layers of floral aromas on the bouquet with notes of honeysuckle and mineralities on the palate.
The 2018 cedar Knoll Cabernet Sauvignon is dark ruby in color. The bouquet is about the fruit rather than any prominent oak influence; it shows bright aromatics of plum, red cherry and some subtle darker baking spices as the wine evolves in the glass. This wine offers darker fruit (plum) across the palate with a simultaneous bright acidity. It lingers gently with finally tuned tannins and a hint of dried tobacco leaf. This is a very food friendly bottling but is also highly enjoyable just by itself.
Tastings are held in one of several small rooms within the cave winery (on the fourth floor); these are well decorated elegant rooms. Guests will sit at a long table surrounded by stone arches. All wines are paired with cheese and other tasty specially prepared hor d'oeuvres including delectable items such as truffles or as we had during our latest visit, smoked salmon with wasabi infused caviar.
Genesee Valley Ranch + Genesee Store
After establishing Palmaz Vineyards Christian wanted to return to his family ranching roots and began to search for land in California. In 2016, the Palmaz family purchased the historic Genesee Valley Ranch (GVR) in Plumas County. It is a very special part of the state based on its remoteness, history, water rights, sizable contiguous acreage, rivers and native/natural grasslands. The approximately 1,600 ranch and small town was founded in 1862 by Edwin D. Hosselkus and was owned and operated by four generations of this family before later being owned by a number of others. Hosselkus built the store and developed the ranch to serve area gold miners.
Christian sent us the following in regard to their decision to raise 100% purebred Black Wagyu beef.
We decided to tackle the American Beef concept feeling that America was ready for a better option than what was currently available in craft luxury. In the U.S. you belly up the butcher counter to find a relatively small selection of steaks which most people are accustomed to purchase several of the same cut such as a New York or Rib Eye without realizing where that beef is coming from or how many come from one animal. Contrasting with Argentina where my family is from, beef is consumed very differently. The typical weekend "Asado" celebrates the entire animal, and you typically bring home multiple unique cuts and build a multicourse BBQ that can feed an entire party. In the U.S. a single cow directly feeds far fewer people than it does in Argentina, for example, and requires a lot more processing to do so.

We wanted people to be able to be able to know the beef they are consuming in the same way they buy wines. By raising a heard from a single ranch/estate allowed our customers to discover the terroir and incredible team behind the operation. In order to achieve the prime plus marbling customers come to expect from pure bred Wagyu with all the health benefits of 100% grass fed, we needed a very unique and plentiful diversified grass program. GVR was the only property we felt that could deliver the consistency and quality year over year. It's a very unique ranching property and program.
The name Genesse pays homage to Genesee, Hosselkus's hometown in New York; this is not the only town in Plumas County to be named after a town in another state (reference LaPorte). In addition to the ranch, the Palmaz's own the Genesee Store which dates to 1880. Before opening this as a restaurant the building was remodeled and raised, overseen by the Palmaz family. Its previous use was as a sandwich shop; one employee who grew up in the area remembers working in this old building serving sandwiches. She recalls the two original glass windows in the front of the store never used to open but after the building was raised the windows worked perfectly. The gorgeous original Hosselkus family home is located directly across the street from the Genesee Store (it was also restored by the Palmaz family).
Today along with being a restaurant (seasonal operating days and hours), visitors can buy select products including beef, locally grown vegetables, beer and local herbs. And it is also a space that sells a variety of used books (through a partnership with a Sonoma County, California based used books company) with a wide diversity of topics. The store and nearby buildings are surrounded by Genesee Valley Ranch on both sides of the highway. Worth a short walk to see on the east of the store are several old ranch buildings.
It is rare to discover a fine dining establishment in the 'middle of nowhere'; the Genesee Store is a pleasant surprise. The dining space inside is small and features only several tables; an outdoor patio offers additional seating, weather permitting. As a result of their limited seating, reservations are required. The wine list is small but features premium wines from both Napa Valley and beyond including as expected several bottlings of Palmaz and Cedar Knoll. Genesee Store does not have a liquor license, so all their cocktails are made with wine. Guests who prefer cocktails will be pleasantly surprised to find a number of enticing options including the highly recommended Genesee Old Fashioned with a base of Port wine.
Known for their beef one can order several dishes including the Zabuton steak (Wagu beef) or those looking to go all out and splurge for 3-4 people can order the GVR Tomahawk. Hamburgers are also available. And a tasty dish we highly recommend is Gee's Ramen, named in honor of Gee Pond Joe, the first cook for the store in 1880.
Despite its isolated location, Genesee Store has built its business on word-of-mouth referrals and as Christian told us, "An enthusiastic social media following." Its customers come from all over California and Nevada. Locals have also discovered its cuisine (this was clearly evident during our dinner) and has become especially popular for date nights and or marriage proposals.
We have spent plenty of time in this part of the state looking for gold (one of our hobbies) and it is always a treat to visit Plumas County, a place that is far removed from city life, crowds and traffic. The air is clean and smells fresh although it wasn't so for several months in 2021 when a large part of Plumas County was burned in what was the largest ever recorded single source fire in California's history, the Dixie Fire. This nearly 1-million-acre fire also affected Genesee Valley Ranch, causing significant damage to the property including fences, irrigation systems, and other critical infrastructure. Fortunately, the cattle were safe through vigilant efforts of the ranch staff moving them at critical times during the fire to safe parts of the ranch.
A very rare offering for a Napa Valley based winery is a ranch club membership, similar to wine clubs their offerings provide access a variety of different size and shipments of Wagyu Beef each year. Genesee Valley Ranch offers three membership options ranging from 2 to 6 box shipments each year. The only other similar such membership program we know offered by a Napa Valley winery is Bluford Cellars from their family ranch in Honey Lake Valley, about a 2-hour drive from Genesee.
For more information visit: www.geneseevalleyranch.com and www.geneseestore.com
Genesee Valley Ranch

Genesee Store + Genesee

GoodHeart Brand Specialty Foods Co
In 1996 Amalia and Florencia founded this San Antonio based, prepared meat based products company. Today the company distributes its products to retail stores and supermarkets around the country. Unlike many prepared foods, their meats are minimally processed – prepared by hand and all are fully cooked ready for consumption upon purchase.
All their meats are high-pressure pasteurized, and vacuum sealed at their production facility on the outskirts of San Antonio, Texas. For more details, visit: www.goodheart.com
—
For a winery of this physical size and the number of planted vineyards they could be producing significantly more wine; however, the production is currently only around nine thousand cases each year. For more information, to join one of the membership tiers in their Brasas wine club, to schedule a tour or to purchase wine, visit: www.palmazvineyards.com.
Exterior

Interior