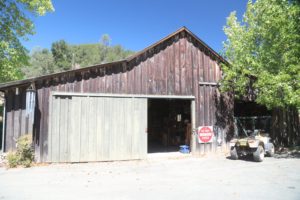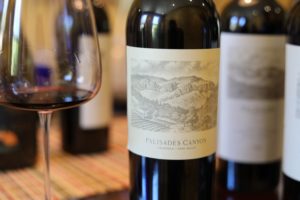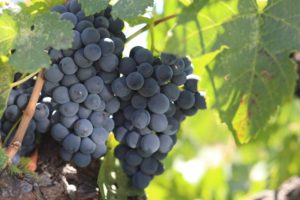 Palisades Vineyard is located in the northern reaches of Napa Valley in the shadow of the rocky Palisades, a part of the Vaca mountain range. This property features significant history, relating to both mining and viticulture and was part of the original Rancho Carne Humana land grant. Immigrants from Scotland, James Horn and his wife Jeannie purchased 160 acres in 1871 including what is now Palisades Vineyard. A deed from 1878 which noted Horn transferring part of his property to an R.F. Grigsby references Horn's already established orchard and vineyard – conceivably these vines may have been planted a few years prior to the deed. These would be among some of the early hillside vineyard plantings in Napa Valley (for reference vines on the Schramsberg's hillside property were originally planted in the 1860s). The Horns built the still existing ranch house in 1882. Over the years, the family sold off parts of their property until they sold the remainder (98 acres) in 1893.
In the early 1900s, an Italian immigrant Domenico Barberis (from Liguria, Italy) moved to the northern part of Napa Valley. This part of the valley is home to a number of old hillside mines including cinnabar (producing ore for mercury extraction), silver and smaller amounts of other metals. Robert Louis Stevenson in his book Silverado Squatters described his time spent at the mines during his honeymoon.
Domenico originally worked one of these mines near the property. His brother who was living in Italy at the time chose a wife for Domenico; Gilda immigrated to the U.S. where she met Domenico for the first time; they married in 1908. In 1907, Domenico along with James Pastre purchased this property. They soon planted and managed their vineyard while raising six children, all of whom were born on the property. Until 1992, their only son Frank Barberis managed the vineyard and sold the grapes to several Napa Valley based wineries.
Domenico built the still-standing wooden winery building in 1915; the inside looks like a country barn with a variety of historical items in storage including still perched among the rafters, some old winemaking equipment including a vintage conveyor belt and a metal hopper. Their bond was number 118 still showing on a much-faded sign on the exterior of the structure; any winery with a bond this low in California has one of the older bonds considering that according to the TTB in 2021 there are more than 16,000 bonded wineries nationwide.
And like with at least one other neighbor (the old Saviez winery, now Davis Estate), Domenico fell on the wrong side of the law with winemaking during Prohibition. He played a cat and mouse game with Federal agents for much of Prohibition and in 1923 was arrested on the property for "possession of illicit liquor." In 1932, a year before Prohibition was repealed, Domenico had to destroy 450 gallons of alcohol (thick lees) in front of Federal agents by pouring it on the ground.
Fast forward decades: 98 acres of the original property was purchased in 1992 by Denis and Anne Carver. They sold grapes to other wineries and brands but also made their own wine bottled under the Carver Sutro label. Denis was a trial lawyer for a few years, made a dramatic career change and took up carpentry before becoming a vintner and also brokering real estate in Napa Valley and Sonoma County.
Denis told us he initially planned on raising his children in the quiet and rural environment. But the property already had a well-established vineyard, so he began to learn about viticulture and winemaking, taking related classes at UC Davis and also spending significant amounts of time working among the vines. For several years he and Anne sold grapes while simultaneously making small batches of non-commercial wine from the property. The first vintage of Carver-Sutro was from 1998.
In 2015 the property changed hands again, this time to Felicia Woytak and Steven Rasmussen, a couple who are incredibly passionate about preserving and sharing the properties' unique mining, viticulture history and natural beauty including its flora. Felicia recalls looking for property for several years, not really sure what they were looking for. But as soon as she walked on this land, she knew it was a special site; she hiked to the top of the property and was brought to tears by an emotional connection to the land, in part inspired its remarkable panoramic vistas.
They own 796 acres of which more than 500 acres are co-owned with one of their neighbors – part of a conservation easement. Palisades Vineyard is planted to 17.5 acres of organically farmed vines, and the variety that is most associated with this property is Petite Sirah. The oldest of these vines date from 1964 with newer plantings in the 1970s. The footprint of this variety is 11.5 acres along with 4.5 acres of Cabernet Sauvignon (with cuttings from several iconic wineries in Napa Valley), 1/3 acre of Cabernet Franc and 1/2 acre of Chenin Blanc.
After Felicia and Steve purchased the property, they replanted 5.5 acres of trellised vines to head-trained vines (less yields but higher quality grapes), grafted onto St. George rootstock – focusing on longer trunk length and canopy management for less radiant exposure.
Steve is quick to admit that to properly maintain a vineyard like this requires the owners live on site and give it their full attention. And he also told us, "The vines farm us, we don't farm them."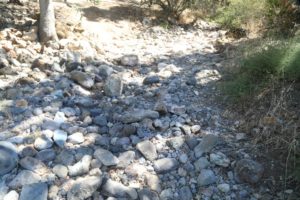 Much of the vineyard is just slightly raised above the valley floor along with several hillside plantings. The property is a mix of volcanic core stones which were part of the original bedrock on the property resulting from an eruption in the vicinity, mostly likely to the north of the property around 2.5 to 3 million years ago. Additional residual soils are a result of the weathering of this decaying bedrock along with alluvial soils and deposits located on the lower parts of their property. Horns Creek bisects the vineyard, and its alluvial deposits form the base material for a number of their vineyard blocks. Parts of their vineyard are extremely rocky with still sizable rocks located among the rows.
Felicia and Steve continue to sell grapes to a number of producers. Until a few years ago, one of those customers was winemaker Benoit Touquette. One day Benoit mentioned there was a winemaker they needed to meet who appreciates and reveres viticulture history in Napa Valley. He introduced them to Graeme MacDonald (winemaker and co-owner of MacDonald Vineyards and winemaker at Blankiet Estate). Graeme has taken a strong interest in the property from both a historical and viticulture perspective. His goal with the Palisades Vineyard wines is to simultaneously capture the site influence, the warmer weather that Calistoga is known for but also display some restraint and as he calls it, 'freshness.' He will make wines for Felicia and Steve under their new Palisades Canyon label.
Both the property and its passionate and curious owners have attracted a significant amount of talent. Vineyard manager Jim Munk operates A Cut Above Viticulture Service -and is known for his expertise and work with head-trained vines, oversees the vineyard management. Winemaker Graeme MacDonald (MacDonald Vineyard, Blankiet Estate) oversees the winemaking for Palisades Canyon, Felicia and Steve's new label. Jennifer Rohrs, who has a PhD in plant physiology/pathology and also teaches Viticulture for Winemakers at UC Davis, is their viticulture consultant and David Howell, co-author of The Winemakers' Dance, has provided invaluable geologic information about their site.
And after the Glass Fire burned through a significant portion of the forested parts of their property, Steve and Felicia worked with Calistoga Unified School District under the guidance of the Napa County Resource Conservation District to bring students onto the property as part of an outdoor education curriculum. Accompanied by the vineyard llama named Marquee, the students planted a hedgerow to help restore monarch butterfly and pollinator habitat. The students also planted acorns (now small native oak trees) and studied the local geology.
The property experienced a super bloom a year and a half following the Glass Fire. Members of the Napa Valley chapter of the California Native Plant Society visited several times following the fire and were richly rewarded by a variety of flowers only seen following significant periods of stress, including the tall, beautiful and extremely rare Xerophyllum tenax, commonly referred to as the Bear Grass flower.
Mining History

Palisades Vineyard sits in Horns Canyon, along both banks of Horns Creek just below the Palisades. Along with adjacent canyons including Hoisting Works, Garnett and Jericho to the north, Horns Canyon was the site of several old mines. Original mining claims were filed in the area in the late 1850s and early 1860s but were not actively mined until the 1870s and 1880s. Steve and Felicia discovered numerous old documents stored in a house on the property from previous owners including an original mining claim paper notice.
The Palisades Mine was developed in 1887 and 1888 by Robert F. Grigsby and partners in what is now known as Hoisting Works Canyon. This was primarily a silver mine but also gold was extracted during its operation. The canyon takes its name for the hoisting works machinery built on site to haul ore from deep underground up to the surface where it was put on ore carts mounted on rails. The carts were then sent by gravity through a 700-foot-long horizontal mine shaft to be processed at a separate mill site on the other side of the mountain. Incidentally Grigsby made money from processing the resulting ore from drilling this shaft (despite the fact its drilling was done for transportation purposes).
Grigsby was the son of Terrill Grigsby, founder of Occidental Winery which is now known as Regusci Winery in the Stags Leap District. This mine produced silver and operated until 1893 when it no longer became profitable due to a recession and falling silver prices. A year before, Robert's youngest son Walter was killed at the mine in an unfortunate accident.
When silver prices rose again, the mine was reopened in 1929 and operated until it was permanently shut down in 1941.
Veeder Ridge Vineyard
Felicia and Steve purchased this site in 2019 from the Rubissow family. At the time of their acquisition, the property was planted to approximately 18 acres of vineyards. 2021 was the final vintage from these original vines as the entire vineyard is being redeveloped. Developments includes removing the terracing, installing new irrigation systems and in the coming years, planting varieties to align with soil types and exposures. The first vines under their ownership were planted in 2023 with additional acreage to be planted in 2024. These are the southernmost vineyards in the Mt. Veeder appellation and are located about a mile from Redwood Road – west of the town of Napa. Nearby neighbors are Hess Collection Winery and Progeny Estate.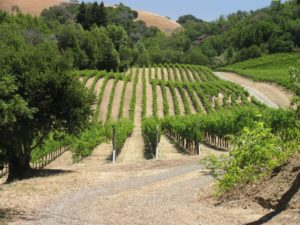 The soils are uplifted marine sediments; the variety of exposures prominently factor into the site's specific terroir including microclimate. Most vineyards on Mt. Veeder roughly face east on this north south spine of the Vaca mountains, however their uppermost vineyard site faces south towards the San Pablo Bay and is directly influenced by the nearby maritime climate. From this part of the property, on a clear day one has exceptional views of views of San Pablo Bay, Mt. Tamalpais and also Mt. Diablo in the distance. A lower and more protected section of the vineyard faces east overlooking the valley floor. Due to the proximity of the bay, this part of Mt. Veeder can be slightly cooler than to the north of the appellation, and as a result the wines develop plenty of natural acidity.
This property used to produce wines bottled under Rubbissow-Sargent named after its founder George Rubissow and Tony Sargent (both physicists); the wine was made in Berkeley until their last vintage in 2003. In 2004 ownership of the property was transferred to George's children Peter and Ariel who bottled their first wines under Rubissow in 2004.
A 130+ year old Italian farmhouse on the property formerly was used as a hunting lodge. From its porch, there are memorable views overlooking their vineyards and the rolling hills along with glimpses of Napa Valley far below.
Select Wines
Au Revoir was created as an homage to George Rubissow to primarily showcase a final few vintages from vines he planted and managed. Only five wines from two vintages will be released under the Au Revoir label, from grapes harvested in 2019 and 2020. This brand included the inaugural vintage of Chenin Blanc from their Palisades Vineyard. Starting in 2021, all wines from Palisades Vineyard will be bottled as part of the new Palisades Canyon project.
As of 2022 there are less than 20 acres of Chenin Blanc planted in Napa Valley; this has grown slightly from the 2017 Napa County Crop Report which listed merely 7 acres. It should also be noted that as recently as the late 1980s Napa Valley used to grow several thousand acres of Chenin Blanc. In 2015 Felicia and Steve planted St. George rootstock on 8×8 spacing on about a half-acre of hillside land. In 2017 the rootstock was grafted to Chenin Blanc; in an homage to historical farming techniques, the vines are widely spaced, dry farmed, and head trained.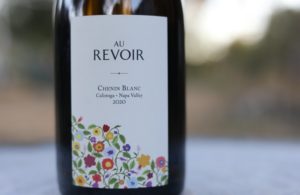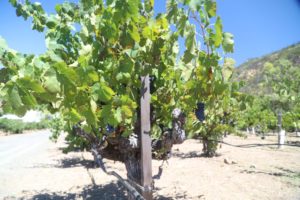 The challenge with growing this variety in a warm site such as Calistoga is being particularly careful when it is harvested in order to preserve the freshness of the variety without imparting over ripe characteristics. Sometimes depending on weather and temperature, this window can be very narrow. And the farming is critical to its minimalistic winemaking practices. The Au Revoir Chenin Blanc was fermented with indigenous yeasts. The winemaker creates a small pied de cuve (a starter fermentation) to build up a strong indigenous yeast fermentation and then inoculates the primary vessel of grapes with small amounts of this already in process ferment. Their Chenin Blanc is put through full malolactic fermentation, undergoes battonage and rather than bottling after a year often sees up to 1.5 years of elevage in neutral oak barrels.
The 2020 Au Revoir Palisades Vineyard Chenin Blanc (inaugural vintage) is deep straw in color; the aromatics are fresh and both fruit and dessert spice driven with notes of lychee, baked apples, honeysuckle, vanilla and caramel. Noticeable is its creamy and slightly saline textural feel across the palate. This is a superbly balanced bottling featuring plenty of depth. It offers flavors of lemon juice, tangerine and cantaloupe and lingers with a brightness resulting from a combination of both fruit and acidity. Only 40 cases were produced.
The 2020 Au Revoir Rosé Mount Veeder is a blend of 50% Syrah, 47% Merlot and 3% Chenin Blanc. This bottling is medium copper in color; the bouquet offers aromas of grapefruit pith, an initial touch of tar which quickly dissipates, slightly under ripe strawberries and citrus blossom. It is very refreshing, especially on a hot summer day. The energy and liveliness on the palate is immediately noticeable which is complemented nicely by a very slight textural creaminess. This mineral laden wine offers primarily red fruit flavors including pomegranate and wild strawberries. It lingers with a mouthwatering citrus-like burst of mouth-watering brightness which continues to persist for some time. Only 83 cases were produced. This wine transitioned to their Palisades Vineyard bottling in 2021.
The 2019 Au Revoir Cabernet Sauvignon Mt. Veeder is blended with 11% Petite Verdot. Both varieties were co-fermented. We tasted this as a barrel sample approximately one year post vintage; this wine is dark ruby in color and opaque to look at. The bouquet offers aromas of dried herbs, chocolate, dark plum and a slight note of leather. This wine lingers with light gravelly but long-lasting tannins along with a dried tobacco leaf spice. The finish is driven by its soils – showing plenty of earthy and dusty notes.
The 2021 Palisades Canyon Chenin Blanc (tasted from a barrel sample) is medium golden in color; the nose offers aromas of pear and apple and as it opens, reveals a flinty minerality note, hints of dry haystack and some notes of pine needle. Its texture is similar to the 2020 vintage but perhaps creamier and more saline in its texture. This bottling offers bright acidity without being tart and lingers with flavors of lemon / lime juice.
The 2021 Palisades Canyon Cabernet Sauvignon was barrel sampled a year post vintage and not yet part of the final blend. It contains a small percentage of Cabernet Franc from the property which was co-fermented with the Cabernet Sauvignon. It was aged in 50% new French oak. This wine is dark ruby with purplish tinges on the edges of the rim in the glass; sometimes with young barrel samples the oak dominates the fruit – not so with this wine. The bouquet offers aromas of bittersweet chocolate, blackberry, dark plum and mulberry and as the wine breathes, it reveals some floral notes including of violets. It is a briary and brambly showing. The tannins are still tightly woven as expected from young head trained vines which are still developing their fully canopy. They feel dusty, dry and are very persistent. Additional barrel age, bottle age and or blending prior to bottling will help soften their impact.
Before producing a Palisades Canyon Petite Sirah, Felicia, Steven and Graeme tasted through a number of other Petite Sirah bottlings including those from their own property bottled under other wine brands. They realized that Cabernet Sauvignon centric winemakers who made a Petite Sirah would often overly extract this variety while those who approached it from a Zinfandel perspective would produce a gentler style of wines. They quickly realized that they preferred the gentler approach resulting in a more elegant wine. Graeme queried some of his winemaker friends who work with this variety including Tegan Passalacqua who offered insights into how this wine was crafted in Napa Valley in the 1950s. This wine is made entirely from free run juice, fermented using indigenous yeast, and racked to barrel when it is still sweet (typically between 8 and 10 brix); it spends up to two years in barrel before being bottled.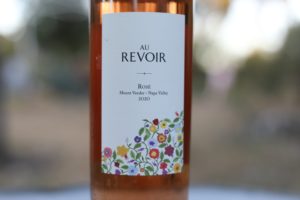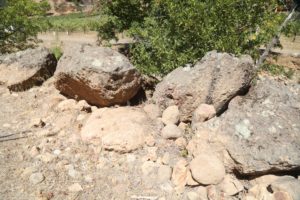 The 2021 Palisades Canyon Petite Sirah (barrel sampled a year post vintage) can be easily identified in their new lineup of wines due to its dark and inky looking color. One cannot see through it in the glass; this wine is the definition of opaque. The bouquet is dominated by fruit (rather than oak) in its youthful state with aromas of boysenberry and mulberry which transitions to more of a floral note as the wine evolves including violets. It also shows a savory quality including scents of dried herbs. For such a young wine, the tannins are remarkably well resolved at this stage showing a rounded and dusty texture. The finish lingers with mouthwatering acidity and some darker spices including pepper. This wine is built for the long-haul but is certainly comfortable in its stature, at a very early age.
The wine label for Palisades Canyon was designed by iconic label creator, Chuck House of Icon Design Group (Alpha Omega, Buena Vista, Chateau Montelena and Stag's Leap Wine Cellars among numerous others). The label highlights the site with a view from their lower vineyards looking east towards the upper rocky Palisades.
Felicia and Steve eventually hope to build a new winery on their site. Their wines are produced in very limited quantities and are sold direct to consumer. For more information on their Au Revoir wines, visit: www.aurevoirwines.com. If you want to follow their next foray into winemaking with winemaker Graeme MacDonald, you can sign up for information at www.palisadescanyonwines.com