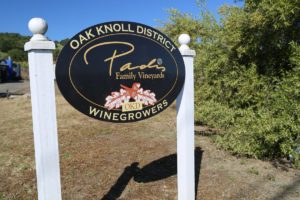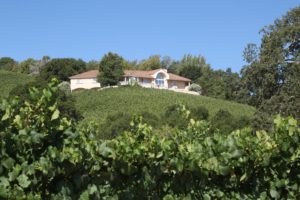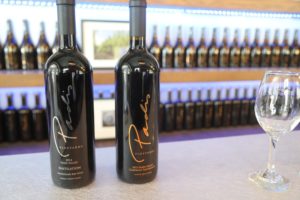 Padis Vineyard was founded by Steve and Judy Padis with the release of their first wine – a 2007 vintage that saw a production of just one barrel which was bottled as all large format bottles that were donated to charity auctions. Their first commercial vintage was a year later.
Both Steve and Judy grew up in the East Bay (San Francisco Bay Area). Steve was introduced to wine in the 1970s by Judy (whose family enjoyed both fine wine and cuisine). They initially ventured down to the Central Coast (Paso Robles) and then followed that up with trips to the Napa Valley. In the late 1970s there were significantly fewer wineries in the valley than today, and Steve remembers easily visiting one on one with vintner Dario Sattui in his old barrel room (current site of their primary hospitality center).
While visiting Napa they were both busy building a jewelry business (Padis Jewelry founded in 1974). While at UC Berkeley, Steve started stringing together Puka Shells and various beads into bracelets and other wearable items – selling these along Telegraph Ave in Berkeley for a few dollars per item.
Their business is a remarkable success story, considering neither Steve nor Judy came from a family business relating to jewelry. In more than forty years their jewelry business (Padis Gems) has grown to three stores in San Francisco and later, a store in downtown St. Helena which for a very short time featured a small tasting space for the Padis wines (this store permanently closed in August 2020 and almost simultaneously opened a larger store in downtown Napa – see our notes below).
Over time Steve became a serious collector of wine. Trips to the Napa Valley evolved into a purchase of property near Yountville which they sold and in 2004 purchased 15 acres on the eastern hillsides of the Oak Knoll District (southern part of the Napa Valley). Steve and Judy had no intention at this point of ever making wine. Grapes were already planted on site – mostly to Cabernet Sauvignon, with some Syrah and a tiny bit of Merlot – in later years they planted more vines and now have 14 planted acres.
For several years they sold the fruit to area wineries – and then ultimately decided to make wine commercially and hold back all the fruit for themselves. Today they produce about 2000 cases of wine annually and daughter Alexis who also works for the jewelry company helps manage their wine brand.
Steve was introduced to long time Napa vintner Robert Foley because of some words of wisdom his friend gave him. He told Steve, "When you start collecting wines follow a winemaker whose wines you enjoy and who you like personally – and then follow his clients." Steve did that with Bob Foley and his wines and when it was time to hire a winemaker, he hired Bob who has been making their wines since the first vintage.
Robert makes a lot of wine each year – both for his own label and for his clients, however he only makes one Chardonnay and that is for Padis Vineyards. This is their only non-estate grown wine – they source it from nearby Carneros on the Napa side. This is a robust Chardonnay showing baking spice, butterscotch, butter aromas (on the bouquet). On the palate it is oily, creamy and seductively smooth with notes of crème brûlée and vanilla. The finish lingers softly for some time.
Two of their wines are named from words that relate to jewelry – Brilliance and Scintillation. These are words to describe a diamond when it is placed under a light source.
Select Wines
Their "curveball" as Alexis calls it, is a Kosher Mevushal Cabernet Sauvignon called Brilliance. This wine is made at Hagafen Cellars in Napa by winemaker Ernie Weir – who to the best of our knowledge is one of only four wineries/producers based in the Napa Valley making Kosher and Mevushal wines from Napa grown grapes (Hagafen, One Hope, Padis and Marciano Estate). Jeff Morgan of Covenant Wines used to be based in the Napa Valley, but his winery operations were moved to Berkeley years ago. Rather than fully boiling or nearly boiling the wine for longer periods Ernie uses a flash pasteurization technique which quickly heats the wine and then as quickly, cools it back to room temperature.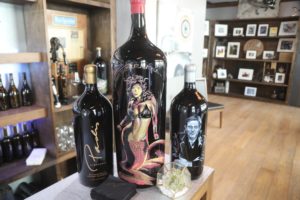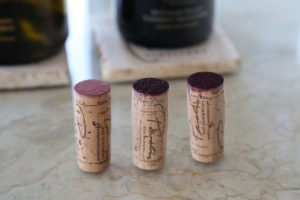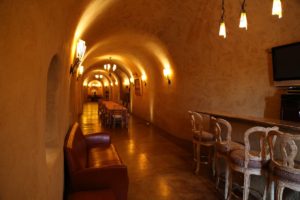 For a wine to be kosher, only Sabbath-observant Jews may touch any part of the wine making process – from picking the grapes to crushing until either the bottles are sealed or the wine is pasteurized. The photos here of the three corks clearly shows which wine is the Kosher Mevushal wine!
The 2012 Padis Vineyards 100% Estate Grown Cabernet Sauvignon (Brilliance) shows notes of red cherry, sweet raspberry jam with higher toned fruit flavors including red currant, and red cherry on the palate. The tannins are certainly there and linger. It is interesting to note the completely opposite styles of wine and dramatic differences in aromas and flavors when tasting this wine compared to the wines that Robert Foley makes.
The 2010 Padis Vineyards Scintillation is primarily Cabernet Sauvignon blended with Syrah – the percentage of the blend varies from year to year. This wine is dark purple in the glass and reveals sweet aromas of blackberry juice, wood spice, tobacco spice and almost an earthy component. The nose is complex and layered. On the palate it is soft on the entry but quickly gains in complexity through to the finish with flavors of blackberry, plum and touches of mocha.
The 2013 Padis Vineyards Napa Valley Cabernet Sauvignon (tasted at the Padis tasting room in downtown Napa 8 years post vintage date) is dark ruby in color although one can see that this wine is showing some age in the glass with some slight browning. Offers dark cherry, blackberry, and notes of cherry cola on the bouquet. As the wine opens further, additional aromatics are revealed including mocha and brown chocolate. Shows flavors of blackberry and plum. Extremely flavorful with plenty of ripe fruit still showing. Sports a lovely texture with a medium grip of slightly earthy tannins.
The 2014 Padis Vineyards Scintillation is 70% Cabernet Sauvignon and 30% Syrah. Shows sweeter aromatics including cherry, blackberry and blueberry along with some brown sugar and chocolate. Juicy and fruit forward across the palate, still shows plenty of fruit as we tasted this 7 years post vintage date. The tannins are very well integrated, slightly earthy and gravelly. Long lasting with a lighter to medium grip.
The 2014 Padis Vineyards Cabernet Sauvignon shows sweet aromatics including a cherry cola note, hints of blackberry jam, plum and darker chocolate as the wine opens further. Still, plenty of fruit on the bouquet despite its age. Robust across the palate both with flavor and tannin density. Shows plenty of layers; this wine is big, juicy and features long lasting and gripping tannins. Pair with some steak. Still some life ahead of this wine.
—
A three thousand square foot well appointed "party" cave is tunneled into the hillside under part of their vineyard. This would be an ideal location to make wine considering their grapes are grown right here – however the actual wine is made at Robert Foley Winery on Howell Mountain. Since they do not make wine here – the family rents out the cave as a venue space for corporate groups and private events & parties. Judging by the magnums of their own wine on site, parties here would certainly be quite memorable – not to mention this is a very scenic location overlooking much of the Southern part of the Napa Valley and the San Pablo Bay further to the south.
A number of charity events have taken place here including the Napa Wine Auction, an event for the Pebble Beach Food & Wine Festival – and for the V Foundation, a charity the family is actively involved in. The V Foundation which raises money for cancer research. Padis Vineyards usually donates a large uncut diamond and several large format bottles. One of their donations earned approximately $160,000 for the V Foundation.
Through a connection with the Greek owned Kokkari Estiatoria Restaurant in San Francisco, all three of their wines were served in the White House for Greek Independence Day in 2014.
Tasting Salon/Jewelry Store, downtown Napa
In August 2020, Padis Jewelry opened a jewelry showcase store in downtown Napa at 1400 1st Street within easy walking distance of the next door Andaz and nearby Archer hotels and numerous restaurants and tasting rooms. This space was formerly occupied by Empire Napa, a bar and nightclub. A commercial kitchen is on site but as of our last visit isn't being used.
And in October 2020 Padis Jewelry opened a small side room tasting salon within this store. No appointments are necessary – and in a unique combination for the valley, visitors can both shop for jewelry and drink wine. Stuck on making a purchase decision? Slide on over to the tasting salon and try some wines for some clarity on the situation.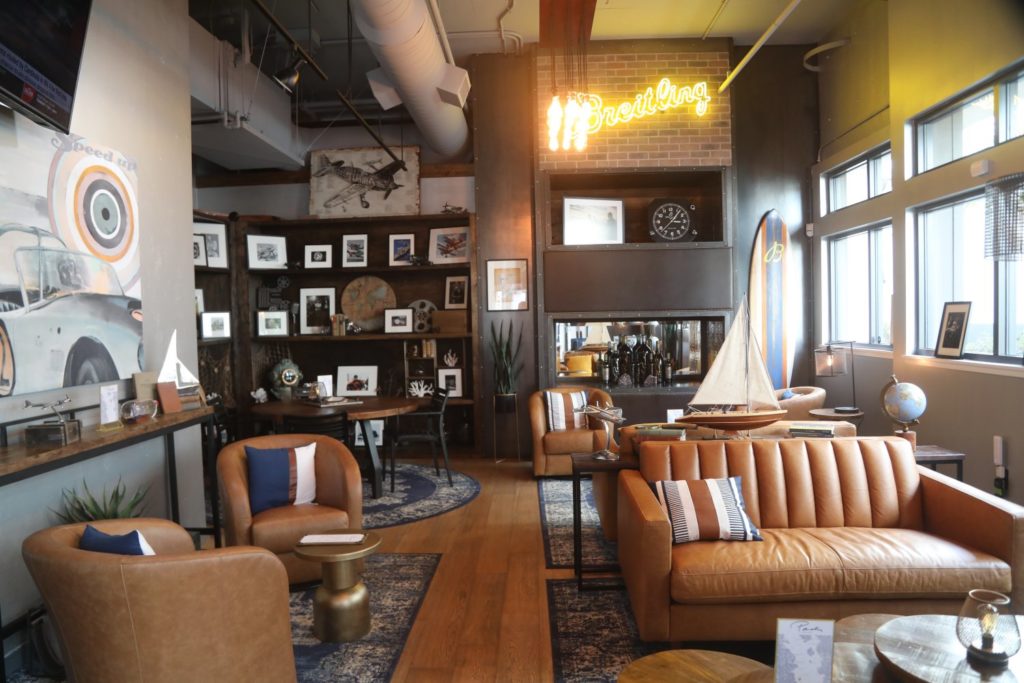 Padis Jewelry, San Francisco
Padis Jewelry has several locations within the San Francisco Gift Center and Jewelry Mart at 888 Brannan Street. This massive building dates from 1912 and houses more then 70 jewelry stores on the street and the lower level. Parking is curbside at any of the streets in this part of the city – San Francisco's tiny jewelry or design district. Free parking is available through the Jewelry Mart on Saturdays.
Guests to the center who do not have an appointment must sign in at reception at the ground floor and are given a 'guest' sticker to where during the duration of their visit. Proceed downstairs and be immediately greeted by the smallest of the Padis showrooms here. Head towards the bathroom sign for more Padis jewelry shopping – with their much larger space located directly across from the restrooms.
Padis Jewelry maintains the largest selection of loose diamonds (we saw many on display in their shops) and engagement rings. And refreshingly they have the prices clearly marked, face up. They own their inventory – usually over 10,000 diamonds in stock – all of which were hand selected by Steve Padis. Select discounted items are for sale including a variety of watches.
Padis Jewelry, San Francisco Designer Galleria, The Gift Center and Padis Salon

For more information, to join their mailing list, to request a tasting or to purchase wine, visit: www.padisvineyards.com
Forevermark Jewelry Boutique, Walnut Creek
This tiny store is located along one side of a modern shopping center next to an open-air plaza. Features a dazzling array of Forevermark diamonds including special occasion rings. This store is within a short walk of a Napa Valley icon, Gott's Roadside (one of their several locations outside of the Napa Valley).
Vineyard Estate

St. Helena Jewelry Store + Tasting Room Closed, but we keep these photographs here for historical reference.