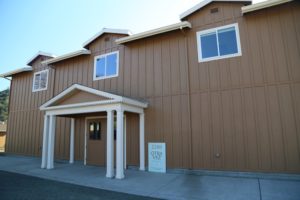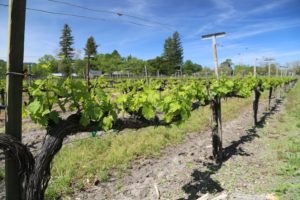 Otra Vez Winery is located in Calistoga and was founded and is operated by long time vintner Vincent Arroyo. While this is a new winery, it is built upon years of experience. Vincent first came to Napa Valley in 1973 after a fellow employee mentioned an ad in the San Francisco Chronicle listing property for sale in Calistoga, located in the northern reaches of the Napa Valley. While Vince grew up in Hollister surrounded by farms, he had no background in farming but knew he wanted to purchase land in a rural setting. He actually first looked at property west of Sebastopol in Sonoma County (which if he had purchased, Vincent Arroyo might be known for Pinot Noir rather than their current varieties including Petite Sirah).
Vincent didn't know where Calistoga was exactly, but he drove up to Napa Valley in 1973 – liked what he saw despite as he says, "the property being very run down" and the next year purchased 23 acres (Greenwood Ranch). At the time the ranch was mostly planted to prunes with patches of various varieties including Sauvignon Vert, Zinfandel, Charbono and Petite Sirah. Vincent took time off from his job and spent about a year working for free for neighbors – learning the details of how to work with grape vines and eventually how to design vineyard layouts based on specific sites.
The commutes were long – back and forth to Sunnyvale where he continued working as a consulting mechanical engineer for several years – coming up for extended weekends and working on the ranch including eventually planting new vines. Wine making was dramatically different in the mid to late 1970's in the Napa Valley compared to today. Vincent would take his grapes to the Napa Valley Co-op (currently the site of Hall Winery) along with many of the growers in Napa – where their grapes would be inspected, sampled and weighed. Once the grapes were dropped off, the grower wouldn't see the end result. Vincent remembers at times certain grapes were rejected by the inspector for whatever reason – and another winery would sometimes purchase the grapes at a lower cost.
Seeing both the control the co-op had over grapes, and the prices being set in the market at the time (by Gallo) made Vincent realize he would have much more control if he kept his own grapes and made his own wine. He "needed his own tank" as he puts it. As several old timers have told us the process for securing a winery permit in the Napa Valley in the 1970s and early 1980s was fairly straight forward with minimal paperwork and even in Vincent's case encouragement from the county to produce more wine.
An old redwood barn stood on the property which Vincent describes as being a "see through barn" – he converted this into Vincent Arroyo's first winery building. Unfortunately, due to old electrical wiring which must have thrown a spark one night – one morning during late harvest in 1989 Vincent woke up to see that much of the barn had been destroyed by fire including wine that was already in tank.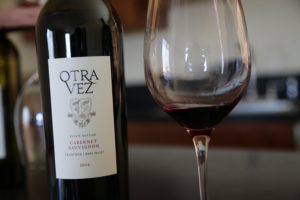 Dismayed but not discouraged, he later rebuilt what is now the current winery and the tasting room at Vincent Arroyo Winery. Vincent Arroyo is now being run by the second-generation family, by Vince's daughter Adrian her husband Matt.
Over the decades Vincent acquired additional land – including another piece on the valley floor (also in Calistoga) just north of town. Today Vincent owns 75 acres of which 65 acres are planted to vines. He has also farmed a Calistoga hillside vineyard for 30+ years called Rattlesnake Acres on the east side of the valley within a very short drive of Otra Vez (23 acres in size it is planted to Cabernet Sauvignon, Petite Sirah, Zinfandel and a little Tempranillo).
Many people in their early 70's are thinking about retirement, but at age 72 Vincent built a new winery for the Otra Vez wines – conveniently located just down the street from Vincent Arroyo Winery. Otraz Vez was founded in 2013 with their first vintage. The focus of Otraz Vez is on a single wine each year – a Cabernet Sauvignon sourced from two vineyards, Rattlesnake Acres and the Collins Vineyard (the vineyard next to Vincent Arroyo Winery).
The wines are 100% varietal but the percentages of grapes from each vineyard vary from year to year depending on what Vince feels showcases the best possible wine from that particular year. His wine making is fairly straight forward – preferring to ferment with as many whole berries as possible. Once the grapes have been harvested, he then inoculates with yeast – once fermentation is complete the wine goes straight to press. The wines from each vineyard are kept separate from each other until their final blending and then bottling.
Vince speaks about the imperfection of wines created today that are made too perfectly – often sorting and keeping only the 'perfect' fruit using technology and harvesting from only the healthiest vines. Rather, through decades of experience he is more interested in wines with character – not being afraid to selectively use grapes from diseased vines and not trying to overly sort to a preconceived idea of perfection.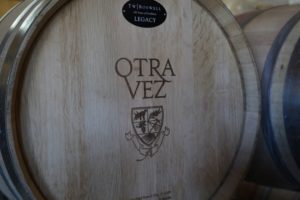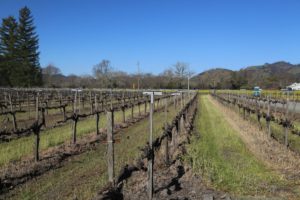 The name Otra Vez (translates to another time in Spanish) ties into his family heritage, Vincent is second generation American, his father immigrated from the small village of Bóveda del Río Almar just outside of Salamanca. And the label reflects a crest that depicts four aspects of Vince's life he is passionate about: dogs, grapevines, olive trees and a triangle and T Square referring to his former career as a mechanical engineer.
We tried the 2014 and the 2015 vintages. There are similarities between both vintages (good acidity, food friendly and lower in alcohol wines) but also vintage variations of course.
The 2014 Otra Vez Cabernet Sauvignon shows aromas of red cherry, red licorice and as the wine has more time to breathe – hints of dust complemented by vanilla. Smooth across the palate – shows mouthwatering acidity. Fruit flavors are more red fruits then dark fruits. Lingers with flavors of red cherry, a currant tartness and tannins that have some feel to them but are not grippy or out of balance. Very good food wine.
The 2015 Otra Vez Cabernet Sauvignon shows darker fruit aromas on the bouquet then the 2014 – initially with pretty dessert spices with notes of dark fruit, leather and a hint of cedar box. This bouquet continues to evolve wonderfully in the glass – as its opens reveals notes of black pepper and some savory slightly meaty aromatics. Supple and drinking very well young, the wine shows a nice balance throughout the palate. Very good acidity. An integrated fairly smooth finish. This wine has more fruit from the Rattlesnake Acres vineyard then the prior vintage.
Those interested in a very personalized tasting with one of the valley's long-time winemakers can schedule an appointment. Vincent lives 'around the corner' and is usually on site.
The wine is sold mostly direct through a mailing list that Vincent maintains – but they do have some select local distribution (mostly in the San Francisco Bay Area and the Napa Valley), including locally at the restaurants Press and Ad Hoc. Total production each year is around 700 cases. For more information visit: www.otravezwinery.com