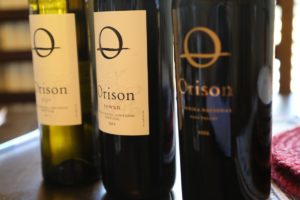 Orison Wines is a partnership between husband and wife Daniel and Filipa Orison. It is also a partnership that spans multiple wine regions including Portugal and the Napa Valley. Daniel was raised in Maryland and Filipa is from Portugal. Remarkably neither studied wine making or were in the wine business merely several years ago or living in the Napa Valley. Today they live in New York (after living in St. Helena for several years), both are winemakers and their focus is on building the Orison brand.
Filipa earned a degree in food Engineering in Portugal. After working in this industry in a lab she decided she wanted to change careers. She informed her parents one day that she decided she wanted to become a winemaker and that she wanted to move to New Zealand to work a harvest. The problem was she didn't have enough money for a plane ticket – fortunately her parents were both supportive of her career change and bought her the plane ticket.
After graduating from the College of William and Mary (with two non wine making degrees) Daniel decided he wanted learn the hands on process of making wine and applied for a harvest internship in the Napa Valley. He was accepted to work at Chateau Montelena. While working here he met another young winemaker, Richard Carvalho (from Portugal).
As fate would have it, it was at Jackson Estate in New Zealand where Daniel and Filipa would meet – both were working a harvest here for additional wine making experience. Each had been bouncing around the world working harvest at various wineries – Filipa remembers working three harvests in one year – New Zealand, Portugal and Austria. These young winemakers certainly have a broad international perspective on making wine; cumulatively between Filipa, Daniel & Richard they have worked at 17 wineries around the world.
Today Richard lives in Portugal and makes their Portugal produced wines. Filipa is also a critical part of making these wines – she jets back and forth from New York to Portugal several times a year for important wine making events – spending much of harvest there as well as being on site for blending decisions.
They have built this brand the hard way, with lots of passion and from the ground up. They started the brand with a very limited budget, with no prior experience or knowledge about exporting or importing wines and all while maintaining full time jobs at other area wineries.
Their packaging looks as good as any we've seen in Napa but they did not have a professional design their label. Rather they came up with a concept and then Daniel's brother created the design (he is not a professional graphic artist). Filipa's brother designed the website.
While they have the additional cost of shipping wine from Portugal to the USA – when you factor in the much cheaper cost of making wine in Portugal compared to in the Napa Valley – this shipping cost is relatively not a large expense.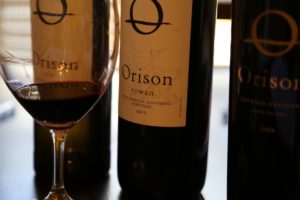 The 2013 Pipa White Blend is a blend of three varieties, Arinto, Antao Vaz and Roupiero all sourced from the southern part of the Alentejo region in Portugal (for reference, a wine region in the south central part of the country). At times the bouquet alternates between aromas of a a typical Napa Chardonnay or a Napa Sauvignon blanc. There is a citrus and floral component on the nose along with some spice and a nutty component. The palate shows a very good balance between fruit, acidity and structure. During the aging, they stir the lees in barrel which ultimately results in a wine with more structure. The mouth feel is soft and rounded with a slight creaminess that lingers on the finish. The palate shows delicious fruit, a stone component (almost like a wet concrete).
The 2012 Rowan Red Blend is named after Daniel's niece Rowan and is a blend of three Portuguese varieties, Touriga Nacional, Tina Roriz, and a tiny amount of Touriga Franca – and also Alicante Boushet. The nose shows several baking spices, black current, raspberry and just a touch of mocha. The palate shows more red fruit than dark with robust tannins that linger for some time.
The 2012 Napa Valley Touriga Nacional is from a tiny vineyard on Pritchard Hill – which today is a region more known for growing premium hillside Cabernet Sauivgnon than any other variety. Touriga Nacional is rarely found in Napa and is most often used in a Port styled sweeter wine. This wine has no residual sugar. During the blending a number of varieties were used, all in varying percentages. Filipa and Daniel kept coming back to the best "blend" which was no blend at all but rather the 100% varietal Touriga Nacional – preserving as Daniel says, "the purity of the fruit of this variety".
The nose is immediately intriguing with bright floral notes. For a young wine, the palate is already in balance. The tannins linger softly on the finish – well integrated with the fruit. Both red and darker fruit linger for some time.
Daniel's last name is Orrison – but they realized that if they removed an "r" from this name, "Orison" would have so many more meanings than Orrison with two "r's". It means prayer and- was also referenced in The Tragedy of Hamlet by William Shakespeare.
Their production is extremely limited (under 500 cases at the time of this review) – with plans to grow slowly. Locally you can find their wines at a wide variety of premium restaurants in the Napa Valley and retail at Sunshine Market in St. Helena. For more information visit: www.orisonwines.com
Note: may no longer be producing Napa wines.