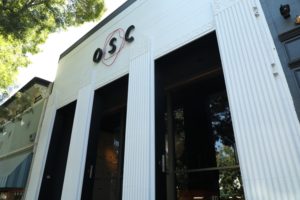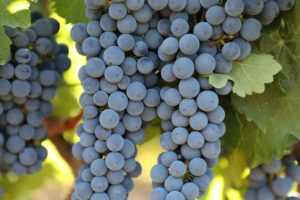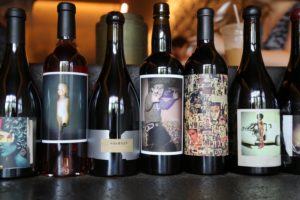 Orin Swift Cellars was founded by winemaker Dave Phinney in 1998 when he was only 24 years old. Dave has a long history of winemaking at premium wineries in Napa Valley including Robert Mondavi Winery and Whitehall Lane. He paid tribute to his parents with the name of this winery; Orin is his father's middle name and Swift is his mother's maiden name. He started this winery when he was working for other wineries and as a result started small and worked part time. When combining excellent wines with creative labeling, a wine brand is bound to grow fast; for many years Orin Swift was Phinney's primary focus.
The "Prisoner" label was their flagship wine; in 2010 Dave sold just the Prisoner label to Huneeus Vintners, the same company that also owns Quintessa Winery in Rutherford. In April 2016 the Prisoner label was again sold, this time to Constellation Brands who opened a new dedicated hospitality center to The Prisoner wine and related brands in November 2013 along with an artisan community on site called The Makery. And in mid 2016, Orin Swift (the brand, remaining inventory and the tasting room in St. Helena) was purchased by E. & J. Gallo Winery. As of our latest update to this review, founder Dave Phinney continues to strongly be involved in a consulting role.
Before Dave sold this label 75,000 cases were being produced annually (up from merely 385 cases during their first vintage!). Production now under Gallo ownership has grown significantly. The label is an etching of a prisoner drawn by the famous artist Goya; Dave's parents first gave him a print of this image as a Christmas present. The grapes for this wine are sourced from high quality vineyards throughout Napa Valley. When owned by Orin Swift, this label was typically a five varietal blend including Zinfandel, Cabernet Sauvignon, Syrah, Charbono and Petite Syrah.
While a number of their wines are from Napa Valley, Orin Swift Cellars also sources grapes from over 100 vineyards throughout California.
Phinney is known for his clever, catchy and creative labels. He is a visionary and a prolific creator who thinks outside the box or inside the box in spaces that most people are not able to utilize. He has been involved in a dizzying number of wine and other related projects and various labels throughout his career. Every one of his wines are accompanied by intriguing and engaging stories.
Select Wines
In 2008 after the sale of The Prisoner brand, Phinney signed a non compete agreement lasting 8 years where he could not make Zinfandel. So when he could start producing Zinfandel again, he cleverly named his bottling, Eight Years in the Desert. The 2022 Orin Swift Cellars Eight Years in the Desert is a red blend of Zinfandel, Syrah and Petite Sirah aged for 7 months in French oak barrels of which 30% were new. This wine is listed at 15.6% alcohol. And Phinney came up with the saran wrap label (adhered as a second label over the primary label). This wine is deep ruby in color; the sweetness of its fruit aromatics are clearly expressed as their is nothing shy about this bouquet. It offers a captivating union of violets, licorice, raspberry, plum and cherry plus a note of old cedar box. The Zinfandel dominates the flavor profile showcasing a 'zin spice' with flavors of bramble, plum, cherry, blackberry and raspberry. The dense by highly chalky textured tannins present almost a creamy feel across the palate. This wine lingers with sage, other dried herbs and a light drying character. Its texture outlasts the fruit on the finish.
Orin Swift's Mercury Head is a wine that has developed a very strong following since its inaugural release. It is released in May and would often sell out of wine shops within a week's time. Some of the Cabernet Sauvignon for the early bottlings of this wine was sourced from the well-regarded Morisoli Vineyard in Rutherford (next to Scarecrow Vineyard). One winemaker we met with had to wait over 4 years just to acquire a small block of fruit from this vineyard. Grapes are also sourced from additional premium vineyards mostly in Rutherford and Oakville; the best barrels are selected once this wine has aged and are used to create the final blend.
As a child, Phinney used to collect coins including the silver winged Mercury Head dimes. The label for this wine is simply a silver dime that is no longer in circulation. This coin was minted by the United States Mint from 1916 to 1945. Orin Swift constantly scours for sources of these dimes from brokers, coin dealers and from recycled bottles. Their bottles typically use Mercury Head dime coins from the late 1930s and early 1940s.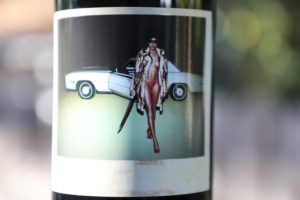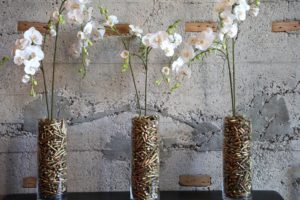 And their standards for this wine are held very high; they do not make it every year; for example they did not produce this wine in the cooler and wetter years of 2010 and 2011.
The 2013 Orin Swift Cellars Mercury Head was young at the time of our tasting; the nose is voluptuous and full of fresh and lively fruit tinged by secondary tones of toasted oak including mocha and vanilla. It shows ripe blackberry, cherry and black currant leading to a soft rounded entry on the palate that quickly gains in complexity showcasing a "Napa boldness" often found with this variety produced from the region. The finish is long both with fruit and robust long-lasting tannins containing a perceptible sediment quality.
Papillion is one of their most sought-after wines and and is instantly recognized from the memorable label. A photograph taken by the famed celebrity photographer Greg Gorman graces the front of the bottle; the label is an image of human hands with the word Papillon showing. And these are farming hands, the paws of one of the nicest old school vintners in Napa Valley one will ever meet, Vince Tofanelli. Incidentally Greg Gorman learned a bit about wine making from Dave Phinney and for a number of years operated his own wine label called GKG Cellars.
Papillon is always a Bordeaux variety-based Cabernet Sauvignon dominated blend. This wine is carefully blended every year; in fact the winemaking team follows an axiom where they will not stop blending until they unanimously agree that the wine is better than the previous vintage.
The 2021 Orin Swift Cellars Papillon is deep ruby and nearly opaque in the glass; the bouquet is sweetly fruited with aromas of blackberry and blackberry jam, dark cherry, cooked tomato, Graham cracker, chocolate and mocha. The nose is also somewhat floral including of rose petals and violets. It offers flavors of licorice, plum and cherry. This is a juicy and richly flavored bottling. The persistent tannins are grippy yet also simultaneously chalky with a drying character continuing to persist on the extended finish. The palate also shows notes of dried herbs. They eventually outpace the fruit.
The 2013 Orin Swift Cellars Papillon shows bright lively aromatics with hints of mocha on the bouquet. The palate has a broad appeal with notes of cherry and blackberry. The tannins are refined for such a young wine and are well integrated yet linger for some time on the long finish.
Burnt Sacrifice is a bottling that rose out of the fires which burned significant parts of northern Napa Valley in 2020. Phinney did not evacuate his home and stayed to protect his property. He noticed a number of burnt oak tree leaves in his yard including some in which the edges were burnt but the insides were still green. Voila, the inspiration for a bottling. He made shadowboxes of some of these leaves. A portion of the proceeds from the sale of this wine are donated to the Napa Valley Community Foundation. The first vintage of this wine was in 2019 and it was produced as a one-off. But due to its success and charitable endeavors, Orin Swift Cellars continues to produce this wine each year. The label stays the same but the varieties bottled change year to year.
The 2020 Burnt Sacrifice California Pinot Noir was aged for 12 months in French oak barrels of which 25% were new. This wine is deep ruby in the glass; the bouquet is fruit driven with notes of raspberry, strawberry, blackberry and an underlying light note of crushed pink peppercorn and cedar box. The palate sports flavors of dark licorice blueberry, raspberry, pomegranate and cranberry. It lingers with some darker spices. Rich, layered and texturally driven, the finish lingers with rounded tannins and an accompanying light dusty note. This is a robust Pinot Noir with plenty of girth in the saddle and a wine we hope we could identify in a blind tasting of higher toned more elegant bottlings of this variety.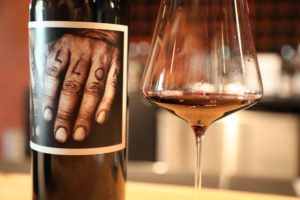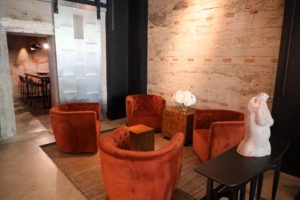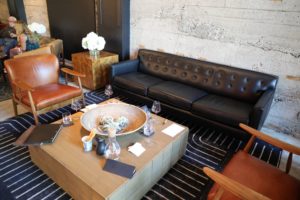 The 2021 Machete California Red Wine is a blend of Petite Sirah, Syrah and Grenache. This wine was aged for 14 months in French and American oak barrels of which 40% were new. This wine is deep ruby and completely opaque with a purple rim in the glass. Looking into its darkness one may never escape its clutches. It presents aromas of blackberries, violets, rusting iron, a sanguine character and grilled meats. It is richly flavored but with a surprising gentle, rounded and plush texture considering the power usually associated with Petite Sirah and Syrah. The palate sports flavors of dark plum, blackberry, boysenberry and finishes with a persistent dark and savory note of grilled meats and crushed black peppercorn. The label features a scantily clad woman at night, semi-clothed in a long flowing fur top, wearing dark sunglasses and carrying a machete. It is no surprise then, how quickly this label catches ones eye. We want to drink this outdoors on a warm summer day, throwing a football with the guys and then going in for a well marbled juicy steak straight from the BBQ.
Wineries that are involved in charities often donate some bottles, are involved in charity events or donate a percentage of sales to charities. Orin Swift takes their charity involvement a step further with the production of Veladora, a Sauvignon Blanc. This wine is a tribute to the Hispanic farm workers in the wine industry. 100% of this wine's profits are donated to "Puertas Abiertas" – or Open Doors. This is a charity organization that provides dental services, counseling and health screenings for farm workers.
Another creatively packaged wine is the Abstract; this bottling is typically a Grenache, Petite Sirah, and Syrah blend from select Northern California vineyards. The label for this wine is images of people with the words, 'Vandalism is Beautiful' scrolled across. The 2013 Orin Swift Cellars Abstract shows a sweetness of fruit and oak influence on the bouquet along with notes of baking spices. The palate is complex and layered with the tannins showing more on the front of the palate rather than the back.
Department 66
In 2007/2008 Dave was introduced by Kimberly Jones, a friend and wine distributor, to a property in the Languedoc-Roussillon region of France (southwest, bordering Spain). Ultimately, he purchased 300 acres of vines in the tiny village of Maury – planted to Grenache (up to 100-year-old vines), Carignane and Syrah. The property is called D66 or Department 66; this winery and property are no longer associated with Orin Swift Cellars but we keep our notes and photographs here for historical reference.
The 2017 Department 66 Others, Red Blend is a blend of Carignan, Grenache and Syrah. Dark ruby in color; sports aromatics of mushroom, forest floor, dark and dried herbs and as the wine continues to open, shows additional darker floral notes including violets. Also, some pepper & cedar notes but they are not overt. Definitely some savory characteristics to the bouquet. A mouthful of fruit on the palate – soft, plush and fairly opulent with flavors of ripe plum, red licorice and blackberry. The tannins are very fine; the finish lingers with both fruit and darker spices including peppercorn. Easy drinking. Made in a style perhaps more reminiscent of California then southern France. While tasting this wine in Toulousse, it made us want make the four-hour drive down for some paella in Barcelona, Spain!
The 2017 Department 66, "d66" Grenache is 80% Grenache noir and 20% Syrah. Dark ruby in the glass; initially the bouquet is earthy, mushroomy, with notes of truffle and dried parchment paper. As the wine breathes shows aromas of Graham cracker, chocolate and toasted cedar. Some baking spices are certainly also present, with hints of clove, nutmeg and cardamom deeper into the aromatics. An initial sweetness of fruit shows on the entry and carries across the palate. Packs plenty of flavor from start to finish (primarily darker fruits). Lingers with an intensity of fruit, alcohol, earth notes, darker spices and rounded, nicely integrated tannins. Finishes juicy, savory and slightly meaty. The hallmark of this wine is clearly the richness of the fruit. Drinks very well by itself.
The 2014 Department 66 Fragile is their first ever rosé from this property. It is a Grenache based blend. Aromatically it is floral showing notes of dried rose petal; it feels somewhat creamy on the palate with a surprising amount of flavor for a wine of this style including notes of strawberry, citrus and red currant. It is a balanced wine that is easy to drink.
OSC St. Helena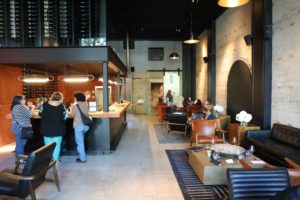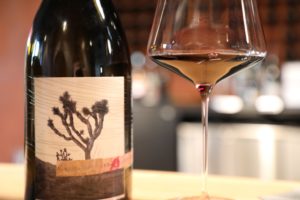 Their offices and what was used as a limited appointment only tasting room are located upstairs in downtown St. Helena at the historical Odd Fellows Lodge constructed in 1885. This is where we first met the team behind Orin Swift Cellars many years ago.
In August of 2013 Orin Swift Cellars opened a narrow tasting room in downtown St. Helena almost across the street from their old office and right next door to what was St. Helena Wine Center and more recently, The Bottle Shop. The St. Helena Wine Center building became locally iconic over the years due to its three exterior rock framed arches. This façade has since been removed. The closest parking is curbside on Main Street – if one is lucky, one can park directly in front of the tasting room. Parking is also available curbside on several nearby side streets for those who don't mind a short walk.
During its previous occupancy, St. Helena Wine Center was often confused with St. Helena Wine Merchants which used to be located in the south part of St. Helena. An existing wine shop in this space, called The Bottle Shop was purchased by Fred and Cathy Beringer in 1972, part of the same family that sold their iconic winery in 1971 to Nestlé Corporation. They renamed it to St. Helena Wine Center in 1992 and operated it under this name until 2020. They changed the name to the Bottle Shop and eventually closed it.
In 2022, Orin Swift took over the space that the Bottle Shop vacated in 2021 and currently uses both spaces with a connecting door between. In the process, the main entrance was moved from 1325 Main Street to 1321 Main Street. As of our latest update to this review, tastings of Orin Swift wines are also held inside a spacious barrel room at Louis Martini Winery which is only a several minute drive from Orin Swift's tasting room in downtown St. Helena.
One of Dave's favorite games during college is now the name of three experiences in the tasting salon. Rock is for guests who want to enjoy several current release bottlings at their bar and is available by walk-ins, Paper is a seated tasting of some of their limited production bottlings and Scissors is hosted in the original Orin Swift Cellars space next door and focuses on some of their most limited production wines and unique experiences. The Scissors space is easily identified by numerous scissors 'sticking out' of the front entrance.
Two former experiences used to be called 'Heads' and 'Tails'. We used to ask friends who we referred to the tasting space to flip a coin when they arrived if they weren't able to commit to one of these experiences.
The focus here is on the wine, the interior features minimal and sometimes eclectic decorations including a neon sign with the words, You had me at HELL NO, designed by artist Kevin Chong of Silica Valley Glass Studio, faux flowers in vases filled with bullets and a mannequin, which Dave had personally delivered to the space the day we visited. OSC opened on October 10, 2023 for half a day in the afternoon; their first full day was on October 11, 2023.
The Vault in the back of the tasting room was used by the prior occupant (The Bottle Shop) to showcase some of their most premium wine bottles. It originally was a bank vault. Today it is used for private tastings and features rare wines in magnums and library bottles. The upstairs space is used for offices and storage.
Back when Phinney still owned Orin Swift the tasting salon staff used to refer to their original space (now used for the Scissors experience) as the "Orin Swift World Headquarters." The interior décor is minimalistic with bare walls and iron (from an old battleship) with an elegant bar, a host and the wine. What might appear to be a cast for an oversize Mercury dime shows in the steel in the back of the tasting room, but it is just a coincidental shape that formed within that particular piece of iron.
—
Orin Swift has an impressive customer following; their wines appeal to a broad spectrum of palates and visitors range in age from 21 (sometimes here to celebrate being of legal drinking age) to those much older. Orin Swift is internationally distributed with select markets in Europe, Japan, China and the Caribbean. Orin Swift Cellars offers two wine clubs, one called Milk Club and the other Equinox.
For more information, to purchase wines, to schedule a visit or to join one of their wine clubs, visit: www.orinswift.com
Original Tasting Room, St. Helena. This is now used for the Scissors experience.

Prior Occupants. We keep these photographs for historical reference.

IOOF Building, St. Helena. Home of Dave's office and early tasting space.

Other Dave Phinney Projects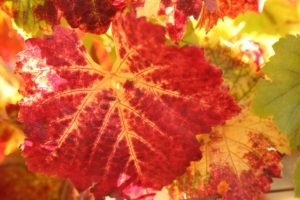 Dave Phinney is a busy guy with involvement in numerous businesses including founding Savage & Cooke Distillery in 2015 – based on Mare Island in Vallejo. Until 2022, Dave was also co-owner in St. Helena based Crane Assembly (sold in 2022), one of Napa Valley's two oldest commercially producing vineyards (dating back to the 1880s), the other being Canard Vineyard in Calistoga. For more about Dave's current projects see our notes filed under Crane Assembly.
Dave and a group of wine industry-based friends began The Splinter Group Spirits Company with their first product release, the Straight Edge Bourbon offered in late 2014. Used Mercury Head barrels from the Orin Swift program were used to age this spirit and water from aquifers on Dave's own property in northwest Napa Valley were used. A second product followed, the Slaughter House Whiskey (aged in used Papillon barrels from their Orin Swift wines). We used to see these products at Sunshine Market, within a short drive or walk of the tasting room. And today, the Splinter Group Spirits is a partnership between Vintage Wine Estates and several other individuals.
Dave is also a founder and owner of The Nimitz Group with partners, Gaylon Lawrence (owner of Burgess Cellars, Heitz Cellars, Stony Hill Vineyard and the Haynes Vineyard in Coombsville) and vintner Sebastian Lane (Depiction Wines). The Nimitz Group is playing a prominent role in the re-development of the Mare Island Naval Shipyard (Oakland Bay Area, California) and already owns hundreds of acres on the island.
And in late 2022 Dave launched another brand, The Gestalt Wine Company which not only produces wine but also an esoteric collection of collectibles and pieces of art. Tied into the Gestalt House on Crystal Springs Road, just outside of St. Helena, products from this brand are sold through membership, with an annual membership fee. Members receive wines from around the world and access to members-only events.
He also produces L'usine wines (the French word for factory) with wines sourced from vineyards in various parts of California. This brand also includes MANQUÉ, a Pinot Noir from Burgundy. And he also produces Our Lady of Guadeloupe wines from the Our Lady of Guadeloupe Vineyard in the Santa Rita Hills of Santa Barbara County.
In addition to his beverage ventures, Dave was involved in fashion; for several years he produced a limited number of Mercury Head denim jeans. And with a name such as this, as expected a Mercury Head dime was always found on each pair affixed on top of the center fastener.
Dave has no shortage of projects; as of our latest update to this review, one of his brands, Locations was purchased by E. & J. Gallo Winery in 2018. This brand features wines crafted from numerous locations around the world spanning 4 continental regions.
In 2020 Dave purchased the Vallejo Admirals, a baseball team based in Vallejo. As of our latest update to this review, the Admirals are no longer playing but Phinney remains the owner of the team.
Savage & Cooke Distillery, Mare Island

Mare Island, California

The Gallo Family, E & J Gallo Winery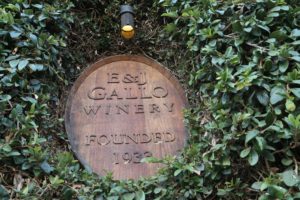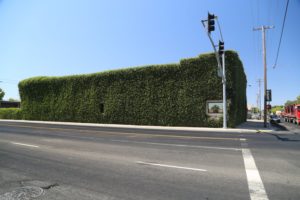 The original winery under Gallo family ownership was founded in 1933 in Modesto, California immediately following the repeal of Prohibition by two brothers, Ernest and Julio Gallo. The initial seed money of $5000 to start the company came from Ernest's mother-in-law, Teresa Franzia who had founded her family's winery, Franzia Wine Company in 1906. They made their first wine in 1933 at a rented warehouse built in 1928 at 401 11th Street (on the northwestern corner of the often very busy 11th and D Streets in Modesto (less then a mile from both downtown Modesto and Gallo Glass and E & J Gallo Winery). Remarkably this warehouse building is still standing; the exterior almost completely covered in some sort of aggressive vine growth. The site is owned by E & J Gallo Winery.
Interestingly this is the same year that Louis M Martini purchased his property in Napa Valley, and perhaps opening within weeks apart as both wineries began operations later in the year during the 1933 harvest. Ernest and Julio's parents immigrated to the USA from northern Italy and both brothers were born near Modesto. Tragically Julio was killed in a jeep accident in 1983 involving his wife and his two granddaughters including now winemaker Gina Gallo (the three women survived the accident).
A milestone in the company's rich history was the founding of Gallo Glass Company in 1958 which now the largest glass manufacturing plant in North America. A visit to the exterior of this site shows an impressive campus with trucks pulling in and out of several entrances (less than a mile from downtown Modesto) and next to the enormous bottling and shipping facility of E & J Gallo Winery. Along with two other production wineries located in the central valley, Fresno and Livingston (small community along the 99 freeway south of Modesto), these three winery facilities are the largest in the world. E & J Gallo Winery is among the top 100 highest grossing private companies in the United States.
Other milestones include the launching of the Carlo Rossi brand in 1975 and Bartles & Jaymes wine coolers in 1984. The purchase of Louis Martini Winery in 2002 was just the beginning of Gallo's acquisition of numerous brands, wineries and vineyard properties, accelerating around 2011 and continuing today.
And in 2007 the Gallo Arts Center opened in downtown Modesto, a state-of-the-art performing arts center hosting both local, national and internationally recognized talent in one of two theatres. Owned by Stanislaus County with its namesake chosen after the Gallo family donated $10 million to the original endowment fund.
Within Napa Valley, E & J Gallo Winery owns William Hill Estate Winery in the southern part of Napa Valley (purchased in 2007), The Ranch Winery (purchased 2015), Orin Swift Cellars (purchased in 2016), Franciscan Winery (purchased 2019), Pahlmeyer (purchased 2019), Rombauer Vineyards (purchased 2023) the iconic Stagecoach Vineyards on Atlas Peak (purchased in 2017) and the California Brandy House in downtown Napa (opened in late 2020).