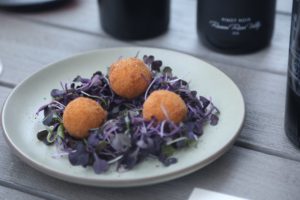 ONE HOPE Wine. This incredibly multi-faceted and dynamic project began with 8 individuals (all co-founders) who met while they were all working at E & J Gallo Winery including Jake Kloberdanz (current CEO of the company). Jake started at Gallo in 2005 knowing very little about wine – while he didn't have a wine background, he already nurtured an entrepreneurial spirit through his mother Jane's market research company. Jake worked for her before college – he remembers observing people's engagement with various products, related user experiences and how technology was being used to change the world (all of which he would later apply to the growth and development of ONEHOPE.
Jake began his wine career as a sales rep but often found himself in the 'trenches' helping build product displays for various stores, breaking down wooden pallets and restocking products. Three months into his job with Gallo, one night around 3am he was restocking Campbell soup cans and noticed a pink ribbon on each of the cans in honor of the annual October National Breast Cancer Awareness Month. He noticed more of these cans had sold than other brands. While restocking yogurt later in the morning, he noticed one yogurt brand had also sold more than the others, natural Yoplait® (this product was also affiliated with National Breast Cancer Awareness Month). He then realized the impact of products with a purpose and had a fleeting idea about someday creating his own business centered around supporting worthwhile causes. As he recalls years later – when great ideas come, he did what most people do… nothing.
It wasn't until 6 months later that the impetus to follow his idea took hold. A close friend from grade school called and informed him that in her early 20s, she had recently been diagnosed with non-Hodgkins's lymphoma. The impact of this news hit Jake hard, but ultimately in a positive way. He realized how short life is and simultaneously was inspired to take a risk. He agreed to begin an entrepreneurial journey while his friend was battling cancer – and both leaned on each other during these times in regard to their struggles. Thankfully and ultimately, his friend's cancer went into remission.
In June 2007, Jake ordered 3 pallets of wine from Sonoma Wine Company in Graton (Sonoma County) containing one pallet each of Chardonnay, Merlot and Cabernet Sauvignon. Initially the brand was called Hope Wine before transitioning into ONEHOPE. Jake drove the wine down to Manhattan Beach and stored it in a house he was renting at the time, before putting it into a public storage unit in El Segundo. He began approaching restaurants and wine shops in Orange and Los Angeles counties about carrying their wines. Similar to other micro brands just starting, it was tough to find placement. Jake estimates in these early days he received one positive answer to every 9 negative answers. The market hasn't changed since then for small brands – we know this from personal experience. And this was before Coravin was available – he remembers setting up their early appointments so that they visited only a couple of places near to each other so they could sample potential buyers from the same bottles.
The early deliveries were made with a white Ford F150 XL Triton – the winery still owns and uses this original white truck along with their original red hand-dolly (visitors to the winery will often see these parked in the main parking lot).
Now Executive Vice President of Sales, Sarah Gora McPeake was working their first wine trade show in San Francisco in 2009 – pouring wines and collecting business cards from various buyers and those in the industry as one does at events like these. One gentleman stopped by and introduced himself as Michael and told her he loved the ONEHOPE story and if they were ever interested, he would be happy to offer his winemaking services to both increase volume and quality of their wines. He left her his business card and said to give him a call. Sara filed the card away with the others she collected that day and while sifting through all the cards later noticed a card from winemaker Michael Mondavi. She soon realized that it was Mondavi she had been previously speaking to.
She passed his card on to Jake. Both Michael and Jake later met; Michael mentioned he was taking more of a consulting winemaking role at that stage of his career, so he recommended his son Rob become involved. With the support of both Michael and Rob (and many others), in 2014 they purchased a 10-acre plot of land at the southern edge of the Rutherford appellation on the west side of Highway 29 directly north of Robert Mondavi winery. The land is planted to 5 acres of vines including a four acre, 3 block Cabernet Sauvignon section and a one acre two-block planting of Sauvignon Blanc. Long time Napa Valley family, the Renterias (Renteria Vineyard Management) oversees both their estate vineyard and also select vineyards throughout the valley that ONEHOPE sources grapes from.
Also located on site is Estate 8, a private farmhouse designed by John David Rulon, an architect formerly based in Rutherford, with suites used by members named in honor of both heritage (the previous owners the Chows, 8 being the luckiest number in Chinese culture) and a nod to the 8 founding partners of ONEHOPE. The property came with a coveted winery permit; a state-of-the-art winery, commercial kitchen and hospitality spaces were designed by architect Howard Backen. And Jake's family was also involved in the building of the spaces – his father Frank oversaw the construction (whose background was helping build out select parts of Stanford University including the Stanford Linear Accelerator) and Jake's wife Megan serves as their Art Director (responsible for interior design).
The first vintage produced at the winery was in 2021. And a little-known fact; ONEHOPE is one of at least five physical wineries in Napa Valley making kosher wines, comprising a very tiny part of their production. Four others are Hagafen, Marciano Estate, Mayacamas and VintEdge. To date, ONEHOPE has produced a kosher Cabernet Sauvignon and a Fume Blanc (Sauvignon Blanc). Instead of using meshuval to heat the wines, they employ flash-pasteurization (preserves the wine's flavor).
A critical part of their operations is maintaining as light an environmental footprint as possible both in their business operations and also as it relates to this property. The goal is to power all their estate operations through solar, Biopipe, a cutting-edge water reclamation system from Hydros Agritech Inc., which from wastewater creates irrigation ready water without any sludge located behind the winery including a 15,000 gallon final holding water tank, and other goals are to be as carbon neutral as possible.
Jake is involved in a number of other projects including serving as a board member of the Napa Valley Cannabis Association and co-founder of 7 Cellars with former NFL quarterback John Elway (these wines are produced at ONEHOPE Winery).
Core Visions + Impact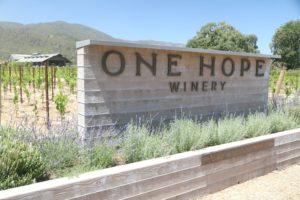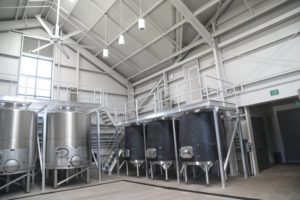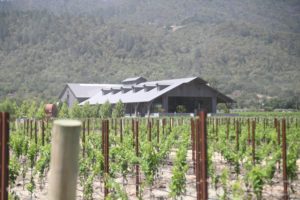 Building a platform centered around wine to give people both hope and purpose is a critical component of their operations.
Helping others in need has always been another core focus of ONEHOPE – right from their first vintage: Chardonnay was earmarked for charitable causes focused on breast cancer, Merlot towards fighting AIDS and Cabernet Sauvignon towards autism research. Several years later they produced a Zinfandel with proceeds going towards supporting American troops. Through proceeds from sales of their wines, ONEHOPE works with organizations that focus on issues relating to healthcare, hunger, education and water. And their thinking and reach is truly global. In the words of ONEHOPE Winery, their efforts are "built on hope and rooted in purpose".
This number continues to grow, and at the time of our latest update to this review, ONEHOPE has donated over 6 million dollars to various charitable organizations. Their donations have funded a diversity of causes including over 3 million meals to children, planting a forest in Indonesia, building schools in Central America and clean water wells in parts of Africa. And more local, some of their efforts have gone towards recovery from natural disasters including relating to the devastating fires in both Napa and Sonoma.
ONEHOPE has grown quickly over the years by remaining true to themselves (an authenticity incorporating integrity and vulnerability among other characteristics), through producing reasonably priced premium wines, creating important partnerships, building a robust software platform enabling technology to empower others – primarily through now more than 7,000 Cause Entrepreneurs. These are independent contractors who sell ONEHOPE wines through a variety of channels including branded websites, holding virtual or in-person tastings and other parties and events. The idea of being an entrepreneur may not be for everyone – but these roles are part of a greater community – focused on selling purpose driven products centered around fun and bringing people together – incorporating a lifestyle. This is a lot different from simply selling some widget or product to only make money.
By far the vast majority of these entrepreneurs are women; they have been and continue to be an extremely integral part of the companies' success – bringing both wines and experiences from the Napa Valley and other parts of California to other parts of the country. And through the various causes chosen by the Cause Entrepreneurs, ONEHOPE has partnered with more than 20,000 nonprofits to date.
And like at the estate property, their operations strive to be as environmentally friendly as possible. Nearly all of their product packaging and bottling is recyclable. Because they source grapes from up and down the state of California – their winemaking operations are often located close to their vineyard sources. And what truly minimizes their environmental footprint is their firm in-house grasp of logistics; rather than involving other logistical entities, their shipping is centralized – they direct ship wines to consumer from their own warehouse to more than 40 states.
Select Wines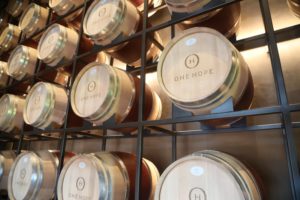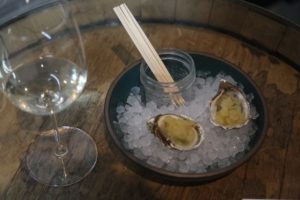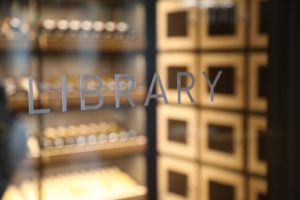 ONEHOPE produces numerous wines from vineyards around parts of California and the Red Mountain appellation in the state of Washington. The majority of their wines produced are from outside of the Napa Valley from more than 30 different family-owned vineyard sites. However, visitors to the property will try wines that are from the Napa Valley (rather than from their overall portfolio). Estate8 is the sister brand of ONEHOPE – focusing on wines from their 10-acre property as well as select other premium vineyard sources, also in the Napa Valley.
In an homage to Robert Mondavi and his original Fumé Blanc (Sauvignon Blanc) – ONEHOPE produces an appropriately named Fumé Blanc grown on the property. Often a variety that one describes as crisp on the palate – the bouquet on the 2017 ONEHOPE Fumé Blanc is also crisp with aromas of lemon, lime, lemongrass and flinty nuances. Very balanced across the palate with flavors of flavors of kiwi and apple. Lacks the nervous acidity that sometimes this variety brings – especially from cooler weather sites. Bright and refreshing the acidity is certainly there but it is an attractive component of this wine. Fermented sur lies in 30% new French oak and aged 9 months.
The ONEHOPE 2018 Chardonnay was sourced from hillside Napa side of the Carneros District. Offers an elegant nose with aromas of green apple, a hint of lime and honeysuckle. A subtle creaminess runs the length of the palate. This is a very balanced Chardonnay but with some crispness. Noteworthy for what it is lacking – heavy oak, viscosity and buttery characteristics.
The ONEHOPE 2018 Russian River Valley Pinot Noir was sourced from the well-known Starscape Vineyard (one of its neighbors is Kistler Winery). The wine is medium ruby in color with darker aromatics and berry fruit is including raspberry along with notes of red cherry. Flavors of red currant, cherry and cranberry but without the tartness sometimes associated with these fruits. Some spice and earth notes on the finish.
The ONEHOPE 2016 Block 1 Cabernet Sauvignon was sourced from the Renteria managed, 50-acre Oakville 360 Vineyard. This wine shows a purity of fruit on the bouquet without a lot of distraction from the oak aging. Reveals hints of tobacco smoke on the bouquet as it further opens. Balanced across the palate with pronounced tannins that are slightly dry in nature but not coarse. Features a juicy pleasing finish which persists for quite some time.
A grape that one rarely sees growing in the Napa Valley are varieties of Muscat. Michael Mondavi had four rows of this growing in what was his family-owned Oso Vineyard located on the back side of Howell Mountain in the hills above Pope Valley (this vineyard is now owned by PlumpJack). ONEHOPE purchases all of the grapes from these rows for their Moscato. The 2018 ONEHOPE Moscato comes in a 375ml bottle. Generous in its sweet floral aromatics it offers notes of honeysuckle, lavender blossom and ripe apricot. Off dry, the sweetness is certainly noticeable but its tuned finely in harmony with the accompanying acidity. Flavors of ripe pear, golden delicious apple and honeycomb. Balanced and clean – there are no sharp edges whatsoever with this wine. Lingers slightly sweet but complemented nicely with a vibrancy of acidity. Only 8% alcohol, this wine is very easily consumed!
Hospitality
The Oak Room, an inviting and comfortable space is used for events and select tastings. Visitors are surrounded by over 100 stacked oak barrels; one end of the room is framed by a wine library as well as private wine lockers for members.
Visits include a walkthrough of the winery and barrel room culminating with a private and very personalized visit with your host and a tasting of their limited production wines – in one of a number of available spaces on the property. Small bites prepared by one of their in-house chefs are also served with each of the wines. Visits are generally for members or through referrals from members or selected partners.
—
The 20/20 Collective (named in honor of the year the winery was built) is an annual membership based with three tiers to choose from, each offering members a diversity of wines, experiences, events and other unique benefits. And opportunities to make positive impacts in a variety of ONEHOPE national causes and global initiatives. This exclusive collective will be capped at 2,000 members.
For more information about becoming a Cause Entrepreneur or to join the 20/20 allocation collective (with several tiered options), visit: www.onehopewine.com