On Q Wines was founded by vintner Steve Baker in 2010. He grew up in rural Napa Valley, in Gordon Valley in particular, located slightly east of the city of Napa. While he had friends in the wine business while growing up, he did not become a winemaker; rather he became a marine engineer and spent years at sea for Chevron. His interest in making wine came much later in life.
Steve really enjoyed a particular wine made by Fife Vineyards called Max Cuvée, a blend containing Syrah and Petite Sirah. He decided to plant both of these varieties at his home in 2003 where he was living at the time (Browns Valley, Napa) as he planned to make a wine similar in style to the Max Cuvée. In order to learn more about both viticulture and wine making he enrolled in the Viticulture and Winery Technology program at Napa Valley College.
He credits professor Dr. Stephen Krebs (an influential and well-liked professor who taught at Napa Valley College for 25+ years) with teaching one of the most valuable courses he took during his enrollment. As Steve's vineyard grew, he continued to take viticulture courses and by the time the vineyard produced its first fruit he was taking oenology courses. He acquired more hands on knowledge by making home wine for five years with the consulting help of longtime friend and wine maker Mark Jessup.
Ultimately, he decided to make the jump to producing wine commercially – he worked on his early vintages and then in 2012 hired consulting winemaker Julien Fayard to make the wines.
Steve has played the trumpet since he was a child and continues to play in several bands in the San Francisco Bay Area. He searched for a name that would combine both his love of wine and music. A cue is a gesture by a conductor signaling musicians that it is time to begin a piece. Steve shortened this to simply "Q" – as he says, "In wine, music and life, timing is everything".
With On Q, he has already experienced one such lucky break of timing. In a natural disaster, sometimes there is an extremely fine line between those effected and those who are not. Take the earthquake in Napa in August 2014 for example. Steve stored his barrels at a wine facility in Napa and when the 2014 South Napa earthquake hit at 3:20am Steve was in Singapore. His friend later texted him a photo pulled off one of the TV stations. It was the storage facility where he kept his wines and many of the barrels were lying in a huge pile on the floor wine free flowing on the concrete; the complete destruction was dramatic especially seeing this in person but looking at photographs much later produces a similar gut feel impact.
As luck would have it, his few barrels were precariously balancing on the steel palates, precious centimeters from coming off and crashing onto the floor. Remarkably, none of his wine was destroyed by the earthquake.
For a small vintner, to lose all your production would have been devastating and Steve admits he may not have been able to afford to continue if his wine was destroyed. The red wines reviewed below were the ones that survived the earthquake.
Select Wines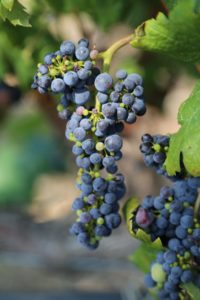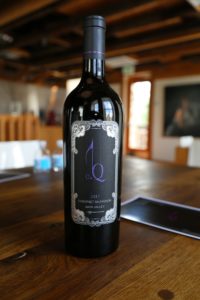 A very unique wine from a Napa producer is their Grenache Noir; this is a red variety but they are making a white wine from it. Rather than keeping this wine on the skins – they avoid skin contact during the wine making and pick the fruit at a lower brix then normal. It is sourced from a vineyard in El Dorado County, was fermented and aged in stainless steel and did not undergo malolactic fermentation. The 2015 vintage shows pretty tropical aromas with grapefruit and notes of pear. A sweetness of fruit shows on the front of palate with a mineral component. This bottling displays a noticeable crispness; it is a refreshing wine on the palate.
Steve focuses on making Cabernet Sauvignon from cooler climate regions in the Napa Valley. He has honed in on Coombsville – one of Napa's cooler sub appellations located just east of the city of Napa. He enjoys the balanced wines from grapes growing in the cooler microclimates of Coombsville. He currently sources from two vineyards – Massoumi and Lambert Family Vineyard. Both are highly sought after with several other well-regarded local winemakers also sourcing fruit from these vineyards. Incidentally both vineyards are located very close to each other, but the soil types vary dramatically even within such a short distance.
The 2012 On Q Napa Valley Cabernet Sauvignon comes from the Lambert Family Vineyard in Coombsville with tiny amounts of Petite Sirah, Petite Verdot and Cabernet Franc in the blend. The nose is elegant and fruit forward (blackberry, cherry) – with a gentle herbal nuance – that peeks out every now and again through the dominant fruit. The mouth feel shows a pleasing suppleness front to mid palate. Then the well-integrated tannins become noticeable framing a lingering plum and currant tartness on the finish. Good food wine.
The 2013 On Q Napa Valley Cabernet Sauvignon is a rich expression of this variety (noticeably bigger than the 2012 vintage) – with bright aromatics, lively fruit aromas – elegant cedar box tinged with herbal notes. Red cherry, sweet fruit and a number of spices show including cinnamon and vanilla. The palate is about darker fruit with tannins bringing plenty of structure. Still young of course at the time of our tasting; this wine should have plenty of life ahead of it.
Apassionata is a term Steve was introduced to many years ago when he accompanied a pianist during a performance. This term means passionate in Italian and commonly refers to Ludwig van Beethoven's Piano Sonata No. 23 in F minor. The 2012 On Q Appassionata is dark ruby color in the glass with sweet cherry liqueur notes to the bouquet, ripe plum and blackberry aromas. The palate is a rich expression of fruit showing mostly darker fruit with a meaty component. It finishes juicy and mouthwatering with earthy tannins.
—
Tastings, Vintner's Collective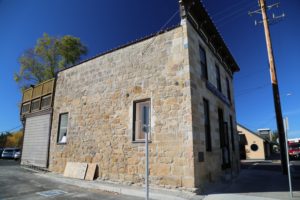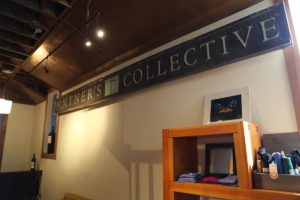 In 2016 On Q became part of a coveted collection of vintners represented at Vintner's Collective, the city of Napa's oldest collective tasting room. Vintner's Collective showcases wines from a select group of mostly Napa Valley based producers – most of which do not have their own tasting rooms. And it's not easy to have one's wines represented here. Vintner's Collective has an in-depth vetting process to make sure the wines match what their customers are interested in, including varieties, price points and wine styles.
The tasting flights differ everyday which is certainly part of the appeal for visitors. Unless one is acutely tuned into the world of boutique Napa Valley producers, one probably will never have heard of any of the labels that are being poured, and that is not a bad thing. These wines represented are typically from producers who have a maximum production of 1000 cases. A number of tasting flights are offered and are geared towards all levels of wine interest and prior knowledge.
Walk-in customers are generally welcome if space allows but appointments can also be requested including for more private tastings hosted upstairs.
Charles spent his formative years in Napa Valley (graduate of Justin Sienna High School), went to college at Chico State University and after graduating working in printing in San Francisco. Tired of commuting from Napa to San Francisco he started his own printing company in Napa and began printing labels for various wineries.
Appellation Trading Company
In 2022, On Q was sold to Appellation Trading Company. This business was founded by Charles Bartlett in 2008. 2008 brought a financial downturn and he began looking for other opportunities besides printing labels. He began buying and selling barrels, worked in winery equipment sales but then discovered that because of the economic hardships at the time, wineries had plenty of inventory but were having difficulties selling their wines. Sensing an opportunity and leveraging his relationships with wineries, he purchased finished wines which were not yet bottled. And he would then private label the wines and offer premium wines at very reasonable pricing. This entrepreneurial spirit formed the early roots of Appellation Trading Company.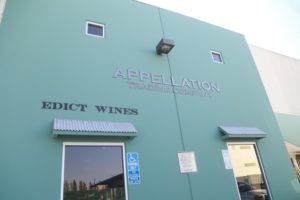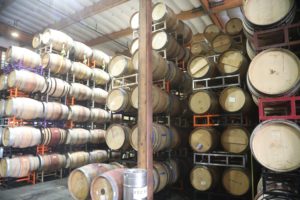 As the economic crisis faded and the economy became stronger these deals from the wineries were no longer available. So, he began to purchase bulk wine and sell to niche markets, more of a negociant model. He developed numerous labels in house (at the time of our latest update to this review they own nearly 40 individual wine brands). And over the years they have also acquired existing Napa Valley based brands, beginning in 2013 with Edict Wines, in 2019 Beau Vigne, in 2020 Frisson and in 2022 On Q. Production has been remarkable over a fairly short amount of time; today they produce over 200,000 cases of wine each year.
The name fits their business model perfectly, Appellation in regard to purchasing wines from various wine appellations and trading, referring to the buying and selling of wine. Their operations are in a business park in south Napa; all primary fermentation is done off site and their role is storing wines in barrel and tank with final blending decisions made on site. And they have their own mobile bottling truck so they can bottle at their convenience, for their own projects only (rather than offering custom bottling services) and also label on site. Minimum orders begin with a pallet of wine.
—
Total annual production was as boutique as you can find in Napa Valley; when we met Steve it was around 300 cases annually but has since grown especially with the change in ownership. The wines are selectively distributed at restaurants in California (by the glass at Morimoto in Napa) and Hawaii. For more information and to join their mailing list or one of several wine clubs, visit: www.onqwines.com