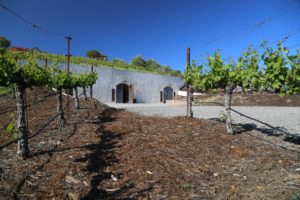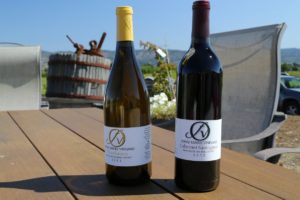 Olney Family Vineyard was founded by husband and wife David and Shirley Olney with their first vintage dating from 2008. The Olney's moved here in late 1995 after living in Jamieson Canyon for several years (also southern part of Napa Valley but more to the east). Their property is only about a 10-minute drive from downtown Napa and is located on the western edge of the Oak Knoll District and on the outskirts of the city of Napa. Neighbors include both growers and small wineries. Their commute to the winery is a very short one as their house is located above their cave winery. Both David and Shirley grew up around farming; David in the small town of Pacheco (near Concord) where his father kept cattle and Shirley grew up in a farming family in King City.
This property had not been planted to vines prior; it used to be a plum orchard and by the time the Olney's purchased the property it was grassland and used to board horses. The property is forty acres of which twenty-five acres of vines are planted including 2 acres of Chardonnay and the rest to Cabernet Sauvignon. The Chardonnay was derived from the Wente Clone and the Cabernet Sauvignon is a fairly unique clone in the valley, the Wiemer Clone. They purchased this from the Hermann J. Wiemer Vineyard & nursery in the Finger Lakes District in upstate New York.
This clone grows exceptionally well in the cooler southern part of Napa Valley. They gave some cuttings to a grower who planted them in the generally warmer Calistoga part of the valley and found the vines did not respond as well as on their estate vineyard. This clone also produces wine that is exceptionally dark; upon seeing a barrel sample of the 2013 Cabernet Sauvignon it was easy to mistake this color for a Petite Sirah. One vineyard has coined this particular color "neon inky" – referring both to its darkness but also the liveliness and bright fruit that this clone exhibits.
David enjoys the attention to detail that one needs to successfully manage a vineyard and make the wine. He does both; he manages the vines on his property with a vineyard crew from Pina Vineyard Management Company contributing additional work. When the cave was drilled, some of the spoils were spread out in what is now the vineyard layering the top 3 or 4 inches of the soil. The small experimental block growing directly in front of their outdoor crush pad contains disease free vines, originally propagated from cells harvested from shoot tips and then cultured in a petri dish.
Hermann J. Wiemer Vineyard

The majority of their fruit is sold to two premium producers: Caymus Vineyards and Lewis Cellars. David has enjoyed wines from both producers for many years and appreciates the consistency from vintage to vintage that each of these wineries strive to maintain.
Select Wines
Olney Family Vineyard produces merely between two to five barrels of wine each year; a Chardonnay and a Cabernet Sauvignon – other than the 2014 vintage which resulted in an "accidental wine". After the 2014 harvest David discovered a small block of his Cabernet Sauvignon was not picked by either Caymus or Lewis Cellars; both wineries assumed the other winery was going to pick this tiny section. Rather than let the grapes eventually rot on the vine David decided to make a port-style wine from the grapes. The 2014 Olney Family Vineyards Cabernet Sauvignon 'port' is only approximately a barrel; it is flavorful on the palate (ripe plum), not heavy in the mouth – sweet and lingers with slightly dusty tannins, sugar and alcohol for some time. This is a wine that will have plenty of life ahead. With good comments so far from those who have tasted this very young wine (such as "I want more"); perhaps David will build this into his portfolio moving forward with future vintages.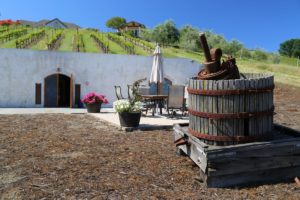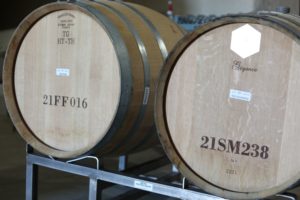 Borrowing from his Alma mater's motto, "Learn by Doing" (California Polytechnic University in San Luis Obispo) David has learned how to make the wine himself – albeit he is surrounded by a number of winemakers in the valley to seek advice from including those who work at his own winery. His role in making the wine is conducting most of the wine making details with the wine making decisions made by Joshua Widaman (winemaker for Pine Ridge Cellars).
The 2020 Olney Family Vineyards Chardonnay is deep gold in color; the bouquet offers comforting aromas of both fruit and barrel influence including of warm butter, hazelnut, honeycomb, crème Brule, caramel, vanilla and apricot and yellow peach. Rich, and rounded but not viscous or creamy this wine delivers an intensity of flavor including of mango, ripe papaya, butterscotch, salted butter and almond. This wine lingers with an intensity of flavor along with a toasted oak note. This is a richer California styled wine from this variety. We wouldn't mind pairing this with a halibut, prepared simply and cooked fresh like the halibut we caught at Waterfall Resort in Alaska a few years back. Or maybe Thai freshwater prawns with a little lemon/butter sauce.
The 2013 Olney Family Vineyards Chardonnay was the first wine from this variety made from the estate. The vintage is pale straw color in the glass. The aromas are quite enticing and well layered – notes of pear, honey and honeysuckle, holiday spices, orange blossom and tangerine skin. The entry is clean, soft and rounded on the palate without viscosity – there are flavors of pear, honeydew melon with an influence of oak. The finish is lively and lingers for some time with toasted oak and notes of butterscotch.
The 2019 Olney Family Vineyards Cabernet Sauvignon is dark ruby and noticeably opaque in the glass; one could almost mistake this for a dark and inky Petite Sirah. The bouquet is highly aromatic offering notes of blackberry, boysenberry, ripe mulberry, black licorice, a sweet tobacco spice, dark chocolate and old cedar box. It is noticeably ripe but not jammy, but it does offer some black cherry liqueur characteristics. The palate offers a noticeable tension between intense fruit, texture and alcohol. It shows flavors of blackberry, molasses, jam, and dark plum. This bottling finishes savory and dark with notes of pepper spice, dense, silty textured, earthy, ripe and rounded tannins. This wine is high octane and high alcohol – listed as 15.8%, but most likely closer to 16.5%.
The 2012 Olney Family Vineyards Cabernet Sauvignon is quite dark in the glass (inherent to this particular clone of Cabernet Sauvignon). The aromas show deep notes of cedar box, violets, dark fruit and a brown chocolate component. This is a very balanced wine across the palate. It is juicy on the palate with good acidity and flavors of blackberry. Hints of mocha show on finish as well as espresso. As the wine breathes notes of toasted oak become more integrated. The tannins linger delicately and are fine grained. This wine shows even better on day two of being opened.
—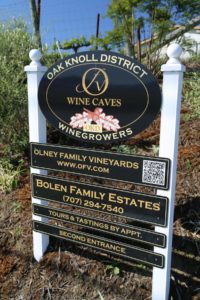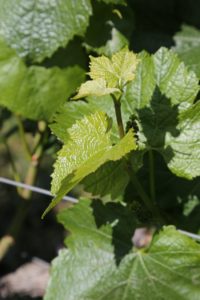 The winery is small yet has plenty of space for the tiny production needs. All their wine is bottled on site – filled by hand using an Inline Bottle Filler and then corked by hand.
In additional to managing the estate vineyards here, for many years David also managed Olney Land & Cattle Company with his father Boyd in the tiny community of Maxwell, California. David is no longer involved in this operation; the property is planted to almonds, rice and alfalfa and was also home to cattle and even a few buffalo. And he also worked for his father's garbage company; Olney Garbage Service was founded in 1950, eventually became Pleasant Hill Bayshore Disposal Company and expanded into a number of 'east bay' communities.
With little time to spend on distribution, marketing or outreach Olney Family Vineyard truly defines an 'under the radar' winery. David says most people find their wines either online or locals spot their sign while driving by on Redwood Road. And as the brand has matured, word of mouth has certainly been an important part of their business.
The only outside distribution they had for several years was at their family restaurant, the Maxwell Inn in the tiny community of Maxwell, CA (Colusa County). The Olney family sold this restaurant in 2019. Visits are by reservation only and are generally with David who starts his tour in the vineyard (weather permitting), offering a detailed look at the basics of growing grapes and farming a small vineyard in Napa Valley. And visits culminate in the cave with an overview of cellar work and basic winemaking practices, followed by a barrel sample and then a stand up or sit down tasting of a bottling of their Chardonnay and Cabernet Sauvignon. Part of the cave is rented out to another Napa Valley based wine brand.
And Olney Family maintains a library of older wines; tastings are usually of a vintage 8+ years old. And these wines are also for sale in addition to the current release bottlings. For more information or to request a very personalized visit and tasting, please see: www.ofv.com