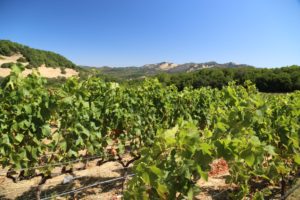 Olivia Brion was founded by Napa wine veteran David Mahaffey with a focus on Pinot Noir as well as sometimes Chardonnay. David has been making wines in Napa Valley since 1980 and has also taught wine making at Napa Valley College. All vineyard sources for his wines come from one of Napa's older (dates from 1988) but generally least well-known sub appellations – Wild Horse Valley. This region of Napa is located within mere airline miles of the city of Napa but seems so remote. Olivia Brion is the only physical winery in the appellation. A number of Kenzo Estate's vineyards are in the appellation but not their physical winery.
David was instrumental in getting approval for Wild Horse Valley (in 1988); this was one of Napa's earliest sub appellations and is one of only two sub appellations in Napa Valley along with Carneros to cross county lines; part of the Wild Horse Valley AVA is in Solano County. This part of the valley is among Napa's coolest growing regions – often cooler than even the noted "refrigerator" at times, Carneros. During a recent visit to their Heron Lake Vineyard in the middle of summer it was windy, clear and fairly cold even during the late morning/early afternoon.
What differentiates this site from some of the lower south valley sites is the elevation of the vineyard; it is approximately 1300 to 1400 feet and as a result sees more sunshine hours than lower in the valley which is often blanketed by fog in the summer months. What also contributes to the vineyard's colder location is its fairly close proximity to the San Pablo Bay.
The property was purchased in 1978 by Dr. John Newmeyer and another investor. Newmeyer has led an interesting life; he is well educated having graduated from both Caltech and Harvard and was an epidemiologist for many years (studies and analyzes diseases in populations as well as outbreaks). His career began in 1973 at the Haight-Ashbury Free Clinic in San Francisco where he worked with HIV, AIDS patients and drug users.
He is a prolific author having penned more then 90 published pieces including a number for professional journals. A man of many interests and talents, he has visited all 7 continents, invented a board game and ran for Congress as a potential representative from from Napa.
Incidentally, John's sister is Julie Newmar who played Catwoman in the Batman TV series in the 1960s and was in a number of other era TV shows.
David became one of the partners in 1980 – the boots on the ground partner overseeing the vineyard development and farming. At the time they planted their vineyard there were no other vines in the ground, although the property was planted to some vineyards as early as the late 1880s. Wild Horse Valley was planted to grapes in the 1870s and 1880s but a devastating wildfire in the 1890s caused significant damage to these vineyards. David originally planted small amounts of Riesling and Gewürztraminer but later pulled out in favor of more Chardonnay and Pinot Noir. The first wine from the property was in 1985 bottled under the brand, Blue Heron Lake and was made at White Rock Vineyards for several vintages until the winery was built at Heron Lake Vineyard.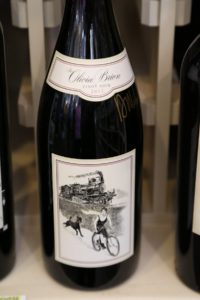 All fruit for their wine is sourced from this one vineyard, about 11 planted acres on a 1000 estate ranch, much of which is steep, with a greater slope then is allowed to plant on within the county of Napa. Much of the ranch is not even serviced by roads and those that do run through the property generally are gated. This is one of the smallest sub appellations in Napa Valley, and certainly the one with the least amount of vineyards and name recognition. In addition, Olivia Brion is the only physical winery within the sub appellation, a claim that no other Napa Valley sub appellation can make. Although note that Kenzo Estate maintains vineyards in Wild Horse Appellation but their physical winery is not in the appellation.
Newton Vineyards in St. Helena sourced fruit for years from this vineyard for their highly popular unfiltered Chardonnay. In the early to mid 1980s, Bouchaine also sourced fruit for several years. Due to the cool growing climate this area is ideal for growing Chardonnay and Pinot Noir.
David's philosophy is that wine making starts in the vineyards; he describes his vineyard management as not being farmed, rather it is gardened organically. He lets the fruit ripen to peak perfection and opens up the canopy to allow for even ripening. The real art of a winemaker is in the blending and David excels at this. All the wine making is conducted with as little machine intervention as possible with much of the work done by hand.
In mid 2009 Olivia Brion moved into a new gravity-flow, solar powered, completely green winery dedicated to both their Chardonnay and Pinot Noir – their first crush at their own winery after 28 years was in 2009. It is rather difficult to have an appellation association when you are the only winery in the entire 3000+ acre Wild Horse Valley appellation (although another winery owns another vineyard in the northern part of the appellation). Despite sometimes hearing the city noises of Napa off in the distance the vineyard is surrounded entirely by native vegetation and it is a challenge to spot any homes in the distance in all directions. The location feels quite remote but in actually isn't really.
David strives to to create wines that are not typical high alcohol, fruit dominated, but rather wines that yes, have ripe California fruit characteristics, but are lower in alcohol with Bordeaux type structure (open top fermentors and a moist humid cave in part help the wine lose alcohol). As a result he can pick at optimum ripeness but not have to worry about the higher alcohol levels based on his specific wine making practices. As David says, "Pinot Noir is a graceful wine, just not at 15% alcohol". Yes, we agree.
Earlier in his career, David was instrumental in designing what is now an essential piece of equipment for many wineries, the wine ozone machine used for controlling contamination, treating barrels and sanitizing applications. At the time of his invention this type of machinery was unheard of in the wine industry. Today, it is available through one company only (Carlsen & Associates) and many of Napa's wineries use this in their wine production. David taught a winemaking course at Napa Valley College for 10 years. And he is a talented photographer – we have seen his works displayed in several locations throughout the valley throughout the years including at Backroom Wines in downtown Napa.
Select Wines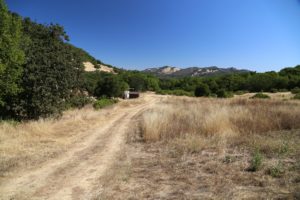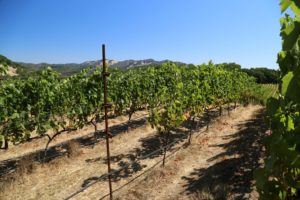 If there was ever a perfect Pinot Noir, the 2006 Olivia Brion Pinot Noir is a good candidate; after tasting the Olivia Brion Pinot Noirs one has to wonder why there isn't more Pinot Noir coming from the Wild Horse Valley Appellation. This wine is dark ruby in the glass showing wonderful fruit aromas, hints of white pepper and floral notes including dried rose petals. The palate is intense in flavor, juicy on the entry yet smooth on the palate. Raspberries and red cherry with lesser notes of dried cranberry anchor the body on this lively very well balanced wine. There is almost an earthiness and or minerality component present especially towards the finish. The finish is smooth, clean and of great length.
The 2007 Olivia Brion Pinot Noir shows a variety of Asian spices on the nose and as the bouquet opens it reveals an alluring floral component including violet and lavender. The palate shows plum, raspberry and a hint of white pepper. Both vintages have great natural acidity which make these wines perfect for enjoying with a meal especially rich French food (one can sometimes find their Pinot Noir at Bistro Jeanty in Yountville).
Olivia Brion also made an extremely small production of a unique non vintage port-styled wine (Syrah, Cabernet Sauvignon and Viognier) called Lord Nelson "Victory", named after a famed British naval hero. Non vintage wines are fairly rare to come by in Napa Valley. As David says, "its no trick to make sweet wine"; however the expertise comes into play when making a "sweet' wine that is complex both on the bouquet and palate. This is a rich extremely dark, almost black wine in the glass. It will stain your teeth (albeit very temporarily), warm you up (not as temporary), and based on the structure, fruit and acidity has significant aging potential. It shows excellent concentration of black fruit and dark chocolate as well as an almost wild or earthy component similar to what you may find in some Charbono wines.
—
In 2019 David stepped back from making the wines for Oliva Brion; winemaker Kira Ballotta began working with David in 2010 and has since taken over the winemaking duties. A number of their wines are now grown outside of Napa Valley.
Olivia Brion can be found in select very high end restaurants nation wide as well as at some of the wine shops in the Napa Valley. On the bottles of wine both David and the grape grower's names are listed under their mutual title of "Fabulist". Wondering who Olivia Brion is and wondering why you cannot find any information about her online other than in relation to this winery? You would do well to look up the world Fabulist. For more information visit: www.oliviabrion.com