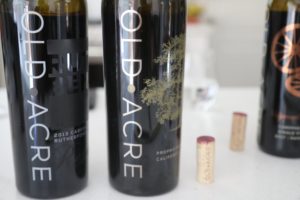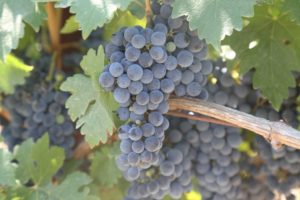 Old Acre Wines. Former tennis pro turned tour manager for True Temper Sports, Simon Wilson spent 10 years touring with the PGA including numerous travels around the world to various tournaments with significant time spent in airplanes (we know the feeling). During his time working for True Temper Sports (Memphis, TN based but a global company that manufacturers stainless steels golf club shafts among other sports equipment), he met and became friends with numerous golfers and would often meet up internationally for dinners. It was over food where friendships were deepened and so was his exposure to various wines from around the world. He became curious and then passionate about wines – passion often leads to obsession in this business; he began to ask why certain wines were better than others, why certain wines were priced so much higher than others and eventually began to take a number of wine focused trips to northern California wine regions. And he began to dig deeper and start thinking about getting into the business somehow – beyond being a passionate consumer.
Simon initially thought about importing some of the wines he enjoyed to California and opening a retail location or a tasting room in Dana Point. But several of his friends who were professional golfers on the PGA circuit encouraged him to make his own wine. He soon searched for "how to make wine in the Napa Valley"; one of the listings was The Wine Foundry, a state-of-the-art winery which produces wines for a number of clients sourcing from premium vineyards with access to numerous varieties. After talking to their General Manager, Steve Ryan, Simon was in Napa touring their winery and meeting the team the next week.
This was in 2014. Hooked by what he saw, he decided to bottle his first wine that year, a 2013 Cabernet Sauvignon from Rutherford. The benefit of having wine made at the Wine Foundry is that one can be as hands off or as hands on as they like. Over the years Simon has become very hands on – working in tandem with winemaker Patrick Saboe in regard to all related viticulture and wine making decisions. An it's not only Patrick who has been a mentor to Simon but numerous others including winemaker Juan Mercado (Realm Cellars). As Simon admits, if it weren't for these individuals, surely, he would have made more mistakes over the years.
Simon enjoys the behind scenes part of winemaking and compares those in the wine business to those who play professional golf. As with wine and golf, some are born into the business – whereas others, like Simon come from all walks of life.
Select Wines
The 2020 Old Acre Rosé is 80% Tempranillo and 20% Mourvèdre – sourced from the Heringer Vineyard in Clarksburg. Offers lime, lemon and raspberry notes on the bouquet with a minerality and a pencil shaving nuance deeper into the aromatics. Highly aromatic. Show flavors of citrus on the palate including grapefruit and an orange zest note. The mouthfeel is slightly rounded in texture which is balanced nicely by the acidity. Lingers with a bright and refreshing finish. This wine is bottled under the 'L' Series, an homage to Simon's wife, Laurel.
The 2013 Old Acre Cabernet Sauvignon Reserve Rutherford Bench is 95% Cabernet Sauvignon, 4% petite Verdot and 1% Merlot. Shows a little browning on the edges from its age (we tasted 8 years post vintage date); it is medium to dark ruby in color. Offers of sweetness of aroma on the bouquet including cherry, along with dried rose petals, notes of chocolate and very subtle baking spices. Also notes of Graham cracker and a hint of dry tobacco deeper into the aromatics. The brightness of acidity has carried through the years – with a lively finish including flavors of currant and red cherry. Very balanced with slightly chalky tannins. This was the inaugural release and vintage for Old Acre. 1200 bottles were produced and each one was numbered.
The 2018 Old Acre Lindsey's Vineyard Pinot Noir from Santa Rita Hills includes two clones – primarily 667 along with 777. Offers plenty of fruit on the bouquet with a hint of darker spice, mushroom and rose stems. Medium ruby in color. Notes of cherries and a slight herbal nuance. Spent 11 months of oak – but shows just a hint of oak on the bouquet. Oak should never dominate wines from this variety and the oak here takes a complementary approach. Offers bright red fruit across the palate including current, cranberry, red cherry and a little bit of red licorice. The tannins are supple and nicely integrated. This wine shows the typicity of the variety very well. Not produced every year.
Stagecoach Vineyard on Atlas Peak has become a valuable vineyard source over the years for Old Acre; Simon began using fruit from this vineyard prior to when Gallo purchased the site and continues to do so. The 2017 Old Acre Stagecoach Vineyard Cabernet Franc is 95% Cabernet Franc, 3% Petit Verdot, 1% Cabernet Sauvignon and 1% Malbec. Medium ruby to dark ruby in color. Offers initial notes of toasted cedar. Give this one time, more fruit shows as it begins to open. Offers bright fruit on the bouquet including aromas of plum along with dust, and sweaty leather. The nose is slightly savory including notes of dried herbs. Both grape and wood tannins are well integrated and gravelly in texture. Offers an enjoyable density and a pleasing texture.
The 2016 Old Acre Proprietary Red Blend is an intriguing wine both for the varieties used as well as the vineyard sources. This blend is 62% Syrah, 15% Malbec, 10% Petite Sirah, 8% Cabernet Sauvignon and 5% Petit Verdot. It is a wine sure to appeal to a number of different palates. One immediately notices the influences from the Syrah on the bouquet including a meatiness, mushroom notes and gaminess. The oak is there but the fruit certainly dominates. Well layered on the palate, features flavors of blackberry and boysenberry. This wine is an expression of opulence, but it is not over ripe. The brightness on the finish compliments the fruit along with dry long-lasting tannins. Lots of life ahead of this one. Spent 28 months in 50% new French oak including barrels from Taransaud, Remond, Bosseut and Vicard.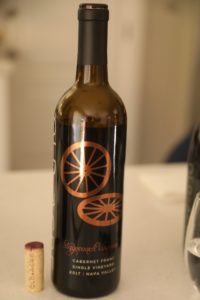 The Old Acre red wines spend two years in barrel and then another 2 years in bottle before being released. As a result, the current vintages of the Old Acre wines are generally a year or two behind conventional winery releases.
—-
When deciding upon a name for the brand, Simon knew immediately he did not want to name it after himself but rather wanted to honor history including some of historic golf courses he has visited around the world, i.e., St. Andrews. And the word acre ties into the land – the terroir if you will.
Simon and his wife Laurel have built this brand from the ground up with no investors – their approach is both organic and persistent, slowly but surely introducing their wines to select markets.
Having lived in Orange County since the 1980s Simon has established numerous relationships in the area for his wines, primarily at restaurants including at the La Valencia Hotel in La Jolla and the Harbor Grill in Dana Point but also at select wine ships including Hi-Time Wine Cellars in Costa Mesa. Total production each year is around 1,000 cases. For more information, to join the wine club or to schedule a tasting, please visit: www.oldacrewinery.com