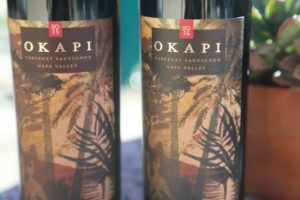 Okapi Wines is owned by Dan and Kim Johnson. Dan was first introduced to wine through a connection to his legal work. One day in the early 1980s he drove up to Santa Rosa from Oakland to work on a case that involved early construction at Chateau St. Jean in Kenwood (neighboring Sonoma County). When his casework was finished for the day – he was asked if he enjoyed wine and if he would like to do a tasting at Chateau St. Jean. He knew very little about wine at that time but accepted the invitation for what would be his first ever wine tasting – a private tasting hosted by winemaker at that time, Richard Arrowood.
He and Kim met on a holiday while both were in San Francisco waiting in line for one of the only restaurants that was open that day in the financial district. Kim had just returned from her first ever trip to Africa – spending time on a safari in Botswana and they connected over stories about her trip. In 2006 they purchased 3 acres in the Oak Knoll District, property that was home to an old walnut orchard, an older home and lots of 'jungle-like' overgrown backyard vegetation.
Dan realized the potential of the site for wine grapes. He and Kim were introduced to their vineyard manager Mike Nunez through friends – Mike oversaw the planting of the vines and continues to manage the vineyard. He recommended an unusual system of trellising to maximize the number of vines on site, a system which also maximizes sun exposure. The vineyard is 1.7 acres and was planted in 2006 with approximately 2000 vines of two clones of Cabernet Sauvignon, clone 4 and 337. Despite the small vineyard size, the clones are in two separate blocks, growing next to each other.
The soils are deep, very fertile and alluvial in nature. The water table in this part of the valley is fairly high, so they chose a suitable rootstock (101-14). Total amounts harvested each year are usually between 6 and 8 tons.
This is the heart of the Oak Knoll District; nearby winery neighbors include Materra, Monticello Winery and Surh Cellars. Both Dan and Kim are highly appreciative of their Oak Knoll District neighbors; a number of them graciously supported their efforts in the beginning. This is a quality that both Kim and Dan try to 'pay forward' when they meet new producers in the valley. And they entered the wine business for a variety of reasons including their enjoyment of wine of course, but also to have fun and meet new people.
Discovering two life size bronze sculptures at a gallery in San Diego, Dan shipped them up to their home and put them in the back yard. A 'jungle' look to the statues coincided with the feel of the vegetation on the property before it was 'tamed'; as a result, they named their property the Jungle Love Vineyard. Their first harvest was in 2009; winemaker Gary Luchtel (of Fortunati Vineyards) helped them make a single barrel of Cabernet Sauvignon that year.
Select Wines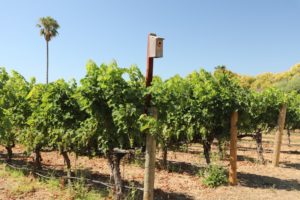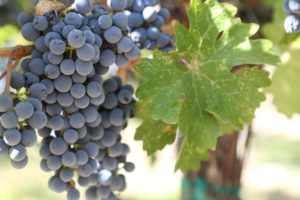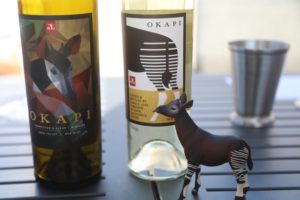 In addition to using their estate fruit for both a Cabernet Sauvignon and a small section of their vineyard for a dedicated rosé of Cabernet Sauvignon, Okapi also sources grapes entirely from within the Oak Knoll District. As Kim says, "we like to get our fruit sources within walking distance of our own vineyard."
The 2022 Okapi Rosé of Cabernet Sauvignon is light pink/copper in color. The grapes for this bottling were picked several weeks before they normally harvest their Cabernet Sauvignon. The bouquet smells flinty and minerally along with scents of rose petal, a lime zest and strawberry. The palate is creamy and rounded which balanced out the zesty acidity quite nicely. Some of the mineralities on the bouquet are echoed on the palate. It is bright, refreshing and offers flavors of red cherry and strawberry. This is a delightful rosé; for best results is recommended pairing with good friends, a pool and a warm summer evening. It offers plenty of verve in its youth.
Dan is very particular about the type of Sauvignon Blanc he enjoys drinking. He prefers a fruit forward wine from this variety – one that is not green, grassy or herbaceous – rather is more tropical in nature. Dan purchased 10 different Sauvignon Blanc wines and then tasted through them all and described the desired characteristics to his winemaker, Ted Osborne. Ultimately the wine he most enjoyed was from Kenzo Estate. Okapi produced its first Sauvignon Blanc in 2015 – a very carefully crafted and thoughtfully produced wine in which four small lots of this variety were fermented separately from each other – each one having been inoculated with its own individual yeast strain. Isolating one fermentation as the larger 'base' fermentation – the other lots were then blended back in. This wine is always 100% varietal.
The 2019 Okapi Vineyards Sauvignon Blanc is pale straw color in the glass with a strong floral component that develops nicely as the wine opens – including notes of jasmine and honeysuckle. A sweetness and a ripeness of fruit runs the breadth of the palate with flavors of mango, papaya and peach. The texture is slightly rounded but not creamy. Sometimes 'riper' Sauvignon Blancs are more linear – not this one; a brightness and lift of acidity complements the richness of flavor and lingers with a satisfying finish. This wine does not need any food – it drinks very nicely by itself.
The 2018 Okapi Cabernet Sauvignon is deep ruby in color; the bouquet focuses primarily on it's fruit including of plum and cherry but there are other scents here as well of dust, a sweet tobacco spice and violets. This is a food friendly extremely balanced bottling (we tasted it 5 years post vintage). The palate is texturally friendly, offering well-integrated tannins of a medium grip. This bottling reveals flavors of plum, cherry, dried herbs, a light crushed pepper character, dust and a subtle wood spice. The finish is savory and long-lasting.
The 2017 Okapi Cabernet Sauvignon was highlighted in the book, It's A Vibe, A Food & Wine Experience By Armando 'Tito' Tam and Jaton Guntner.
The 2016 Okapi Cabernet Sauvignon, despite a year younger is less fruit forward then the 2015 vintage. Shows aromas of cherry and some savory characteristics on the bouquet including tobacco leaf and as it opens further, mocha and vanilla. Offers red and black fruits across the palate. A very youthful and vibrant wine – it's pretty acidity dances across the palate keeping one's interest. The tannins are still tightly woven but not with any harshness – lingering with a hint of tobacco leaf and toasted cedar on the finish.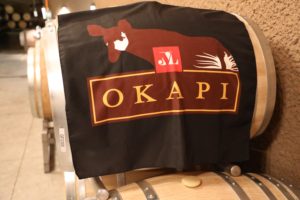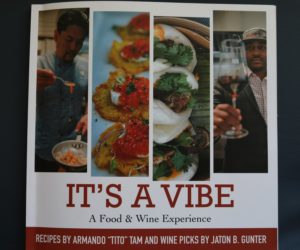 The 2015 Okapi Cabernet Sauvignon is dark ruby in color with a noticeable ripeness to the bouquet including blackberry pie, and ripe plum along with hints of dust and brown chocolate. Also, redolent aromas of clove and cardamom. The aromatics are fruit forward and ripe with a sweetness but not a jammy character. It is a little bit briary with a note of dry earth and tobacco spice. This is a very appealing and hedonistic bouquet. Lively across the palate this wine reveals flavors of dark plum and cherry. The intensity of flavor is noticeable anchored by mouthwatering acidity and youthful darker tannins. Slightly chalky – well integrated, the finish shows a brightness and a juiciness. This wine also took a coveted double gold medal in the San Francisco Chronicle's International Wine Tasting.
The 2014 Okapi Cabernet Sauvignon is medium to dark ruby in color; offers a diversity of aromatics including black cherry, rhubarb, chocolate and notes of wet rock. Shows flavors of red cherry and hints of tea leaf on the palate. This bottling is very balanced but more restrained on both the bouquet and the palate as compared to the 2015 and 2016 vintages. Shows more dark fruit then red fruit on the palate. The tannins are chalky, earthy and linger with a long-lasting grip (but are not heavy or out of balance). Also lingers with a subtle dessert spice.
During harvest, both clones are picked at once – with partial whole-berry fermentation. Their Cabernet Sauvignon is typically released some 3.5 years after vintage.
Another wine in the Okapi portfolio is a red Proprietors Blend that one of Dan's friends coined as "Dan Rouge" (a play on the French vin rouge – or 'red wine').
The Name
The question you may be wondering is, "what is an okapi?" It is an animal that looks like a cross between a giraffe, deer and zebra, but in actuality, is only related to the giraffe; the okapi lives in parts of the Democratic Republic of the Congo in central Africa. We have been to Africa a number of times but not yet to the DRC (although it is high up on our list to see gorillas in the wild while the chances of spotting a wild okapi are slim due to their acute sense of hearing).
Much closer to home is the Sacramento Zoo housing two okapis – during our visit we arrived the morning that one of the animals celebrated his 3rd birthday – the zookeepers served him a 'veggie cake'! This is one of only three zoos in California housing okapis – the others being the San Diego Zoo (celebrated for their research on the animal) and the Los Angeles Zoo.
When deciding upon a name for their wine label – they explored a number of options. One of Kim's friends sent them drawing of an okapi. Kim grew up in Denver and was vaguely aware of this rare animal because the Denver Zoo had several in captivity; despite its very limited habitat in the wild – it is an animal that does well in captivity. After researching the okapi and finding out its African origins and the fact its Latin name is: Okapia johnstoni – both Dan and Kim realized this name was meant to be.
They are also supporters of The Okapi Conservation Project, an organization that supports not only the preservation of the okapi's but also is involved in local agriculture and community needs within the Democratic Republic of Congo. And helps promote okapi education and awareness. According to the organization there are somewhere in the range of 10,000 to 15,000 okapis left in the wild – with more than 50 zoos around the world housing these animals.
Through a fundraising event hosted by The Okapi Conservation Project in 2017 in San Francisco, the Johnson's met Jane Goodall. In addition, they have supported select okapi fund-raising related events at the Sacramento Zoo.
—-
Over the years they have produced wines at several wineries – currently their wines are produced at the Caves at Soda Canyon, both a premium production facility and venue for hospitality. Tastings are hosted at this winery by appointment.
Total production varies depending on the vintage but often averages only around 500 cases per year. The wines are very selectively distributed – locally available at Cole's Chophouse in the city of Napa and other parts of California including at select Total Wine & More stores. For more information, to schedule a private tasting and or to join the wine club, visit: www.okapiwines.com