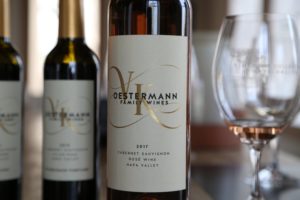 Oestermann Family Wines was founded by father and daughter Klaus and Victoria Oestermann. Both Klaus and Victoria were born in Denmark – the family moved to California when Victoria was only 3 years old. Klaus began working for IBM at age 19 and when he was 21 the company sent him on a work trip to San Francisco where he joined his colleagues in a trip up to the Napa Valley. One trip turned into multiple visits, today the family divides their time between a home in Napa and in San Francisco.
In 2009 Klaus discovered Crush Pad, a winery that was known for controlling numerous aspects of the wine business from sourcing grapes to production to helping market wine. While Crushpad ultimately dissolved in 2012 their impact in the wine world lives on in a fairly influential way. During their time in business, they setup a number of their own clients with prominent vineyards throughout the Napa Valley and beyond. We have met with numerous Napa based vintners who got their start in wine making at Crushpad who continue to make wine on their own or now have their own brands.
Klaus oversaw several home wines made at Crushpad from 2009 through 2012, a period of time where was introduced to select Napa vineyards. Finally in 2013 Oestermann Family produced wines to market – the winemaking has been under the direction of winemaker Patrick Saboe since 2012, currently produced at the Wine Foundry, located in a business park south of downtown Napa.
Patrick came to the Napa Valley on his honeymoon in 1996, met several winemakers and decided to pursue a career change (he was working in the restaurant scene in Charleston, South Carolina at the time). He had lost his father a number of years earlier to a SCUBA diving accident and Patrick recalls being influenced by that tragedy; he decided that following his passion for wine was not something he wanted to wait for until retirement. He graduated from UC Davis with a degree in Enology & Viticulture and has worked for a number of Napa and Sonoma wineries. Today he produces wine for a several clients at the Wine Foundry focusing on small premium producers.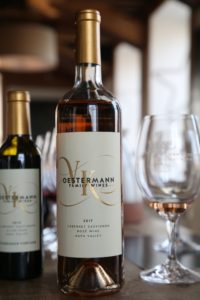 The Wine Foundry has built upon what Crushpad used to do, a full service operation but has improved on a number of other things (including the use of state of the art winery equipment and technology) as well as providing invaluable marketing (including hosting events) and social media services for their commercial wine clients. They also can help with various compliance paperwork needed to sell wine in a variety of states, can setup a website with an online store and provide marketing strategy.
But perhaps most valuable are their vineyard connections and resources in the Napa Valley. They have access to some of Napa's premiere vineyard sites – Oestermann Family Wines currently sources from three Napa Valley based vineyards including Stagecoach on Atlas Peak, a prominent vineyard in Rutherford and the Broken Rock Vineyard just below Atlas Peak.
Klaus works closely with Patrick for critical decisions during winemaking including blending trials. Victoria helps oversee the website and their marketing. While keeping production low (currently around 450 cases per year), they have been able to build a successful brand in a relatively short amount of time. A Denmark based distributor who focuses on wines from the Napa Valley takes about 1/3 of their production with their wines represented at several boutique hotels and fine dining restaurants including what Klaus considers to be the finest restaurant in Copenhagen, the 2-star Michelin rated Aoc.
The 2017 Chardonnay (their only non-Napa Valley produced wine) is from the Rogers Creek Vineyard in neighboring Sonoma County. Golden in the glass, offers an intriguing freshness of aromatics including citrus blossom. While this wine goes through full secondary fermentation it also retains decent acidity. Rounded and supple throughout, the finish is lively with flavors of mandarin. Drinks very well by itself.
Rosé is a wine that Victoria convinced her father to produce – in a fairly unique offering their rosé is a blend of mainly Cabernet Sauvignon along with Pinot Noir. Produced by saignée (the grapes sit on the skins for 5-6 hours) and then post fermentation, is aged in neutral oak barrels for 5 months. The grapes are from the same premium vineyards as for their other wines. Salmon colored in the glass, the 2017 Oestermann Family Wines Rosé shows a core of sweetness on the bouquet, a mix of tropical aromas including lychee and citrus. Not a light bodied rose, is rounded on the palate with flavors of watermelon, citrus and subtle spices on the finish. Balanced with a liveliness from start to finish.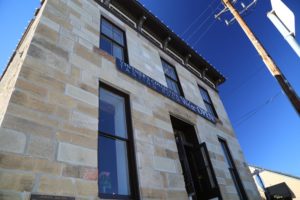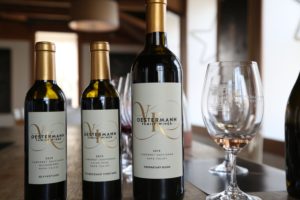 The 2015 Oestermann Family Wines Cabernet Sauvignon, Stagecoach Vineyard showcases a beautiful aromatic depth. This wine keeps on giving as it breathes (like peeling back layers of an onion as Victoria describes it). Initially offers notes of tobacco leaf, and a smokiness along with plum, blackberry and boysenberry. Plenty of life in the bouquet focusing on a generous helping of fruit driven aromas. Medium to full bodied on the palate offers flavors of black cherry, blackberry, dessert spices and lingers with a kiss of espresso. The tannins sit on the back of the palate for some time – but are not harsh. Very food friendly.
The 2015 Oestermann Family Wines Cabernet Sauvignon, G3 Vineyard offers both red and darker fruits on the bouquet with a thread of sweetness throughout the aromatics – red licorice complemented with subtleties of cedar box and mocha and espresso. Seamless across the palate nothing is really out of balance. Also, good acidity. Lingers with a tobacco leaf smokiness, darker spices and a firm yet fairly supple finish. Long lasting flavor.
Their wines are sold direct via their website and are also sold and available for tasting at Vintner's Collective, a multi winery tasting room focusing on premium mostly Napa brands located in downtown Napa. Private tastings can also be arranged ahead of time, depending on Klaus's availability at either Vintner's Collective or the Wine Foundry. And the wines are available at select local restaurants in Napa – often at restaurants where Klaus or Victoria know the sommelier. Their rosé is available at Morimoto's where it has been very popular with a variety of their sushi and sashimi dishes.
For more information or to join their wine club, visit: www.oestermannwines.com