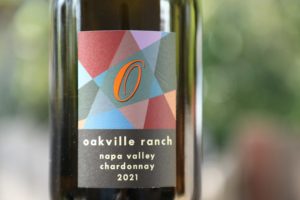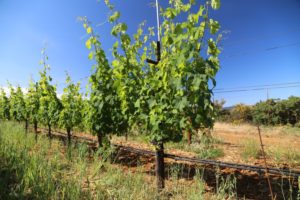 Oakville Ranch is a beautiful hillside estate property located in the Oakville appellation in the hills on the east side of Napa Valley at an elevation of about 1,000 feet. Their location is among some of the most premium vineyard real estate in the valley – with several prestigious wineries as neighbors (including Ovid and Dalla Valle). They are not open to the general public due to the isolated location and restrictive permit use. The 370-acre ranch (as of our latest update, nearly 70 acres are planted to vine) was purchased by Bob & Mary Miner in 1989 and was the same year the Miner's harvested and produced their first wine from the property. In 2020 Oakville Ranch purchased the neighboring Saunder's Vineyard and its approximately 10 acres of vines.
The name Oakville Ranch predates the Miner family ownership (the earliest we can find reference to the name Oakville Ranch was in the early 1980s; the ranch was purchased in 1980 by five different ownership parties including John Scully and Don Kelleher (the owner of Kelleher Family Vineyard and whose family owns Brix Restaurant just north of Yountville). For several years in the early 1980s the property was rented out as a retreat.
The property has been owned by a number of families prior to the 1980s; in the 1970s it was owned by lawyer William (Bill) McPherson of the Fairfield based firm, McPherson & Barnett and his wife Kim; in 1973 Bill unsuccessfully ran for state senate. An article in the October 30, 1973, issue of the St. Helena Star referenced Bill managing existing vineyards on the property. We need to conduct more research, but this is the earliest we have found records indicating grapes growing on the property.
In the early 1940s the property was associated with Mert E. Robertson and a J.P. Twomey. An article from the Napa Journal in 1942 references the U.S. Army placing a rare Remount Stallion on the property for the purposes of improving the quality and quantity of riding horses in the county.
Bob Miner was one of the four co-founders of Software Development Labs in 1977 along with Ed Oates, Bruce Scott and Larry Ellison who joined the firm soon after it was founded. This company later transitioned into Oracle; Bob remained with Oracle until 1993. The auditorium inside the SFJAZZ Center is named in his honor, the Robert Miner Auditorium. After he passed far too young at age 52 in 1994 from a rare form of lung cancer, Mary took over the management of the property.
In addition to overseeing Oakville Ranch, Mary is also actively involved in the Baker Street Foundation, a nonprofit that over the years has offered numerous grants to various organizations in San Francisco including to arts, education and medical.
Of note, the Miner's also used to own the property that is now home to Miner Family Winery and made their own wines here and operated it as a custom crush facility (Miner Family Wines was one of their clients). The owner of Miner Family Winery, Dave Miner is Bob's nephew and for some time managed the operations at Oakville Ranch. There is no physical winery on Oakville Ranch, rather the wines are produced at a state-of-the-art cellar in the Oak Knoll District.
Oakville Ranch is a highly regarded location for growing Cabernet Sauvignon and other Bordeaux red varieties. However, they also have two somewhat unusual varieties growing on the property (especially for a hillside location in eastern Oakville). A small block of Grenache grows towards the eastern side of the property and a 1.2-acre block of Chardonnay is planted on the western side of the property.
We have been driven through the vineyards in an ATV several times; this is a vehicle ideally suited for navigating the often-steep terrain of the property. The views are stunning from parts of the property especially on the western edges with intimate views overlooking much of Napa Valley. We call Oakville Ranch the elevated Porch of Napa Valley. On a clear day one can see all the way down to the glistening waters of the San Pablo Bay (which connects to the San Francisco Bay). Views of their property are of vines, rocks (Napa's "2nd most extensive crop" after grapes), beautiful red soils and chaparral. The property ranged in elevation from about 600 feet to around 1,100 feet. Most of the property is in the Oakville sub appellation but a very small section is in Pritchard Hill.
Much of the fruit produced on the property is sold to a select number of premium winery clients and noted winemakers including Rosemary Cakebread, Helen Keplinger and Andy Erickson. Oakville Ranch sources from specific vineyard blocks for their own wines.
The soil is shallow here, low in nutrients red and very rocky – ideal growing conditions for producing small bunches of grapes with higher skin to juice ratios, with yields extremely low compared to valley floor grown fruit. While these soils are not the best for other agricultural crops, they are ideally suited for wine grapes which produce intensely flavored wines.
Due to their location and exposure, the property receives plenty of afternoon sunshine and warm temperatures during the growing season. To mitigate some of of the most hottest times of the year (often around Labor Day weekend) select blocks in their vineyards have misters installed which can lower the temperature up to 10 degrees. These use relatively little water per vine based on the minute droplets of water sprayed). Shade clothes are also used as is Surround (using a base of naturally occurring Kaolin), a product that coats the grapes with a protective film guarding against sunburn and effectively creating a lower temperature.
Their vineyards are certified organic by CCOF. Well known organic farmer Phil Coturri founded his own viticulture company in the late 1970s – Enterprise Vineyards and oversee vineyards in both Sonoma and Napa Valley. He has overseen the management of the Oakville Ranch vineyards since 2007; one of his primary axioms is establishing soil diversity and increasing its organic material. We have seen him several times over the years during our visits to the property. He seems most at home when he is out in the vineyards. He is also the founder of Sonoma based Winery Sixteen 600.
The property is managed with a holistic perspective with the intent to promote and facilitate bio diversity. This includes the use of raptor, owl and songbird boxes to encourage nesting and also the development of insectaries.
The estate is absolutely stunning with incredible views of Napa Valley below and some interesting sculptures including one by Henry Moore. Solar panels provide 100% of their daily electrical needs. Other features of the property include gardens, beehives, an old home built in the early 1900s as well as another building that dates from the later 1800s. A beautiful Lord & Burnham Conservatory dating from 1937 was reconstructed on the property in the late 1990s and is home to orchids, palms and various tropical plants. This conservatory previously was located on a property owned by Oracle cofounder Larry Ellison. Lord & Burnham was founded in 1849 and was in business until 1988 until they were acquired by Under Glass Manufacturing Co. Over the decades the company became well known for their conservatories including the Conservatory of Flowers, Golden Gate Park in San Francisco.
Select Wines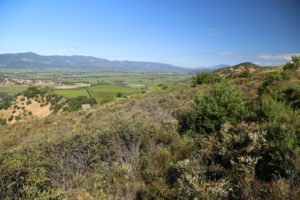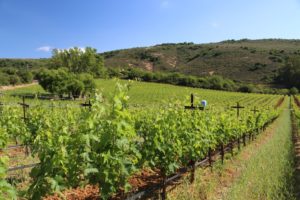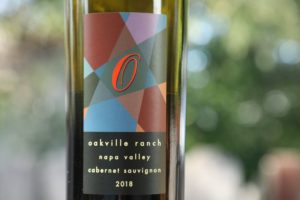 The focus of Oakville Ranche's production is on limited production all estate wines including a Grenache rosé, Chardonnay, a red field blend, Cabernet Franc and Cabernet Sauvignon Cabernet Franc blend simply called O. The wines are respective of this site, its soils and its exposure.
Oakville Ranch is one of the few producers with a hillside planting of Chardonnay and certainly one of very few in Oakville growing Chardonnay. There used to be more Chardonnay on the property but today they have about 1.2 acres growing in a cooler part of the property.
The 2021 Oakville Ranch Chardonnay (Bobcat Block) is medium gold in color; the delightful aromas are wide open and show both a union of floral, stone and tropical fruits. This wine offers scents of star jasmine, honeysuckle and lilac. It also offers honeycomb, butter, pineapple, white peach and apricot. As this wine opens and warms in the glass additional aromas evolve including of vanilla and butterscotch. This wine smells like dessert. The palate is as richly diverse as the aromatics and offers flavors of apricot, nectarine, peach, ripe papaya, vanilla and other dessert spices. It is texturally layered with a noticeable viscosity across the palate. A Chardonnay this rich and intense needs to have a supporting acidy, and it does. The finish is long and rich, laden with both fruits, dessert spices and a vivid acidity. Every year depending on vintage variation relating to pH and acidity this bottling goes through different percentages of malolactic fermentation usually about 25%. The wine was fermented in barrel of which 25% was new French oak and then aged for 10 months in 35% new French oak tightly grained barrels of medium toast.
The 2015 Oakville Ranch Chardonnay was produced from yields that were much lower than in a normal vintage. In addition, these grapes were harvested the earliest on record for the vineyard block – picked in August. The wine was fermented entirely in barrel and underwent full malolactic fermentation. It is very aromatic with notes of citrus (orange) and citrus blossom with some spicier notes as well. Despite the full secondary fermentation, this wine shows plenty of acidity which is tempered by a noticeable weight. This bottling is a rich representation of this varietal. The finish is extended but very lively due to its brightness.
And while nearly all the Oakville Ranch property is in the Oakville sub appellation, a tiny section of this Grenache block is not and is considered Napa Valley (or Pritchard Hill). And this is the only Grenache currently planted in Oakville. The 2021 Oakville Ranch Napa Valley Grenache Rosé was put direct to press and pressed as whole clusters, fermented in stainless steel tanks and then transferred to stainless steel drums and one neutral oak barrel (previously used for Chardonnay) for three months before bottling. This wine is salmon/copper colored in the glass; the bouquet offers a flinty minerality, citrus blossom, lemon juice, orange peel zest and deeper in the aromatics a light nuance of mint. A couple of characteristics which stand out in this bottling are its freshness and brightness from the acidity, its creamy and supple texture and its lingering richness of flavor. Winemaker Jennifer Rue calls this her 'ying and yang' wine with the acidity balanced out by the texture. It offers flavors of strawberry, raspberry, kumquat, pomelo and a lasting note of grapefruit. Recently, some of our favorite rose wines have been made from Grenache.
The 2018 Oakville Ranch Cabernet Sauvignon is 91% Cabernet Sauvignon and 9% Cabernet Franc. Each block for this wine was harvested and then fermented separate from each other. It spent 20 months in 100% French oak barrels of which 70% was new. This wine is deep ruby in color; the bouquet initially offers a varietal herbal and or minty character along with some darker pepper spices (especially noticeable immediately after smelling and tasting the Oakville Ranch Zinfandel) but this quickly makes way for plenty of darker fruits including ripe blackberries, boysenberry and blueberry along with a light mint/wintergreen note. These aromas are complemented by secondary spices including dark chocolate, mocha, espresso, vanilla, Graham cracker and sweet tobacco. The palate is opulent, rich, mouth filling and ripe, showing flavors of blackberry, boysenberry and dark plum. It lingers with a dark tobacco spice, crushed peppercorn, cedar wood and chalky, lightly drying tannins of a light to moderate grip. If we were to summarize this wine's texture in one word, it would be: comfortable.
The Oakville Ranch O was first produced in 2014; its inception was a barrel selection made from lots being used for Robert's Blend. This wine continues to be a barrel selection each year and is usually a production of around 50 cases. It is always a blend of Cabernet Franc and Cabernet Sauvignon. The 2015 Oakville Ranch O offers an attraction union of floral, ripe fruit and dessert spice aromatics. The bouquet showcases ripe fruit including blackberry and boysenberry which dominate additional scents including dark chocolate, a subtle herbal note and lavender. The entry is soft and plush, with plenty of darker fruits including blackberry and boysenberry. The finish lingers softly with fine-grained feathered tannins. This is a hedonistic showing without any accompanying heavy structure. This wine spent 23 months in 85% new French oak barrels.
In 2011 a small block of head-trained vines was planted; today this section of the vineyard contains both Zinfandel and Petite Sirah and is the only head-pruned block on the entire property. The 2020 Oakville Ranch Field Blend is a blend of 86% Zinfandel and 15% Petite Sirah. It is deep ruby with an amaranthine rim – its darkness in the glass is immediately noticeable (thank you Petit Sirah). The nose is wide open and expressive of darker fruits including boysenberry, blackberry, plum and blackberry pie. If California sunshine could be bottled up and presented as a bouquet of ripe summer fruits, it would be this particular wine. Or as Jennifer calls it, "an aromatic extravaganza." The ripeness on the bouquet continues onto the palate with flavors echoing the aromatics including of dark cherry, chocolate and a light but dark and savory spice which lingers on the finish. The tannins are soft, rounded and are seamlessly integrated. One of our favorite wine grapes to pick right from the vine at the peak of their ripeness is Zinfandel. The finish on this wine almost mimics those ripe grapes. Other than in 2017, every year both varieties are harvested simultaneously and co-fermented (including this vintage). This wine was fermented for 17 days and then spent 18 months in 20% new French oak barrels and 80% used. High octane; it is 16.1% alcohol.
The 2014 Field Blend was a nod to early wines in the valley where multiple varietals were grown, harvested and fermented together – a blend from the vineyard rather than from the winemaker. This field blend is composed of 73% Zinfandel and 27% Petite Sirah. Ripe notes of blackberry (think blackberry jam) show on the bouquet; it has a noticeable Zinfandel bouquet, offering a bit of pepper spice as well. Ripe on the palate, this wine drinks very well by itself in its youth.
The 2012 Oakville Ranch Robert's Cabernet Franc is made in honor of Bob Miner; this wine initially shows a smoky characteristic on the bouquet but as it opens this is replaced by plenty of fruit including red and black cherry, blackberry and a more subtle floral component. Fairly supple on the palate it finishes with earthy slightly drying tannins.
The 2013 Oakville Ranch Cabernet Sauvignon is fairly dark in the glass revealing appealing aromatics including blueberry, cassis and a hint of vanilla. Ripe on the palate it shows good 'food' tannins; they are robust and slightly chewy. The finish lingers with hints of mocha.
—
Oakville Ranch has been extremely supportive of the Napa Valley Vintners and their charity efforts including in the past, the Napa Valley Auction. One of their former General Managers, Paula Kornell chaired one of the auctions. Oakville Ranch donates 1% of their total gross profits to an organization called 1% For The Planet – funds from businesses who participate in this are distributed to organizations protecting the environment worldwide.
Total production is just under 1,000 cases annually. For more information, to schedule a visit to the property, to purchase wines or to become a member through their Terrace Club, visit: www.oakvilleranch.com
The "signs" of Oakville Ranch

Vineyards/property

Oakville Ranch, historic greenhouse