Oakville East is an exciting project that originally was founded on one of our favorite hillside producing regions in the Napa Valley, a specific hillside region in eastern Oakville dubbed by some as "the magic hill" or "magic mountain". This small section of the appellation contains some of the most well-known high-end wineries in Napa including Screaming Eagle, Dalla Valle, and the Phelps Baccus vineyard. You can throw a stone and hit any of a number of other top established vineyards in this area. There are fairly large differences in terroir across the appellation; this part of Oakville contains very reddish extremely rocky soil. In addition, because of the geographical exposure the hillside vineyards in the eastern part of the appellation receive additional hours of sunshine especially during the growing season and as harvest approaches. This is compared to the western part of the appellation which contains the Mayacamas mountains that shade the lower regions on the western side of the appellation later in the day.
Because of this increased sun exposure and different soil types one could make the argument (as owner, Elliot Stern does) that the wine between east and west Oakville are different styles – where generally the wines from western Oakville are more masculine with bigger structure and wines from eastern have more finesse yet still retain excellent ageability.
Owner and founder Elliot Stern grew up in North Dakota and has been involved in the wine industry for nearly 40 years. His grandfather was one of the first to put together a wine and spirits wholesale business after prohibition. His father continued working in the same industry and Elliot's first experience was as he puts it, "selling something when it's been boxed shut" – as in cases of wine. He later went on to become the GM of Sam's Wine & Spirits in Chicago and when he took a position of VP of Sales and Marketing for Wilson Daniels, he soon found himself living in the Napa Valley.
Elliot was COO of The Sorting Table, (www.thesortingtable.com) a premium company based in the city of Napa that offers distribution, importation, sales and marketing for the wine industry. Their portfolio is rather impressive containing only boutique often well-known wineries. In addition, he is an instructor in the Wine Studies Program at the Culinary Institute of America in St. Helena.
He purchased hillside property in eastern Oakville at the edge of the valley floor in 1997 (no longer owns this property). There were no vineyards on the property at that time and a neighbor asked Elliot to plant a small piece of land to vine. Their "micro" vineyard is merely an acre in size. They initially sold the fruit but then tried making home wine in 2003. This was good wine, but when you have vineyard sources from this part of Oakville it really doesn't make sense to merely make home wine. Not having much fruit from his own small vineyard Elliot thought about combining some of his neighbors' small vineyards and using these additional fruit sources for making limited production wines, a collective if you will of small micro vineyards. 2004 was Oakville East's first commercial release and what was just two vineyard sources in the first year, by 2009 has turned into a collective of 6 families with 7 vineyards – all sourced from the same general hillside terroir. Each year has seen additional vineyards added (bringing on additional varieties) which is a good thing – more fruit from already proven vineyards gives the winemaker additional tools to work with when determining the final blends.
Sara Gott has been their consulting winemaker since the first vintage. Previously she worked at Joseph Phelps and Quintessa and when Elliot was ready to launch his project, the timing was perfect as he called her the same day that she left Quintessa. She was quickly drawn to the uniqueness of the project as well as the opportunity to work with the small vineyards.
Historically each vineyard was managed differently depending on the ownership – some were managed sustainably, some were organic, some were not. Elliot organized all the owners and as of late 2008 started Biodynamically farming every vineyard that contributes fruit towards the project. He brought on famed Biodynamic farming expert Philippe Armenier, the former owner of Domaine de Marcoux in Chateauneuf-du-Pape, France. Philippe has over 20 years' experience farming Biodynamically including a number of visits to top Biodynamically farmed estates worldwide. Philippe has also been instrumental in taking other Napa wineries Biodynamic including Joseph Phelps and Grgich Hills.
Elliot tells a funny story of when all the participating vineyard growers/owners were gathered and were listening to Philippe talk about Biodynamic farming. Philippe then passed around a closed bag of a manure type compound as an example of what he uses in the vineyards. Everyone kept the bag shut except for one lady who opened it to the chagrin of the others, and she then commented that it smelled just like her garden while growing up in Italy. This was the ice breaker and opened up the discussion to the many advantages of Biodynamic farming.
As a result of the recent farming changes, Biodynamic farming has already been a very healthy undertaking for Oakville East. It not only improves the quality of the land but also significantly reduces water usage. These slopes are extremely rocky with very little soil and water is at a premium especially when you consider the cost of drilling new wells and the great depth of the water table. Because of the soils or lack thereof, yields are already extremely low – in the 1-to-2-ton range. The certification for Biodynamic farming takes 4 years.
Besides each vineyards' manager, Oakville East has also brought on a vineyard manager to oversee the entire project. This person walks each vineyard every Saturday morning and communicates to each of the growers and other vineyard managers a holistic approach for managing their vineyards. Because of each growers' attention to detail, the various vineyard slopes, sun angles and soil types, harvest always involves a number of pickings at various times, even from the same small vineyard.
Select Wines
The 2006 Oakville East Exposure Cabernet Sauvignon is 85% Cabernet Sauvignon, 12% Cabernet Franc and 3% Petit Verdot. This had just been released at the time of our tasting. It is a dark wine in the glass with an elegant aromatic bouquet showing perfume – almost floral notes and hints of baking spices. The entry is soft and smooth with flavors of black fig, raspberry and red cherry. An earthiness to the wine shows towards the finish which is anchored by broad nicely structured tannins. With lively acidity, excellent structure and layered fruit this wine will age very nicely and should already drink well with food.
The Core Stone is Bordeaux styled blend modeled after a Haut-Brion blend with 65% Cabernet Sauvignon, 35% Cabernet Franc and 5% Petit Verdot. The name of this wine is attributed to the unique terroir in this region, specifically the "core stones" that form what little soil there is in the area. These stones are what remain after an ancient mountain in the Vaca range collapsed on itself. From certain vantage points in the eastern part of the Oakville appellation you can still geographically see remnants of this collapsed mountain.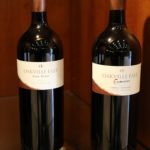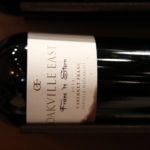 The 2006 Oakville East Core Stone shows an alluring bouquet that is slightly dusty with hints of mineralities. As the wine opens the nose becomes decidedly more complex displaying beautiful fruit. The palate shows sweet and sour cherry and black currant with an underlying note of creamy vanilla. The clean finish is anchored by fine grained and smooth slightly dusty tannins. It is a most pleasing finish of amazing length. This wine does wonders after letting it breath or decanting. It is a wine that will be sought out by serious wine enthusiasts and collectors. The 2006 was produced in extremely limited quantities with distribution just to Premier Napa Valley (a trade event put on every winter by the Napa Valley Vintners Association) and their first true commercial vintage is from 2008 and will be released sometime in 2011 or 2012. The Core Stone will always be produced in extremely limited quantities. Look for this wine to be much sought after in the world of Napa's high end cult wines once it is actually released.
—
All photos included in this review are courtesy of Avis Mandel.
Don't look to buy wine directly from Oakville East – they do not sell direct or via their website, rather they distribute via a number of high-end retailers in select markets nationwide. Retailers take note, Oakville East is a unique wine from one of Napa's top terroir locations.
For consumers – sometimes you can find their wine locally at ACME Fine Wines, a premium wine shop located in the town of St. Helena, and they are distributed in select markets nationwide, mostly at premium wine shops (NY, NJ, TX). For a number of years, the Oakville East Wines were available for tasting at what was Napa Wine Co's shared tasting room in Oakville. But as of January 1, 2019, this tasting room stopped representing all vintner members other than their own three brands.
For more information visit: www.oakvilleeast.com