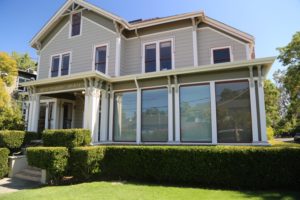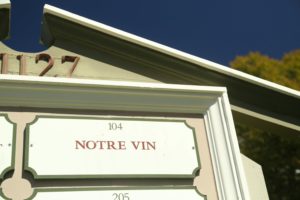 Notre Vin focuses on a number of wines from Napa, centered on Howell Mountain, as well as the Sonoma Coast in neighboring Sonoma County. The winery is a joint venture between French winemaker Denis Malbec and Swedish native May-Britt. Denis and May-Britt took a three week vacation to the Napa Valley in 2000 and as they put it, "never left".
Note: Tragically Denis Malbec passed away in a car crash April 16, 2016. His contributions to the Napa wine industry will be sorely missed. His last vintage of Notre Vin was 2015 – need to verify if the wines are still being produced – their website shows much older vintages and nothing showing recent vintages online. We will update or archive this review once we have more information.
The name Randy Dunn has been mentioned a number of times on this project; Denis tried an 82′ Dunn in 1998 and promptly decided he wanted to make more wine from this region (at the time Howell Mountain was not yet an AVA). Soon after moving to Napa they started Malbec & Malbec which offers consultation to a number of exclusive wineries both in Napa and surrounding counties. Their company provides everything from actual vineyard consulting, to winemaking, to marketing and sales. They had been making wine for these clients for several years and in 2003 decided to produce their own commercial label when a small amount of Howell Mountain grown Cabernet Sauvignon was offered to them.
With a name like Malbec & Malbec one might think they were focused on the Malbec varietal. Not so, they do not make a Malbec. Over the years, both May-Britt and Denis would refer to wine they made as "our wine" or what perhaps sounds a bit more exceptional in French – Notre Vin.
May-Britt and Denis met at Château Latour. Denis's grandfather worked there until the late 1970′. His father was cellar master (Maître de Chai) for 25 years and Denis was actually born at the winery. Tradition is different in France and the USA – families & employees who work at the wineries often live on site. Try saying you were born at say, Robert Mondavi Winery! Denis started as a cellar worker at Latour, and after his father retired, he took over as their primary Enologist and Cellar Master, crafting their wine from 1994 to 1999.
Château Latour

Before moving to France, May-Britt owned a floating restaurant complete with a sauna on a fairly large boat in Stockholm (summer months). She is an accomplished sommelier and had the opportunity to visit Bordeaux in 1994. Upon finishing a tasting with the owner of Château Latour, Francois Pinault – he then asked her which wine was her favorite. Rather than throwing out one of the super old vintages she named the 1985 Château Lynch-Bagesand and gave her opinion. He appreciated her honesty and asked if she would consider working for him. Single handedly running a restaurant on a boat for a number of years is not easy work and ready for a change she had sold her restaurant business and was overseeing public relations at Château Latour within 3 months.
Denis says "one of the keys to making good wine is to make you salivate." A big part of that is their wines tend to have a bit higher acidity which is key to not only paring the wine with food but also for its aging. In addition (aside from their superstar rosé) their wines are more "old style Napa" in that they are lower in alcohol. For instance the current release of the Cabernet Sauvignons are in the mid to high 13 percent range.
At Château Latour Denis and his team spent 10 years experimenting with making a rosé from 100% varietal Merlot and Cabernet Sauvignon. They tried different barrel aging program (new versus used oak), using stainless steel and other wine-making techniques. None of these wines were ever released commercially – rather they were enjoyed internally. However Denis learned a lot from making these vintages and has incorporated the best wine-making practices from that time into Notre Vin's own rosé.
Select Wine
It is rare and refreshing to find a different take on a rosé made in Napa and one can quickly offer up a number of superlatives to describe the Notre Vin dry rosé. First, it is not your typical Napa rosé. It is 100% varietal Cabernet Sauvignon from Howell Mountain. It was stirred on the lees for several months during its one year aging on the lees. It was aged in stainless steel to help preserve the integrity of the fruit. This wine has structure, body and lots of flavor. The 2007 vintage is 14.5 percent alcohol (a bit higher than a usual Napa rosé) but it has the acidity to help balance out the higher alcohol. This is not the typical "out the door, cash flow rosé" – rather Notre Vin will only release it after they feel it has developed desired characteristics and complexities.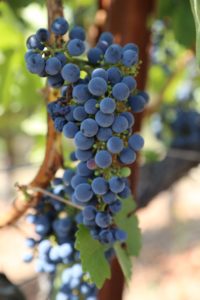 The current release at the time of this review (released 2 days before our tasting) is the 2007. This rosé is a strong reddish pink in color. It wafts out of the glass with layer upon layer of fruit aromas including raspberry, a hint of watermelon (an aroma similar to the red algae that grows in the snow above timberline), and even notes of hazelnut. The palate is rich with flavors of cranberry, Meyer lemon, and strawberry; the wine has good viscosity, a rounded mouth feel and a surprisingly long finish. Rosé is often associated as a summer wine; this wine with its flavor profile and structure also fits the bill for as an ideal wine to enjoy during the winter holidays!
You don't often hear the word aging mentioned with "rosé" in the same sentence. This wine will age well – some of the rosé's made at Latour in a similar way as Notre Vins' were tasting very well after 10 years and had retained and developed additional complexities.
The 2006 Notre Vin Cuvee L'Etrier (Napa Valley Cabernet Sauvignon) is a balanced wine with good acidity. The vineyard is in an area just below Howell Mountain. The bouquet is rich yet elegant in nature and offers baking spices, plum and mocha. On the palate there are mineralities, spicy plum, notes of cedar and just a touch of oak to complete the textured balanced finish.
The 2006 Notre Vin Howell Mountain Cabernet Sauvignon was sourced from a vineyard on the western side of Howell Mountain at about 1800 feet (one of the oldest vineyards on Howell Mountain) This is a dark wine with a big brooding bouquet. Aromas of cigar, cassis, dark chocolate and almost a "meaty" character show. There is a pleasant earthiness and or dustiness on the palate towards the finish (Denis compares it to the first late summer rainfall on dusty soil and rocks). The wine shows lingering firm well structured tannins. As with their other wines, this was not fined or filtered.
—
The Notre Vin label and packaging looks refined and elegant. Those who delve a bit deeper will find that it is somewhat modeled after the Latour labels and capsules used in the 1950's.
Denis speaks very highly of the untapped potential of Lake County to the north. Notre Vin sources fruit from several vineyards that they initially developed as well as currently manage. This wine is bottled under the Alienor label and the focus of this label is to showcase a wide variety of small production wines. Alienor was born in the 12th Century, was extremely wealthy (owned huge holdings in France), was married to the Louis VII before divorcing him and soon thereafter married Henry II and became the Queen of England. After bearing 10 children including Richard the Lionheart, an imprisonment for 16 years, she lived to the super old age (at that time) of 82.
So with that said, this wine is a tribute to her and is made in a Bordeaux style (St. Emilon) where Cabernet Franc and Merlot define the wines in this region. This wine is also a fine showcase of what Lake County can offer in terms of red varietals. The 2007 is almost a 50/50 blend of Cabernet Franc and Merlot with just a splash of Petit Verdot in the blend. The entry is soft on the palate which builds layers of flavor towards the finish. This is definitely a food wine with good acidity; the flavors tend to be more red and blue fruit including plum, red cherry and blueberry and just a hint of mocha towards the finish.
All their wines are produced in very limited quantities – usually under several hundred cases. In addition to current releases, some older vintages can also be purchased online. For more information visit: www.notrevin.com