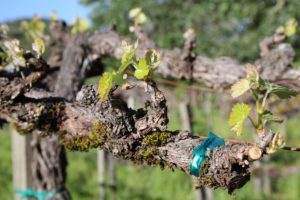 Nord Estate Wines has been a vineyard management company for over 40 years in the Napa area. The founder Will Nord came to Napa in 1968 and was a pioneer in Napa Valley vineyard management. In addition, he established the Viticulture program at Napa Valley College. Today Nord sustainably farms, manages or owns over 1000 Napa area acres for various wineries making them one of the larger vineyard management companies in the valley.
Their attention to detail is remarkable in the vineyards – if you are not involved in the wine industry and you look at a vineyard you may think "how much work can actually go into managing grape vines?". As it turns out, managing vines is extremely detailed and manually intensive. After a visit with Nord in the vineyards you will have a deep appreciation for the hard work that goes into producing high quality fruit which is a result of carefully managing the vineyards based on years of expertise. As a result, fruit from their vineyards are highly sought after by local wineries.
In 2000 they decided to start making their own wine and currently custom crush at an area winery. They are able to pick some of the highest quality grapes from select blocks among their vineyards. A visit here is always with one of the owners and is for the very serious wine enthusiast as they are not open to the public. Your visit usually starts in the vineyards with an overview of growing, trellising and basic vineyard management. Weather permitting, the tasting is held outside next to the vineyards and a small seasonal creek that does see salmon runs during parts of the year.
We tried a Pinot noir, Cabernet Sauvignon, a nice Cuvee and a large fruit driven Petite Syrah. Nord typically ages their wines an additional year or two longer than the normal "current vintages" found at most area wineries and they will not release a wine until they feel the flavor profile is what it should be.
Their 2004 Green Island Pinot noir is a blend from two rootstocks 115 and 777, each of which contributes a specific component to the wine (777 for the structure and 115 for the fruit). The fruit for this wine comes from one of the furthest south Napa county vineyards; oak is minimally used resulting is a very fruit forward wine with lots of notes of blackberries and cherries. The focus on this wine is to show the varietal characteristics rather than the winemakers style.
Their Cabernet Sauvignon is a well-built fruit forward Napa Cabernet; the clone they use produces very small fruit with concentrated flavors. This wine would be great with a variety of meat dishes. The Cuvee is a 60/40 Merlot Cabernet Sauvignon blend and surprisingly pairs with chocolate very well. The highlight wine for us was their 2004 Jonquil Vineyards Petite Sirah; this wine has an extremely aromatic nose and is rich with complex fruit flavors including blackberry and blueberry. It is a dark inky wine.
NOTE: We cannot determine if they are still making wines commercially. We will update/remove this review once we have more details.