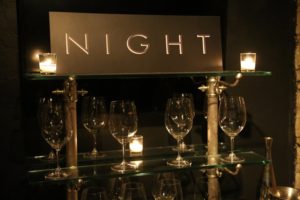 Night Wines was founded by winemaker Scott Mangelson and Heidi Tucker – both met through their respective jobs in management, consulting and high tech. Wine making is a craft that one can learn by doing if one is endowed with the right amount of passion, curiosity, creativity and understanding of the related science. Take winemaker Scott Mangelson for example – the odds he would become a winemaker were probably fairly slim. Born and raised in Utah (a state that is not exactly known for its wine), Scott's interest in farming began early – helping his grandparents on their dairy farm and in their orchards. He learned to drive a tractor at age 6, recalling he wasn't even able to reach the gas petal on his own. He graduated with a degree in Microbiology from Brigham Young University – and has worked in high tech for many years.
Never formerly trained in wine making, Scott recalls the first wine he made with friends was in a garage in 1999 – about 25 cases of home wine from Napa's Redmon Vineyards (in St. Helena). One of his friends entered a few bottles in the 2001 Napa County Fair Winemaker's Challenge and three weeks later they had taken home a medal for having produced the Best-in-Class wine from all of the entries in this competition. Scott was the winemaker at Redmon Vineyards for many years where he earned a number of accolades and high scores for his wines – today he exclusively makes wine for Night Wines.
One day he asked Heidi if she would be interested in partnering with him in a new wine making venture. Heidi was immediately intrigued. Remarkably the name Night was available. They chose this name because it represents three important components in their lives, the nighttime, people and wine. Their philosophy is to work hard yet play hard with the night representing a time when they are not bogged down with the rigors of daily life – it is a time they can relax, often with friends and family while enjoying stimulating conversation and a good bottle of wine.
And in addition, Night Wines pays homage to the cool weather associated with the evenings in Napa Valley – an often-significant diurnal temperature fluctuation where phenolic development of the grapes slows down – a period that is absolutely critical for producing premium wines.
Mignon McLaughlin was an American journalist and author known in part for a number of poignant quotes. Night Wines mentions one of her quotes written in the 1950s on the back of every bottle, "For the happiest life, rigorously plan your days, and leave the Night to chance…"
Select Wines
The first vintage of Night Wines was in 2013. Their focus is on three wines, a Chardonnay, Merlot and a Cabernet Sauvignon. While they do not own any vineyards, the vineyards they source from are locked up in long term contracts (ensuring consistency of fruit sources). They typically will age their wines an extra year in bottle (compared to the norm) before releasing. Total production as of our latest update is around 600 cases per year with plans to increase production in subsequent years.
The 2015 Night Wines Chardonnay (sourced from Carneros in the southern part of the Napa Valley) is golden yellow in the glass with a distinctive nose not always found in Napa produced Chardonnays. Shows aromas of honey, dried straw, mandarin, kumquat and apricot. This wine was barrel fermented and aged in 1/3 new French oak, 1/3 once used French oak and 1/3 neutral barrels. It went through 50% malolactic fermentation. Rounded but not heavy on the palate – the flavors are intense and long lasting (apricot, red apple, vanilla) but with a noticeable crispness, especially on the finish. Shows good acidity.
The 2013 Night Wines Reserve Merlot was sourced from a block at about 1600 feet on the slopes of Spring Mountain (above St. Helena). This wine reveals an elegant bouquet with aromas of cassis, black currant, toffee, mocha and old cedar box. Also, a perceptible sweetness of fruit. Shows plenty of red dominated fruit flavors including red currant. Mouthwatering on the finish with a lingering tartness, this wine has excellent acidity. Flavors of red plum, red licorice and a touch of brown chocolate show on the finish. The tannins are fairly well integrated and approachable in their youth.
The 2013 Night Wines Cabernet Sauvignon was also sourced from the same vineyard as their Merlot (an adjacent block). Dark in the glass, shows notes of tobacco leaf, toasted vanilla, mocha, dry dust, white pepper, cedar and blackberry. Offers mostly darker fruits on the palate including boysenberry, exciting acidity (translation: lively) with lingering chocolate and coffee bean on flavors on the finish. Fairly long lasting somewhat drying tannins.
—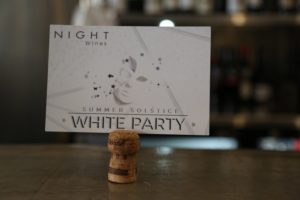 Looking to produce extremely limited and often unique wines from the Napa Valley, Scott and Heidi created Curfew – wines created from either local vineyard or winery contacts Scott has formed over the years. These wines are typically only available to their wine club members.
The Connection with The Saint wine bar. The Saint was founded in 2017 in downtown St. Helena by sommelier Toby and his wife Lisa DeVore (both California natives who had previously opened a boutique wine shop in another city known for its 'saints' – New Orleans). Scott and Heidi had talked about opening an urban tasting room to showcase the Night Wines. Heidi was attracted to the layout and feel of the Napa based JAX Cellars tasting room in San Francisco (only three blocks from Heidi's office). One evening while she and Scott were sitting at the bar at The Saint, they casually mentioned to the bartender that they were looking to open a tasting room and that they might be interested in even renting space within an existing tasting room. The bartender told them to talk to Toby.
They did so and Toby rented them a back room for a few months where they could showcase their Night Wines during private tastings. After the birth of their first child Toby and Lisa decided to sell The Saint – the timing was absolutely perfect. Scott and Lisa purchased The Saint and Toby remained involved for a short while in a consulting role during the transition of ownership.
Visitors can enjoy a variety of seating from at the bar to the more comfortable and relaxing sofa chairs and couches. The focus of the wines is on premium mostly Napa producers including wines from some of the areas's 'cult' producers such as Opus One and Scarecrow. And of course, one can order a flight of the Night Wines. Live music is typically scheduled in the evenings on the weekends. A winemaker dinner is often held once a month featuring wines from a specific producer paired with a 4-course meal (allow three hours for this intimate experience). Also select bites, provided from Market St. Helena (next door) are available. And during the summer solstice (the shortest night of the year), they hold a White Party, lasting until midnight.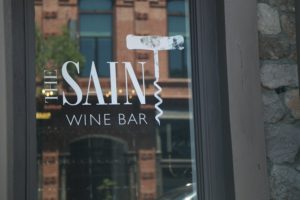 The building was founded in 1890 as a dry goods store. Eventually it became the Bank of St. Helena – a bank vault was added in 1905 that they now cleverly refer to as "The Night Deposit".
Heidi has long been attracted to speakeasies (and has visited many during her travels around the world) – she converted what was a storage room behind the bank vault into a private tasting space – dimly lit this back space certainly resembles a speakeasy. Either this room or the tiny former bank vault room is used for one of Napa Valley's most unique wine tasting experiences – "Night Fall", the Night Wines sensory wine tasting experience. Guests are escorted into one of these rooms in an almost pitch-black environment lit by a single candle which is then extinguished (they burn through about 100 candles a day here!). And not that it matters, but the napkins are appropriately black.

Heidi says it takes about 8 minutes for one to adjust to the absence of light. There are no visual distractions, and one has to pay greater attention to one's sense of smell and taste. A flight of current release Night Wines are paired with several small bites (allow 60 minutes to an hour for this tasting experience). Scott and Lisa are often at The Saint on the weekends and can personally lead this experience. This experience is a bit sexy, edgy, romantic and mysterious – all at the same time.
For more information and to join the 'night club' visit: www.nightwines.com
Heidi & Scott's fascinating other careers: