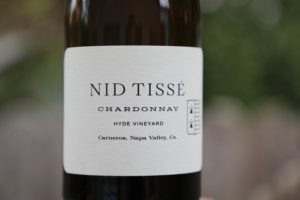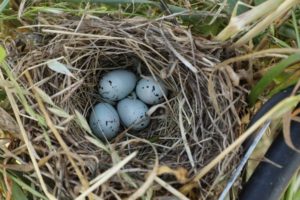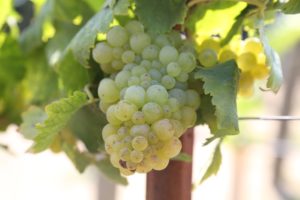 Nid Tissé was founded by French born winemaker Marie-Laure Ammons. She was raised in the small village of Chameyrat in Limousin, a part of France known for its forests producing tightly grained oak barrels, often used in Cognac and for fine cattle producing exceptional veal. The region was also home to an accordion factory and is where troubadour lyrics were first composed in the High Middle Ages. In honor of her heritage and the troubadours, the tiny images on each of her wine labels represent troubadour dancers. She chose the name Nid Tissé, which in French means woven nest to represent her family ties to both France and the U.S.
She grew up with an intimate relationship to her family's land. That connection to the soil never leaves an individual, no matter how far they travel. She and her twin sister were raised eating vegetables the family grew, fruits from their orchard and meat they raised. She grew up assisting her father make apple cider in their garage from apples harvested from their orchard. Whenever she returns to visit her parents she still helps her father with his home-made apple cider production.
She was born with a twin sister, Marie-Cécile. Because both girls were so small (her mother didn't even realize she was carrying twins until later), she encouraged her daughters to practice sports. They did and excelled at track and field, in particular 400m relay races. By the time they were in their late teens both women decided to jointly study winemaking and viticulture and attended and graduated from the Université de Bordeaux.
In 1998 Marie-Laure started her first winery job in California at Stonestreet in Alexander Valley and then at Hartford Court in Sonoma. And it was during her time working for these wineries that she met her husband, Frederick Ammons formerly of The Napa Valley Reserve, winemaker at Rudd Estate and currently a consulting winemaker for his own company, VinCru.
Marie-Laurie spent 18 years working at Atelier Melka before starting Nid Tissé with her first vintage in 2019. She has long enjoyed Chardonnay, rooted in several internships in Burgundy; as a result she decided to focus her initial efforts on this variety and sources from two premiere Chardonnay vineyards, Hyde Vineyard in Carneros (founded by grower Larry Hyde in 1979) and Bacigalupi Vineyard in the Russian River Valley of neighboring Sonoma County. The Bacigalupi Vineyard became well known after some of its Chardonnay was in Chateau Montelena's 1973 bottling which won first place for white wines in the 1976 Paris Tasting. Marie-Laurie sources her Chardonnay from the Cherry Tree block directly next to the original Paris Tasting block.
She likes to keep her winemaking, "simple" as she calls it comparing her time in the cellar to a chef who wisely chooses a limited number of ingredients to create the most flavorful results, rather than over manipulating the food. For her Chardonnay she presses whole cluster right to tank, and lets the juice settle overnight before being fermented cold and slowly using indigenous yeast. She removes the heavy lees before the wine is aged (depending on the vineyard site) in either an amphorae, new or neutral French oak barrels and one egg-shaped ceramic barrel produced by the French manufacturer, Terre et Vin. She uses a minimal amount of sulpher in the cellar. After experimenting with battonage she realized she preferred the wine to age without stirring the lees – rather she introduces a light sparge which agitates the fine-lees enough to cause them to become suspended for a short while. Her Chardonnay typically ages for 15 to 16 months before it is racked right before bottling. And she bottles the wines without filtering; the wine is then aged for about a year in bottle before it is released.
Select Wines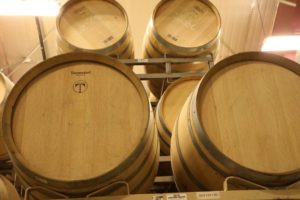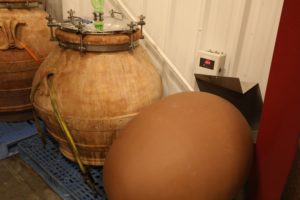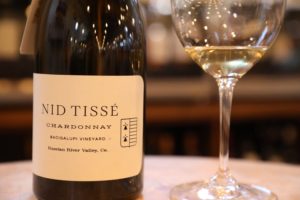 The 2020 Nid Tissé Chardonnay, Hyde Vineyard was a field blend of two clones of Chardonnay, the Robert Young Clone (76%) and Wente Clone (24%). This wine was aged for 16 months in 25% new French oak barrels. Marie-Laure notices the Robert Young clone provides some of the textural feel for the wine while the Wente clone offers more of the acid backbone. This wine is medium gold in color; its aromatics are diverse, generous and layered and include notes of vanilla, warm butter, honeycomb, crème Brule and caramel along with ripe mango, pineapple, yellow peach and apricot. Our first thought when we tasted this wine was, to utter something we can't write here, followed by, "This is good"! It offers flavors of pineapple, citrus, Golden Delicious apple, vanilla and a hint of hazelnut on the finish. The palate is minerally, flavorful and walks a beautiful balance between its lightly creamy texture and its bright, lively and lingering acidity. It demands another sip and before you know it, the entire bottle has been consumed.
The 2019 Nid Tisse Bacigalupi Vineyard Chardonnay, Russian River Valley is medium golden in color; it is nice to notice the evolution of these aromatics as it warms up in the glass. Initially it offers scents of honeysuckle, honeycomb, sliced Golden Delicious apple and lemon zest – later joined by notes of caramel, vanilla and warm butter. There are also aromas of ripe peach and nectarine. The union of the sweetly fruited-stone fruits and florals creates an attractive bouquet. Intriguing wines to us start with diverse and enticing aromatics and this wine certainly delivers in that regard. The palate offers an immediately noticeable creamy and rounded texture with flavors of apple, pear, peach, pineapple, mandarin citrus, honeycomb and hazelnut (especially noticeable on the finish). This wine is rich but balanced with a bright finish showcasing persistent fruit.
Nid Tissé produced their first Pinot Noir from the Radian Vineyard in the Santa Lucia Highlands in Santa Barbara County. This vineyard has provided or provides grapes for a number of producers including Byron Wines, Ken Brown Wines, Dragonette, Hilt Estate and several Napa Valley wineries including, Tamber Bey and Cuvaison. It is among the closet vineyard sites in the appellation to the ocean (about 8 miles as the crow flies), hence among the coldest and windiest sites in the region. It is also an extremely rocky property. As a result the grapes grown here are low yielding with small berries and thick skins.
The 2022 Nid Tissé Pinot Noir Radian Vineyard was produced from clone 777 and 115; this wine is pale ruby in color; the aromatics are focused on the purity of the fruit rather than any barrel influence. It is a captivating union of floral notes including of violets and dried rose petals along with red fruits including raspberry, strawberry, cherry cola, cranberry and a subtle note of Tonka bean. Built upon bright acidity, this wine offers flavors of red plum, currant and cranberry. The tannins show some density but are smoothly rounded in their youth; this wine lingers bright, with a mouthwatering savoriness and simultaneous freshness along with a light but persistent note of white pepper. For reference, we tasted this wine from barrel about 2.5 months before its bottling date which was auspiciously bottled on July 14, 2023 (Bastille Day).
The wines are sold both direct to consumer as well as in select locations throughout California through Kimberly Jones Selections, a fine wine broker & distributor. Locally one can sometimes find the wines at ACME Fine Wines in St. Helena. Total production has grown and is now around 800 cases per year. For more information or to purchase wine, visit: www.nidtisse.com