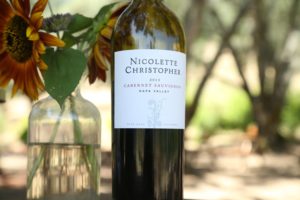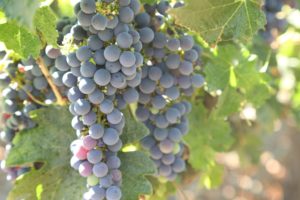 Nicolette Christopher is a tiny Cabernet Sauvignon focused brand owned and operated by two winemakers, husband and wife Christopher (Chris) Demetre and Nicolette (Nicki) Pruss. Both are Los Angeles area born and raised and each comes from careers non-related to wine. Nicki was formerly a Podiatrist (foot and ankle specialist) and Chris used to be a geologist for Chevron and later worked in biotech manufacturing and worked with early HIV/AIDS testing.
Chris has been brewing home beer for more than 35 years – his first brew logs date back to 1983 but he was producing beer even earlier. Over the years they have brewed or fermented a number of intriguing products including sparkling persimmon wine, carrot wine and a Himalayan blackberry stout. He is also a winemaker, working for Orentano Wines, a small Pinot Noir producer in the Russian River Valley of neighboring Sonoma County. A man of many 'wine hats' he is an independent wine educator – often offering his services to corporate groups who visit the Napa Valley.
Nicki is quick to admit, "we both love fermenting things" and they have been doing so for decades. Both first met in college (in the dorm rooms) at the University of California Santa Barbara where Chris graduated with a BA in Geological Sciences and Nicki, with a degree in Biological Sciences. Post graduation they both took a bicycling trip to Europe, biking and camping in parts of Belgium, France, Italy and Greece. During their trip, they developed an appreciation for food and wine.
1995 was a pivotal year for both Chris and Nicki – they took another bicycle trip to Europe, perhaps this one was more life changing then the first. They spent 5 months slowly exploring the countryside and numerous wineries within several wine regions in France and Germany. During this trip, Nicki realized how much she enjoyed being in vineyards and old wine cellars. After falling in love with the local wine scene, the seeds were soon sown – to be rooted in Napa Valley. After relocating to Northern California in the early 1990's Nicki and Chris moved to the Napa Valley in 1995. Nicki enrolled at Napa Valley College taking classes in Viticulture and winery technology – including classes from instructors at that time, Steve Krebs and winemaker Bob Broman (Broman Cellars).
One day in 1998 Steve posted a piece of paper on the job board advertising a year-long harvest intern position at Stag's Leap Wine Cellars. With encouragement from Bob Broman (who had previously worked 4 harvests at Stag's Leap Wine Cellars), Nicki took the position and instead of leaving after a year – worked at the winery until 2013 in a variety of winemaking positions until ultimately founder Warren Winiarski named her winemaker. For more than 10 years she was responsible for crafting numerous wines including their most well-known brands, CASK 23, S.L.V and ARTEMIS, among others.
Working at such an iconic winery – Nicki sometimes found herself hosting viticulturists and winemakers visiting from around the country as well as internationally. She remembers meeting world-renowned grape geneticist and UC Davis professor, Dr. Harold Olmo a number of times including the last time he visited Stag's Leap Wine Cellars not long before his death in 2006. Accompanied by a large dog and plenty of curiosity well into his mid 90s, Dr. Olmo wanted to see his "Pakistani vines" a small part of a vineyard block planted to a few vines from cuttings of Vitis cultivars he had collected during his travels in northern Pakistan and other countries in the late 1940s.
The Nicolette Christopher wines are produced at a small winery – where Nicki has complete control of the winemaking process. She hand-crafts every wine – fermenting in t-bins and gently punching down by hand at regular intervals – 'baby-sitting the wine' as she calls it. The wines undergo malolactic fermentation in barrel (helps elevate the mouth feel). She creates and curates wines to have both freshness and elegance while exhibiting restraint. No overly extracted or overly ripe wines here.
The focus is on a single vineyard, single varietal wine each year – Cabernet Sauvignon. And Nicki takes a judicious approach when it comes to barrel aging the wines comparing her use of oak to not liking too much frosting on a cake. Typically, she uses between 25-30% new French Oak and the reminder second fill barrels. Their first vintage was in 2001 (they took a hiatus between 2008 and 2012 and reintroduced the brand with their 2013 vintage).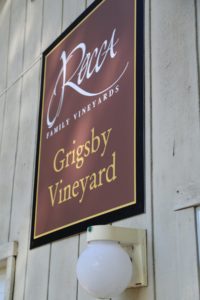 The 2013 Nicolette Christoper Cabernet Sauvignon was sourced from the Grigsby Vineyard – a few minutes' drive east of Yountville. The vineyard is CCOF certified organic and is owned by Eric Grigsby and Mary Rocca of Rocca Family Vineyards. Entirely Cabernet Sauvignon, all clone 337. Offers aromatics that are vivid and showcase the fruit rather than influences from barrel – the bouquet is mostly darker in nature including aromas of blackberry, plum and more subtle notes of cassis and rhubarb. Balanced across the palate, lingers with lively acidity with flavors of red cherry and currant. Features grainy (but not gritty tannins). Firm and well defined yet these are tannins that are also well integrated into the fairly supple finish (not always the ending we have written about regarding numerous wines from this particular vintage from Napa Valley).
Select Wines
The 2014 Nicolette Christoper Cabernet Sauvignon was sourced from Vittorio's Vineyard – the vineyard is also CCOF certified organic and is owned by Dario Sattui, located slightly south of V Sattui Winery in the St. Helena appellation. This wine is a combination of Cabernet Sauvignon clone 4 and 7 from the same block each year (block 4). Nicki keeps both clones separate during their fermentation and some of their aging before deciding upon the final blend prior to bottling. Offers an alluring bouquet with a diversity of aromas and is somewhat savory with aromas of black olive, ripe blackberry and spicy plum along with darker spices including toasted cedar, cinnamon and hints of sage. As the wine opens subtle notes of mocha and milk chocolate show. The wine flows across the palate with a richness of flavor and an appealing texture – finer grained earthy tannins continue to linger on a very long finish.
—
Total production each year is small and is usually between 180 and 300 cases. The wines are very selectively distributed in Florida and in the Boston metropolitan area and locally at the Oakville Grocery (California's longest continuously operating grocery store). For more information or to purchase wine directly, visit: www.nicolettechristopher.com
Grigsby Vineyard Yountville

Vittorio's Vineyard St. Helena