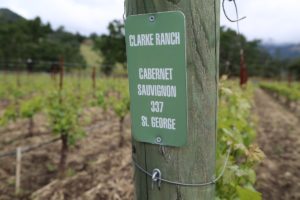 Next Door Wine. The founding of Next Door Wine begins with Jeff Clarke – originally from New York he has spent a long career in the world of tech and was a former CEO of Kodak. Having enjoyed fine wines for many years he bought a house in Calistoga in 2005 with four surrounding acres. This property had never been planted to vines before; in 2007 he decided to plant this land (0.9 of an acre) entirely to one clone of Cabernet Sauvignon. The first vintage of Next Door Wine was from 2010.
Among Napa boutique producers it is fairly unique to find a brand jointly owned by multiple couples. Friendships must be solid, so must a shared passion for wine for the small brand to remain in business. Such is the case with Next Door Wine – the founding partners include Jeff and his wife Suzette, Ralph (also from the high-tech world) and his wife Christine and Rick and his wife Anna.
Jeff and Suzette are avid collectors of rare books – including a number of first edition books, author signed books and some historically intriguing books and guides to the Napa Valley and Calistoga. They located what is an early printed "travel brochure/booklet" promoting the virtues of "Calistoga Springs" – dating from the 1870s (see photos below) with a number of pages extolling the benefits of mud baths, hot springs and text roughly describing a four-hour trip from San Francisco (where the temperatures will be in the 50s) to Calistoga where the temperatures probably will in 80s by an early afternoon summer's day. Some things have not changed!
The name "Next Door" was coined by a man known for his influence in the world of tech, Evan Williams. Evan has long been associated with the San Francisco Bay Area tech scene having originally coined the word "blogger" as well as having co-founded Twitter.
While pondering what to name their new wine during a dinner at the vineyard property in Calistoga with Jeff and Suzette and Evan – Evan inquired about their next-door neighbors. Jack informed him that the well-established Chateau Montelena (producers of world class wines) was located almost a stone's throw to the north of their own property.
The name "next door" appropriately described their vineyard location – next door to many premium vineyard properties in this part of Calistoga – Chateau Montelena being just one of them.
Their vineyard is entirely micromanaged – with most of the management done by hand. They farm the vines organically – they do not use synthetic pesticides or herbicides. The cover crop is cut by hand. While the land grows premium vines it also grows plenty of rocks. During a recent walk of the vineyard, we saw numerous volcanic as well as alluvial small rocks.
After picking the grapes by hand they are then hand sorted in the winery. The first few vintages have been educational for the partners based on various nuances that each barrel imparts to the wine.
A number of barrels from various French coopers are used in the aging program; over time they have been able to select which coopers they want to keep using and which ones won't be used again.
General Manager Dom Pochee came on board early on to help market the wine. He has lived a whirlwind life centered around wine and the world of gastronomy. Raised in London he was bitten by the wine bug early on influenced by his uncle, Ahmed Pochee a prominent businessman in London's wine world. Ahmed founded Oddbins, a hip wine retail outlet that after was sold to Seagram's ultimately grew to nearly 280 retail outlets.
After taking a memorable backpacking trip to Asia (in which unfortunately he contracted Dengue Fever in Thailand) he returned to London to find his uncle in ill health. Dom soon took over the business managing it before Ahmed died in 1999. After this, Dom began several other food delicacy businesses (olives, truffles, etc.) focusing on Italian and Spanish sources.
Today he not only markets Next Door Wine but also runs Global Wine Advisers, a company that distributes mostly Sauvignon Blanc and Pinot noir from California producers (mainly Napa and Sonoma) to high end resorts in the British Virgin Islands and other Caribbean destinations (including some of the Next Door wine).
Select Wines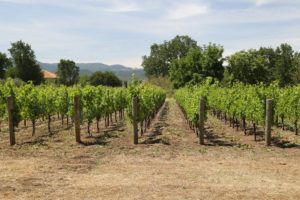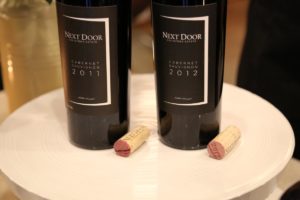 The 2012 Next Door Cabernet Sauvignon shows bright, lively and fresh aromas in the glass with notes of red chocolate covered cherries, a red liqueur, cedar box and a bit of a dusty component. Initially it is a bit closed/tight on the finish but that is to be expected; this wine is just a baby at the time of this review.
Give it time to open (or decant it) and both the bouquet and palate will open up nicely. Overall, this is a fairly well-balanced wine for being so young. On the finish the tannins begin on the front of the palate and linger for some time (but are not coarse in nature). Only 262 cases of this wine were produced.
In 2012 they literally purchased fruit from "next door" – one of their bordering vineyard neighbors (also a small producer who dry farms his vineyard) decided to sell most of his vineyard's fruit that year. They purchased his Cabernet Sauvignon, Cabernet Franc and Merlot and made a blend which they call their Calistoga Blend. Only 35 cases of this wine were made.
The 2012 Next Door Calistoga Blend shows an elegant and somewhat floral bouquet – there are notes of violets, black licorice and mocha as the wine continues to open. It is soft on the entry, with a juicy mouthwatering palate. Nice acidity. The finish is lively with well-integrated tannins. This wine drinks well young.
The prices for their first few releases are among the better value to price ratios for single vineyard Cabernet Sauvignon from a Napa boutique producer.
Their first white wine (non-estate) was a Sauvignon Blanc from Napa and was released in early summer 2015. In more recent years, they began producing a Viognier, Pinot Noir and a Merlot.
—
Most of their wines are sold direct although they do have a tiny bit of distribution at select restaurants in the San Francisco, San Jose, Los Angeles, Boston and New York – as well as on Richard Branson's Necker Island in the Caribbean and select other British Virgin Island locations. And locally, select wines are available at Calistoga Wine Stop. For more information, to join their mailing list or to purchase wine (available in minimum case increments), visit, www.nextdoorwine.com