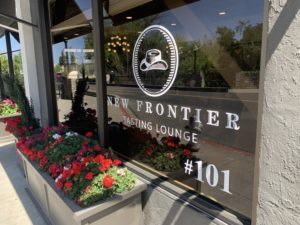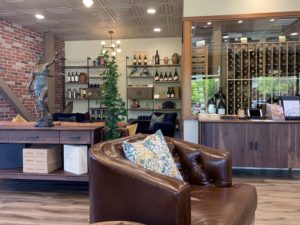 New Frontier Wine Company opened a tasting lounge in downtown Napa on April 1, 2022. This is a place you want to spend some time in because of its welcoming employees, diversity of excellent wines from around the planet and a cozy ambiance. The space, with its homey décor almost feels like someone's home or a private club. This lounge is also pet friendly. A few locally produced items are for sale, mixed among the permanent decorations.
New Frontier Wine Co is located inside what is called the Exchange Building; it dates from around 1900. Previously the space for the tasting salon was used as a real estate office. The building features a number of offices and over the years has housed numerous tenants including in the 1980s, a computer repair company and a showroom for various artists and antique dealers. The building borders one side of the historic Napa Valley Opera House. A small open-air parking lot is located across the street from the tasting room as is the worth-visiting 9/11 Memorial created by well-known Napa artist and resident, Gordon Huether. A larger parking lot is within a very short walk of the tasting lounge, on the other side of Napa Creek.
Unlike most tasting rooms in Napa Valley which focus on Napa Valley wines, New Frontier Wine Company offers select wines from Argentinian Alejandro Bulgheroni owned wineries and vineyard sites around the planet (including Napa Valley). As of our last count Bulgheroni owns 19 wineries over four continents including North and South America, Europe and Australia. Incidentally, one of the only other tasting room experiences in Napa Valley with wines from around the world under the same ownership is at the Spire Collection in Calistoga (owned by Kendall Jackson).
Founder of New Frontier Wine Company, Bulgheroni has been extremely successful in a number of business ventures. His father founded Bridas, an oil and gas company in 1948. Along with his brother Carlos, Alejandro successfully grew and developed the company's assets. After selling 50% of his company in 2010, Alejandro began to acquire a variety of wineries. Today he owns an impressive international collection of winery properties in Argentina, Australia, Italy, France, Uruguay (Bodega Garzon, the 'mothership', which we have visited) and in California.
Wines crafted as various brands under the New Frontier Wine umbrella company are done so by a number of extremely accomplished winemakers including Napa Valley based Maayan Koschitsky and Philippe Melka. Michel Rolland and Alberto Antonini are also involved in producing some of the wines. And South American based soils expert, Pedro Parra has consulted for several Bulgheroni owned properties. Incidentally Parra has also consulted for Quintessa Winery in Rutherford.
Several tasting experiences are offered including the California Flight and the World Flight. As of our latest visit, select wines from about half of the Bulgheroni owned wineries are represented here. And wines are also available by the glass.
Select Wines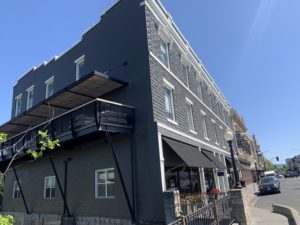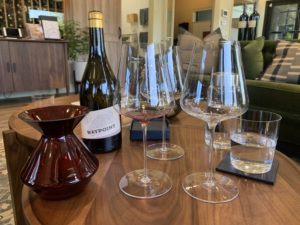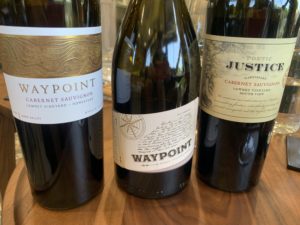 Wines from an extremely unique location are produced by Otronia, a Patagonian based winery with the world's southernmost commercially producing vineyard. This remote and very cold site is located at 45.33° S latitude on the shores of Lago Musters in Sarmiento. Originally the site was a cherry orchard. The first vintage produced from this vineyard was in 2017. The following two wines were our tasting highlight of our visit to the New Frontier wine lounge.
The 2017 Otronia 45 Rugientese Corte de Blancas Patagonia, Argentina is 62.5% Gewurztraminer, 25% Pinot Gris & 12.5% Chardonnay; it is medium golden color in the glass. This wine smells lively with beautiful floral aromatics; it's extremely aromatic showing notes of honeysuckle, jasmine and honeycomb along with a saffron spice note. Extremely well balanced, the palate shows flavors of citrus, melon, green apple and kiwi. Lingers bright and fresh with flavors of lemon/lime. This is a beautiful wine that is well priced based on the quality plus it is a true representation of this unique site and its cooler climate. We tasted five-year years post vintage, and this wine still shows a youthfulness. This wine was aged in both concrete and oak fudres.
The 2018 Otronia III & IV Chardonnay Patagonia Argentina is medium to deep golden in the glass; the bouquet offers sweet and ripe fruit aromatics including peach and nectarine along with notes of honeycomb, bread and dried straw. The texture is creamy and oily with a noticeable viscosity (almost briny in its feel). This wine shows plenty of depth with flavors of kumquat and a lemon/lime zesty brightness, especially on the long finish. Great acidity. This wine was fermented in egg-shaped concrete tanks and then aged in French oak casks.
Some of the wine brand bottlings offered for tastings or purchase were originally part of the Bounty Hunter wine portfolio, a nearby wine shop and wine bar which Alejandro Bulgheroni purchased from its founder Mark Pope in 2014 and then in 2019, Bulgheroni sold Bounty Hunter to his own son. Some of these original Bounty Hunter owned brands (originally started by Pope) are available for tasting here including Waypoint, Justice and Pursuit. These brands have remained true to their origins; Waypoint was founded to focus on single vineyard sites, a 'waypoint' if you will, Justice continues to focus on premium Cabernet Sauvignon from single vineyards, and Pursuit continues to produce affordable wines that over deliver for the price point.
The 2020 Waypoint Pinot Noir Starscape Vineyard, Russian River Valley is medium ruby in color with aromas of raspberry, cherry cola and darker spices including white pepper. This wine smells and tastes like the variety. Balanced across the palate but with some depth, it is a 'bigger' Pinot Noir if you will. Offers flavors of licorice, rose stems and hints of vanilla. The tannins are slightly astringent featuring a savory finish due to the darker tannins, white pepper notes and brightness of acidity.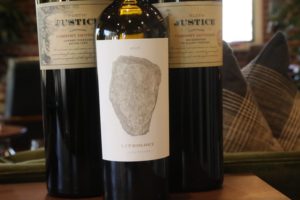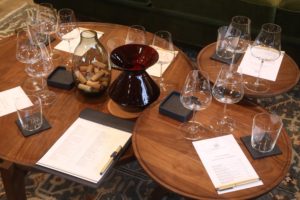 The 2018 Waypoint Lowrey Vineyard Cabernet Sauvignon Homestead, Napa Valley is from a hillside site in eastern Rutherford. This wine is 100% varietal; it is dark ruby in color with an elegant bouquet showing darker cherry aromas along with a licorice and Crème de Cassis sweetness found deeper in the aromatics. Bright fruit runs the length of the palate with tannins that are earthy/dusty and linger with a still tightly woven grip in their youth.
The 2018 Justice Poetic Justice Cabernet Sauvignon Lowrey Vineyard South View, Napa Valley is 100% varietal. The bouquet shows aromas of cherry and strawberry followed by a palate that offers sweet fruit including cherry, plum and licorice. This is a robust bottling that is well layered with a lengthy structured finish that is savory with dark pepper and dark spices. The grippy and chewy tannins are long lasting, while tasting this we immediately called this a protein friendly wine. Additional Justice single vineyard wines are sourced from some of Beckstoffer Vineyards most premium sites within Napa Valley.
Wines from Alejandro Bulgheroni Estate in St. Helena bottled under Lithology are also available on the list and are highly recommended for serious Cabernet Sauvignon enthusiasts and wine collectors.
For more information, to reserve an appointment or to join one of their wine clubs (Wanderer, Explorer or Adventurer), visit: www.newfrontierwines.com