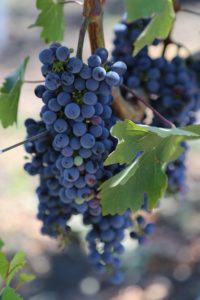 Nemerever Vineyards was established in the heart of Oakville in 1997 by Bill and Ginger Nemerever. Both are from Boston (today they divide some of their time in the Napa Valley at their vineyard and between their home in Boston). Bill is a long time money manager and investment banker who has enjoyed a successful career in the world of finance. Their early exposure to the Napa Valley came when they lived in Mill Valley for several years in the 1970's (Marin County). They would often drive up to Napa for wine tasting and to meet vintners.
Several decades later they would rent homes in the valley for a month or two at a time – and discussed eventually owning a piece of Napa and retiring here. Ginger spotted an ad in the St. Helena Star (local newspaper) listing a property for sale in the heart of Oakville. They realized that land prices were not going down and decided to purchase a 10.1 acre piece of property just off of Oakville Cross Road.
The site was an old dairy farm – at the time of their purchase only Block One was planted to vines. With the help of their neighbor and friend Justin Meyer (co-founder of Silver Oak Cellars) they chose specific root stock and clones to plant out several more blocks. Today they have two blocks planted on the valley floor (Block One and Block Two) and another planted on the hillside (Block Three). Despite each block being located close to each other, the soils vary dramatically from the floor to the hillside. The valley floor contains alluvial clay soils while their hillside block is mostly rock with a thinner topsoil. There are literally piles of rocks lining the vineyard rows here.
Early on they sold fruit to Silver Oak Cellars and Robert Mondavi Winery – today they still sell the majority of the fruit, holding back small amounts for their own use.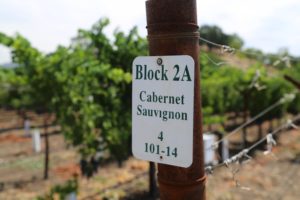 This is certainly one of the smallest producers in Napa County with a physical cave winery; they produce two wines each year, their primary Cabernet Sauvignon from their hillside block and a second wine, a barrel selection called Complement from all three Cabernet Sauvignon blocks (with the block percentages varying from year to year). Between the two wines, only 250 cases are produced annually.
Bill tried a wine he enjoyed many years ago at the old Brava Terrace restaurant just north of St. Helena. That wine was from a local producer, Judd's Hill. Looking to acquire more he searched around the valley, eventually calling Judd's Hill Winery. He enjoyed their style of wine – got to know proprietor Art Finklestein and ultimately hired him to be his winemaker (the team at Judd's Hill made the Nemerever wines until 2014).
The size of their property is just about at the minimum acreage needed to build a winery per county regulations (10 acres minimum in the county of Napa). They built 4,000 square feet of caves – certainly one of the larger space to production ratio wineries in the valley. Well-regarded winemaker Jeff Ames would often drive by on Oakville Cross Road when the cave was being drilled – one day he reached out to Bill. After their initial talk, they kept in touch and when the cave was completed, Bill invited Jeff to make a barrel of wine from grapes on the property. There was no wine making equipment yet on site so Jeff ended up renting some equipment including a hand press (not the easiest way of making wine).
Liking what he tasted, Bill soon hired Jeff who has been the winemaker since the 2015 vintage. Along with the change in wine making, so to has the style of Nemerever Wines. While not as lean or restrained as before, the wines are still extremely balanced – perhaps highlighting more of the richness of the vineyard and site then the prior vintages. The wines we tried were mostly in the 13% alcohol range.
Select Wines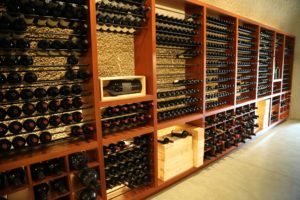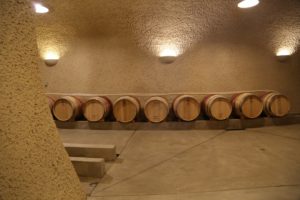 The 2013 Nemerever Complement is a medium to lighter bodied wine which includes grapes from all three blocks. Shows a floral note – perhaps violet, the nose is very elegant. Cedar plank spice, red cherry, cranberry, red currant – mouth watering acidity. Very food friendly. Shows fairly soft tannins along with a lingering tartness.
The 2014 Nemerever Cabernet Sauvignon shows notes of fig, cherry and a slightly chalky dustiness on the bouquet with a hint of cedar. Shows higher toned fruit on the palate with flavors of red cherry and cranberry. Clean palate with great acidity – no harsh edges. Well integrated tannins with just a hint of lingering oak influence on the finish. A slightly bigger wine then the Complement of the same vintage. Only 13.2% alcohol.
These are wines that age well. One of the best wines they made according to Bill was their 2007 vintage. This wine shows an elegant bouquet with some age characteristics to the aromas – shows pretty fruit aromatics complemented with sweet dessert spices including brown chocolate. Balanced on the palate, shows complexity and long lasting still young tannins. In our opinion this wine still has plenty of life ahead of it and drinks younger then the actual vintage date. And that is one of the hallmarks of the Nemerever Wines; they age well.
The 2015 Nemerever (sampled from the barrel about 2 months before bottling) is extremely aromatic – showing layers of aromas (darker fruit notes) – is fairly supple across the front of the palate with a nice mid palate richness. Earthy tannins.
—
The wines are available locally by the glass at La Toque restaurant in the city of Napa. Bill also has a distributor in Massachusetts. Consumers take note of their library wines – they have a number of older vintages still for sale.
Their first vintage was in 1998 – despite producing wine for over 15 years, this is still one of Oakville's hidden secrets.
Visits are by appointment for serious wine enthusiasts and are held only when Bill is in town. For more information and to join their mailing visit, visit: www.nemerever.com