Nellcôte focuses on producing premium limited production Napa grown and produced wines – sourcing from a variety of highly regarded vineyards within the Napa Valley. Founder Tyler Olbres took the unusual step for a Napa producer of releasing a rosé as his inaugural wine (2013 was his first vintage). Arguably, this is one of the finer rosé's we have tried coming out of the Napa Valley, but more about this highly regarded wine later.
Both the wines and the name Nellcôte are highly personal to Tyler. While growing up in New England he later spent 10 years in his 20's and early 30's living and helping restore his family home in southern France. It was during this time that Tyler was introduced to fine gastronomy and wine experiences up and down the coastline of southern France including in Monaco. He came to know a number of well-regarded chefs and sommeliers and refined his palate on mostly French wines.
The family home was two doors down from the 16-room Villa Nellcôte built in the late 1890's.The property has a storied history, at one point owned by Samuel L. Goldenberg and his wife Nella, survivors of the Titanic sinking. Samuel was a dog show judge and at one of the shows he discovered a dog which would eventually be the direct descendant for the modern French Bulldog breed. And perhaps more notable was during a nearly year long period in the early 1970's, Villa Nellcôte was leased to Keith Richards and the Rolling Stones where the band's now classic Exile on Mainstreet was recorded. Tyler is a big fan of their music.
And not only a name of a famous villa but Nellcôte represents the romance, opulence of the lifestyle and joie de vivre Tyler experienced while living in this part of France.
Tyler's background is a varied and intriguing one having founded a leading marketing and communication company with national clients – developing trade show exhibits and providing shop-in-shops to a number of national retail outlets across the country including Neiman Marcus stores. In a career that has taken a number of twists and turns he also designed retail and merchandising programs for a number of celebrity artists and played an important role in creating trade marketing programs for Glaceau, producers of SmartWater and VitaminWater.
And now vintner – focusing his efforts full time on running Nellcôte. Long familiar with old world wines he was first introduced to the Napa Valley in 1999 when planning a family trip – and discovered an interest in the style of wines being produced in this part of California. One trip led to numerous trips to the valley and he soon become an avid collector of Napa wines. He was also introduced to a number of premium producers during the annual Nantucket Wine Festival where he would host vintners from around the world at his home.
When Tyler decided to start a brand he realized he needed to be close to the Napa Valley. He and his family moved to the San Francisco Bay Area in 2012. He was introduced to well-regarded winemaker Phillip Corallo-Titus (winemaker at Chappellet who also helps run his own family winery, Titus Vineyards). Hitting it off over a lunch at Mustards as their first introduction, Tyler hired Phillip that day. Phillip and his assistant Ry Richards have been the winemakers since their inaugural vintage.
Tyler attends a number of prominent food and wine events across the country each year including the Los Angeles Food & Wine Festivel (which is where we first discovered his wines), the Food & Wine Classic in Aspen, the Pebble Beach Food & Wine Festival and the Nantucket Wine Festival.
Select Wines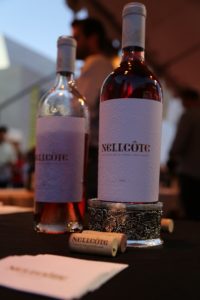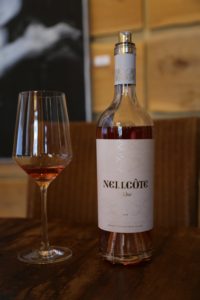 Tyler calls his rosé, the "Chameleon in the Kitchen" – rosé's in the American market are often pigeonholed as being light, watery and sweet – and for good reason, a lot of the mass produced rosé's have been made in this style. And many rosé's are released quick to market – often a few months after the harvest date. But this wine is different – it is a wine made to be a rosé – with the grapes left on the skins between 2 to 4 hours after harvesting, then pressed. This wine is a blend of both Malbec and Syrah – during the wine making, once both varieties are pressed they are then co-fermented.
This wine is sourced from the Bald Mountain Ranch – first established in 1968 high on the slopes of Mt. Veeder. The grapes are dry farmed and the berry sizes are typically quite small. This wine tends to receive up to 9 months bottle age before being released. The 2016 Rosé of Malbec & Syrah is dark salmon colored in the glass. The bouquet shows a layered richness of fruit including dried roses, pomegranate and raspberry. In a statement we are more used to writing for red wines then a rosé – this wine has weight without being heavy. Rounded and somewhat creamy on the palate the wine delivers intense flavors complemented by good acidity. Very smooth finish. One of Napa's premium rosé's – a wine certainly worth seeking out.
With a family background in the automobile industry including automotive design dating back to his grandfather, and his own interest in cars (he is a member of the Automobile Club of Monaco) Tyler carefully chose two automobile related names for his Cabernet Sauvignon. The 500 Cheveaux means "500 Horsepower" and Rallye 76 is a nod to Monaco's racing history as well as Tyler's own birth year.
Tyler speaks of an ethereal smoothness he has noticed with a number of great wines he has tried over the years. The 2015 vintage has obtained this (overall a lower yield vintage in the Napa Valley) – even as a youthful wine. The 2015 Nellcôte Cabernet Sauvignon 500 Chevaux is a wine that "sings right out of the bottle" as Tyler puts it. Aromas of black fruit with tinges of espresso show on the bouquet followed by a palate the is supple in nature from front to finish. Yet is not lacking in flavor – rich and layered this wine shows darker fruits including blackberry and plum with a savory note that lingers and a hint of cigar on the finish. The tannins are finely polished and linger smoothly on the finish.
The 2015 Nellcôte Rallye 76 takes some time to reveal its depth of aromas (perhaps in part relating to it's youth). It shows hints of dessert and other spices on the bouquet including espresso, a very subtle note of pepper along with its core – dark brooding fruit. This wine is very dark in the glass. On the palate it shows plenty of layers – blackberry and plum with dark chocolate. Not shy on the finish, it displays both power and elegance with both flavor and tannins lingering for quite some time.
—
And note the elegant wine labels. Tyler designed these as he says, "if Valentino had a wine brand perhaps this is what his wine label would look like". In a nod to Villa Nellcôte, an outline of the gates at that elegant property line the neck of the bottle and are on the label complemented nicely by the 'tire treads' – and yes one can make tire treads somehow look elegant.
The wines can be enjoyed at Vintner's Collective, a multi winery tasting room focusing on premium mostly Napa brands located in downtown Napa and previously in a more private setting, at the former Kitchen Collective, also in downtown Napa. These tastings are often with Tyler and appointments are required.
Total production among the three wines is only 800 cases – they sell mostly direct but they do have some select distribution. In Napa Valley the wines are available at Meadowood and the French Laundry. For more information and to join their mailing list or 'inner circle' membership, visit: www.nellcote.com