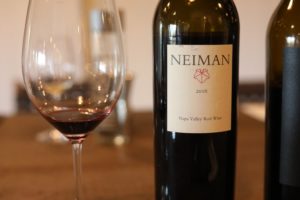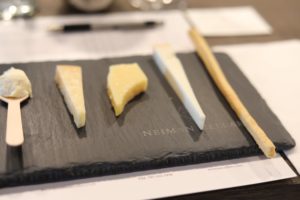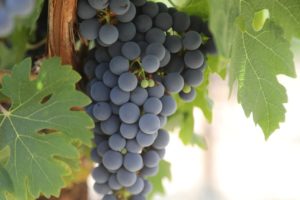 Neiman Cellars (pronounced nigh-man). Drew Neiman is originally from Akron, Ohio; his cousins Eli and Mildred Neiman operated Regency Wine Sellers in Fairlawn Ohio and it was through his relationship with them and exposure to wines in their store that he began to consider a career centered around wine. Some of the wines that initially captivated him were made by winemaker John Kongsgaard while Kongsgaard was the winemaker at Newton Vineyards. John is one of Napa Valley's great wine minds; not only is he a winemaker, but perhaps he could be referred to as a 'wine poet', someone who has acutely combined the art and science of winemaking. In addition, he has been a notable mentor to numerous now accomplished winemakers in Napa Valley.
Drew knew he wanted to work with Kongsgaard; every year for three years he reached out to Kongsgaard asking him if he could spend some time mentoring from him. Drew wasn't the only one requesting a position as Kongsgaard later mentioned others who had voiced interest. Finally, Drew's persistence paid off and John offered him a cellar position at Newton Vineyards during the fall of 1994. Drew spent 11 years working with Kongsgaard and eventually became his assistant winemaker.
In 1997 Kongsgaard approached Drew and asked him if he had ever considered starting his own brand. Kongsgaard had already been thinking ahead; he had extra grapes from a contract with Caldwell Vineyards and wondered if Drew would be interested in taking over the contract. Drew did so and in subsequent years was able to source additional varieties from some of the best parts of Caldwell Vineyard.
Select Wines
The Neiman Cellars Chardonnay is sourced from the Hayne Vineyard in Coombsville; these may be the oldest commercially producing Chardonnay vines in Napa Valley having been planted in 1967. They are old Wente clone selections; when making this wine Drew discovered that he could press the grapes a bit more than other Chardonnay clones without extracting a bitter component from the skins. This wine is thoughtfully and carefully made. He presses the grapes using a membrane press for about three hours with the resulting juice draining straight into barrel. After about five days, fermentation begins from indigenous yeast; this wine is entirely barrel fermented with fermentation times often dramatically differing from vintage to vintage (usually takes between 6 weeks and 10 months to complete its primary fermentation). And the wine spends up to 20 months in French oak barrels.
Drew regularly stirs the lees – as he puts it, "to keep them happy" – rather than letting them sit on the bottom of the barrel. This stirring helps keep the yeast active to eventually finish fermentation. And the battonage certainly helps add additional weight and complexity to the wine.
The 2019 Neiman Cellars Chardonnay is medium golden in the glass; it features aromas of hazelnut, honeysuckle, crème Brule, a hint of vanilla, mango and warm butter. The bouquet is very well layered; give it time to breath it will continue to offer additional aromas including of citrus. The texture and richness of fruit are hallmarks of this wine. From start to finish, the palate offers a creamy and rounded mouth feel. This wine delivers rich flavors including of honeycomb, melon and various stone fruits including apricot, and nectarine. The finish is long and shows a richness of fruit, baking spices and a noticeable brightness. This wine has the characteristics to age for a number of years.
The 2016 Neiman Cellars Red Wine is 55% Cabernet Sauvignon and 45% Cabernet Franc. This wine is dark ruby in the glass; immediately upon smelling the bouquet we noted that it smells like Cabernet Franc. The aromas are dark with notes of dried herbs, dried tobacco leaf, rose petal, old cedar and wild blackberry. The bouquet smells elegant. This wine offers flavors of red cherry and currant – the acidity is bright without being perceived as tart. This wine lingers with well-integrated rounded tannins showing a medium grip, a lively finish and hints of dried tobacco leaf.
The 2016 Neiman Cellars Syrah is dark ruby in color with an opaque core in the glass; the bouquet offers pretty aromatics dominated by floral tones including violets and rose petals. There is plenty of fruit in this beauty with aromas of ripe blackberry, boysenberry and blueberry. The palate primarily offers darker fruits including plum. The tannins are dense and broadly distributed but are well rounded and nicely integrated into the finish. It persists with dark fruit, dark spices, dried tobacco leaf, juiciness and a brightness of acidity.
The simple, yet elegant grape leaf label design on the Neiman bottlings took Drew years to formulate. Initially his father (a physician) connected Drew with a well-known artist whose wife was one of his patients; neither Drew nor the artist could agree on a design. Drew was familiar with another artist Leroy Neiman (now deceased), known for his colorful portraits of sporting events, sports figures and other celebrities. Drew randomly called his gallery in New York City; he did not speak to Leroy but rather one of his curators. The price for a design was beyond Drew's budget. Some seven years later, Drew was in New York and on a whim decided to stop by Neiman's gallery. Again, Neiman wasn't there but one of the curators knew of Drew's wines. Nothing materialized from this further interaction. End of his search for a wine label? No.
While browsing a music store on Jefferson Street in Napa Drew discovered an intriguing cover from Arista Records. He eventually contacted the artist and with some input from well-regarded label designer Michal McDermott (who incidentally worked a harvest for Drew at Kongsgaard) created the Neiman Cellars logo. It is based on an image of a leaf from Cabernet Franc from French Ampelographer Pierre Galet (died in 2020).
Drew presented his wines to several Master Sommeliers he highly respected including Larry Stone (Rubicon), William Shear and Bobby Stuckey. All gave him high praise; Bobby even told him to put his cell phone number on the back label of every bottle. Drew followed his advice.
Neiman Cellars' core wines are Chardonnay, Syrah, a Red Wine blend and Cabernet Sauvignon. In 2018 Drew released and accompanying label called Fallen Angel which focuses on one-off wines from premium vineyard sites. In the Bible, a fallen angel refers to angels who are removed from Heaven; these are wines not included under the primary Neiman Cellars bottlings. The label for these wines is an image located on the back of the Guggenheim Airship Institute located next to the Akron Fulton Airport in Akron, OH. This building still stands but has since been converted into a "haunted schoolhouse".
The 2018 Fallen Red Wine is 70% Cabernet Sauvignon from the Sleeping Lady Vineyard in Yountville and 30% Cabernet Franc from Caldwell Vineyard in Coombsville. This wine is dark ruby in color; the bouquet offers distinctive aromatics including some darker spices, some dried herbs including sage, bacon fat, blackberry and plum notes – and as the wine evolves further in the glass hints of chocolate. The palate is highly approachable in its youth showcasing a pleasing texture of rounded tannins.
—
Drew makes his wine at a winery in Coombsville which rents out some of their space to clients who do not own their own physical wineries. Drew is the only client at this winery who has his own winemaking equipment. While the other clients do not have full control over their winemaking, Drew is the only one allowed to work directly on his own wines. And for someone with as much attention to detail and need to have full control as Drew, he would have it no other way.
Drew is a sole proprietor, handling everything relating to a small wine brand including grower contracts, winemaking, sales and personally hosting tastings with clients. His enthusiasm, passion, knowledge and storytelling abilities are immediately infectious. Drew takes great pride in paring his wines with cheese; he works closely with fromage freelancer Thalassa (Lassa) Skinner to create ideal pairings for the Neiman Cellars wines. She and Drew meet several times a year to taste through some of her recommended cheeses. Lassa is the founder of Culture magazine and co-author of Cheese For Dummies (Neiman wines is mentioned in this book).
And back to where it all started for Drew; his cousins at Regency Wine Sellers in Ohio played an important role in 1972. This shop had the ear of the White House during the Nixon administration. Secret Service would sometimes pay a visit to the wine shop to acquire premium wines from producers such as Chateau Margaux. One day the White House called and asked for a sparkling wine recommendation to serve at an upcoming state visit to China by President Nixon to visit then Premier Zhou Enlai. Mildred Neiman recommended they serve Schramsberg's 1969 Blanc de Blancs. The White House listened.
This diplomatic trip was an extremely important moment as it was the rebirth of relations between the two countries. This was also a time in China's history where leadership was forming diplomatic relations with other countries. Nixon and Enlai's meeting led to some remarkable stories centered on wine including the well-told and publicized story involving serving Schramsberg's 1969 Blanc de Blancs by President Nixon at the "Toast to Peace" State dinner in Beijing (the first time a wine from the United States was served at any state event, domestically or abroad).
—
Total production for Neiman Cellars is under 1,000 cases per year with nearly all of the wines sold direct to consumer. The wines have been in a number of top restaurants in the past; today Drew's only restaurant account is the French Laundry in Yountville. For more information, to join the allocation list or to setup a private tasting with Drew which usually lasts at least 90 minutes but often longer, visit: www.neimancellars.com