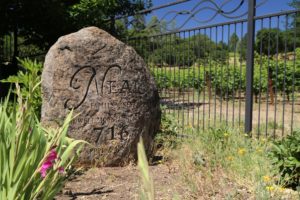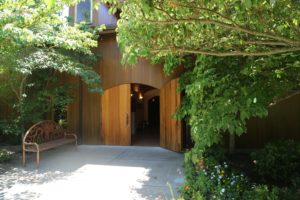 Neal Family Vineyards is located mere minutes from downtown Angwin in the north eastern hills above Napa Valley in the Howell Mountain Appellation. The winery sits on a beautiful piece of property at approximately 1,800 feet in elevation surrounded by vineyards and hillside pine & oak forests. This estate property is approximately 24 acres of which 12 are planted – entirely to Cabernet Sauvignon.
The Neal Family has been growing and managing vineyards in the Napa area since 1968 making them one of the older continuous family-owned growers in the region. Founder, Mark Neal's family moved to Rutherford in 1966 and it is here where Mark learned viticulture from his father Jack. Their vineyard management company was started by Jack and today Mark is in charge of all operations. Visit: www.jacknealandson.com Their vineyard management company is sizable and over the years has built a good reputation in the valley. All the vineyards they manage or own are certified CCOF, farmed organically.
After a many years of running their vineyard management the family decided to produce their own wine in 1997; today all their wine is made at their small cave winery. Neal Family's production is very small and their focus is on Cabernet Sauvignon and several other other red varietals. For a boutique winery, they have a variety of Cabernet's represented – typically 4 to 5 different Cabernet Sauvignons are produced each year.
Their 2005 Napa Cabernet is predominately hillside grown yet is very approachable now. Part of this approach-ability is with the wine making; native yeast fermentation and moderate maceration times help develop a wine without huge tannins and alcohol while still retaining the gorgeous fruit. Blocks within vineyard sites are hand selected for the highest quality fruit.
The 2004 Howell Mountain Cabernet Sauvignon was made from the vineyards that surround the winery. Again, the tannins are very well managed for mountain grown fruit and as a result this wine is very approachable now and has a smooth rounded mouth feel. Notes of tobacco, chocolate, spices and hints of toasted oak can be found on the palate.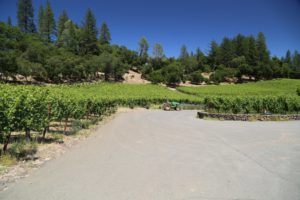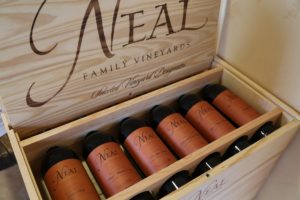 Neal Family makes a very nice Napa Valley Zinfandel blended with a bit of Petite Sirah which certainly provides additional color to the wine as well as increased aromatics. In 2007 they introduced their first ever white wine, a Sauvignon Blanc. Today they also produce a Chardonnay. The 2014 Napa Valley Chardonnay went through full secondary fermentation and spent 20 months in barrel, 18 of which the wine was sitting on the lees (stirred once a month). This is a tasting room only wine as typically only about 50 cases are produced. It is a noticeable dark golden in the glass. It shows notes of honeysuckle, caramel, citrus blossom and nutty aromas on the bouquet. The mouth feel displays a pleasing creaminess without being to heavy as it is framed by good acidity. Both lingering fruit and notes of toasted hazelnut show.
Neal Family makes several vineyard 100% varietal vineyard designate Cabernet Sauvignon wines. Each of these bottles is numbered. And they often have some older vintages available for tasting as well as for sale. The 2007 Howell Mountain Estate shows a bouquet with some noticeable age on it – and character and depth of aroma. It is somewhat gamey with mushroom and earthy damp forest floor aromas. These aromas carry onto the palate. This is a balanced wine with decent acidity and fairly well integrated and soft tannins (for Howell Mountain fruit).
The Mt. Veeder Cabernet Sauvignon we tried was also a 2007 vintage but shows as a dramatically different wine. It hasn't aged as quickly as the Howell Mountain estate Cabernet Sauvignon and still shows youthful aromas of ripe black fig, blackberry and a sweet note. The bouquet is somewhat briary. The palate is plush and flavorful, with mouth watering acidity. Seamlessly integrated tannins. The source is the One Lane Vineyard (named after a geographical reference to the narrow road/bridge) located on the southern part of Mt. Veeder. Unlike some of the highest elevations on Mt. Veeder which are typically above the fog line, this vineyard is much lower (about 500 feet) and is closer to the cooling influences of the San Pablo Bay.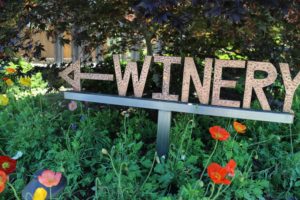 In general the 2014 vintage was bigger then normal and the wine making team decided to experiment with a fully organic wine made from Cabernet Sauvignon from one of their Rutherford vineyards. There are numerous vineyards in the Napa Valley farmed and grown organically and or with a CCOF certification but we have not yet been told about a fully organic wine based on both vineyard and wine-making practices until this particular wine. At the time of our tasting it had been aged in larger then normal oak barrels for two years and has received no added SO2. It was uniquely refreshing to taste a Napa Cabernet Sauvignon that does not smell or taste like a "typical" Napa Cabernet!
Visitors to the winery in Spring or Summer will be visually impressed by the beautiful and colorful flowers that decorate the entrance to the winery. Your tasting and winery tour will typically be with the Director of Wine making, Gove, winemaker Kelly or with Mark Neal. Refreshingly, it has been that way for years – unlike other wineries where turnover can be high, it is not that way here. As with most Howell Mountain based wineries your visit is very personalized held in a boutique-style setting. You will receive a very informative look at the winery operations and also have the chance to visit the cave and try a barrel sample.
They have their own bottling line which is somewhat unusual for a winery of this size but it gives them the flexibility to bottle when they want to, not based on a pre-determined mobile bottling schedule. Parts of this machine has even been custom made to meet their more specific needs. Check out the interesting functional metal works of art scattered around including the "grapevine" light + art installation hanging from the ceiling next to the cave entrance.
They are closed on Sundays as this is a small family operation. Visit: www.nealvineyards.com
Rutherford Dust Vineyards

McCarthy Vineyards