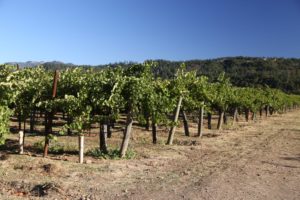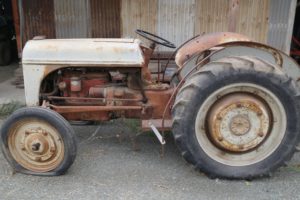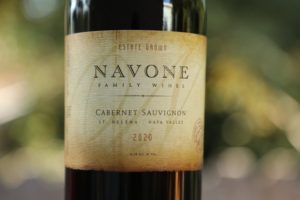 Navone Family Wines. Founders, Andy and Celeste Navone were born and raised in Napa Valley. Andy's grandfather, Giuseppe Navone came to Napa Valley in the early 1900s – then returned to Italy, met a girl, married within 2 weeks and accompanied his bride, Maria back to the Napa Valley. They purchased the current family ranch in what is now the northern fringes of St. Helena in 1914. This is a historical part of the valley – bordering their vineyard is the oldest, continuously, owned and operated family vineyard in California, David Fulton (same family ownership since 1860), Barney's Vineyard operated by the Napa Valley Wine Library Association and named after their first president Barney Rhodes and slightly to the north are Charles Krug, the oldest winery in the Napa Valley and Beringer the oldest continuously operating winery in the Napa Valley. In comparison, Navone Family is the 'young kid' in this neighborhood.
The Navone Ranch in those days was planted to Gamay, Grenache, Gewürztraminer and Zinfandel among other varietals. Andy found receipts showing records of his grandfather being paid $16/ton of grapes – today's Napa prices for grapes, depending on the varietal are thousands of dollars per ton and much more than that for certain varieties and or from noted vineyard sites.
Giuseppe was also involved at what is now Markham Vineyards (originally built in the 1870s as Laurent Winery). By 1939 under different ownership that old winery was operating as the St. Helena Cooperative. While cleaning up his grandfather's barn, Andy discovered several large signs indicating "St. Helena Winery, Bond Number 957" which corresponds to the original bond number for Laurent Winery.
Andy's father Ernie was a butcher, working at Keller Brother's Meats – a store that was founded in St. Helena in the 1930s – located at 1320 Main Street. From stories we have heard, Ernie used to offer kids pieces of beef jerky followed by a line something like, "that jerky is really good, now go tell your parents"! The original sign is still hanging despite the business having long since closed. Later the Kellers sold the business to Ernie who ran Ernie's Meat Department for many years. Ernie also oversaw the planting of grapes in 1979 on the family property; by 1986 all the old vines with the exception of a small block of Petite Sirah had been replaced by Cabernet Sauvignon. For a number of years, the grapes were being sold to the St. Helena Co-Operative Winery and also to Charles Krug Winery.
Andy's parents knew Justin and Bonny Meyer (co-founders of Silver Oak) through time spent together at Sunday mass at the 100+ year old Holy Family Roman Catholic Mission Church on Niebaum Lane in Rutherford. Justin knew that Ernie had grapes for sale; at mass one Sunday, Justin asked Ernie if he wanted to sell fruit to Silver Oak. Ernie agreed and the relationship was formed between Silver Oak and Navone Family Vineyard in the early 1990s and is one that continues today. Silver Oak purchases all the fruit from their vineyard each year and also manages the vines. And some of their Cabernet Sauvignon was planted from a selection from Bonny's Vineyard in Oakville. Today their property is planted entirely to Cabernet Sauvignon (12 acres). The site tends to be early ripening with harvest each year often between September 5th and September 15th. One year they even picked at the end of August.
Celeste worked for her father for some years; he operated a construction company he founded in the 1940s. She also spent time in the wine business – working at V Sattui Winery, both in their tasting room and helping with events. And she ran Bella Tootsi in Calistoga for 17 years, a boutique shoe store that was housed in the old Calistoga National Bank building.
Andy grew up in Napa Valley in the 1970s which was a much different landscape then compared to today as far as winery ownership. He remembers his parents discouraging him from getting into the wine business, based on the very limited number of wineries in the Napa Valley at that time. Rather he became a mortgage banker, commuting to Walnut Creek for several decades. While still working, he began to make home wine in 2004 from second crop grapes resulting in about a barrel of wine (aging in the same basement that his grandfather used for making wine). Andy made wine for several years until in 2007 he asked Silver Oak if he could buy back one barrel of recently fermented wine. He continued doing this for several more years until he and his brother David decided to start making wine commercially.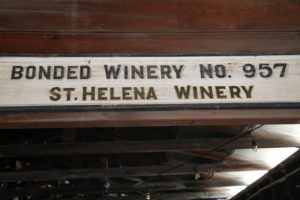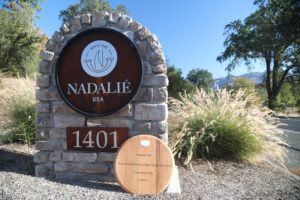 And in 2012 he bonded the old barn next to the family vineyard where he crafted the inaugural vintage of Navone Family Wines. Andy continues to buy 3 barrels of wine back from Silver Oak each vintage (they do the vinification) and he conducts the final aging in his grandfather's old barn. His winemaking is minimalist in style, topping when needed and doing one racking before bottling. And with such a tiny production no wine is wasted with topping wine even kept in small canning jars. When both of your families have been in the valley as long as they have one is well-connected with those who work in the wine industry; as a result, Andy has numerous resources to draw upon when he needs advice or winemaking supplies.
Case in point is when he needs premium wine barrels. Andy has used oak barrels from several cooperages over the years. A relative through marriage worked at Nadalie (cooperage based in Calistoga). The first few vintages of Navone Family Wines were aged in Nadalie barrels. When the relative moved to Seguin Moreau Napa Cooperage, the next few vintages were from this cooper and more recently, Andy has sourced barrels from Tonnellerie Ô (where one of his friends works). And when he needs wine advice, he simply bounces ideas off of friend and well-regarded winemaker Corey Beck.
Select Wines
The 2020 Navone Family Wines Cabernet Sauvignon is deep ruby in the glass; the bouquet smells fresh with the fruit immediately expressive upon opening. It offers aromas of blackberry, dark plum, violets, a light herbal note including of sage and other dried herbs, dried tobacco leaf, lightly toasted oak and deep in the aromatics a hint of mocha and espresso. This vineyard consistently produces savory characteristics in the resulting wine and this bottling is no different in that regard. The palate is very dark fruited with flavors of plum, blackberry and cherry. Of the select Navone bottlings we have tried, this one may be the most complex and layered. The grainy, youthful and broadly distributed tannins linger for quite some time accompanied by dark spices including white pepper, a dusty note and dried tobacco. This wine would pair nicely with a dimly lit room in the evening, a deep leather sofa, a warm fire, a cigar and the intimate company of someone special.
The 2018 Navone Family Wines Cabernet Sauvignon is deep ruby in color with a darker bouquet including a woodsy spice, peppercorn and tobacco. It is a savory showing. This wine makes you wait for the fruit to be revealed and it does so with time in the glass. Eventually it offers scents of blackberry and dark plum. The palate sports flavors of cherry, blackberry and chocolate. The tannins are light gravelly in texture and linger softly along with a note of dust, white pepper and a toasted oak spice character. some of the savory components on the bouquet are echoed on the palate. This is a highly approachable and enjoyable bottling. Pair with a BBQ and a Filet Mignon. This wine earned a silver medal at the prestigious Orange County Fair.
The 2015 Navone Family Wines Cabernet Sauvignon is 100% varietal. This wine is noticeably dark crimson in the glass; the bouquet shows some opulence – featuring ripe fruit, plum and dark cherry aromas complemented with hints of old cedar box and milk chocolate. While the wine's structure is supple and refined, it shows great depth and character of flavor – a density if you will. Darker fruit mostly shows on the palate with flavors of tobacco leaf and plum. The texture feels nice, a fine grip with tannins that linger for some time and are slightly dusty in nature. This wine is balanced throughout with good acidity. It is a wine with no harsh edges and drinks well by itself but certainly is crafted to be enjoyed with food. 13.9% alcohol. Every bottle is numbered.
—
This is one of Napa Valley's smallest commercial producers with remarkably only a production each year of just under 70 cases. They used to produce two barrels, at one point they were making 4 barrels but now production is 3 barrels each year. This is also one of the smallest commercial physical wineries in all of Napa Valley; their bonded winery space is only about 14 feet by 14 feet and perhaps that is even a generous estimate.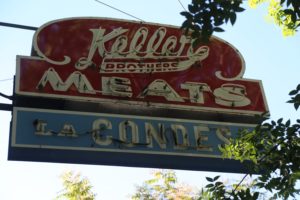 Over the years we have heard some good stories about the French Laundry but this one takes the cake. Looking to sell one of his vehicles, Andy did so the old-fashioned way, he parked it on Main Street in St. Helena with a placard in the window listing his phone number. The car caught the attention of a young woman driving by who called Andy wanting to drop by to further inspect the vehicle. She did so and after taking the car for a test drive, she decided she had to have the car. Andy invited her into his home to enjoy a glass of wine while they began to fill out paperwork relating to the transition in ownership. The woman was highly impressed with the wine and asked where it came from. Andy told her something like, "from my vineyard in the back of the house". She then mentioned she used to work at the French Laundry and was wondering if Andy could give her a bottle so she could present it to their wait staff. So, he did.
Several weeks later Andy received a call from the head sommelier at the French Laundry asking why there was a bottle of Navone Family Wines sitting on his desk – he had no reference point for this wine – apparently the woman who purchased Andy's car just dropped off the bottle and didn't leave any accompanying information. After trying the wine, the sommelier was duly impressed and ordered 3 cases, then 3 more and 3 more after that – all in a short period of time. He even wanted more as they were pouring it by the glass at the restaurant. And without even trying to sell the wine, this is how Navone Family Wines ended up on the French Laundry's prestigious wine list. And this happened to be their first real retail account of any size (prior to this they were only selling wine to friends and family). An only in the Napa Valley story!
The wines are sold direct and at times very selectively available at two retail outlets in the valley: V Wine Cellar in Yountville and Calistoga Wine Stop and at Market and Goose & Gander restaurants in St. Helena. For more information about one of Napa Valley's most boutique producers, and to order their current release, visit: www.navonefamilywines.com
Vineyard

Winery