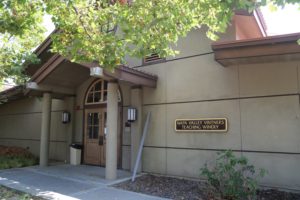 Napa Valley College Estate Winery. Over the past sixteen years we have talked to a number of vintners who have taken wine related classes at Napa Valley College. In Spring of 2008 the college winery acquired its bond making this the first community college in California to have a physical bonded winery on campus (they beat Santa Rosa Junior College in this regard by merely a month). For many years the college's wine program has served the community well and having a winery on campus makes sense, especially in Napa Valley.
Today the enrollment is as diverse as there are wineries in Napa. Students come from overseas; some are sent by companies to learn wine making, home wine makers want to further their education, there are those who are looking to get into the wine industry for the first time and work at another winery, some are already working at other local wineries and still others want to make their own wine commercially in Napa and beyond. A number of students end up going to UC Davis to complete their wine education. The program is rightly proud of their job placement networks in place available both locally and in other select wine regions. Feeling too old to get into the wine industry? Think again, the average age of the students runs between 40 and 45 depending on the semester.
The winery and wine making program has received tremendous support from the surrounding wine industry. The Trefethen Family (owners of Trefethen Winery) gave money to build the primary classroom and the Napa Valley vintners came forward with financial support for the actual winery. In addition, physical donations have been made including a number of donated bottles and embossed foils.
The core of the program gives the students a solid understanding of how to operate winery equipment, do lab work, and provides critical details about the entire winemaking process. For many years Dr. Stephen Krebs oversaw the program (editor's note: Dr. Krebs retired in 2014) and was the viticulturist for their estate vineyard. During our first visit to the winery, Brian Avila was the head winemaker and was who we met with years ago; taught several "learn by doing" winemaking courses. The winemaking program is entirely hands on as Brian told us, "If you make a mistake here, that's part of the learning process – you won't be fired"! The class is held once a week, but a working winery needs attention daily – in that regard they offer internships and students can learn and work at the winery outside of regularly scheduled class times.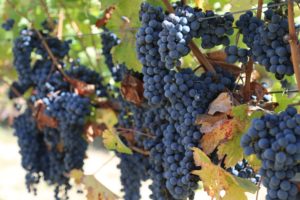 Their entire production is focused on estate wines – all from their six acre vineyard located on campus between the actual winery and Highway 121. The vineyard is planted to both Bordeaux and Burgundian varietals. This cool weather vineyard location is south of the city of Napa and is located in between Jamieson Canyon and Carneros, two of Napa's notoriously coldest growing regions. Bordeaux of Napa is the winery's motto – indicating not only their cool growing region in the valley but also the style of wines they make.
As of 2024, exciting developments are happening at the school's wine program (the largest of its kind in the country – approximately 450 students). A three-phase plan has been formed for the Wine Education Center including construction of two sensory classrooms totaling 6,000 square feet, converting the existing Trefethen classroom into a state-of-the-art laboratory and rebuild and renovate the current tasting room into a Wine Sales Training Facility. In 2024 Phase 1 construction of the Wine Spectator Wine Education Complex began. We will revisit once this building is completed.

In 2021, the Wine Spectator Scholarship Foundation donated its largest gift ever (10 million dollars) to Napa Valley College to help build what will the Wine Spectator Wine Education Complex. Once this is completed, we will revisit and will update this review. And in mid 2022 Darioush Khaledi of Darioush Winery donated $100,000 to the Teaching Vineyard at Napa Valley College in support of replanting efforts needed at that time.
Select Wines
The 2010 Napa Valley College Sauvignon Blanc was fermented entirely in stainless steel. Initially aromas of pear show followed by citrus (orange peel) and more lemon as the wine opens. The mid palate is slightly rounded. The clean finish is surprisingly long showing notes of green and red apple. Stylistically, this wine is all about the fruit.
To build skill sets during class they will make wines in certain styles. Case in point is the 2009 Napa Valley College Chardonnay; stylistically the opposite of how the Sauvignon Blanc was made. Components of this wine were fermented and aged separately based on two types of yeasts and then ultimately blended together before bottling. In contrast to the Sauvignon Blanc this Chardonnay was entirely barrel fermented in new American oak. Notes of oak initially show on the bouquet and as the wine breathes more aromas come forward including orange blossom, honeysuckle and just a hint of crème Brulé. The palate is rounded with some weight with lingering fruit on the finish as well as toasted oak.
The 2009 Napa Valley College Pinot Noir shows a spicy nose, cloves, white pepper, dusty earth notes, cranberry and perhaps a bit of cardamom. Aromatically there is a lot going on with this wine. It has excellent acidity with good fruit throughout the palate. The finish is lively and long with both fruit, wood tannins and alcohol notes that linger.
It is nice to find wines with reasonable alcohol levels and all the wines we tasted are under 14%. The 2009 Napa Valley College Syrah clocks in at merely 11.7% alcohol – definitely the lowest alcohol for this varietal we've tried in Napa. The nose is about the fruit and is dominated by aromas of black licorice and then bacon fat, blueberry, dried rose petal and a touch of chocolate hiding in the background. This lighter style cool weather Syrah, like the other red wines we tried, shows great mouthwatering natural acidity. It is balanced and food friendly on the palate.
The 2008 Napa Valley College Cabernet Sauvignon (inaugural release) comes in under 13% alcohol. The nose is restrained and elegant and this wine proves one does not have to reach higher alcohol levels to show fruit or eliminate greenness (of which there is none in this wine). Shows good acidity and red fruits including currant and cherry on the palate. The finish is surprisingly long (longest of any of the wines we tried) and offers decent structure.
NOTE: updated tasting notes hopefully coming by early December 2023 but possibly early Spring 2024.
—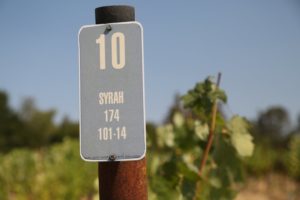 What has become an annual tradition was their special donation of wine to the Napa Valley Wine auction in 2011. This big format bottle is not your typical 12-liter Balthazar, rather the wine is contained in a ceramic amphora created by the college's ceramics department. This wine was entered in the auction and was purchased by a large format collector in Los Angeles…certainly one of a kind!
The logo for their wine was designed on campus and features a bronze statue of a grape leaf located in front of the winery. The statue was created by accomplished lawyer and sculptor Richard Mendelson who as it were, also makes wine commercially under his own label. It is Napa Valley of course! The college's second label, "Head Trained Napa" feature lighter style wines – typically blends or a rosé. The wine program brought these wines to some of their marketing classes; the students designed the entire packaging for this label.
With only a staff of four people and a lack of continuity created because of being a college winery, it is rather remarkable what the program has accomplished in such a short time. Outreach is important to their success; tastings are held from time to time at the winery for faculty and once a year to the public during their annual MayFair Celebration Wine Release party (held of course in May). The event is held next to their estate vineyards, includes food and wine pairings (a number of local restaurants attend) and demonstrations relating to wine making are offered.
The wine is sometimes available at several local restaurants including Carpe Diem and Downtown Joes. All proceeds from the purchase of their wine go directly back into the winery and the students' education. Their total production runs between 500 and 700 cases annually. For more information on this unique winery and to purchase wine, visit: www.napavalley.edu/career-education/career-education-programs/viticulture-and-winery-technology.html