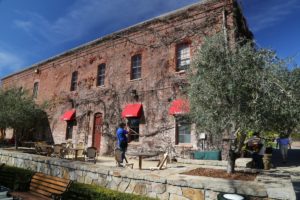 Napa Style, was owned by well-known culinary chef, Michael Chiarello, maintains their flagship store in the charming historical Vintage 1870 shopping center in the heart of Yountville. This building was originally a winery called Groezingers (the faded name is found on the brick archway located above the main entrance to the store), and in a way, Napa Style is part of the tradition of having wine on site – especially considering the nearby V Wine Cellar wine shop used to be located in their current home. In fact when we were there – not long after they opened, several employees from the nearby V Wine Cellars came over to do some wine tasting.
Michael has a lot on his plate so to speak; he is a long time chef in the Napa Valley having served as the Founding and Executive Chef of Tra Vigne, a popular restaurant in the town of St. Helena, he is the Emmy Award-winning host of the Food Network's Easy Entertaining with Michael Chiarello and the author of a number of cookbooks.
It is very hard to find rural agricultural areas that have the type of culinary selection you find in the Napa Valley and Yountville is really the culinary capital of the valley. You can think of this store as the culinary kitchen of Napa Valley. For those who enjoy cooking, or like food and wine, there is a lot to busy oneself with in this store. There is a great selection of cookware, culinary books, olive oils, wines and other kitchen related items. Michael is very hospitable and is often around talking to customers or cooking in their state of the art kitchen.
Their Ottimo Paninoteca features small dishes using fresh seasonal ingredients. Watch the chefs prepare the food in the open kitchen located right next to the sit down dining area. After hearing a number of people rave about the food we finally had to try the sit down during another visit here. The food does not disappoint! Fresh ingredients are used – great salads and sandwiches especially the spicy chicken. As the name of this cafe indicates, Panini is a big part of the menu, choose regular or pressed. Also a nice selection of salads and Salami. Various delectable samples are strategically located around the store.
The Enoteca is a big part of the experience here – several flights are available for tasting at the small counter including local wines as well as from select wineries in France and Italy.
This is the only public tasting venue, and distribution for Chiarello Family Cellars – these are wines hand crafted in Napa by Michael and his winemaker.
All wines are from his estate and are produced in very small quantities. We have reviewed these wines here. Through the store, you can also sign up for their Napa Style Wine Club which include some of Michael's favorite International wines along with recipes for pairing. Choose from the Cucina Selection which features wines for everyday enjoyment or the Enoteca Selection which features high end special occasion wines from Italy and Napa.
Outdoor seating is available in the back of the store when the weather permits. A plethora of parking surrounds both sides of the Vintage 1870 center but on busy summer weekends sometimes even this is not enough. Yountville is small and chances are a brisk stroll will get you here from one of your nearby hotels. Throughout the year special events are often held at Vintage 1870 including the Taste of Yountville Appellation event. Several Napa Style stores are located in the San Francisco Bay and Los Angeles metro areas.
Also of note is the old Groezinger's "barrel room" that is nearby to the Napa Style store. In the near future this is going to be home of Chiarello's new television show that will feature a live studio audience. Its small, but should get the job done! Visit: www.napastyle.com
NOTE: the former Napa Style store is currently closed for a remodel and re-branding with a focus on food (there will supposedly also be a wine bar). This is tentatively set to re-open sometime in August or September 2016. If there is no wine tasting offered, we will archive this review. UPDATE: the re-branded Ottimo in the same location as Napa Style does NOT offer tastings. This review is now archived.