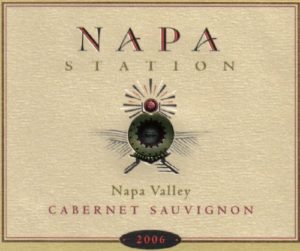 Napa Station is owned by long time wine industry veteran Peter K. Huwiler and his son Peter Huwiler II. Peter has over 40 years in the restaurant and wine industry having owned several high end restaurants for many years in the Seattle area, was the Director of National Accounts and International Sales at Kendall-Jackson Winery and more recently was CEO and President of Napa's Merryvale Vineyards. With this amount of experience in the wine industry and not one to slip into the golfing retirement mind set, Peter made the logical choice to start a winery. Their first vintage is 2006 and as of the time of this review they focus on three wines, Sauvignon Blanc, Chardonnay and Cabernet Sauvignon.
All fruit for their wines are sourced from entirely sustainably farmed vineyards in Napa. Napa Station's philosophy is holistic in its vineyard approach, what you take from the land you put back. If a vineyard is not sustainably or organically farmed they will not use the source. As a result they have developed strong relationships with growers who share a similar vision. Irrigation is kept to a minimum, composting is used and a variety of specific cover crops are planted to return nutrients to the soil as well as to attract beneficial insects.
Invariably there are a number of winemakers who make wine for their own palate. Not Napa Station. Before even producing wines Napa Station used the services of several consumer groups to determine individual tastes and preferences towards wine. As Peter refreshingly says, "our winemaker is the consumer". Nice! Their wines are typically not overly high in alcohol, are balanced and based on Peter's background, are meant to be consumed with food. All the wines are carefully managed during the wine making with separate lots fermented individually for their Chardonnay and Cabernet Sauvignon, sometimes even down to the vineyard rows. This micromanagement during the fermentation and aging allows them much greater flexibility during the blending as barrels that don't meet their quality standards can easily be identified.
While growing up in Europe Peter would often ride trains and years later his office at Merryvale Vineyards was located near the train tracks in St. Helena. Twice a day the wine train would come through. These tracks were built in the 1890's for the purpose of transporting bulk wine down to the Bay Area where it would then be shipped nationwide. The name Napa Station is a tribute to his love of trains, but more so to the history of Napa Valley and its contributions to the American wine industry.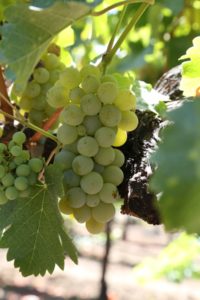 The 2007 Sauvignon Blanc was aged in stainless steel tanks and left to age on the lees without stirring. 10% Semillon is part of the blend which helps bring nice floral and fruit driven aromas to the bouquet. The palate has citrus notes including tangerine with a hints of pear and mineralities. Lively acidity and a clean finish make this wine a pleasure to drink. Hint, it pairs very nicely with seafood, especially with Sashimi. The 2007 Chardonnay is by far their most produced wine and in the style of all Napa Station's wines is meant to be consumed with food. The bouquet is fruit driven in nature and continues to change in the glass as it opens up bringing additional aromas including notes of crème Brule. The palate has good weight and is not dominated by oak characteristics which can often destroy flavors when pairing with foods. This wine has nice notes of stone and tropical fruit on the palate with a clean lingering finish.
Napa is known in part for its high end, high priced Cabernet Sauvignon. As a result, it is always a real treat to find an inspired Cabernet Sauvignon grown and made in Napa for under $30! The 2006 vintage is Bordeaux in style and is blended with Merlot, Malbec and Petit Verdot. Consider the vineyard sources for this wine; Oakville, Rutherford and Stag's Leap – three of Napa's best mostly valley floor appellations for Cabernet Sauvignon (also Carneros). Not a bad thing! This wine is meant to be approachable at a young age and it really shines with food. It is dark garnet in color with a very aromatic nose, the core of which is a sweet thread of plum and blackberry with nuances of toasted oak and vanilla bean. The entry shows nice fruit with layered flavors across the smooth supple palate. Balance and tannin management are key components of this wine. The finish is clean and long with broad structured tannins. This wine was bottled unfiltered for maximum color and flavor.
They produce about 10,000 cases which means they are larger than many of the typical small family wineries in Napa. The good news is with this production they have a slightly larger distribution and they have a strong presence in California and Florida as well as in parts of Asia. Oh, and we should mention that all Napa Station's wines are available at prices you will like which at the time of this review are all under $30. Out of 600+ commercial Napa wine producers that we have visited and tasted with, Napa Station's wines are definitely among the select few with the best price to quality ratio. If Napa Station's commitment to quality and to the consumer isn't already apparent they have also effectively eliminated cork taint or TCA. All of Napa Station's corks (no synthetic corks are used) are heat/steam treated. This is an extra cost which more than benefits both the winery and the consumer.