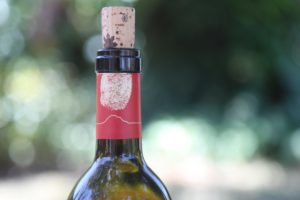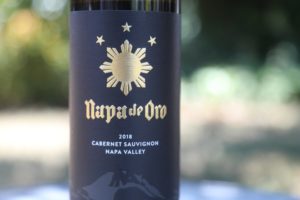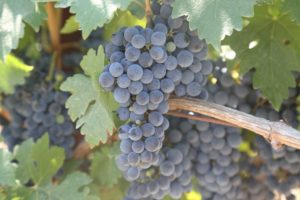 Napa de Oro was founded with its first vintage in 2016 by Philippines based Noe (Butchoy) and Caroline (Bing) Taojo and Andreas Taojo along with Los Angeles based attorney Abe Marapao. During a visit to the Napa Valley to look at purchasing either a winery or a vineyard the Taojos enlisted the help of a real estate agent. This agent connected them with several winemakers who accompanied them in their search for property. All of the winemakers except Rudy Zuidema encouraged them to purchase an existing winery and offered their support in overseeing the operations. Rudy told them to wait and start slower – to build a brand initially by purchasing grapes and renting space for winemaking at an existing winery.
They followed his advice, using his connections to secure grapes from premium vineyards in the valley. Later, Abe purchased a small property in Coombsville already planted to about 1.5 acres of Cabernet Sauvignon with the vines dating from 2012. In 2020, additional vines were planted including Cabernet Sauvignon and Petit Verdot. Mario Bazan manages this tiny vineyard; the grapes are used for their reserve 100% varietal Cabernet Sauvignon named AU 79 after the elemental symbol for gold on the periodic table.
Their label is a nod to both the heritage of the Philippines and also to the Taojo's gold mining business. Eight golden rays located around the golden sun represent the first 8 provinces that fought against the Spaniards: Manila, Cavite, Bulacan, Pampanga, Tarlac, Batangas, Laguna and Nueva Ecija. And three stars represent the other geographical parts of the country that were also involved in the revolt against Spain including Luzon, Visayas and Mindanao. And these symbols are also displayed on the Philippine flag.
The Taojo's operate Hexat Mining Corporation which is based on Mindanao in the Philippines. The company began with humble roots during the 1980s Mindanao gold rush. Founder Noe Taojo joined this gold rush at age 20, panning for gold in Compostela Valley while searching for river washed gold from placer deposits. He noticed that miners were literally 'rushing for the hills' in search of gold veins (crystalline gold still in rock). Despite sporadic violence and rugged roads leading to the mountains, Noe, along with others began to mine an area called Boringot (about a 2.5-to-3-hour drive from the largest city on the island, Davao City).
The company has expanded significantly since those early days; today they operate two milling plants, they reforest areas that have previously mined and recycle and reprocess old mining tailings.
And Abe Marapao operates Marapao Law Offices, a small law firm located in Koreatown along Wilshire Boulevard in Los Angeles – a firm that employs lawyers practicing both in the Philippines and in the U.S. The focus of the firm is for the Filipino community offering a variety of services relating to immigration, personal injury, family law, civil litigation, and bankruptcy proceedings.
Winemaker, Rudy Zuidema
Rudy was born in Sacramento but grew up in nearby Davis, a town known for its university. Conveniently Rudy was accepted to UC Davis where he spent three years studying photography and design with the intent to eventually create logos and designs for sports equipment. However, he eventually discovered this was not a career field he was passionate about. He became intrigued with the world of wine while taking an introductory course to viticulture – which inspired him to switch majors to Plant Science and Viticulture. Graduating in 1991 he moved to Napa; his first job in the valley was working in retail at the Oakville Grocery (back when Joseph Phelps owned this iconic purveyor).
He would often taste up to 300 wines per month – one of these wines was from St. Clement which he was happy to sell and promote at Oakville Grocery. But after being told to replace those wines with some of the Phelps offerings he quit and decided to pursue winemaking. He showed up at St. Clement unannounced and spoke to their winemaker at the time, Dennis Johns – Rudy quickly reminded him that he was the guy helping to sell all that St. Clement wine at the Oakville Grocery and then asked Dennis if he needed any winemaking help. Dennis soon hired him; this was Rudy's first winemaking job in the Napa Valley.
Over the years Rudy has made wine at a number of well-regarded Napa based wineries including Cuvaison, Honig, Ehlers Estate and White Cottage Ranch. It was at Ehlers that he was introduced to Biodynamic farming – through their General Manager at the time who learned about it when he was at Quintessa (at the time, Quintessa had just begun farming biodynamically). And while at Ehlers, Rudy began his own consulting business – today he crafts wine for a number of premium boutique Napa based producers including Napa de Oro.
Select Wines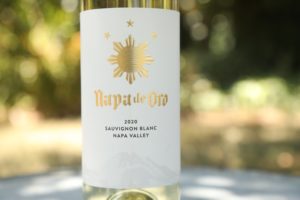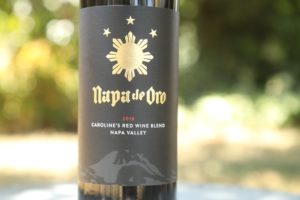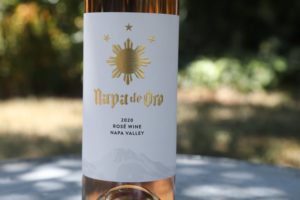 The 2020 Napa de Oro Rosé is a blend of Cabernet Sauvignon and Grenache made from very young vines. Soon after harvesting, both varieties were sent direct to press. A small amount of Cabernet Franc is in the blend and was made by saignée (bleeding off the juice). Copper salmon in color, this wine shows aromatics of raspberry, rhubarb, citrus and as Rudy noted, hints of peach skin and strawberry leaf/stems. Perhaps also a note of tarragon deeper into the aromatics – especially as the bouquet evolves. Shows flavors of raspberry and cranberry across the palate; the intensity of fruit is very noticeable. Offers a lovely creamy-like texture which is deftly balanced by the wine's bright mineral-laden acidity. This is a beautifully made rosé.
The 2020 Napa de Oro Sauvignon Blanc is a blend of 90% clone 1 Sauvignon Blanc with 10% Sémillon, with both varieties sourced from Pope Valley. It was whole cluster pressed and initially fermented in tank and then finished its fermentation in neutral oak barrels for 8 months (with battonage). The wine is medium gold in color; immediately noticeable are the floral driven aromas including of honeysuckle and passion fruit along with yellow pineapple and a hint of vanilla sweetness, found much deeper into the aromatics. Also notes of citrus blossom and white peach. Shows mouthwatering acidity across the palate but is not green nor grassy. Offers sweet notes of lemon meringue, lime and slightly under ripe apricot. Very balanced and refreshing.
Caroline prefers a softer, smoother Merlot wine. She got her wish and each year a wine is made with her namesake including an image of her fingerprint on the red foil gracing the neck of the bottle.
The 2018 Napa de Oro Caroline's Red Wine Blend includes Merlot, Cabernet Sauvignon and a small amount of Cabernet Franc. The wine is dark ruby in the glass; offers a captivating union of darker fruit aromas along with a diversity of spices, both from the fruit from this vineyard site and also some oak influence. Shows aromatics of cedar, cinnamon, clove and espresso and as the bouquet opens further, hints of mocha. Features both oak and grape tannins on the finish – a noticeable density but without any coarseness or harshness of texture. Slightly savory on the finish with some notes of cedar and darker spices. A nicely balanced showing but with both character and depth of flavor.
Rudy practices a partial extended maceration in which he drains the tank down to just the cap which settles on the bottom of the tank. Then he pumps a small amount of wine back into the tank onto the cap, fully soaking it for up to a week. This helps extract additional color and flavor into the wine. And for this wine in particular, Rudy over delivers for the price point.
The 2018 Napa de Oro Cabernet Sauvignon Napa Valley is dark ruby in the glass; shows fruit forward aromas of blackberry, boysenberry, black cherry, with some cedar plus dessert spice aromatics (mocha and espresso) and dried tobacco leaf. There is plenty to like about the aromatic diversity of this bouquet. On the palate, offers loads of fruit including dark cherry and blackberry. Lingers with some white pepper, earthy mineralities, tobacco spices and savory notes. The tannins are well-integrated into the finish – darker in nature and slightly gravelly in their texture. This wine is very approachable in its youth.
The flagship AU 79 Cabernet Sauvignon was sourced from Shadybrook Estate for the first several vintages. Starting in 2020, it was sourced from Abe's property on Hagen Avenue. The 2018 Napa de Oro AU79 Cabernet Sauvignon, Coombsville is inky dark ruby/purple in color. The aromatics are dark and beautiful including of plum, ripe blackberry, boysenberry, mushroom, sweaty leather and dust. The complementary aromatics from the oak are also pretty and include vanilla and mocha. Juicy, opulent, savory, and richly layered. Shows plenty of horsepower with a noticeable density and grip of nicely integrated tannins which continue to persist for quite some time. Also shows lingering notes of dried tobacco leaf. A robust showing, but the primary hallmarks of this wine are its balance and its brightness. Shows plenty of aging potential. This wine was aged in 100% new French oak barrels for 3 years. And in case you are wondering, the silkscreen on the bottle is real gold.
—
In 2021, Napa de Oro took over the space formerly known as Tudal Winery, near Calistoga and tastings are offered on property by appointment. A major upgrade of the winery is currently under way. We will revisit this property in 2023 or 2024 and will further update our notes here.
Tastings, Feast it Forward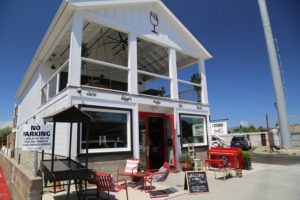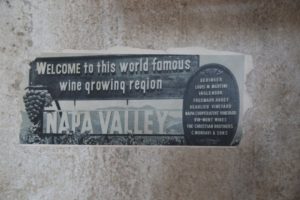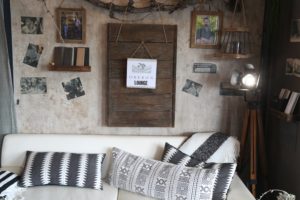 Napa de Oro is one of up to eighteen vintners featured in The Studio by Feast it Forward (opened in June 2018) located directly across from the Oxbow Public Market in downtown Napa. This two-story building houses an "experiential showroom", as founder Katie Hamilton Shaffer calls it – with a focus on wine, food and music.
Each vintner represented offers several wines; several of the showroom's sponsors have prominent placement including guitars from Gibson Brands, Inc. and furniture from Crosley. A Chocolate tasting is also offered oddly enough sponsored by Sherman Williams and a vinyl station if offered for playing a variety of old records. Upstairs features a demo kitchen – when shows are being filmed here, televisions downstairs broadcast the live feed. This kitchen can also be used for guest chefs to offer culinary classes.
The site can be used for a number of events; they have plenty of space in the back of the building. The Ultimate Airstream Film Lounge trailer is often be parked in the back – they use this trailer when they are on the road hosting unique lifestyle events, and it also serves for private tastings on site or for special events. One such event at the showroom might be the "Terrible Tuesdays" in which bad films with cult like followings are shown.
The second floor features a sizable surround building deck – and a swinging 'bed'. This is an ideal perch to watch passerbys going to Oxbow Public Market or those enjoying the park next to the Napa River. These are also some of the best seats in the area to watch live performances at the nearby green.
—
The wines are selectively distributed in parts of the Philippines and are available through their website. For more information or to join the Karat Wine Club, visit: www.napadeoro.com