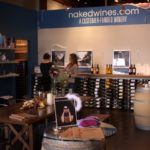 With a remarkable growth spurt in such a short time that would make most wineries envious since their inception in 2008 in the United Kingdom, Naked Wines has quickly expanded globally. They operate a winery and adjoining tasting room in Kenwood (in neighboring Sonoma County), are in the Australian market – running online wine sales in Sydney and opened a tasting room in downtown Napa in September of 2013.
Founder Rowan Gormley is no stranger to the wine industry. Originally from South Africa via way of the UK, he worked with Richard Branson on a number of projects including launching another catchy named wine business, Orgasmic Wines which Richard Branson eventually bought into and changed the name to Virgin Wines. Rowan, along with a number of people involved in Virgin Wines left and then started Naked Wines.
Both the name and their pricing certainly stand out in the Napa market. The idea behind the name is to strip away as much of the pricing barriers to entry and pass on an affordable, well made wine to the consumer – from not just one part of the world but from many wine regions. As Rowan says, "you can't drink the bottle" – one of the ways they save money is in packaging – lighter bottles, using screw caps and limiting how much they invest in label design.
The tasting room is not setup like a bar – rather it is more relaxed with sit down seating inside and outside (weather permitting). There is no kitchen on site, yet you can order small snacks from the nearby Small World Cafe and they will be delivered directly to your table at the tasting room. Most tasting rooms focus on Napa wines – for obvious reasons. However it is refreshing to find a tasting room such as this with such a wide selection of wines from around the world. Wines are represented from a number of countries in Europe, to Australia to Argentina and beyond. They also have several Napa produced wines available for tasting at any given time.
Rather than having a wine club they maintain what is called "Angels". This program is at the core of how they fund their winemakers and is open to the general public. Social funding, Crowdsourcing, a "Kickstarter" for the wine industry if you will. Their focus is on funding individual winemakers and the winemaking directly – allowing them to produce certain types of wines which are only sold through the Naked Wine distribution channels (tasting rooms, online sales etc). This has been a highly successful program – with well over 100,000 Angels already signed up.
As a consumer, you commit to a certain dollar amount each month (they recommend $40/person). You maintain an account with Naked Wines and add a certain amount to it each month. With a two tiered price, this then allows you to purchase bottles of wine at their Angel price rather than the normal retail price. These discounts are huge (40 to 60% off) – during a recent visit and scan of the tasting menu – all of the bottles of wine under the Angel pricing were under $20 including the Napa grown and produced wines. And another benefit is Angels taste free at the tasting room.
Six pages of winemakers are listed with their bios in their tasting menu these are winemakers that are literally based all over the world. A number of Napa winemakers produce for Naked Wines including Dalia Ceja of Ceja Vineyards, Ernie Weir of Napa's long time kosher Hagafen Cellars, Wayne Donaldson, former head winemaker responsible for Domaine Chandon's sparkling wine program and Ken Weis (spent 25+ years making wine at Flora Springs . There are certainly benefits to making wine for the winemaker. The cost of producing wines is paid for and the winemaker does not have to concentrate on selling the product. That is done by Naked Wines.
They continue to seek out and work with Independent winemakers. They offer several programs for the interested winemaker – both if you already have wine in barrel or if you have vineyard sources you would like to present to them for future vintages. Naked Wines provides the funding to make future vintages – or if your existing wines are chosen to be in their programs, they take a commission.
This is not a tasting room that caters strictly to what are often perceived to be "normal" wine tasting hours during they day, closing by late afternoon. Rather they stay open late – till 10pm or 11pm depending on the day of the week. And it is later when this tasting rooms comes alive – it is a great place to enjoy affordable wines by the glass or bottle – especially after work or after many wineries have closed for the days.
Special events are held during certain times of the years and select evenings – open mic night, karaoke, even the possibility of combining yoga with wine (seasonal). There are a number of Napa winemakers on board with their program and sometimes winemaker events will be held at the tasting room.
And this is also the location of their US headquarters – behind the tasting room are their offices, call center and the brains behind the operations!
For more information visit: http://us.nakedwines.com
NOTE: This review has been archived.
REASON: Closed Napa tasting room in September 2014