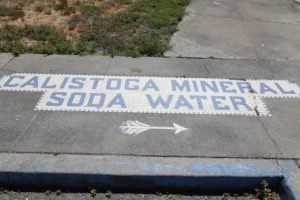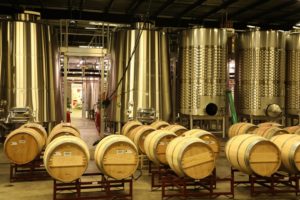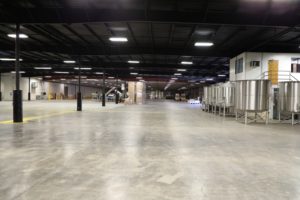 Museion Napa was founded by the Hernandez family in 2021. Originally from Guatemala, the family's first introduction to Napa Valley came when Ana Hernandez moved here in 1996 from Guatemala City at age 19 to study at the Culinary Institute of America in St. Helena, soon after the St. Helena campus opened. She wanted to be a sommelier but because she was not yet 21 she was not able to take some of the associated classes. Rather she pivoted to their Baking and Pastry program and assisted visiting chefs on campus.
After graduating from the Culinary Institute of America she returned to Guatemala City where she married and ran her family restaurant, La Fattoria. Her children Marcela and Jorge also worked in this restaurant when they were young. The family moved to Napa Valley in 2010.
The Hernandez family own two adjacent properties in the Calistoga city limits (including two wine production spaces); Portico, a winery for small lot production wines located on the same property as the Grove 45 olive oil tasting room and a 9.5-acre site of the former Calistoga Beverage Company next door, now called Museion which is also the name of their wine brand. This prior water production plant (closed in late 2009) was previously owned by Nestle Waters North American who purchased the property in 1980. For several years during wildfires, the production plant was opened to the American Red Cross as a staging area and disaster supply center.
The Hernandez family have worked with Nestle on a variety of international projects including infrastructure relating to production plants; they pursued purchasing this property from Nestle for 8 years. The Hernandez family acquired the site of the former Calistoga Beverage Company in late 2020 and purchased the next-door piece of property in 2021. The first harvest at the former Calistoga Bottling Works building was in 2022.
The origins of the site for water production date back to 1924; Giuseppe Musante began drilling a well for cold water but then discovered a hot springs geyser. This site was home to Calistoga's oldest mineral water company. In the 1970s, Elwood Springer purchased the existing bottling plant and created Calistoga Mineral Water, turning it into a nationally distributed and recognized brand. The current bottling and production plant was built in 1984.
Calistoga has also been associated with production of other premium water brands. Crystal Geyser Water Company was founded in Calistoga in 1977 by two San Francisco investment bankers Peter Gordon and Lee Soong and still maintains a production and bottling plant in town. For a period of time, Calistoga was also a site where Arrowhead Spring Water was bottled.
The Hernandez family bonded the 125,000 square foot (2.87 acres) main building as a winery. A custom crush operation of this size located this far up valley is exciting. One can drive by its entrance on Silverado Trail and never realize its massive footprint. A very small part of the space is currently being used as a full service white and red wine custom crush operation with state-of-the-art equipment including an optical sorter, a large Europress, tanks ranging in size from 3 to 15 tons equipped with individual pumps, monitoring from Vinwizard, Innovint integration as well as a sizable barrel storage. And due to favorable permitting within the city limits of Calistoga, there are no percent of total production limits on how many grapes can be crushed from outside of the county.
The main building space was never air conditioned, so double insulation was added to much of the interior which now moderates the temperature quite nicely on warm Calistoga days. The large barrel storage part of the building is fully air conditioned with a system that shuts down the AC when the temperature falls below 60 degrees at night so that the outdoor cool air can be drawn into the space. And it should be a given these days, but their climate-controlled barrel storage is equipped with generator backups.
A massive space requires an ambitious and a prodigious vision; the Hernandez family have already outlined impressive plans for the building and are utilizing the services of acclaimed architect Tom Kundig, the Principal of Seattle-based Olson Kundig Architects. They want to retain an industrial look to the building while modernizing a number of its features both inside and outside.
Plans include significantly expanding their winemaking operations, adding an olive oil production space, a rooftop restaurant and bar overseen by a Michelin starred chef, a speakeasy, a space to incorporate an indoor light and art exhibit, nine private tasting salons for their custom crush wine clients and a place to serve tequila and coffee. The Plasma Room will be an attractive and intriguing looking space featuring a prominent bar and interior purple/pink décor which borrows themes relating to the family's telecommunication business, Illuminations Technology. This company is based in Calistoga and Florida and is the sister company of Terra Towers, the largest private telecom infrastructure/solutions provider in Latin America.
More locally, in 2022 Illuminations Technology placed three IQ FireWatch sensors in select locations within Napa County which notifies Napa County Fire and Rescue when a fire starts, sending exact GPS coordinates and a map. These sensors/cameras are monitored 24/7 and have technology for early detection of fires, even at night.
The metal sculpture in front of the old Calistoga Bottling Works Company was created by artists Ken Beidleman and June Moxon and contains a likeness of its founder Giuseppe Musante at the wheel. Several fountains accompany this sculpture but are currently inoperable although there are plans to eventually restore this part of the visual.
And the name Museion originates from the Greek word Museon relating to the Seat of the Muses, a temple of learning located in ancient Alexandria, Greece. Each muse reflects certain studies including music, theatre and history. Alexandria is named after Alexander the Great who was born in Pella, Greece. Incidentally, one Napa Valley based producer, KNA Wines, bottles one of their wines as Pella in honor of this history. And the name Museion relates to personal significance and memories for Marcela and Jorge; their parents used to read Greek mythology stories to them when they were children.
Select Wines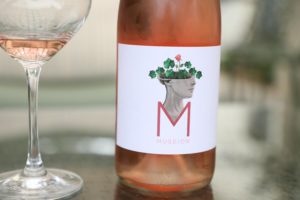 The 2022 Museion Rosé of Pinot Noir (Pommard clone) from Carneros was the first ever wine that Museion produced. The grapes are grown specifically to make this wine (rather than making a rosé from saignee). The grapes were whole cluster pressed, then left to settle for 24 hours before being transferred to a stainless steel tank where they were fermented cold until dryness, taking 45 days. The wine was then aged for 3 months sur lies before being bottled. This wine is the exact color of wild cooked salmon; the bouquet offers aromatics of lime, lemon juice, ruby grapefruit, kumquat, wild strawberries and raspberry. The palate is citrusy and its acidity dances brightly from the entry through to the finish. It is clear that the grapes for this wine were harvested for freshness, vibrancy and energy. This would be an ideal palate cleanser after tasting through a number of high alcohol, riper fruit centric Napa Valley Cabernet Sauvignon bottlings.
As of our latest update to this review only the rosé has been released. Additional wines are being produced including Cabernet Sauvignon; we will taste and update our notes here once these bottlings have been released in late 2024. Atelier Melka oversees the winemaking for the Museion wines.
Due to the scale and evolving plans for Museion, this review will continue to be significantly updated as the project progresses.
For more information, to purchase wine, to schedule a visit and tasting or to join one of their two wine clubs, (RAD Club – Rosé all Day, or their Gold Club – wine + olive oil), visit: www.museionnapa.com
Grove 45 Olive Oil History
Founders
Grove 45 was founded by longtime friends Neena Talcott (who we originally met with) and Bonnie Storm. Their first olive oil production was in 2009. The name of their company comes from the fact that both women were born in 1945. These former business partners have a long history in Napa Valley involving both wine and olive oil.
In the 1974, Nena and her husband at the time Dr. James Talcott moved to Napa Valley and purchased what is now the site of Lithology Estate Winery near Meadowood Resort. With encouragement from their friend, Ric Forman, a long-time winemaker in Napa Valley, they planted their property in 1975 to Pinot Noir. Back then, the vineyard landscape of Napa Valley was remarkably different than today which is dominated by Cabernet Sauvignon and other Bordeaux red varietals. But back then, Cabernet Sauvignon did not command the premium prices it does today and perhaps it was not widely known that Pinot Noir in the Napa Valley does much better in the cooler southern parts of the region.
The Talcotts also built what is now the winery building on site (as well as the building that now serves as the Lithology Winery hospitality room); original construction began in the late 1980s as a fancy stone garage without the intent to ever produce wine from within its walls. But by the mid 1990s the Talcott's were able to secure a winery permit for the building and produced two vintages (2003 and 2004), however, these wines were never commercially released.
The Talcotts planted olive trees on the property; there are still a number of olive trees growing next to the vineyard. Today, olive trees line parts of Meadowood Lane and the driveway that leads to the nearby Napa Valley Reserve. These trees were originally growing on site and were later replanted nearby. The Talcott's eventually sold this piece of property and a nearby 12-acre parcel to Bill Harlan in 2006.
Dr. James Talcott founded Talcott Olive Oil in Napa's Carneros. James sold his property and olive orchard (3,000 trees) in 2020 to the owners of Bouchaine Vineyards who would often carry his products in their old tasting room. See our review on Steltzner Vineyards for James's involvement in the rescue of Dick Steltzner following a plane crash, in what was probably the most bizarre and fascinating rescue story in the history of Napa Valley.
Bonnie's interest in olive oil began when she started taking numerous trips to Italy. In 1994 she planted her first trees at Storm Olive Ranch in Chiles Valley. This property is planted entirely to Italian varieties including the Tuscan Frantoio, Leccino, Maurino and Pendolino along with the Sicilian variety, Nocellara de Belice. She imported all these varieties from Italy; the property is currently planted to 300 Tuscan trees and 200 Sicilian trees planted on the property.
Bonnie was also an early member of what was the Northern California Olive Oil Council (now the California Olive Oil Council) and served as their first secretary. Her ranch is in the Land Trust of Napa County.
Special mention must be made about the old olive grove at Rutherford Hill Winery; it played a prominent role in the resurgence of California's olive oil industry. Vintner and olive oil pioneer, Lila Jaeger rejuvenated some of the trees and produced her first commercial olive oil from the grove in 1991 under the Jaeger Family Olive oil label. Lila (died in 2001) also founded the California Olive Oil Council in 1992. While the Jaeger Family olive oil is no longer produced from this particular grove, their award-winning olive oil continues to be produced.
Hernandez ownership
When the Hernandez family purchased two neighboring properties behind the Culinary Institute of America in 2010 after clearing a significant amount of over growth, they discovered 2,000 olive trees growing, planted by Charles Krug in the 1880s and originally part of a much larger grove of around 5,000 trees. These are among some of the oldest original plantings of olive trees in Napa Valley.
They invited an olive oil expert from UC Davis to examine their trees; while individual varieties were not able to be identified they were told their grove is a mix of Tuscan and Spanish varieties. Ana and Marcela began making small amounts of olive oil from these trees, hand bottling and giving them as gifts to friends and family. Recipients of their olive oil began to complement them on its quality and encouraged them to start selling. A family friend knew about their hobby and introduced them to Neena and Bonnie. In November of 2019 Ana and Marcela purchased Grove 45 from the two founders.
Olive oil for Grove 45 is sourced from two orchards in Napa Valley. Their primary orchard is planted entirely to Italian varieties on the original Grove 45 property in Chiles Valley. After the transition in ownership, olive oil continues to be produced from these same trees; while Bonnie has since sold the property, the Hernandez's lease the trees from the current owners for Grove 45 olive oil. Another source is from the Hernandez's 2,000 tree grove in St. Helena (they harvest olives from about 500 of these trees).
Prior to the Hernandez ownership, Grove 45 had been sold through wholesale markets and not direct to consumer. While they continue to supply wholesale markets (as of our latest update to this review, 18 states) they have since transitioned to also selling direct through their website and also through the Grove 45 tasting room. Grove 45 is part of the Hernandez family Monte Olivos collection of luxury products and services.
Grove 45 Tasting Room
This space has housed several occupants over the years. In 2015 winemaker Rudy von Strasser (of von Strasser Vineyard) purchased this one-acre property within the city limits of Calistoga. He built a state-of-the-art barrel storage facility, updated the winemaking equipment including very modern tanks, installed a full hookup system for electric and water for mobile bottling trucks and remodeled the old tasting room into an appealing contemporary space. During the remodel and rebuild of their parking lot more parking spaces were added than were in the original parking lot. One side of this parking lot is setup to house smaller vehicles while the other side is for larger vehicles.
This well-appointed tasting room opened in early 2023 after the interior was remodeled, overseen by Guatemalan well-known interior designer and family friend, Agustina de Tezanos. The tasting room is located in a small building which formerly was used by Calistoga Roastery, a local coffee company who still maintains a retail store in downtown Calistoga. Visitors to the property will also drive around a two-story prominent blue building covered in original works of art created by San Francisco based artist Casey O'Connell (who we briefly met while she was painting the exterior of this building) and park in either of the two small parking places on the property. This building currently houses their offices and also serves for some wine storage in its basement but may eventually become a restaurant.
The property is located right next to the "greenway" which contains a bike path that connects to the town of Calistoga and the Solage Resort who offers free use of bicycles for their guests. The tasting room is within a short walk or bike ride of Solage. And their property also backs right up to the Calistoga Motor Lodge and Spa with a connecting path.
Tastings are available by walk-in or by appointment and last about 45 minutes with visitors provided several tastes of their various olive oil products including from the Hernandez's own Monte Olivios Estate. Several Balsamic vinegars are also available for tasting and purchase. Tastings are hosted indoors or weather permitting outside on their patio or at one of several other picnic tables.
All their olive oil is bottled in 100% recycled aluminum cans.
For more information, to schedule a visit, or to purchase olive oil, visit: www.grove45.com
Portico winery