Muscatine Vineyard. In 1998 Leonard and Draselle Muscatine left the urban world of Los Angeles for rural Napa Valley; they purchased a small hillside property perched on the eastern side of Soda Canyon. Leonard (now deceased) was a professor at UCLA who taught in their Zoology Department and later in the Biology Department. He was a marine Biologist who traveled the world during the summers conducting research at various marine labs from Israel to Monaco.
Leonard's interest in wine was nurtured by his brother Charles Muscatine and his wife Doris. Both were culinary experts. Doris was one of California's food and wine culture pioneers – having wrote a number of culinary books including co-authoring the thick book The University of California/Sotheby Book of California Wine with Maynard A. Amerine and Bob Thompson. During her career, she also hosted several television programs including Cook's Tour with Doris Muscatine in 1964.
Incidentally she and Charles owned a vineyard on Howell Mountain (at the time was called the Park-Muscatine vineyard) and produced Carignane and Zinfandel. Ridge Vineyards made wine from this vineyard in the early 1980s (see image below). Today the property is owned by Dunn Vineyards and Randy Dunn's son Mike and his wife Kara source fruit from this vineyard for their Retro Cellars label.
The Muscatine Vineyard site is historical; vineyards were terraced here in the 1870s and 1880s among all the rock that is noted on Atlas Peak and certainly in this part of Soda Canyon. When the Muscatine's purchased this property all the original vines from those days had long since died, however some of the original rootstock was still growing.
Italian Antonio Rossi planted and tended the original vines here. He made wine from this property at a nearby "ghost winery" that was built in the late 1890's by Italian born Luigi Banchero. This old winery still stands with writing visible containing dates (from the early 20th century) scribbled on the wood ceiling of the cellar. The photo below is of this old winery (a neighbor owns this property and grows grapes here).
Their neighbors original stone winery built by Luigi Banchero[/caption] Draselle has an old photograph of Antonio Rossi and his mule with a plow on site of the Muscatine Vineyard. The hills behind their vineyard are recognizable in this photo – the vines are not. In those days they were all head pruned.
We have certainly visited some small commercial producers in the county of Napa since we started reviewing Napa wineries in 2006. However, Muscatine's production is among the smallest of them all. A typical production from their 750 vines (less than 1/2 acre) is about 2 tons – which produces about 2 barrels of the final product (approximately 48 cases annually).
Draselle recalls someone telling her they were a boutique Napa winery – to which she replied, "we are merely the "tique" in this word! The winery is entirely self-contained. Their vineyard is about a 30 second or less walk to their tiny wine cave which was tunneled into the side of the mountain – almost underneath the vineyard. All of the finished wine is stored and aged here.
They bonded their garage and is where the wine is made. Everything is super micromanaged when you have a vineyard of this size. They pick four small bins of grapes at one time – make the short walk to the winery where the fruit is immediately processed – they repeat this until their vineyard has been fully harvested. As a result, the fruit experiences very little time off the vine between when it is picked to the time it is processed.
Leonard made home wine for a number of years; Muscatine Vineyard and the wines it produces is a tribute to his legacy carried on by his wife Draselle and their son Tom.
Tom is the vineyard manager and winemaker. He moved to the Napa Valley from Los Angeles where he worked in a diversity of careers including teaching, film and music. He had no specialized knowledge about how to make wine and how to manage vineyards until he enrolled at Napa Valley College. While there took some viticulture and oenology classes with the sole focus to help his father in the vineyard and in the winery. During his studies he met Dr. Stephen Krebs, who would ultimately become one of his mentors in the wine industry. Tom speaks of attending his classes as like listening to wine poetry.
While at Napa Valley College he saw a job notice in which Dr. Krebs was advertising for an assistant. The job had been filled but the person had recently left so Tom's timing was perfect. He took the job and today continues to teach various viticulture and oenology courses. In addition, he manages the college's small vineyard on site.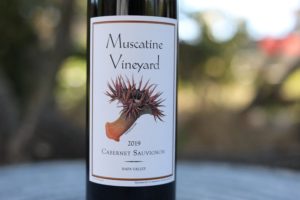 While Tom also manages the Muscatine Vineyard – it is his mother Draselle (now in her 80s) who brings an energy and passion towards caring for the vines that most people can only dream to have at this age. She continues to work among the vines tending to their specific needs depending on the time of year (pruning, suckering, trellising etc.). The vineyard is planted to approximately 95% Cabernet Sauvignon and the 5% balance to Merlot.
Both vineyard management and the wine making has been an accelerated learning process for Tom. He changed the style of trellising in the vineyard in the past few years, is now farming the vineyard completely organic and after several earlier vintages has now determined how much new versus used oak to age the wine in as well as the cooper of choice.
The Sea Anemone on the front label of their wine is a tribute to Leonard and his interest and passion for Marine Biology. It is a hand drawn image taken from The Ray Society, the book of Sea Anemones published in 1927. Its Latin name is: Anthopleura ballii. The Muscatines' have an original copy of this book which contains this very detailed color image.
Select Wines
The 2019 Muscatine Vineyard Cabernet Sauvignon is dark ruby in color; the bouquet offers aromas of blackberry, dark plum, cherry and strawberry along with old cedar box and some darker dessert spices including a sweet aromatic nuance found deeper in the aromatics. This lighter to medium bodied styled Cabernet Sauvignon offers flavors of cherry and some brambly influences; it features both red and darker fruits. The tannins are earthy, slightly dusty and offer a light to medium grip of texture. It also lingers with a dry hint of tobacco leaf. This wine is balanced, easy drinking and available at a very reasonable quality to price point.
Those who generally panned the 2011 vintage in Napa and perhaps those who listened to the critics should try the 2011 Muscatine Vintage (current release at the time of this review). Fruit grown among the eastern Napa hillsides in our opinion produced some of the finest wines from the county in this particular vintage. The 2011 Muscatine Vineyard Cabernet Sauvignon is elegant on the nose with notes of violets, a subtle sage characteristic initially and as it opens earth notes with nuances of dusty brown chocolate. The palate shows flavors of black and red cherry and thread of black licorice – the tannins are very well integrated, slightly chalky and linger along with fruit for some time. This is a very balanced wine.
This is a vintage that Tom learned a lot from – realizing he enjoys making and drinking a more elegant style of Cabernet Sauvignon.
—
This is a very unique opportunity to join their mailing list and purchase wine while they are still under the radar. Two barrels of wine does not go far, and they have priced the wines reasonably. For more information visit: www.muscatinevineyard.com