This winery has ceased production – they closed all sales in summer of 2014. Tasting room closed, no more wines being made.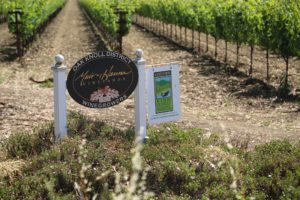 Muir Hanna Vineyards. Every so often during our project we stumble upon a very special winery and this is certainly one of those. They are one of the very few wineries in the Napa Valley who grow and make their wine locally but have an open to the public tasting room located elsewhere. Their tasting room is located in the historical downtown of Murphys, California about 4 hours east of the Napa Valley in the Sierra Nevada foothills. Once you find out more history about this winery, this location makes a lot of sense as Murphys is somewhat on the way to Yosemite National Park and family members used to live in Tuolumne county. This is a completely family owned and operated winery from the vineyard management, to the winemaking to the marketing and distribution of their wines.
The owner is the great grandson of conservationist John Muir who founded the Sierra Club and who helped support the establishment of the National Park service. You may have seen the famous photo of John Muir standing with President Teddy Roosevelt overlooking Yosemite. Muir is quoted as saying, "Everyone needs beauty as well as bread", and this quote appears on their labels. Muir-Hannah planted their own initial vineyards in 1972 – they are 6th generation California grape growers. Some grapes were already planted on site and much of the chardonnay for the now famous Chateau Montelena's 1973 winner at the Paris Tasting came from their vineyards. The vineyards are located just north of the town of Napa in the southern part of the valley. It is a cooler climate here than up valley and as a result they are able to grow Pinot Noir and Chardonnay as well as other varietals. They have always farmed environmentally friendly, but as of press time they are in the middle of becoming CCOF certified.
For a fairly small winery they produce a wide variety of wines. We started with the 2004 Chardonnay. Quite a bit of the fruit for this wine comes an older clone called Wente (the bud wood for this clone was originally from Stony Hill's vineyards). Their current release chardonnay's are typically a year or two older than most current release chardonnays on the market. They undergo no Malolactic fermentation – the color is a golden amber hue with a very fruity floral nose. There is lots of fruit on the palate including notes of pears and other tropical flavors. It is a delicious wine. Their 2004 Pinot Noir is a lighter fruiter style Pinot. It is not heavily extracted so it's not a dark wine. It has a pleasing flinty nose that hints of strawberries.
Their Bordeux style blend is a tribute to John Muir and is appropriately named, Muir's Legacy. The grapes for this wine come from a family vineyard near St. Helena; it is a lighter Cabernet with reasonable tannins. Some notes of cherries and cedars are on the palate. This wine is usually only available through their Sonora tasting room. Lastly we tried a delightful wine called Alpenglow. Great name! The wine is orangish pink in color which is the color you see on the snow fields on high mountains during fading sunsets. It is a somewhat unusual wine in that it is a Rose of Pinot Noir and it is slightly sweet. It is not a sticky syrupy wine, rather it is very refreshing with slight hints of strawberries on the palate.
NOTE: This review has been archived.
REASON: Stopped producing wine commercially