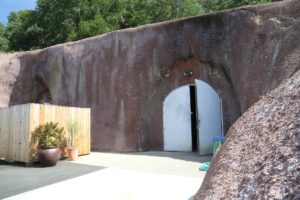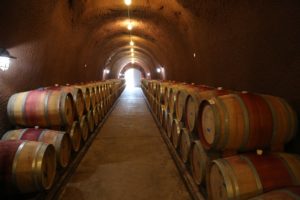 MTGA Wines focuses on thoughtfully hand crafted small productions, initially focusing on a single varietal (Merlot) from a single vineyard each vintage. However, over the years MTGA Wines has diversified its portfolio, sourcing fruit from both within Napa Valley as well as from select vineyards in neighboring Sonoma County. Today production is on Pinot Noir, Riesling, Cabernet Sauvignon, a red blend and Single Barrel Wines, a single barrel selection of Merlot, Pinot Noir and Cabernet Franc. Winemaker, Mike Anderson founded MTGA Cellars in 2010.
Mike grew up in Napa Valley – a remarkable number of his immediate family are involved in the local wine industry; his father and grandfather began their wine journey in the Napa Valley in the early 1980's. His grandfather Gus Anderson (died at age 86 in 2016) founded and operated Eagle's Trace and his father Todd Anderson runs Anderson's Conn Valley and Ghost Horse World. Mike left the valley for a number of years – attending Gonzaga University in Spokane Washington. Instead of initially following his family footsteps in the wine industry – he majored in Criminal Justice and Sociology.
Eventually he returned to Napa Valley and took a job with Raymond Winery as a tasting room host and later working in the cellar. It is common for children born into wine families to leave the Napa Valley for a number of years and then find their way back, "returning to their wine making roots". Mike began taking wine making classes at Napa Valley College, one of the few junior colleges in the state to own their own vineyards, produce wine commercially while utilizing an on-campus bonded winery.
Through a friend, he was introduced to a small Merlot vineyard just north of the town of St. Helena – along Pope Street near the up-valley campus of Napa Valley College. In 2010, he and friends picked this vineyard themselves – loading the grapes into a bin in the back of their pickup truck. At this time, Mike had no intention of making wine commercially – this was simply going to be a personal project.
Mike enjoys making and drinking Merlot especially from St. Helena, an appellation he describes as where the red wines 'pop' – showcasing a brightness of fruit, rather than an over ripeness. Surrounded by hundreds of wineries whose flagship wine is Cabernet Sauvignon, a producer whose inaugural single offering was Merlot is somewhat refreshing and a rare occurrence in the Napa Valley.
Reflecting upon those who have influenced his career – he mentions his grandfather, Gus Anderson. Gus was always somewhat of a Francophile – preferring old world wines. Mike strives to create balanced wines with good acidity, have the ability to age and really shine when paired with compatible foods.
After 18-20 months of barrel aging, Mike started giving samples to friends and family. Urged on by their positive feedback, he decided it was time to move forward – and bottled the wine and soon applied for label approval. As any new producer will testify – often choosing a name that is creative yet at the same time is not already in use can be extremely challenging. Each letter of MTGA is the first initial in an immediate family member's name – M, for Mike (and also Merlot), G for his grandfather Gus, T for his father Todd and A for their last name.
The Merlot vineyard source remains the same each year. However, harvest dates have varied dramatically over the years. In 2011 Mike picked at the end of October 2012 was a month earlier at the end of September and in 2013 he harvested in early September. His strives to harvest when the grapes reach phenolic ripeness rather than letting them hang longer to increase sugar levels and or flavor concentration.
His winemaking philosophy is to carefully work with the grapes in the winery – rather than mold or manipulate the fruit. His approach is gentle – not overly controlling but rather more of a minimalist style. He uses a variety of oak – mostly neutral or once used – preferring to showcase the varietal characteristics rather than influence from the oak barrels. These are wines true to the vineyard, the varietal and to Mike's own palate.
Select Wines
During our first visit with Mike, we tried the 2011 MTGA Cellars Merlot – which recently had been released. This wine does not have the characteristics of what is commonly perceived of wines from this vintage in the Napa Valley (a challenging vintage for a variety of weather-related reasons including late rain in spring, early rain in fall and generally cooler conditions). Mike admits challenging vintages can be extra stressful, but he relishes the challenges and nuances of working with these particular rare years.
The 2011 MTGA Cellars Merlot was unfined and unfiltered – and made with minimal use of SO2. This wine shows an initial herbal component – not overly green at all but rather a pleasing mix of sage, a hint of wood influenced spices and a distinctive smokiness. As the wine breathes the herbal component becomes more restrained and red fruit aromas rise to the forefront. The wine has very good natural acidity without being bracing. The palate shows a variety of red fruit flavors including red currant and red cherry. The finish is bright and lively with dusty well integrated earthy tannins. This wine is built to age for years to come.
The 2012 MTGA Cellars Merlot barrel sample we tried is a more robust wine than the 2011 – this is part of the vintage variation that is neat to see when a producer works with the same small vineyard each year while the wine making essentially remains the same.
The 2016 MTGA Cellars Merlot. Similar to the select previous vintages we have tried shows a bouquet with an herbal nuance to the aromatics. Offers hints of menthol, dried tobacco leaf and berry fruit aromas. Give this time to breathe, the secondary aromas are replaced by more fruit aromatics. On the palate shows flavor of blackberry and black licorice. Notes of cherry towards the back of the palate – lingers with a nice tartness and a moderate grip of tannins. Very food friendly.
Very few Napa Valley based producers make Riesling and those who do often have to source grapes from outside of Napa Valley – simply based on the fact that there is so little Riesling planted in the valley.
The 2018 MTGA Riesling was sourced from a vineyard at around 1,500 feet in the hills above Lake Sonoma in the northern part of Dry Creek Valley in neighboring Sonoma County. Mike calls this the most 'technical or nerdy' of the wines he produces. It was fermented slowly and then aged primarily in stainless steel barrels but also saw some neutral oak (about an 80/20 ratio). Offers pretty aromatics with both sweet fruit, floral notes and some citrus on the bouquet. Texturally, the wine is like velvet across the palate – but with plenty of acidity to showcase a lively feel through to the finish. Fermented to dryness but the ripeness of the fruit offers a slight perceived sweetness. The fruit was picked right after a heat spike, so the sugars spiked a bit – it is 14.5% alcohol with a pH of 3.20.
In 2018 Mike produced his first ever red blend called Repechage, a term that refers to a second chance. Mike was on the rowing team in college – repechage refers to boats in races not qualifying in a first round but having the chance to compete in a second round for another opportunity to qualify. This wine is a a blend of Cabernet Sauvignon (Mike's winemaker friend Yannick Rousseau helped him secure the vineyard site on the lower slopes of Mt. Veeder) and Merlot from St. Helena. The 2018 MTGA Cellars Repechage is a blend of 57% Merlot and 43% Cabernet Sauvignon (both varieties were co-fermented); the wine is medium garnet in the glass with purplish tinges on the rim. Shows an elegant bouquet with primarily darker fruits including plum along with hints of chocolate. Juicy across the palate showcasing a bright acidity. Lingers with still tightly woven tannins and a spicy tartness on the finish. Aged 19 months in 67% new French oak – only 32 cases produced.
—
Other than just a select few retail outlets in Napa Valley, the wine is currently only available directly through their mailing list or by reaching out to Mike. His first vintage in 2010 was only 43 cases – 2013 was under 140 cases. In subsequent years, his production increased – currently he produces around 1,000 cases annually of all his wines.
This is a unique opportunity to get in on the ground floor with a passionate winemaker who is making excellent wines. To join MTGA mailing list or wine club, visit: www.mtgawines.com