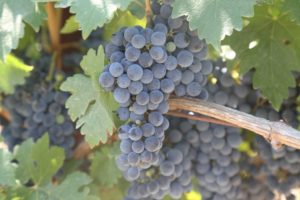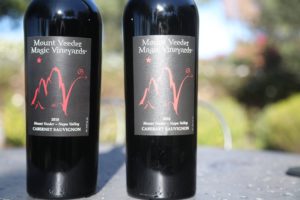 Mount Veeder Magic Vineyards. Karen Crouse (born in New Orleans but was raised in Los Angeles County) and her husband Greg moved up to the city of Napa in 1990 from Walnut Creek. Karen was working for American Express at the time; she moved to the Napa Valley to acquire clients and help market and host related credit card events in the region. Growing grapes and making wine was not on her initial radar. However, life takes one on various twists and turns and if one spends enough time in Napa Valley it seems, one invariably is presented an opportunity related to wine.
One day Greg (an avid cyclist) rode his bicycle up Mt. Veeder Road and returned to their home holding a flyer advertising an 80-acre property with 16 acres of vines. The flyer advertised the name of the property as "Mount Veeder Magic", a name they ultimately kept when starting their wine brand. Karen recalls, asking him something like, "what is your point"? and Greg replying with, "we should go look at it". So, they did. The vineyard was in bad shape, overgrown and not well cared for – and Karen recalls the old house on the property was oozing some kind of red 'stuff'. She almost thought she was in some sort of scene from the film, Deliverance. And after taking a look around the property she informed Greg, "we are so done with this". But then he said, "I really want this" – the next day they started escrow. They purchased the site in 2007.
Their initial thought was to continue to grow and sell grapes through existing contracts but looking closer at the resulting financials – they decided it might make more sense if they produced their own wine. Greg suggested this one day in 2008 as the economy was tanking. But their initial production was not the typical small business Napa Valley wine brand. Rather Karen astutely realized that a very tiny percentage of the population was not affected by the economic downturn and that she would pursue those clients. Friends told her this was going to be a very difficult proposition and even discouraged her from this model. Fortunately, she followed her own internal compass and instincts.
Rather than sell wine by the bottle, she decided to sell wine by the barrel. A small mention of Mount Veeder Magic in Celebrated Living, the American Airlines in-flight magazine for first and business class passengers (next to an article about The Napa Valley Reserve) helped kick off her brand and resulted in her first sales. There are a select view other Napa Valley based wineries that produce and sell wine in barrel quantities direct to consumer – but her particular barrel program is a very unique offering.
A very limited number of memberships are available. Most of her clients take an entirely hands off approach but are interested in learning about the overall process from vineyard to bottle.
Sales are strongly relationship driven with her clients – sure, they are purchasing premium extremely limited private-label one-of-a-kind offerings, but they are also buying confidence in her standards and commitment to integrity and excellence as well an extremely exclusive experience. Karen works very closely with her clients for the barrel program – it has evolved over the years; today one can purchase as little as 1/4 or 1/2 of a barrel (in addition to a full barrel). She always writes a highly personalized back label – based off of one question she initially asks clients to answer, "what do you say when you pour your wine?" And she and her label designer create each custom label based on images, quotes or colors which mean something to the client. All bottles are hand labeled – each barrel produces 24 cases, or 288 bottles.
Karen truly enjoys what she is doing, and it shows. She compares wine to the word 'happy' – these two words go hand in hand when enjoyed properly in company of family and friends.
—
In relation to the rest of the Napa Valley, there are not many vineyards planted on Mt. Veeder – this sub appellation is responsible for only about 1% of the valley's entire grape production. Part of that reason is Mt. Veeder is extremely rugged and steep. The original 16 acres are planted to 14.7 acres to Cabernet Sauvignon and 1.3 acres to Merlot. Properties on this part of Mt. Veeder have been sub divided into smaller parcels over the years; this particular part of Mt. Veeder has very historic connections to Domaine Chandon. This part of the appellation is where Domaine Chandon purchased their first property in the Napa Valley (the oldest of their three currently owned vineyards in the Napa Valley borders the Mount Veeder Magic property) and is where Domaine Chandon founding chairman and president John Wright lived for a number of years.
The Mount Veeder Magic vineyard grows on 7 different soil types divided into 6 unique blocks, each creatively named using names associated with the French Quarter in New Orleans. Parts of the vineyard are remarkably steep – planted into terraced slopes greater then 30%. And the oldest vines are more then 30 years. The lower vineyard block is about 800 feet with the uppermost blocks topping out at about 1100 feet. John Derr of John Derr Farming oversees the vineyard (incidentally, he and his wife Ashley's own property, Lampyridae Vineyards is also on Mt. Veeder). And Jeff Fontanella is their winemaker – with his own winery also on the lower slopes of Mt. Veeder. Karen is involved in all decisions of the business ranging from farming, harvest dates, bottling and labeling.
Select Wine Offerings

The first vintage of Mount Veeder Magic was from 2010. Select amounts of library wines are still available. In 2019 Karen conceived a special 300 bottle only offering called Connection & Perspective. Long time family friends with the Los Angeles based Marroquin family – she was introduced to the artwork of Matias Marroquin (who in part, specializes in abstract impressions of Los Angeles neighborhoods). She commissioned him (still in his teens at the time) to produce a patchwork like abstract image of her vineyard using a variety of photographs including aerial shots as framework perspective for his final piece. This singular bottling is from the 2016 vintage.
Another unique offering is a 6-year library selection – an almost vertical of wines from 2012 through 2018 (missing only the 2016 vintage) contained in a sizable wooden 'treasure chest' – each chest is laser inscribed with a personal note from Karen. Only 25 of these coveted chests were produced.
The 2016 Mount Veeder Magic Cabernet Sauvignon is deep ruby in color; offers an elegant bouquet with forward aromas of ripe blackberry, cassis and additional layers of mocha, vanilla and Graham cracker. Revisiting from the bottle after about an hour – the aromatics show a little more meaty and savory characteristics. Richly flavored without heavy tannins – the wine is seamless from entry to the finish. Shows flavors of blackberry, plum and a darker fruit plus a darker spice component towards the back of the palate. Lingers with fine chalk-like tannins and flavors of dark cherry and hints of cedar. Very supple on the long finish, the fruit outpaces the tannins in its length. A crowd favorite for sure.
The 2018 Mount Veeder Magic Cabernet Sauvignon is deep ruby in color with purplish tinges on the rim; there is plenty of ripeness here, a fruit forward showing with aromas of blackberry cobbler, milk chocolate, white chocolate, mocha and vanilla extract. The bouquet is highly attractive – a pleasing interplay of both ripe fruit and dessert spice influences from the barrel aging. As it opens the fruit has a greater aromatic impact. The palate is richly flavored but not intensely structured – extremely approachable and already balanced in its youth. The tannins are similar in texture to the 2016 – chalk-like but perhaps slightly tighter wound due to this wine's youth at the time of our tasting. The finish is lengthy – lingers with a darkness of black fruits and a slight darker spicy note (tobacco and a hint of pepper).
The vineyard's imprint and the winemakers style certainly shows on both vintages.
Mount Veeder Magic does have limited distribution in restaurants, but the wines are primarily sold direct to consumer. And Karen has partnered with several lifestyle brands including Blackbook Motorsport (an exclusive members club for the global motorsports industry). Total production of the Mount Veeder Magic wines is usually between 600 and 700 cases a year. The barrel production is limited to 25 barrels each year. For more information or to become a member visit: www.mountveedermagic.com or visit Karen's Napa Valley lifestyle focused website here: www.karencrousenapavalley.com